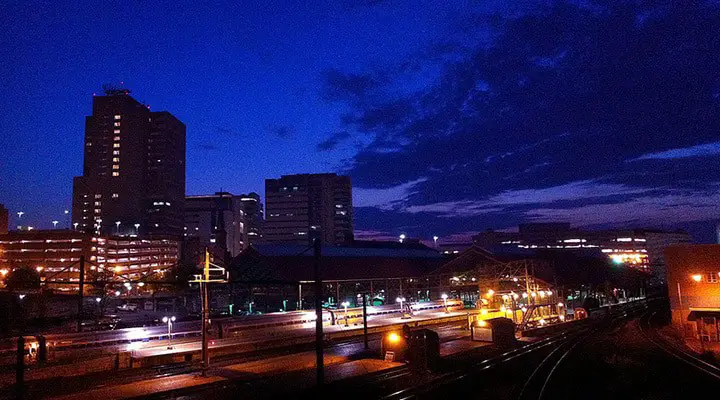 If you are a resident of the Harrisburg region, you can rest assured that it will be easy to eat healthier, if that is your goal. For any reason that you might have chosen a grain-free diet like Paleo, you will not be disappointed in your available options. In this post, we are going to help you explore some of the best companies that deliver to the Harrisburg area. For those residents of the Susquehanna Valley or the Harrisburg and Carlisle region, known for the astounding beauty of its river valley, this area can be challenging for someone on the Paleo Diet. That said, there are still many services available to people who live in this region catering to specialized diets like Paleo. We'll outline all of your options in this article.
We cover the following....
Local Paleo Food Delivery Harrisburg Options
The following section covers companies based locally in the Harrisburg area. Although Harrisburg tends to be right in the middle of an area know for growing lots of amazing produce and having a lot of vibrant small farms, finding grain free food in the Harrisburg area can be challenging. Luckily, you are not limited to just those options operating directly out of Harrisburg. As a first step, we have listed all of the options we could find locally within Harrisburg and Carlisle in this section. This included local restaurants as well as local personal chefs that are happy to cater to your personal dietary needs. If you read on the next section, you'll see that there are also a number of Paleo Delivery services that service Harrisburg and the surrounding areas as well but are not located right in Harrisburg.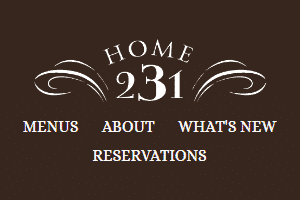 Home 231
Unfortunately, the closest things to a true Paleo food delivery service we could find locally in Harrisburg was a restaurant serving Paleo friendly food as a portion of their menu, Home 231, and local personal chefs catering Paleo friendly meals (see the next section). Your best option would be to try to order takeout of these Paleo friendly meal items and bring them home to assemble a menu of Paleo foods to keep in your refrigerator or freezer. However, there are quite a few services that deliver Paleo compliant meals to all residents of Harrisburg, as is covered in our next section in this article on national Paleo companies servicing Harrisburg.
For more information on Home 231 and for prices see:
Home 231 Reviews:
http://www.pennlive.com/food/index.ssf/2014/04/home_231.html http://www.opentable.com/home-231 Home 231 Yelp Reviews: https://www.yelp.com/biz/home-231-harrisburg https://www.tripadvisor.com/Restaurant_Review-g52787-d2163506-Reviews-Home_231-Harrisburg_Pennsylvania.html Home 231 Facebook Reviews: https://www.facebook.com/pg/Home231Harrisburg/reviews/?ref=page_interna
Hiring a Paleo Personal Chef in Harrisburg
In addition, one other option if you'd like to work with a local business owner would be to work with a health focused personal chef service based in Harrisburg. Some of these chefs focus exclusively on the Paleo Diet such as: http://saltedchef.com/harrisburg/ others just focus on healthy eating in general but can customize your meals to your needs: http://www.mandalameals.com/ http://lisasdinnertable.com/ If you explain to the chef of your requirements and send them some background on the Paleo diet, they can likely assemble a
Paleo friendly set of dishes for you. This post contains affiliate links. Thank you for supporting us! Click here to learn what this means.
National Companies Offering Paleo Meal Delivery to Harrisburg and Carlisle
The companies in this section all deliver meals to addresses in Harrisburg, Carlisle and all of the surrounding areas. These companies use express shipping with cooler boxes and ice packs to get meals sent to your home or office within days of when the order is packed. Because these companies specialize in meals for People eating a Paleo Diet, many have been able to partner with small family farms to make ingredients based on what is seasonally available and use ingredients important to those on the Paleo Diet such as grass fed and pastured meats and eggs, wild caught seafood and organic or local produce. Different companies specialize in different things – with some companies offering meals for the more restrictive autoimmune paleo diet, Whole 30, those doing a sugar detox and many other variants.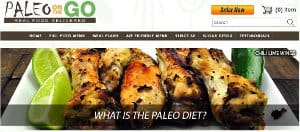 Paleo on the Go
The first on our list, Paleo on the Go offers their amazing meals to anyone in the Harrisburg area. They serve up delicious recipes alongside dedication and Paleo certifications. They take their credentials seriously–plus they've partnered up with the Paleo Mom website. See paleoonthego.com for prices and meal options. Note: Paleo on the Go is offering a 10% discount for our readers, use code "MYPALEOS" at checkout for 10% off your entire order – one time use.
For our detailed write up on Paleo on the Go including reviews, see our in-depth coverage on them.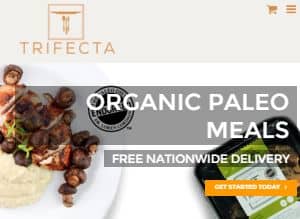 Trifecta
Trifecta's name hints at the number three–nutrition, sustainability, and taste. They are partners with some big names in the Paleo world, their products are bundled with a corn byproduct instead of styrofoam, and their level of deliciousness cannot be defeated. And our readers can breathe a sigh of relief–Trifecta will deliver their meals and meal plans everywhere in the Harrisburg area. See trifectanutrition.com for current prices for their Paleo and organic meal delivery Harrisburg offerings.
For our detailed write up on Trifecta including reviews, see our in-depth coverage on them.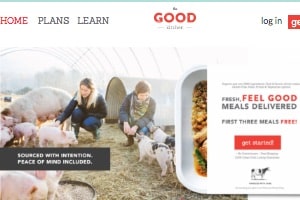 The Good Kitchen
If you are looking for a food delivery service that can meet the unique needs of your family, you should check out The Good Kitchen. The Good Kitchen has created multiple Paleo compliant product lines to cope with varying dietary needs, such as their Paleo Vegetarian line, which omits fish and meat. They deliver to everyone in the Harrisburg area. See thegoodkitchen.com for The Good Kitchens complete menu and list of healthy meals delivered Harrisburg / nationwide plans. The Good Kitchen is offering a 15% discount for our readers. Use promo code "mypaleos" at checkout for 15% off your first order.
For our detailed write up on The Good Kitchen including reviews, see our in-depth coverage on them.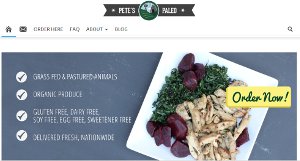 Petes Paleo
Pete's Paleo is an excellent company delivering across the Harrisburg region. None of their products use sweeteners, except for those found naturally in fruits and vegetables. And all of their proteins are grass fed and grass finished. See petespaleo.com for a complete list of prices, meal plans and healthy food delivery Harrisburg options.
For our detailed write up on Petes Paleo including reviews, see our in-depth coverage on them.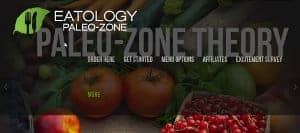 Eatology
The goal of Eatology is to help their customers achieve and maintain a healthy body weight. They strive to do this through great food that follows the Paleo diet specifications as well as the zone eating plan. They bring their perfect ratio of carbs, fats, and proteins to all of our readers in Harrisburg. See http://www.eatology.co for Eatology's Paleo-zone plans and pricing, including nationwide plans for healthy meal delivery Harrisburg options. Eatology is offering a 20% off promo for our readers (works for first & all later orders), use code "ZACHPALEO" at checkout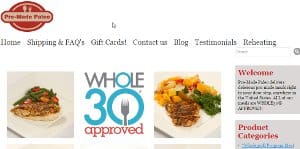 Pre-Made Paleo
Pre-Made Paleo is the most convenient on our list. They deliver frozen, pre-made meals, as their name suggests, to all residents of the Harrisburg region. Plus, all meals sold by Pre-Made Paleo are Whole 30 diet approved. See premadepaleo.com for prices and Paleo meal delivery Harrisburg inclusive nationwide plans Pre-made Paleo has offered a 10% discount (one time use) on all orders for our readers. Use code "MYPALEOS2018" at checkout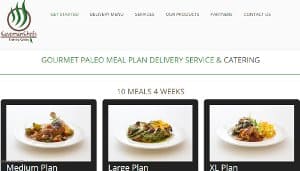 Caveman Chefs
Caveman Chefs serves internationally inspired meals sourced with local to Denver produce and proteins. They are the perfect choice for all of our readers in the Harrisburg region, especially if you are looking to add a little flare to your meals. Checkout the promo code below, which they are offering to fans of our page. Visit http://www.cavemanchefs.com for more information on their Paleo delivery Harrisburg options Caveman Chefs has offered 10% off all orders by mentioning the promo #ZachmyPALeos in the order comments or mentioned by phone during checkout.
For our detailed write up on Caveman Chefs including reviews, see our in-depth coverage on them.
Every Year there are More Options for Paleo Meal Delivery Harrisburg & Carlisle Paleo Delivery Options
Choosing to eat Paleo or any sort of grain-free diet or lifestyle is a great way to maintain your health. Life should never step in the way of you trying to challenge yourself to do better, which is why we've created this list. No matter what is happening or where you are, these companies will make sure you stay on top of your diet. It is always a relief to know that you are getting the finest foods made in Paleo compliant kitchens. Stressors always come up, but that doesn't mean they should affect your diet. With relatively affordable prices and organic ingredients throughout, the companies we have curated above for you are convenient options with delivery available throughout Harrisburg.
Other Paleo Delivery Harrisburg Area Companies
If you have any other suggestions of other places offering Harrisburg Paleo Friendly Meal Delivery or Harrisburg Paleo restaurants that might offer takeout or delivery options, please let us know in the comments below.