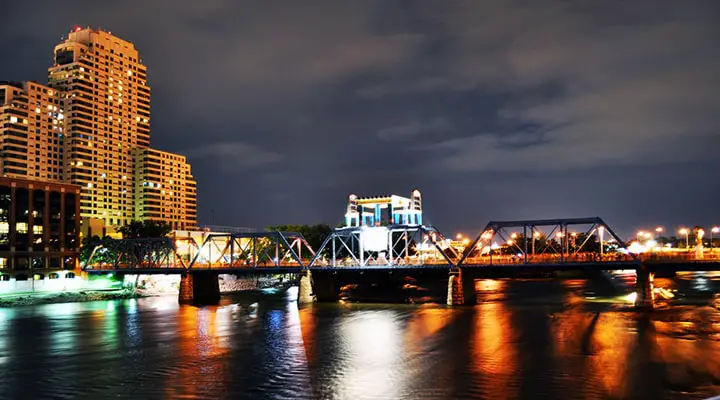 A major tenet of the Paleo Diet is seeking out all-natural and wholesome ingredients and preparing your meals. However, there are bound to be moments when your schedule gets hectic, and you've no time to spend on shopping and food prep. Don't worry! There are quite a few options for you – many of them local to the Grand Rapids and Wyoming Michigan area. Listed below are a number of places where you'll be able to find restaurants and companies that create grain, dairy, and sugar free meals catering to the Paleo Diet. Hopefully you'll find something that will allow you a bit more flexibility.
We cover the following....
Local Paleo Food Delivery Grand Rapids Options
If your day has run longer than anticipated, and you're out of time to make dinner, there are a few places in Grand Rapids-Wyoming metro area that, when you need to order out, have paleo-friendly options. Often, these local companies are committed to supporting the local community, and while they don't cater exclusively to the Paleo customer, you'll hopefully be able to find some menu items that meet your specific requirements.
Making Thyme Kitchen
Making Thyme Kitchen is both a frozen and fresh meal delivery service serving Grand Rapids, as well as operating two local retail locations, where prepared meals can be purchased or picked up. Although Making Thyme Kitchen does not focus exclusively on Paleo meals, they do mark items on their menu that are gluten free and offer to work with individuals with dietary preferences on crafting meals as special orders if ordered in advance. Meals for delivery must include at least 8 items and are delivered to addresses in Grand Rapids on Wednesdays, requiring someone is home due to the meals being made fresh. They work with local retailers to focus on fresh local healthy ingredients without sugars and additives to include in their meals.
For more information on Making Thyme Kitchen and for prices see:
http://makingthymekitchen.com/
Making Thyme Kitchen Reviews:
http://www.grbj.com/articles/85887-downtown-market-vendor-opens-second-location http://www.ethicurean.com/2008/12/15/making-thyme/ http://downtownmarketgr.com/market-hall/making-thyme-kitchen http://www.rapidgrowthmedia.com/devnews/MakingThymeKitchen0620.aspx http://www.grocerystoresite.com/store/79318279529/Making+Thyme+Kitchen Making Thyme Kitchen Facebook Reviews: https://www.facebook.com/pg/Making-Thyme-Kitchen-79318279529/reviews/?ref=page_internal Making Thyme Kitchen Yelp Reviews: https://www.yelp.com/biz/downtown-market-grand-rapids-grand-rapids
Doorganics
Doorganics is a local Grand Rapids company that delivers organic, local produce and meats to your door along with a selection of prepared foods from their deli section. Although not all of the food items under their deli section qualify as Paleo, a handful of items do, such as their Kale Salad and Pico de Gallo. Ingredients are listed with the meals, so you are able to make a decision for yourself if each dish meets your dietary requirements. They also offer some gluten free but generally not fully Paleo items under their bakery section, such as gluten free granolas. Food is delivered weekly in reusable green bins that are placed outside your door. If you are searching for an exclusively Paleo meal service that delivers to residents of Grand Rapids and the surrounding area, see the next section in this article, but for those looking for organic locally grown produce and meats in and around Grand Rapids combined with some prepared food options Doorganics may be just what you are looking for.
For more information on Doorganics and for prices see:
Doorganics Reviews:
http://www.mlive.com/news/grand-rapids/index.ssf/2011/11/competition_in_organic_produce.html
http://www.grbj.com/articles/76075-an-entrepreneurial-itch-sparked-a-new-business
http://www.rapidgrowthmedia.com/innovationnews/0823doorganics.aspx
http://www.grbj.com/articles/79014-doorganics-grows-door-to-door-service
http://woodtv.com/2017/01/03/local-company-delivering-fresh-groceries-to-your-door/
Doorganics Facebook Reviews: https://www.facebook.com/pg/Doorganics/reviews/?ref=page_internal
Doorganics Yelp Reviews: https://www.yelp.com/biz/doorganics-grand-rapids?hrid=rGwGt9G8uJLRvxIcvx5tCQ&osq=Paleo
This post contains affiliate links. Thank you for supporting us! Click here to learn what this means.
National Companies Offering Paleo Meal Delivery to Grand Rapids
If you know your week is going to be chaotic, or if you'd simply like to have a meal pre-prepared, there are a numerous companies that specialize in Paleo-compliant meals and deliver to Michigan residents. These companies create meals that can arrive (either fresh or frozen) express to your door. One of the advantages of ordering from these companies is that, because they cater exclusively to the Paleo diet, you can be certain they source from organic farms, use only grass-fed meat, and high quality oils. Many of these companies also offer meals that adhere to specific Paleo sub-preferences (Autoimmune Paleo, Paleo-Zone, and Sugar Detox/Elimination Challenges).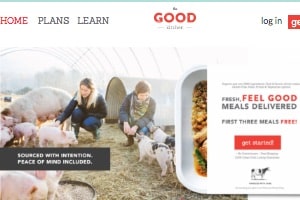 The Good Kitchen
The Good Kitchen creates their meals using the gold standard of Paleo ingredients: organic produce (even working with farms using regenerative agriculture), 100% grass fed and grass finished beef, pastured eggs, poultry, pork and lamb and fish and shellfish that is Seafood Watch compliant. They partner with farmers and farms in the area near their kitchens in NC to source in-season foods available at those local farms, and design their weekly changing menu around what is the freshest and tastes the best in any given season. They offer free delivery to all residential and office addresses in Grand Rapids, Wyoming and throughout Michigan, with a minimum of five meals per order.  TGK organizes their menu into sections based on the protein in the meal (meat, pork, fish…) and even have a menu section dedicated to Paleo vegetable/vegetarian/pegan dishes. In addition they have a menu dedicated to healthy kid friendly lunch boxes. They also offer a variety of add ons.
See thegoodkitchen.com for prices and current menus.
The Good Kitchen is offering a 15% discount for our readers. Use promo code "mypaleos" at checkout for 15% off your first order.
For our detailed write up on The Good Kitchen including reviews, see our in-depth coverage on them.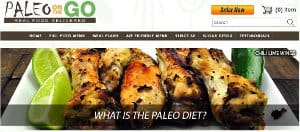 Paleo on the Go
Founded in 2012, Paleo on the go is a popular meal delivery service that will deliver to the Grand Rapids and Wyoming area. They've been highly rated and reviewed by bloggers as well as ranked and awarded by various Paleo-centered institutions. The company sources from local farms that they personally visit and offer a variety of specialized plans including an AIP meal plan, sugar detox, and thirty-day elimination diet plan. You can purchase one of their plans or pick and choose a variety of single meals, and the meals will arrive at your doorstep, frozen and ready to be heated and served.
See paleoonthego.com for prices and meal options.
Note: Paleo on the Go is offering a 10% discount for our readers, use code "MYPALEOS" at checkout for 10% off your entire order – one time use.
For our detailed write up on Paleo on the Go including reviews, see our in-depth coverage on them.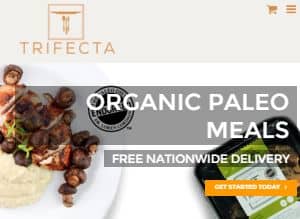 Trifecta
Paleo is one of the many options Trifecta offers on its online platform. The company primarily advertises its meal plan, but also allows you the option to choose your meals a la carte so that you can portion meals yourself. All of Trifecta's meals are 100% organic and all meals in their Paleo menu adhere to Paleo principles. A great benefit of Trifecta is that delivery is free anywhere in the United States.
See trifectanutrition.com for current prices for their Paleo and organic meal delivery Grand Rapids offerings.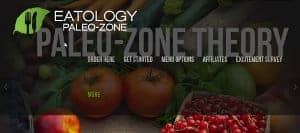 Eatology
Eatology is one of the more affordable options and creates meals based not only on the Paleo diet but also on the Zone diet (which focuses on weight loss and macronutrient balance). Eatology has several different plans and offers discounts on recurring plans. The pricing is consistent, with single meals costing either $10.50 or $12.75 (depending on how many servings there are per meal). Their meals contain no added sugar and will last up to 6 months in the freezer.
See http://www.eatology.co for Eatology's Paleo-zone plans and pricing, including nationwide plans for healthy meal delivery Grand Rapids options.
Eatology is offering a 20% off promo for our readers (works for first & all later orders), use code "ZACHPALEO" at checkout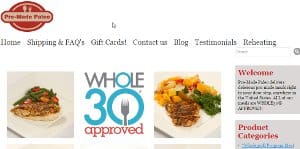 Pre-Made Paleo
Pre-made paleo offers many options for those wishing to tailor their Paleo plans to specific menu-types. They offer AIP specific meals, as well as Whole30 and family-centered plans. Though they once shipped only flash-frozen, vacuum shipped meals, they've recently added an option to ship fresh meals. Their chefs frequently add new and interesting things to their menus, like water buffalo, alpaca, and wild boar sausage. They ship to the Grand Rapids and Wyoming area and have several different shipping options.
See premadepaleo.com for prices and Paleo meal delivery Grand Rapids inclusive nationwide plans
Pre-made Paleo has offered a 5% discount (one time use) on all orders for our readers. Use code "MYPALEOS2018" at checkout
For our detailed write up on Pre Made Paleo including reviews, see our in-depth coverage on them.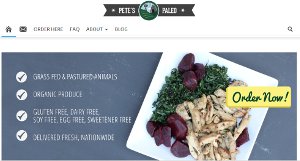 Petes Paleo
Pete's Paleo is yet another Paleo delivery service that maintains close ties to local farmers and offers seasonal, fresh, organic ingredients. The site has been featured on a variety of television programs as well as in newspapers and magazines. One of their more popular items is their 21-day sugar detox (they also offer a plan adhering to the Wahls Paleo requirements). Pete's menu changes seasonally, and the company offers a variety of meal plans that you can purchase either one-time or on a recurring basis. They even offer a family plan, which provides four servings of each meal.
See petespaleo.com for a complete list of prices, meal plans and healthy food delivery Grand Rapids options.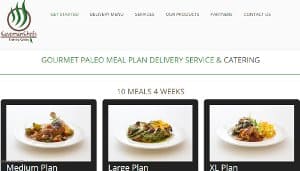 Caveman Chefs
The owners and operators of Caveman Chefs are all chefs with backgrounds in the restaurant and catering industry. Caveman chefs offers custom meal plans with the ability to adjust meals to meet specific dietary restrictions. Though they operate out of Colorado and list options for local catering and pickup, they ship meals to Grand Rapids and Wyoming as well.
Visit http://www.cavemanchefs.com for more information on their Paleo delivery Grand Rapids options
Caveman Chefs has offered 10% off all orders by mentioning the promo #ZachmyPALeos in the order comments or mentioned by phone during checkout.
For our detailed write up on Caveman Chefs including reviews, see our in-depth coverage on them.
Every Year there are More Options for Paleo Meal Delivery Grand Rapids & Wyoming Paleo Delivery Options
It should be mentioned that many of these services offer packaging that is useful for traveling. If you're heading to a place where eating Paleo might not be a viable option, these services allow you maintain your diet, even when life gets busy. Ordering a few meals can often make a difference with staying on track with Paleo and eating consistently healthy food. With companies delivering food directly to your doorstep, staying on track has never been easier. What this list has hopefully brought to light is that there are a number of options available for Paleo practitioners needing a break from the kitchen. Even if you love shopping and cooking your own meals, these services maintain close relationships with local farmers and can often access ingredients that may otherwise be difficult for you to obtain. They're worth a try.
Other Paleo Delivery Grand Rapids Area Companies
If you have any suggestions of other places offering Grand Rapids Paleo Friendly Meal Delivery or know of Grand Rapids Paleo restaurants that might offer takeout or delivery options, please let us know in the comments below.