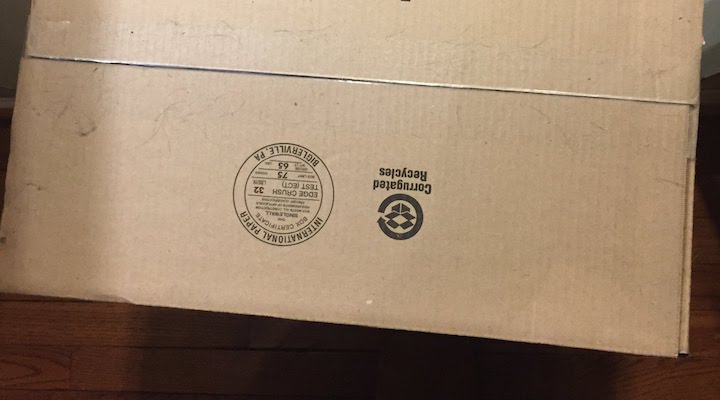 I noticed that Blue Apron had partnered with the Whole30 foundation previously for the month of January to offer Whole30 compliant meals on their menus. I was wondering if they continue to offer Whole30 friendly meals, so I decided to do some research and find out.
Does Blue Apron still do Whole30? Blue Apron customer service confirmed they have no current plans to partner with Whole30 in the future. Blue Apron featured Whole30 approved recipes for 3 months in 2018 (January, February and September).
It may be possible to piece together Whole30 friendly meals from the Blue Apron menu offerings, although this will likely involve omitting at least some ingredients in various dishes. There are also several companies that do have similar offerings to Blue Apron which do design their meals to be Whole30 compliant. Let's look at these two possibilities.
This article is part of our series on healthy meal delivery, including our recent article going over my recommendations for grain free meal delivery.
We cover the following....
Does Blue Apron have Whole30 Meals?
Although Blue Apron doesn't have their explicit partnership with the Whole30 going on at the moment, it is natural to wonder if you could still eat many of the Blue Apron meals if you are selective with the ingredients you include in each meal.
Could you just pick out those ingredients that are allowed on the Whole30 when cooking the dishes? After all, with a service like Blue Apron, you are in control of what ultimately goes into your meals as you are the one adding the ingredients into each dish.
To give a better sense of whether this is a reasonable thing to do, let's look at a breakdown of 3 example dishes all from the same week of Blue Apron meals:
Cajun-Spiced Steaks & Biscuits with Broccoli & Maple Butter
Ingredients Provided:
Steaks –

Allowed

Scallions – 

Allowed

Broccoli – 

Allowed

Butter – 

Allowed

Roasted Almonds –

Allowed, depends on Ingredients

Cajun Spice Blend (Smoked Paprika, Ground Yellow Mustard, Onion Powder, Garlic Powder, Whole Dried Oregano, Whole Dried Thyme & Cayenne Pepper) –

Allowed, depends on Ingredients

Spicy Maple Syrup –

Omit

Biscuit Mix – 

Omit

Fromage Blanc – 

Omit

Olive Oil you supply – 

Allowed
Verdict: This would be steaks with no biscuits if following the Whole30 – in addition, the sauce for the steak would be just butter rather than a butter spiced maple syrup blend
Mozzarella & Tomato Baked Chicken with Orzo & Zucchini
Ingredients Provided:
Boneless, Skinless Chicken Breasts – 

Allowed

4 oz  Orzo Pasta – 

Omit

1  Zucchini – 

Allowed

2 cloves  Garlic – 

Allowed

4 oz  Fresh Mozzarella Cheese – 

Omit

1 Tbsp  Capers – 

Allowed, depends on Ingredients

2 Tbsps  Fromage Blanc – 

Omit

2 Tbsps  Tomato Paste – 

Allowed, depends on Ingredients

1 tsp  Whole Dried Oregano – 

Allowed

¼ tsp  Crushed Red Pepper Flakes – 

Allowed

Salt (you supply) – 

Allowed

Pepper (you supply) – 

Allowed
Verdict: This dish would be completely altered, but you could have chicken with the tomato sauce with potentially some baked zucchini

Shrimp Teriyaki with Spicy Green Beans & Jasmine Rice
Ingredients Provided:
10 oz  Tail-On Shrimp (Peeled & Deveined) – 

Allowed

½ cup  Jasmine Rice – 

Omit

6 oz  Green Beans – 

Allowed

1 Tbsp  Rice Vinegar – 

Allowed

2 Tbsps  Soy Glaze – 

Omit

1 Tbsp  Honey – 

Allowed

1 Tbsp  Sesame Oil – 

Allowed

1 Tbsp  Soy Sauce – 

Omit

1 tsp  Black & White Sesame Seeds – 

Allowed

¼ tsp  Crushed Red Pepper Flakes – 

Allowed
Verdict: This would turn into just a shrimp and green beans dish for someone on Whole30, so likely not extremely filling (unless you supplement the provided green beans with a bigger quantity), probably not a great experience but could work if you really wanted to make it work
Blue Apron Quality Standards Compared to Whole30 and Paleo Guidelines
Both the Whole30 and Paleo diets emphasize grass fed, pastured proteins, wild caught seafood and organic produce as your top choice when selecting ingredients to use in meals.
Blue Apron also has their own quality standards and tend to promote them in their advertising material. But are these quality standards the same?
Seafood Quality Standards Comparison
On the seafood front, Blue Apron does commit to sourcing sustainable seafood recommended by the Seafood Watch organization. However, this does not explicitly mean the seafood is wild caught, something promoted as ideal by both the Whole30 and Paleo diets:
We partner with Monterey Bay Aquarium's Seafood Watch, a highly respected non-profit organization recognized as an authority on seafood sustainability, and only source seafood that Seafood Watch has rated "Best Choice" or "Good Alternative."

Blue Apron – What are your seafood standards?
Seafood Watch approved fish and shellfish can include farmed fish and shellfish, however they also promote wild fish as the best choice for most of their recommendations. So this really comes down to the interpretation of Blue Apron on which fish should be considered Seafood Watch approved.
In their FAQs they state that they will include Seafood Watch "Best Choice" or "Good Alternative", which both include farmed fish depending on the species. That said, the seafood guidelines of Blue Apron come the closest to meeting the recommendations on sourcing seafood suggested by the Whole30 and Paleo diet designers.
Meats Quality Standards Comparison
On the meat an poultry front, the Whole30 and Paleo diets go considerably further than Blue Apron in terms of what they recommend. Blue Apron avoids meats that have been treated with growth hormones or antibiotics given for the purpose of growth versus treating animals when they are sick:
Our farmers and ranchers raise animals with care and respect, and never use any sub-therapeutic antibiotics. Blue Apron requires that all of its meat, poultry and egg suppliers promptly treat animals in the rare event that they become sick and their welfare requires it.

Blue Apron – What are your standards for the use of antibiotics and hormones?
Although these Blue Apron meat and poultry standards are laudable, they fall well short of the grass fed and organic or pastured and organic proteins recommended by the Whole30 and Paleo diets.
Produce Quality Standards Comparison
Very similar conclusions can be drawn from the produce standards of Blue Apron. Blue Apron sets the bar at restricting any genetically modified ingredients from any of the ingredients provided in their boxes:
To ensure that we do not source GMOs, we require that our suppliers certify to us that their products, and their ingredients, were not produced using genetic engineering.

Is Blue Apron non-GMO?
This is a great step in the right direction, however it does not go as far as the Whole30 and Paleo guidelines which recommend organically grown ingredients whenever possible.
That said, I'd be surprised if everyone following the Whole30 template or Paleo template achieves 100% organic ingredients in their meals. Many people use the EWG's clean fifteen and dirty dozen lists as guidelines of ingredients to always purchase organic versus those that make sense to save money on by purchasing conventional ingredients.
Blue Apron does indicate that some of their ingredients are in fact Organic or are from farmers who use sustainable farming practices if not certified organic, but without more detail, it's hard to confirm what percentage that might be:
Some of our ingredients are USDA certified organic. We're committed to sending high quality ingredients in every delivery and support farmers who use sustainable farming practices.

Blue Apron – Are your ingredients organic?
I always tend to be skeptical and assume the percentage could be quite low.
Whole30 Friendly Blue Apron Alternatives
In terms of companies that deliver meal kits that would work for Whole30, where the recipes and individual ingredients would all typically comply, there are several alternatives to Blue Apron on the market.
The two I would recommend looking into are Sun Basket and Green Chef. Both offer Paleo meal kit plans, that should comply with the Whole30 in the majority of cases. We wrote about these companies in our guide to Paleo Meal kits, where you can find out much more about their individual offerings and which one might be a good fit for you.
It's true that with meal kit plans that are designed for the Paleo Diet, you might occasionally still need to omit honey, or maple syrup or one of the few ingredients that differ between Whole30 and Paleo, but for the most part the ingredients will comply, including their sourcing (organic/grass fed/pastured) which is an area where they shine compared to Blue Apron.
If you are looking for 100% Whole30 compliant meals that are specifically designed for the diet from the beginning, you might also consider pre made meals from one of the companies who specialize in Whole30 specifically.
Similar to meal delivery kits, these companies deliver nationwide to your door, but instead of sending recipes and ingredients, they send pre-assembled Whole30 meals ready to reheat. In this article we go over all the options for getting these types of Whole30 meals delivered, including pluses and minuses with each nationwide company on the market.
Does Blue Apron have Paleo options?
Blue Apron does not explicitly offer a Paleo meal plan. Unlike for Whole30, Blue Apron has never partnered with Paleo related organizations to craft meals designed specifically for Paleo.
That said, many of the same considerations apply for someone eating a Paleo Diet as described in the last section on Blue Apron and the Whole30. Your options are to omit certain ingredients from each of the meals.
In general, these would be the same omissions as covered in the previous section, things like orzo, cheese and soy sauce. If you are living with someone who wants to try Blue Apron while you are hoping to stay Paleo, you can technically adapt most blue apron recipes to work for you, but you may only end up with a shell of a dish instead of a full one.
If this is something you are considering, I would suggest first reading the section later in this article on companies that offer Paleo/Whole30 meal kits and Paleo meal delivery to make sure working with a company that designs meals with these diets in mind doesn't make more sense for you.
Does Blue Apron have Keto meals?
Blue Apron does not offer Keto meals, but they do offer a "carb conscious" option on their signature for 2 plans. But is that a feasible solution for someone trying to maintain a Keto diet?
The first question to ask yourself is how strict are your Keto goals? Are you in the process of trying to get into Ketosis? Are you looking to maintain Ketosis?
The Blue Apron carb conscious badge indicates that the meal has less than 48 net carbs per serving. If you are trying to stay under 30 grams of net carbs per day, this way overshoots the mark.
Then you have to factor in that this is per serving, so you have to be careful to eat only what they would consider to be a one person serving. Finally, they only offer this option for one of their meals on the signature menu, not all meals.
The other suggestion they make is that they list net carbs for each meal, so you can look in advance and see if any of the meals for the upcoming week meet your goals.
So the short answer is that Blue Apron is probably not a good option if you are serious about maintaining a Keto Diet. If your family members or roomates orders it and only expects you to share in some of the meals, the carb conscious meals might be a passable option, but only if you don't have very strict goals for your total net carbs.
Blue Apron Whole30 Recipes
For those interested in getting a sense of the Whole30 recipes that Blue Apron has offered, here's a list of their planned weekly menus from the beginning of 2018:
Week of September 3:
Mediterranean Salmon with Sautéed Kale & Zucchini

Crispy Chicken Tenders & Mashed Potatoes with Butter Lettuce Salad & Ranch Dressing

Pork Fried Cauliflower Rice with Cabbage & Sweet Peppers

Week of September 10:
Spice-Crusted Salmon & Carrot Fries with Avocado-Kale Salad & Chipotle Dipping Sauce
Beef & Vegetable Stir-Fry with Cauliflower Rice

Dukkah-Crusted Pork Roast with Roasted Cauliflower & Tahini Dressing

Week of September 17:
Cajun Tilapia with Cauliflower Dirty Rice

Steak Frites with Butter Lettuce Salad

Chicken Piccata with Roasted Broccoli & Mashed Potatoes

Week of September 24:
Garlic Shrimp & Spanish Potatoes with Peppers & Onions
One-Pan Coconut Chicken Curry with Sweet Potatoes & Bok Choy
Ground Pork Lettuce Cups with Cauliflower Rice
How Much Does Blue Apron Whole30 Cost?
According to the Blue Apron website, with the $60 off discount promotion they were offering, the Whole30 meals start at $9.99 per serving, or $19.98 per meal for 2.
The Whole30 meals offered by Blue Apron were offered as part of their rotating menus, so the average price would be comparable to all Whole30 meals, which are currently in the $7.49-$9.99 per serving range depending on the number of meals ordered per week, according to the Blue Apron website.