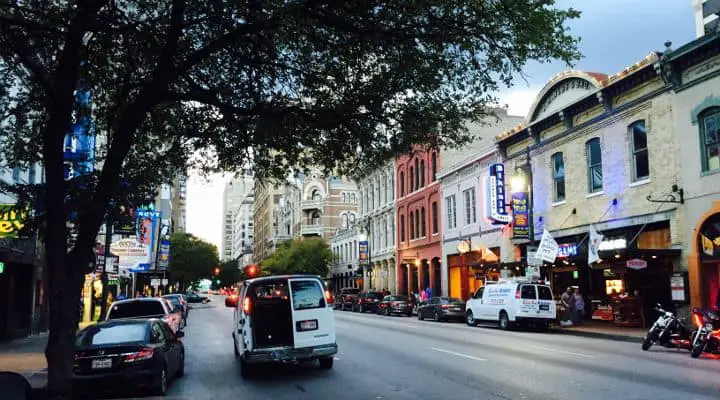 Live in the Austin area or in Texas? On the paleo diet? Do you wish you could have a local chef cater meals for you that are completely paleo? The good news is that there are number of paleo food delivery Austin companies that will cater to your needs on the paleo diet. In this article we cover a wide range of food delivery services available that cater specifically to people on the paleo diet. And all of these services deliver to paleo Austin residents, whether its just one meal or many meals per week and whether it's a local Austin business, from across the state or across the US. We've gone through and researched all of your options. This article is part of our paleo food in Austin Texas Series: • 8 Paleo Restaurants in Austin Texas, both Strict Paleo and Paleo Friendly Options • 9 Paleo Food Delivery Austin Services
We cover the following....
Local Paleo Meal Delivery Services based in Austin
The following Austin local businesses offer delivery of chef prepared paleo meals to Austin and Round Rock residents: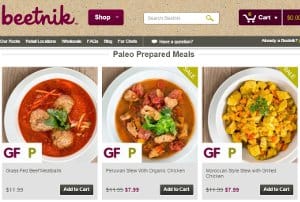 Beetnik Foods
Beetnik Foods are a healthy, ready-to-heat meal company whose headquarters are based in Austin, Texas. They have meals stocked nationwide through grocery stores such as Costco, Walmart and Kroger, so you can rest assured that you'll be able to find them near you.
Their meals are completely organic and Paleo-friendly, with the Paleo-certified sticker on compliant meals (although even their Paleo compliant meals may not be strict enough for some Paleo purists). Only a few of their meals contain rice, but are still approved as gluten-free, for those of you who aren't as strict or need those higher-glycemic carbohydrates in your diet (e.g. athletes).
Their meals are made fresh and then frozen, so you'll find Beetnik Foods in the frozen section of supermarkets. When you get home you can keep them frozen or thawed, and then heat them in your microwave or oven. Beetnik Foods are a great option for people who want to follow a Paleo way of eating but don't want to sign up for a subscription service; all you have to do is make sure you stock up on them and keep them in your freezer ready for those days that are a bit more hectic than usual.
For more details, reviews, and more product info see our detailed write up of Beetnik Foods.
Unfortunately, a number of local austin paleo delivery services have closed down over the years, such as Kippin It Paleo and Fixed Foods. It is important to support these businesses so that they can continue to provide this option to the Austin paleo community. Luckily, for those with specific dietary requirements, paleo Austin eaters are not restricted to only the above companies, they are also in the delivery area of the following dedicated paleo meal delivery services in the section below.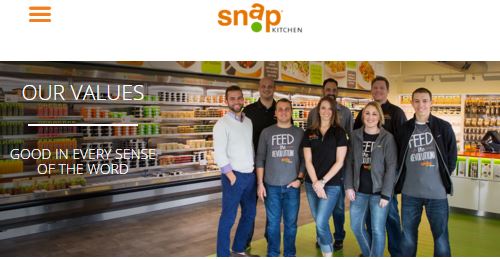 Snap Kitchen
Snap Kitchen are a popular healthy fast-casual chain of cafes that are starting to spread across the USA. With multiple locations in Atlanta, Dallas, Houston, Philadelphia and San Antonio, they are sure to expand to other cities in the future.
They have an app suitable for smartphones so that you can order easily wherever you are. When you place an order, they then prepare, cook and deliver it to a location of your choosing. Their menu varies on location and seasonality so that you receive meals that contain fresh, locally-sourced ingredients.
However, they do maintain a number of meal plans so that even though the individual dishes may vary, you can still follow a specific dietary meal plan such as Paleo, Whole 30, Vegetarian, Low-Carb, High Protein, Keto or what they call Balance (a general term for healthy meals that don't have requirements). You also have the ability to completely customize your meals so that you receive what you want without compromise.
Snap Kitchen offers a subscription service, meaning that you pick the number of meals you would like delivered on a weekly basis which then continues to roll over until you don't require their service anymore. They make it easy to skip or reschedule orders in case you're away on holiday or for work.
Spirited Food Co.
Spirited Food Co. is a small, local business dedicated to providing Paleo and AIP-friendly meals to the Austin area. They have been around since 2001, which really is a testament to the quality of their service.
Customers have said that their meals help to aid them in weight loss as well as maintaining good health, allowing those with autoimmune conditions to feel good and know that they are receiving meals that assist in their healing journey.
Spirited Food Co. create new menus weekly, keeping things interesting for the client as well as returning to old favourites from time to time. They do all this whilst continuing to use local, fresh and organic ingredients and even going as far as making their own sauces and vinaigrettes so that you receive only the highest quality food.
All meals are completely gluten-free (consistent with an AIP-friendly plan), and if there is dairy in any of the meals, it always comes on the side so that you can choose whether or not you'd like to add it. The reason why dairy isn't completely omited is because Spirited Food Co. also cater for customers who follow a Primal-centric diet. They also have a Skinny meal plan dedicated to those who are on a weight loss path.
Note: this post contains affiliate links. Click here to see what this means.
Paleo Food Delivery Services that Deliver to Austin
The following are paleo food delivery companies which sell only paleo approved meals and deliver to addresses in Austin: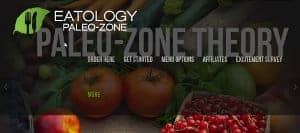 Eatology
Eatology, although not located in Austin is based in Bryan Texas near Texas A&M. Eatology delivers food all over Texas, as well as nationally. Residents of Austin would fall into their quickest delivery window outside of their immediate area.
Eatology focuses on making foods with all Paleo ingredients. However, in addition, they utilize the Zone Protocol for determining the proportion of protein, fats and carbs in each meal, with the goal of helping you feel more satisfied, to help with weight loss and to improve health (by avoiding fluctuations in your blood insulin levels).
The Zone diet usually appeals to athletes as well, due to the meals being naturally macro-balanced in favour of improving athletic performance, which is great for those Paleo practitioners who compete in sports such as Crossfit or likewise. All meals are between 155 and 250 calories based on whether you choose 2-block or 3-block portion sizes.
See http://www.eatology.co for Eatology's Paleo-zone meal plans and pricing.
Eatology is offering a 20% off promo for our readers (works for first & all later orders), use code "ZACHPALEO" at checkout
For our detailed write up on Eatology including reviews, see our in-depth coverage on them.
For our detailed write up, including reviews, see our in-depth coverage on Eatology.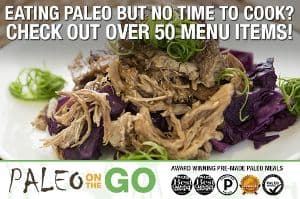 Paleo on the Go
Paleo on the Go is an award winning Paleo meal delivery service that focuses on gourmet meals. They offer delivery to addresses in Austin, making them an option to consider when looking for services to order prepared Paleo meals.
They focus on keeping Paleo meals affordable, while selecting high-quality proteins and organic vegetables where appropriate. Meals are delivered frozen and can be reheated. They also offer specialty Paleo meal plans such as meals compliant with the AIP protocol and Whole30 challenge, as well as homemade bone broths and other custom culinary products.
See paleoonthego.com for prices and meal options.
Note: Paleo on the Go is offering a 10% discount for our readers, use code "MYPALEOS" at checkout for 10% off your entire order – one time use.
Here is a video of me unboxing my latest Paleo on the Go order: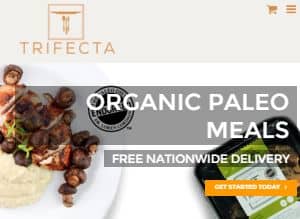 Trifecta
Trifecta is one of the largest health meal delivery companies in the market at this point in time, and offer a meal plan dedicated specifically to using Paleo specifications.
They ensure free shipping and delivery to locations in the greater Austin area, as well as throughout Texas and all other states in the US. They focus on all organic food in their meal plans and their Paleo meal plan was originally sanctioned by Dr. Cordain.
Meals are delivered in ready to heat to-go containers, but products and packaging are sourced with sustainability in mind. Popular athletes like Rich Froning make use of Triecta to support their training, so you can guarantee that their meals will help you with your goals too.
See trifectanutrition.com for current prices and Paleo meal options.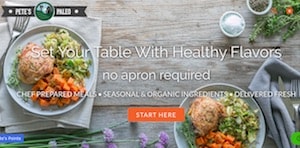 Petes Paleo
Pete's Paleo has come a long way over the last few years, having absorbed smaller previously loved businesses such as Premade Paleo/Truefare. Now we have the benefits of each of those businesses in one place: Pete's Paleo!
Pete's create chef-prepared meals using local, seasonal and organic ingredients that are appropriate for a Paleo diet. All of their meat is grass-fed and pastured, and they refuse to use gluten, dairy or soy in their meals. All meals are delivered fresh which can be frozen if you'd prefer to use them later, but are ready to heat when you want them.
Interestingly, Pete's Paleo used to be based in San Diego, but their headquarters have now moved to Atlanta, Georgia. They still maintain close ties with businesses in California as well as new suppliers in the state of Georgia.
See petespaleo.com for a complete list of prices and meal plans.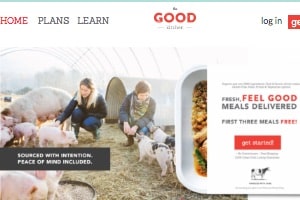 The Good Kitchen
Note: modPALEO has more recently rebranded themselves The Good Kitchen, for our detailed write up on The Good Kitchen including reviews, see our in-depth coverage on them.
The Good Kitchen based in the Charlotte NC area offers delivery of Paleo and Whole30 compliant meals all over the greater Austin area. They offer weekly subscriptions that include shipping costs to keep prices reasonable. They have also recently partnered with Walmart to offer some of their meals pre-packaged in the freezer section of select stores, if you'd like to try a few meals before signing up for a full subscription.
See thegoodkitchen.com (they recently rebranded from modPALEO to The Good Kitchen) for current prices.
The Good Kitchen is offering a 10% discount for our readers. Use promo code "mypaleos" at checkout for 10% off your first order.
I took a video when unboxing a recent TGK order: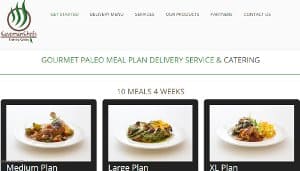 Caveman Chefs
Caveman Chefs is another gourmet Paleo Meal Delivery service, offering nationwide delivery. They source local high quality organic and grass fed paleo meats from farms in their area in Colorado. Out of all of the nationwide paleo deliver services, Caveman Chef seems to have more of an emphasis on international paleo dishes and include flavors and sauces that are more complex and unique than what you might find in standard organic food delivery fare. Visit http://www.cavemanchefs.com for more information
Caveman Chefs has offered 10% off all Caveman Chefs orders by mentioning the promo #ZachmyPALeos in the order comments or mentioned by phone during checkout.
Making an investment in your health
Although there are many benefits to the paleo diet, it can be a lot of cooking. Sometimes you just need or want a break.
There are many life transitions, such as a new baby, moving houses, starting a new health or workout routine or starting a new job where there may just not be time to cook healthy meals at home.
These paleo delivery services give you a great alternative during these periods. If the alternative is going back to unhealthy food, you realize that giving yourself that support can be a choice towards better health and a worthwhile investment.
Although this may sound like a splurge at first, as you look more carefully at the quality of the ingredients and compare these meals with eating out at a restaurant, it helps put the costs of organic food delivery austin services in perspective.
When you consider what the costs are for cheating on your health, you start to see that there are many costs to consider.
Have you found other services in the Austin area that you have found helpful with the paleo diet? Are there other resources that paleo austin eaters should know about? Please leave any advice in the comments below. If you have a resource or paleo food delivery austin companies you think we should include in this guide, please let us know! Thanks!
This article is part of our paleo food in Austin Texas Series: • 8 Paleo Restaurants in Austin Texas, both Strict Paleo and Paleo Friendly Options • 9 Paleo Food Delivery Austin Services