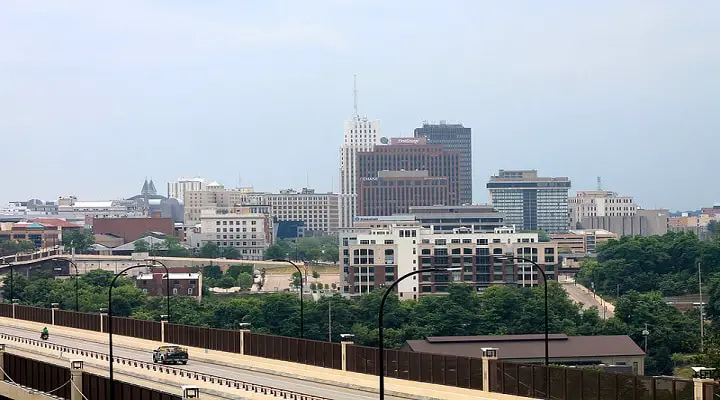 Whether you've recently adopted the Paleo lifestyle or are a long-time follower of the diet, there have likely been times when the idea of cooking all of your own meals from fresh, locally-sourced ingredients has seemed unachievable. If you have recently experienced a major change in your life – such as having a baby or moving to a new city – this can be especially true. Thankfully, there are plenty of options available to you in the Akron area that can help take the stress out of your Paleo lifestyle.
In the following guide, we will cover a number of local and national companies which offer Paleo meals for delivery in your area. These companies all adhere to the basic principles of the Paleo diet, such as excluding ingredients like gluten, artificial sweeteners, and dairy products, while using only organic, locally-sourced ingredients whenever possible. But all of them have something different to offer, ensuring that there will be an option somewhere in this guide to fit your particular situation.
We cover the following....
Local Paleo Food Delivery Akron Options
The following section will cover a companies located in the Akron area which offer Paleo meals for pickup and/or delivery. These companies often rely primarily on local farmers for their produce and meats, allowing you to receive meals similar to the ones you would cook at home – without the accompanying hassle. They can be a great option if you find yourself unable to cook at short notice and need a quick Paleo-friendly meal to tide you over.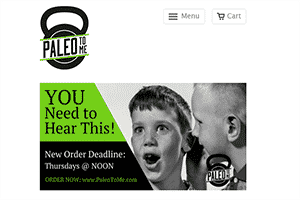 Paleo to Me
Paleo to Me is a local company offering Paleo meals "by Crossfitters, to Crossfitters". They have a focus on season, local unprocessed ingredients, and commit to making everything Paleo, with any grey area ingredients called out in the product description. Paleo to Me delivers your meals to gyms (pickup locations) throughout the Aktron area once per week, with a pickup location right in Akron. Note: you are allowed to pick up food from these locations whether or not you are a member of the gym. If you want to support a local Northeast Ohio company for your Paleo meals and are able to pick up your meals from one of their drop off locations, Paleo to Me may be just what you are looking for.
For more information on Paleo to Me and for prices see:
Paleo to Me Reviews:
https://clevelandbigwheelrelay.com/2016/06/01/paleo-to-me-supports-chsc/
http://neoboxstars.com/paleo-to-me-recipe-peach-jalapeno-relish/
https://www.instagram.com/paleotome/
https://fitt.co/cleveland/paleo-food-delivery-cleveland/
Paleo to Me Facebook Reviews: https://www.facebook.com/pg/paleotome/reviews/?ref=page_internal
This post contains affiliate links. Thank you for supporting us! Click here to learn what this means.
National Companies Offering Paleo Meal Delivery to Akron
The next section will cover seven different national companies which deliver Paleo meals to any Akron address. These companies are all experienced in the field of Paleo cooking and ingredient-sourcing, making them a reliable long-term option if your schedule rarely allows ample time for cooking or shopping. They all offer a wide variety of meal choices as well, along with a variety of meal plans catering to different dietary programs or requirements in addition to the Paleo diet.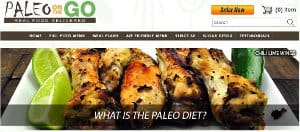 Paleo on the Go
Paleo on the Go is one of the most highly-regarded Paleo delivery services in the country, having won substantial acclaim and awards from throughout the Paleo community. They are committed to providing only the most high-quality ingredients available in their Paleo-compliant meals, while also taking the extra step of only buying items on the EWG's "Dirty Dozen" list organic. Together with these attributes, the diversity and quality of the menu offerings this company provides makes them a great delivery service to try out if you're unsure where to start.
See paleoonthego.com for prices and meal options.
Note: Paleo on the Go is offering a 10% discount for our readers, use code "MYPALEOS" at checkout for 10% off your entire order – one time use.
For our detailed write up on Paleo on the Go including reviews, see our in-depth coverage on them.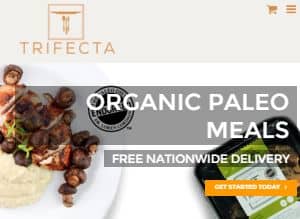 Trifecta
Trifecta is another one of the most popular national meal delivery services, with a successful Paleo meal plan in addition to numerous non-Paleo options. Since none of the other national companies on our list extend their focus beyond the Paleo diet, this makes Trifecta a fitting option if you have family or friends to accommodate who don't follow Paleo requirements in their diet. Trifecta also stands out for their insistence on using 100% organic ingredients in all of their meals, as well as for their attractive offer of free shipping on every order.
See trifectanutrition.com for current prices for their Paleo and organic meal delivery Akron offerings.
For our detailed write up on Trifecta including reviews, see our in-depth coverage on them.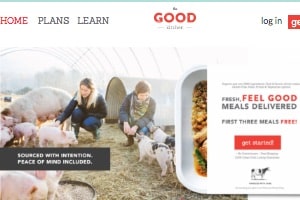 The Good Kitchen
The Good Kitchen is a national Paleo delivery service known for offering a wider range of options to its customers than most other delivery services. They start by offering a variety of different menus based on the main ingredients used in each meal (i.e. Beef, Pork, Chicken, Vegetarian, Seafood, and even Primal), and then allow you to tailor your meal plan to fit your particular situation – with choices such as the number of meals in each meal plan shipment (minimum of 5) and how often you would like your shipments to arrive (weekly, bi-weekly, or monthly) with free shipping on all meal plans. This makes The Good Kitchen one of the most customizable delivery services out there, while their introductory offer of three free starter meals makes them a good choice for those who like to sample before they buy.
See thegoodkitchen.com for The Good Kitchens complete menu and list of healthy meals delivered Akron / nationwide plans.
The Good Kitchen is offering a 15% discount for our readers. Use promo code "mypaleos" at checkout for 15% off your first order.
For our detailed write up on The Good Kitchen including reviews, see our in-depth coverage on them.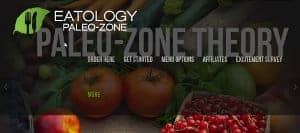 Eatology
Eatology combines the requirements of the Paleo diet with those of the Zone diet, making them a great choice for followers of both regimens. The resulting meals are divided into portion-controlled "blocks," which serve to balance the amount of macronutrients and calories consumed in each meal, while preventing over-eating and promoting weight loss. Also, while most of the other companies on this list ship their meals fresh, in refrigerated cooler boxes, Eatology ships their meals frozen in innovative, sustainable packaging which can be heated in either a microwave or conventional oven.
See http://www.eatology.co for Eatology's Paleo-zone plans and pricing, including nationwide plans for healthy meal delivery Akron options.
Eatology is offering a 20% off promo for our readers (works for first & all later orders), use code "ZACHPALEO" at checkout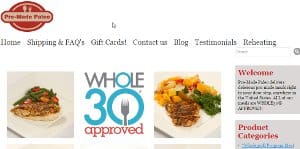 Pre-Made Paleo
Pre-Made Paleo is another great choice for dual dieters, adding the requirements of the Whole30 program to those of the Paleo diet. The culinary contributions of the company's head chef, also known as the creator of the recipes in the popular Whole30 series of cookbooks, are another one of Pre-Made Paleo's main selling points, as this allows you to receive the delicious and healthy meals of the Whole30 program straight from the source. This company often boasts unique ingredients in its menus as well (water buffalo and wild elk, to name two), making them a great choice for seasoned Paleo dieters looking to add some excitement to their daily meals.
See premadepaleo.com for prices and Paleo meal delivery Akron inclusive nationwide plans
Pre-made Paleo has offered a 5% discount (one time use) on all orders for our readers. Use code "MYPALEOS2018" at checkout
For our detailed write up on Pre Made Paleo including reviews, see our in-depth coverage on them.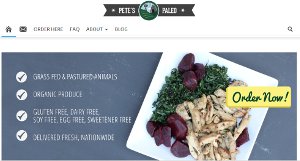 Petes Paleo
Pete's Paleo is a national delivery which makes a great choice for the most stringent of Paleo dieters. This company tailors their menus around the harvest schedules of the local San Diego farmers whom they partner with, while also eliminating all sugars and sweeteners from their meals. Their strict commitment to these principles has made their Sugar Detox meal plan immensely popular among followers of that program, and a Wahl's Paleo-compliant meal plan is also offered, making Pete's one of the most health-conscious delivery services offering delivery to the Akron area.
See petespaleo.com for a complete list of prices, meal plans and healthy food delivery Akron options.
For our detailed write up on Petes Paleo including reviews, see our in-depth coverage on them.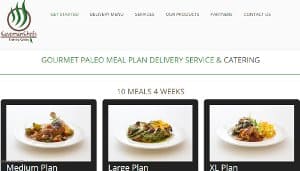 Caveman Chefs
Despite only having been in business since 2014, this Denver-based company has already made their mark on the national delivery service. As with all of the companies on this list, Caveman Chefs delivers to any home or office address in the greater Akron area, offering meals which adhere to all Paleo requirements and ingredient-sourcing principles. However, this company's intimate partnerships with local farmers often result in hearty, satisfying regional meal choices which set them apart from the competition, while their accommodations for individuals with food allergies or other dietary requirements are second to none.
Visit http://www.cavemanchefs.com for more information on their Paleo delivery Akron options
Caveman Chefs has offered 10% off all orders by mentioning the promo #ZachmyPALeos in the order comments or mentioned by phone during checkout.
For our detailed write up on Caveman Chefs including reviews, see our in-depth coverage on them.
Every Year there are More Options for Paleo Meal Delivery Akron & Paleo Delivery Options
Hopefully this guide has helped to inform you of the many options available to you in the Akron area to increase the convenience of your Paleo diet. While adhering to the principles of the Paleo diet can often seem like a black and white situation, the companies listed in this guide allow you to maintain the basic dietary principles of the diet while simultaneously avoiding the hassles involved with daily shopping and cooking routines. After trying any one of these companies, you will likely find that making this small change in your life can make your Paleo experience feel much more enjoyable.
However, everyone has different situations to deal with, and each of the local and national companies above offers unique options to fit these situations. Whether you experience the occasional busy day at work or hardly ever find the time to cook quality meals for yourself, the range of options described in this guide ensures that there is an option out there to fit the specifics of your situation. In any case, what is most important is that you find a way to maintain your hard-won Paleo principles – even if you don't have the time to cook all of your own meals from scratch on a daily basis.
Other Paleo Delivery Akron Area Companies
If you have any suggestions of other places offering Akron Paleo Friendly Meal Delivery or know of Akron Paleo restaurants that might offer takeout or delivery options, please let us know in the comments below.