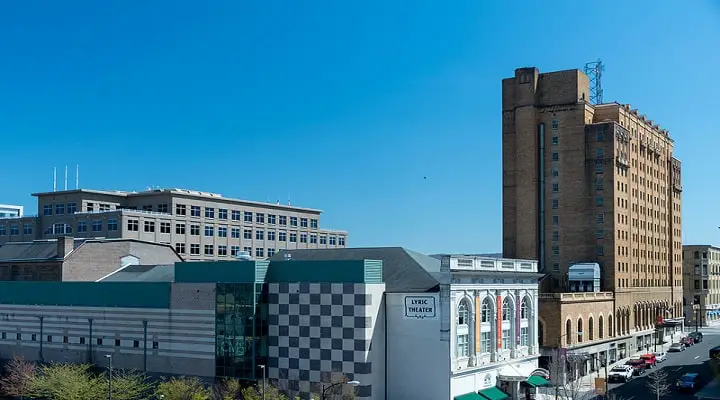 Whether you're a new adopter of the Paleo diet or a long-time adherent to its principles, there has likely been a time when having to cook all of your daily meals from scratch, using fresh, locally-sourced ingredients, has felt overwhelming. It's possible that you have even considered wavering from your dietary principles from time to time, especially if you have a busy schedule. But while the lure of quick and easy processed foods can be tempting, there are other options available to you around Allentown and Bethlehem to make your Paleo experience more convenient without your dietary principles taking a hit in the process. In fact, a number of local companies throughout the Lehigh Valley area can cater directly to your needs, with fresh and healthy Paleo meals available for pickup and/or delivery at a moment's notice. Or, if you like planning a week's worth of meals in advance but wish you could skip the grocery runs and prep time involved, you can try one of seven national delivery companies, all of which deliver Paleo meals straight to your door. Whatever your preference, the companies below can all help your Paleo lifestyle become both easier and more enjoyable, allowing you to reap the diet's ample benefits without the accompanying hassles.
We cover the following....
Local Paleo Food Delivery Allentown Options
In the following section, we'll cover local companies throughout Allentown, Bethlehem, and the surrounding areas which offer Paleo friendly meals that can be delivered. Options are generally quite limited for Paleo foods in the Allentown and Bethlehem area. Although not focused exclusively on Paleo meals, like the national companies mentioned later generally are, they provide the highest level of convenience available and can act as a crucial safety net when you're pressed for time and aren't able to cook. Plus, they have the added benefits of sourcing many of their ingredients right from your area – allowing you to experience meals cooked at optimal freshness while supporting local businesses at the same time.
CLOSED – Cruising Cuisine by Christine
Although more of a traditional personal chef/catering service, Christine pledges to work with you to craft meals that work with your dietary needs, like and dislikes. You may need to lay out for her exactly what you are excluding from your diet, such as grains, legumes and dairy, but her focus is to customize a meal plan that will work for you. She charges a delivery percentage charge for all delivered food, but does offer this option. Cruising Cuisine by Christine Yelp Reviews: https://www.yelp.com/biz/cruisin-cuisine-by-christine-lehighton Cruising Cuisine by Christine Facebook Reviews: https://www.facebook.com/pg/CruisinCuisineByChristine/reviews/
This post contains affiliate links. Thank you for supporting us! Click here to learn what this means.
National Companies Offering Paleo Meal Delivery to Allentown
In the next section, we'll cover seven different national delivery companies which deliver Paleo meals to any address in the Allentown and Bethlehem area. Each company has something a little different to offer, ensuring that that there is a delivery option out there to meet your individual tastes and delivery preferences. These companies all ship their meals either fresh or frozen – in refrigerated cooler boxes or dry ice, respectively – often using sustainable packaging which benefits the environment, while also keeping your food cold.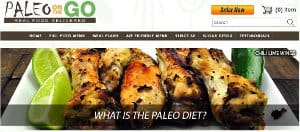 Paleo on the Go
If you're not sure where to start, you can't go wrong with Paleo on the Go. This national company has an unbeatable performance record, listing a bevy of awards from notable Paleo blogs and other institutions within the community. They are known for providing consistently high-quality ingredients in their meals, while also going the extra mile by making sure that every item on the EWG's "Dirty Dozen" is bought organic every time – no exceptions! Together with their consistent innovative and delicious meals, which are delivered fresh to any Allentown address via express shipping, Paleo on the Go hits all the right marks with its excellent delivery service. See paleoonthego.com for prices and meal options. Note: Paleo on the Go is offering a 10% discount for our readers, use code "MYPALEOS" at checkout for 10% off your entire order – one time use.
For our detailed write up on Paleo on the Go including reviews, see our in-depth coverage on them.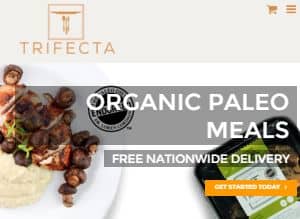 Trifecta
Trifecta is another widely popular delivery service which would be a great starter option, especially since they offer non-Paleo meals in addition to their Paleo lineup – which can be perfect if you're the only Paleo member of an otherwise non-Paleo family. However, despite their inclusion of meal plans which don't follow Paleo requirements, Trifecta also includes an acclaimed Paleo meal plan which gets everything right. This plan includes up to three meals a day for seven days a week, with meals arriving weekly – and featuring an all-new menu every week! Plus, Trifecta stands by its claim to use 100% organic ingredients, making their service perfect for anyone who likes having consistently nutritious meals without any of the hassles of cooking. See trifectanutrition.com for current prices for their Paleo and organic meal delivery Allentown offerings.
For our detailed write up on Trifecta including reviews, see our in-depth coverage on them.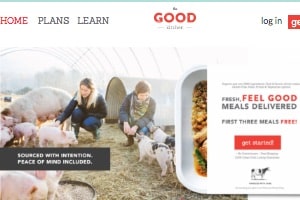 The Good Kitchen
The Good Kitchen is the perfect delivery service for those who know exactly what they want out of their Paleo meal plan. This company offers a wide variety of options, including a lineup of different menus based on the main ingredients in a meal (i.e. Beef, Pork, Chicken, Seafood, Vegetarian), and even includes a Primal menu for those who want to pare their Paleo diet down to its barest and most primitive essentials. You also get to choose the frequency that your meals are delivered (weekly, bi-weekly, or monthly), as well as the number of meals per shipment (minimum of 5). The combinations are endless, making it essentially guaranteed that you will find an option to suit your tastes and preferences at The Good Kitchen. See thegoodkitchen.com for The Good Kitchens complete menu and list of healthy meals delivered Allentown / nationwide plans. The Good Kitchen is offering a 15% discount for our readers. Use promo code "mypaleos" at checkout for 15% off your first order.
For our detailed write up on The Good Kitchen including reviews, see our in-depth coverage on them.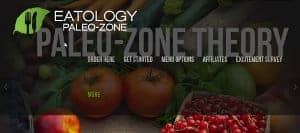 Eatology
Like all of the other companies mentioned so far, Eatology delivers to any address throughout Allentown and the entire Lehigh Valley region. But unlike those other companies, Eatology also combines the requirements of the Paleo diet with those of the Zone diet. This makes for a unique experience in which you will receive meals which have been tailored, with balanced macronutrient levels, for weight loss promotion and general wellness – in addition to the benefits that you already receive from the Paleo diet. Plus, Eatology breaks all of its meals down into serving sizes known as "blocks," to keep you from overeating and allow you to get the exact number of calories that you need in each meal. See http://www.eatology.co for Eatology's Paleo-zone plans and pricing, including nationwide plans for healthy meal delivery Allentown options. Eatology is offering a 20% off promo for our readers (works for first & all later orders), use code "ZACHPALEO" at checkout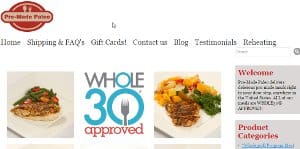 Pre-Made Paleo
Pre-Made Paleo also appeals to dual dieters with its Whole30-approved delivery service. All meals offered by Pre-Made Paleo are both Whole30-compliant and Paleo-compliant, making this service a perfect choice for anyone already following the program, as well as if you have been considering incorporating it into your Paleo diet if only you had the time. Now, time will no longer be an issue, as Whole30's delicious and diverse lineup of meals (developed by the chef who created the recipes for the Whole30 cookbook series) will keep you eating your best and feeling your best without the need to cut corners. Plus, for the adventurous eater, Pre-Made Paleo offers choices like water buffalo and wild elk – not likely to be found at your local grocery store! See premadepaleo.com for prices and Paleo meal delivery Allentown inclusive nationwide plans Pre-made Paleo has offered a 5% discount (one time use) on all orders for our readers. Use code "MYPALEOS2018" at checkout
For our detailed write up on Pre Made Paleo including reviews, see our in-depth coverage on them.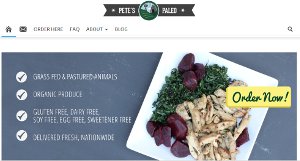 Petes Paleo
For those who like to keep their Paleo diet streamlined to its essentials, Pete's Paleo is the choice for you. Pete's is especially known for its exclusion of all sweeteners (even natural ones) from its meals, with a popular Sugar Detox plan designed for individuals following that program in addition to the Paleo diet. You can also count on getting high-quality ingredients from Pete's in every shipment, usually locally-sourced in the San Diego area through intimate partnerships with local farmers. Also, Pete's ships all of their meals fresh, in special pouches which are vacuum sealed immediately after the meals are prepared and packed in refrigerated cooler boxes to ensure that the meals are still at optimal freshness when they arrive at your door. See petespaleo.com for a complete list of prices, meal plans and healthy food delivery Allentown options.
For our detailed write up on Petes Paleo including reviews, see our in-depth coverage on them.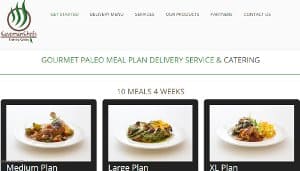 Caveman Chefs
Since its formation in 2014, Caveman Chefs has rose to become a respected new player on the Paleo delivery scene – with a Paleo delivery service that has won consistent rave reviews and consumer praise over the past couple of years. The owners of Caveman Chefs are tirelessly committed to the principles of the Paleo diet – and this shows in the food. They get the majority of their ingredients – including fresh, seasonal produce and humanely-treated, grass-fed meats – from area farmers, and they maintain an added commitment to accommodate individuals with specific food allergies or dietary needs. So if you're interested in a Paleo meal plan with regional Colorado and impeccable Paleo standards, Caveman Chefs is another great option to check out. Visit http://www.cavemanchefs.com for more information on their Paleo delivery Allentown options Caveman Chefs has offered 10% off all orders by mentioning the promo #ZachmyPALeos in the order comments or mentioned by phone during checkout.
For our detailed write up on Caveman Chefs including reviews, see our in-depth coverage on them.
Every Year there are More Options for Paleo Meal Delivery Allentown & Bethlehem Paleo Delivery Options
Over the course of this guide, we've covered a variety of options which we hope will be helpful in improving the convenience of your Paleo lifestyle. Despite the many benefits which this lifestyle has to offer, we've all had times where it simply feels like too much to handle. Cooking our own meals from scratch using all-natural, local ingredients remains one of the core components of the Paleo diet, but sometimes it's just not possible to achieve this when dealing with busy schedules and everything else that life throws at us. That's why choosing one of the local or national companies listed above can be a perfectly acceptable compromise to help you to maintain the basic principles of the Paleo diet without letting go completely. The local companies listed above may offer a lower degree of variety, but they are unmatched in convenience, taking the worry away from a last-minute meal choice. The national delivery companies, on the other hand, offer a lifetime of variety and allow for long-term meal planning. Whichever one you choose, the outcome of maintaining your Paleo standards will be the same – allowing you improve your lifestyle and enjoy a heightened level of convenience in your daily life.
Other Paleo Delivery Allentown Area Companies
If you have any suggestions of other places offering Allentown Paleo Friendly Meal Delivery or know of Allentown Paleo restaurants that might offer takeout or delivery options, please let us know in the comments below.