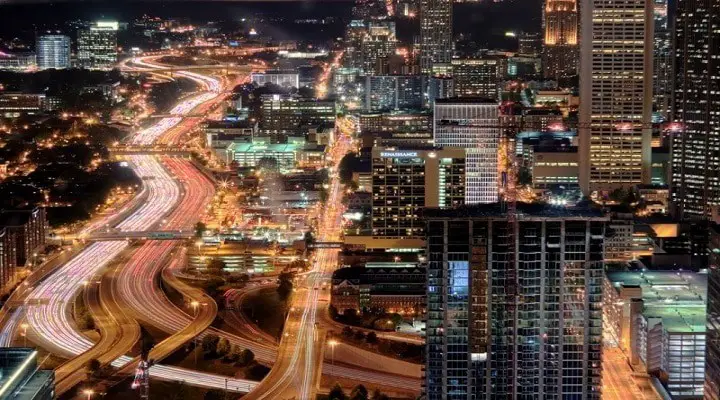 If you're like us, there are probably times during the week when you just don't have time to prepare a meal. And while there are tons of places in Atlanta where you can order takeout or delivery, there's no guarantee that these places cater to customers following the Paleo diet. We've got you covered! There are actually an increasing number of local and national companies that deliver to the Atlanta area, providing customers with a wide variety of healthful and organic meal options. Whether you're interested in a spur-of-the-moment weeknight dinner, or a bi-weekly Paleo meal plan, there's a variety of choices out there available to you. There are even options for those following specific paleo plans (like AIP, Whole30, or Sugar detoxes). Below, we've created a list of both local and national companies who will deliver paleo-specific meals directly to your door.
We cover the following....
Local Paleo Food Delivery Atlanta Options
It doesn't matter if your day ran longer than expected, or if you didn't have time this weekend to shop for specialty foods – there are still ways for you to keep up with your Paleo Diet. And ordering locally allows you to supplement your home cooked meals as well as sponsor your local food scene. There are a few great restaurants and services in the Atlanta area that create and deliver Paleo meals. While many of these local companies might not cater exclusively to Paleo clients, their menus contain at least a few items that adhere to Paleo's grain, dairy, and sugar-free requirements. This post contains affiliate links. Thank you for supporting us! Click here to learn what this means.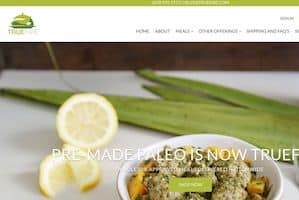 True Fare
If you are looking for a company based in Atlanta and that takes the the Paleo Diet seriously, you will definitely want to check out True Fare. True Fare has it's roots in the local Atlanta Paleo scene and has expanded to become a nationwide Paleo and Whole30 meal delivery company delivering to all corners of the US. For residents of most of Metro Atlanta they offer same day delivery of meals if ordered by the morning (business orders) or early afternoon (for residential customers). Their meats are grass-fed and free range, their produce is organic and, most interesting of all, they offer a rotating variety of hard to find ingredients like Wild Boar, elk, and water buffalo. The executive chef, Richard Bradford, was chosen to the be the chef of the Whole 30 cookbook series as well as writing a recipe column for the Whole 30 website so all meals are not only Paleo but also Whole30 compliant. Pre-Made Paleo has been in business a while and specialize in creating specialty meal plans that adhere to AIP, Keto as well as Paleo, Whole30 sugar-detox versions of Paleo friendly meals. The company has a variety of shipping options, and – though they used to only offer frozen shipping – they've recently added an option for fresh meal delivery. 
For more information on True Fare and for prices see:
http://truefare.com/ Pre-made Paleo has offered a 5% discount (one time use) on all orders for our readers. Use code "MYPALEOS2017" at checkout
Pre-Made Paleo Reviews:
http://www.hellobee.com/2014/05/22/pre-made-paleo-a-whole-30-meal-delivery-service/ http://ohsnapletseat.com/2016/05/22/pre-made-paleo-review/ http://www.tallmomtinybaby.com/2014/07/my-whole30-lifesaver-pre-made-paleo.html http://fenglongphoto.com/review-premadepaleo-com-pre-cooked-paleo-diet-meals/ https://cuttingthecheese.wordpress.com/2012/09/28/pre-made-paleo-meal-1/
Pre-Made Paleo Facebook Reviews: https://www.facebook.com/pg/mytruefare/reviews/
Pre-Made Paleo Yelp Reviews: https://www.yelp.com.au/biz/pre-made-paleo-atlanta  
Edesia Meals
Edesia Meals is a husband and wife meal delivery service focusing on Paleo meals. The husband is the chef and the wife is the pastry chef. They offer deliver to gym and crossfit locations throughout Atlanta. There is a delivery fee depending on the distance to the pick up location. Meals are non-frozen and they focus on using local, sustainable, organic ingredients. If you are looking for a local option that focuses on the Paleo Diet and are happy with picking up meals from a crossfit gym in your area Edesia Meals could be another good option.
For more information on Edesia Meals and for prices see:
http://www.edesiameals.com/ Edesia Meals Facebook Reviews: https://www.facebook.com/pg/EdesiaMeals/reviews/?ref=page_internal Edesia Meals Yelp Reviews: https://www.yelp.com/biz/edesia-meals-decatur-3
Fresh 'N Fit Cuisine
Fresh N Fit offers a Paleo meal plan as well as several other types of healthy non-Paleo meal plans like gluten free, vegetarian, hCG diet, low carb and other options. Meals are available at over 100 pickup locations throughout the Atlanta metro area or can be delivered with delivery offered twice a week. Meals are set at 1200 calories or 1800 calories based on your preferences.
For more information on Fresh 'N Fit Cuisine and for prices see:
https://www.freshnfitcuisine.com/
Fresh 'N Fit Cuisine Reviews:
http://www.madebymark.com/2013/06/07/201367review-freshnfitcuisine-meal-service-offers-lottery-lifestyle-at-everyday-prices https://freshnfitcuisine.wordpress.com/2017/02/07/a-fresh-n-fit-start-to-2017/ https://www.youtube.com/watch?v=1TPXkQf8o6g Fresh 'N Fit Cuisine Facebook Reviews: https://www.facebook.com/FreshnFitCuisine/ Fresh 'N Fit Cuisine Yelp Reviews: https://www.yelp.com/biz/fresh-n-fit-cuisine-cumming-2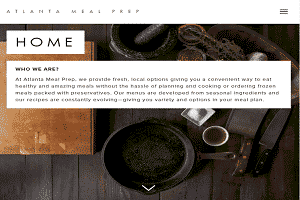 Atlanta Meal Prep
Atlanta Meal Prep offers customized meal delivery plans based on your dietary preferences. They advertise that they are able to prepare meals for those following the Paleo Diet as well as individuals with specific dietary requirements or restrictions and other specialized meal plans such as Gluten-Free, 1200 Calorie, High Protein Diet and Vegetarian diets for example. Meals are delivered twice a week with complimentary delivery inside the perimeter as well as offering pickup in the Buckhead and Chamblee Tucker area.
For more information on Atlanta Meal Prep and for prices see:
http://www.atlantamealprep.com/
Atlanta Meal Prep Reviews:
http://www.atlantamagazine.com/dining-news/atlanta-meal-prep-help-keep-new-years-resolution/ Atlanta Meal Prep Facebook Reviews: https://www.facebook.com/atlmealprep Atlanta Meal Prep Yelp Reviews: https://www.yelp.com/biz/atlanta-meal-prep-atlanta-2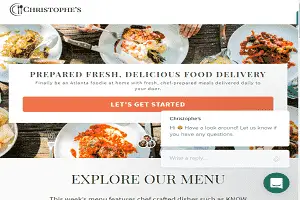 Christophe's
Christophe's offers non-frozen meals to the Atlanta area with Paleo options available for some of their meals. They offer deliver to home and work addresses within Metro Atlanta. Meals are delivered between 9am and 5pm Sunday through Wednesday and will be left at your door in a cooler with ice packs if you are not home. No sweeteners are used in any of the meals except honey.
For more information on Christophe's and for prices see:
https://www.christophestogo.com/
Christophe's Reviews:
http://dishesdelicious.net/the-daily-dish/2015/2/6/christophes-to-go-a-review http://roamilicious.com/2015/03/christophes-to-go-prepared-foods/ http://roamilicious.com/2015/11/christophes-to-go-behind-the-scenes-at-the-newest-location/ http://sweetsavant.com/2015/10/23/christophes-to-go-shares-a-red-hare-beer-braised-lamb-shank-recipe/ Christophe's Facebook Reviews: https://www.facebook.com/ChristophesToGo/ Christophe's Yelp Reviews: https://www.yelp.com/biz/christophes-atlanta
National Companies Offering Paleo Meal Delivery to Atlanta
Ordering locally is a great option for when you need a quick dinner solution. However, if you're looking for a more long-term solution to sustaining your Paleo Diet, or if you want to keep a few meals frozen and on hand, there are national companies who cater specifically to Paleo customers. We've created a list of companies who deliver Paleo-specific meals to all home and business addresses in the Atlanta area. These companies create meals exclusively from grass-fed and pastured proteins, wild-caught fish, and organic, local, and occasionally seasonal) produce. Many of these companies cater to specific diet options like Wahls Paleo or the Zone Diet, and have customizable options for meal delivery. These meals can be shipped express, fresh or frozen, and arrive at your doorstep.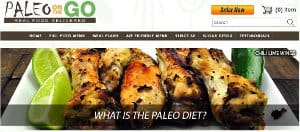 Paleo on the Go
Paleo on the Go is a popular delivery service promoted by a number of high profile bloggers, and Paleo-centered organizations. Their food services are designed specifically for Paleo practitioners, and they are strict in their adherence to Paleo principles. Their ingredients are sourced from local farms and they focus on providing organic produce and free range, grass-fed, and humanely raised protein. While you can order whole meals from them, you can also order add-ons like bone broths or rendered fats: ingredients that can be time consuming to make on your own. Paleo on the Go's meals arrive at your door in cooler boxes, fresh from their Florida kitchens. See paleoonthego.com for prices and meal options. Note: Paleo on the Go is offering a 10% discount for our readers, use code "MYPALEOS" at checkout for 10% off your entire order – one time use.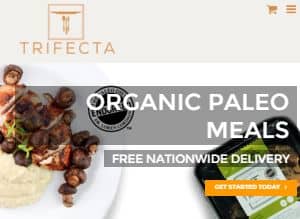 Trifecta
Trifecta is one of the larger national companies, catering to Paleo customers as well as practitioners of other diets. They are committed to 100% organic food and have partnered with some of the biggest names in the Paleo community in order to design their meal plan. The company is based in California and they source from a variety of local farms. There are many benefits of ordering Trifecta: They offer an option to purchase food in bulk so that you can portion your meals to meet specific diet regimens, and they also offer free shipping to the Atlanta area! See trifectanutrition.com for current prices for their Paleo and organic meal delivery Atlanta offerings.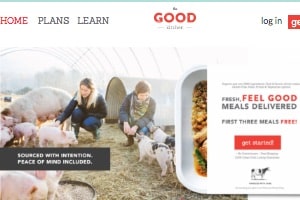 The Good Kitchen
The Good Kitchen is one of the few companies that offer introductory deals when you purchase your first meal plan from them. They make it incredibly easy for customers to customize their meal plans and have options for vegetarian and vegan meals. Based in North Carolina, The Good Kitchen is committed to using only local, seasonal produce from farmers they know and trust. They offer a variety of options for you to tailor the content and quantity of your meals as well as the frequency of delivery. See thegoodkitchen.com for The Good Kitchens complete menu and list of healthy meals delivered Atlanta / nationwide plans. The Good Kitchen is offering a 15% discount for our readers. Use promo code "mypaleos" at checkout for 15% off your first order.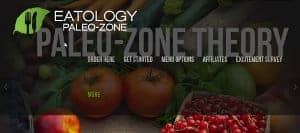 Eatology
Eatlogy is the only option on this list that creates Paleo meals specifically for the Zone diet – which strives to balance macronutrients in order to optimize performance and weight loss. Eatology is also one of the more affordable options for meal delivery in this list. Their meals are portioned into sizes (which they refer to as blocks) and allow you to control the amount you are consuming. Their prices are based on how many blocks each meal contains, and remain consistent no matter the food content! Eatology also offers discounts to customers who order recurring meal plans. See http://www.eatology.co for Eatology's Paleo-zone plans and pricing, including nationwide plans for healthy meal delivery Atlanta options. Eatology is offering a 20% off promo for our readers (works for first & all later orders), use code "ZACHPALEO" at checkout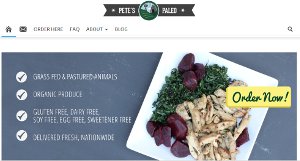 Petes Paleo
Pete's Paleo is incredibly popular and has been featured in a variety of print and television media. The company is based in Southern California and, like many companies on this list, source exclusively from local farms and businesses. They offer a seasonally changing menu, and their meals are sweetened naturally, by seasonal fruits and vegetables. This makes Pete's Paleo a terrific option for people looking to do a sugar-detox diet. They also offer a meal plan that was created in partnership with Dr. Terry Whals, whose meals work to reduce symptoms of major health issues. Pete's meals are often comprised of a protein and two sides, which are shipped to your door in vacuum sealed pouches. All you need to do is reheat! See petespaleo.com for a complete list of prices, meal plans and healthy food delivery Atlanta options.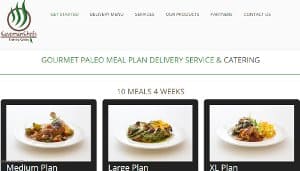 Caveman Chefs
Caveman Chefs is a Paleo delivery service headquartered in Denver who will ship meals out to the Atlanta area. Caveman Chefs is another company with close ties to their local community. They source from Colorado farms and ranches and focus on innovative Paleo dishes. One great feature of Caveman Chefs is their willingness to work with individual customers to tailor meals to specific dietary requirements. Their plans are customizable to Keto and AIP restrictions as well as food allergies. Visit http://www.cavemanchefs.com for more information on their Paleo delivery Atlanta options Caveman Chefs has offered 10% off all orders by mentioning the promo #ZachmyPALeos in the order comments or mentioned by phone during checkout.
For our detailed write up on Caveman Chefs including reviews, see our in-depth coverage on them.
Every Year there are More Options for Paleo Meal Delivery Atlanta Paleo Delivery Options
Bottom line: It doesn't matter if you need a one-night kitchen reprieve or a recurring option for meal supplements – there are plenty of Paleo-centered choices out there for you! If you are looking to make the Paleo diet a more consistent part of your life, these companies will help you stay on track with your plan. Many of these companies also offer packaging perfect for clients who have to travel for work. And there are benefits to supplementing your shopping and meal preparation with a few pre-prepared meals. Ordering from your local companies allows you to further support your local economy. Ordering from national companies exposes you to a variety of local produce and protein you might not have otherwise experienced. So whether you're cramming for an exam, swamped at work, or trying a 30-day weight loss program, know that you can still maintain your Paleo lifestyle. What we hope you've gotten out of this article is a series of potential places you can patron to keep up with your Paleo diet. If you're heading out of town, check out our articles, detailing the options available in other areas.
Other Paleo Delivery Atlanta Area Companies
If you have any suggestions of other places offering Atlanta Paleo Friendly Meal Delivery or know of Atlanta Paleo restaurants that might offer takeout or delivery options, please let us know in the comments below.