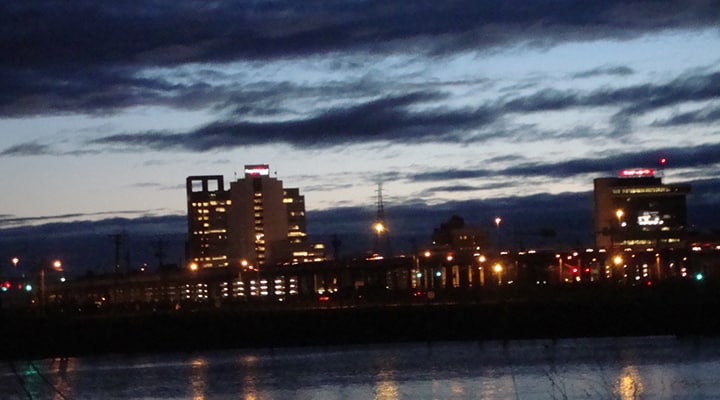 Along with the lifestyle choice of the Paleo Diet comes the basic principle of making meals from scratch using only natural, locally-sourced ingredients. However, this principle can often be difficult to maintain on a day-to-day basis, since busy schedules do not always allow for time to prepare home-cooked meals from scratch. When thinking about committing to the full-fledged Paleo lifestyle, many often wonder if there are options available which would allow them to purchase meals on-the-go without betraying the principles which accompany that lifestyle.
Thankfully, the Bridgeport area has you covered when it comes to finding convenient options for Paleo-friendly meals. A number of companies in the area, along with a number of national companies, maintain a commitment to using locally-sourced ingredients, while excluding ingredients like grains, dairy, and sugar from their meals. In this guide, we will cover a number of these time-saving options, which can add a level of much-need convenience to your Paleo lifestyle.
We cover the following....
Local Paleo Food Delivery Bridgeport Options
The following section covers companies which are based locally in the greater Bridgeport area and offer delivery of Paleo-friendly meals. Although these local companies are not exclusively focused on Paleo meals, they all offer at least a few Paleo options – while also using locally-sourced ingredients as much as possible. So while national Paleo companies may offer a more diverse range of meal choices, these companies might still be worth your while if you don't feel like cooking and want a fresh meal delivered straight to your door.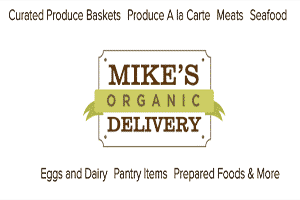 Mike's Organic Delivery
Mike's Organic Delivery, based in Stamford, is not a traditional meal delivery service. Their main focus is offering local in-season organic farmers market style produce that can be delivered to your home. However, Mike's also has a limited prepared foods selection that also matches with their general principles of organic, local and natural fresh products. A few of these items, such as their pasture raised chicken and gluten free beef bone broths, are a good fit for those following a Paleo lifestyle. Although Mike's doesn't have the selection of Paleo meals available when compared to dedicated Paleo companies, like those covered in the next section, they might still be worth considering. If you are looking to support a local business and supplement your own meals with some prepared Paleo friendly options delivered to you, you might check out the prepared food selection currently available form Mike's Organic right in Southern Connecticut.
For more information on Mike's Organic Delivery and for prices see:
https://mikesorganicdelivery.com/
This post contains affiliate links. Thank you for supporting us! Click here to learn what this means.
National Companies Offering Paleo Meal Delivery to Bridgeport
The following section covers national companies which specialize in Paleo meals and offer delivery throughout the Bridgeport area. The meals are either fresh or frozen, depending on the company, and shipped in cooler packages or dry ice. All of the companies listed below use express shipping to deliver meals, along with having a strong commitment to crafting a variety of chef-created Paleo meals using grass-fed meats and locally-sourced produce whenever possible.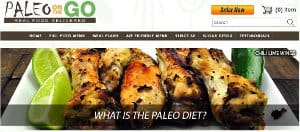 Paleo on the Go
Paleo on the Go is one of the foremost Paleo delivery services around, with delivery coverage throughout Bridgeport, Stamford, and the surrounding areas. They have won a variety of awards and honors from the Paleo community and have a stellar reputation for their use of clean ingredients, grass-fed, free-range meat, and organic produce (including those items found on the EWG's Dirty Dozen list). They offer a wide variety of delivery options – from weekly meal plans to individual meal orders – and their meals are shipped in refrigerated cooler boxes straight to your door.
See paleoonthego.com for prices and meal options.
Note: Paleo on the Go is offering a 10% discount for our readers, use code "MYPALEOS" at checkout for 10% off your entire order – one time use.
For our detailed write up on Paleo on the Go including reviews, see our in-depth coverage on them.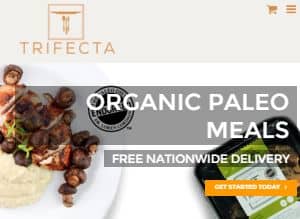 Trifecta
Trifecta is another national Paleo delivery company, which has won wide popularity in the Paleo community for its unwavering commitment to using 100% organic food in all of its meals. Its excellent delivery service covers Bridgeport, Stamford, and the surrounding area and ships all of its meals fresh in refrigerated cooler packages. In addition to these attributes, Trifecta is known for forming intimate connections with local farms and working with them to provide all-natural, grass-fed, and free-range meat in all of its meals.
See trifectanutrition.com for current prices for their Paleo and organic meal delivery Bridgeport offerings.
For our detailed write up on Trifecta including reviews, see our in-depth coverage on them.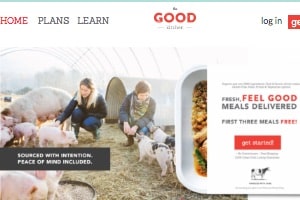 The Good Kitchen
The Good Kitchen is one of the most flexible Paleo delivery companies in the nation. They offer a wide variety of meal options – with the ability to choose from either chicken, beef, pork, vegetarian, or primal menus – and a selection of either weekly or monthly meal plans. This wide range of options, together with the company's pledge to use organic ingredients as often as possible in order to provide "100% clean food," makes The Good Kitchen one of the most customizable and appealing Paleo delivery companies.
See thegoodkitchen.com for The Good Kitchens complete menu and list of healthy meals delivered Bridgeport / nationwide plans.
The Good Kitchen is offering a 15% discount for our readers. Use promo code "mypaleos" at checkout for 15% off your first order.
For our detailed write up on The Good Kitchen including reviews, see our in-depth coverage on them.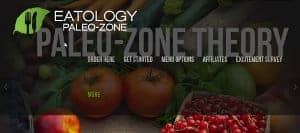 Eatology
Eatology is another national delivery service which delivers Paleo meals throughout the Bridgeport area. They are particularly notable for their merging of the requirements of the Zone diet with those of the Paleo diet. This combination allows you to get the most of the macronutrients in your food in order to promote weight loss and general wellness. Eatology also divides their meals into "blocks," as a way of controlling meal portions, and uses an innovative type of foil packaging which allows the meals to be shipped frozen and heated in either a microwave or an oven.
See http://www.eatology.co for Eatology's Paleo-zone plans and pricing, including nationwide plans for healthy meal delivery Bridgeport options.
Eatology is offering a 20% off promo for our readers (works for first & all later orders), use code "ZACHPALEO" at checkout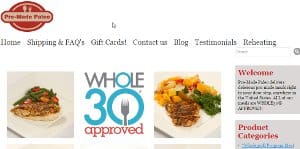 Pre-Made Paleo
Pre-Made Paleo is another excellent Paleo delivery service which delivers throughout the country, including Bridgeport and Stamford. It is particularly well-suited to followers of the Whole30 program, as its head chef is the author of the Whole30 series of cookbooks. Because of this, every meal offered by Pre-Made Paleo is certified compliant with both Whole30 and Paleo requirements. Also, while most of the company's meals are shipped frozen, there is now a new line of fresh meals available for those who prefer to receive their food refrigerated rather than frozen.
See premadepaleo.com for prices and Paleo meal delivery Bridgeport inclusive nationwide plans
Pre-made Paleo has offered a 5% discount (one time use) on all orders for our readers. Use code "MYPALEOS2018" at checkout
For our detailed write up on Pre Made Paleo including reviews, see our in-depth coverage on them.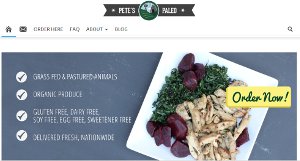 Petes Paleo
Pete's Paleo is a national delivery service which bases its principles firmly on the use of all-organic produce and no sweeteners whatsoever in order to create meals which are both delicious and enormously healthy. Pete's also offers a number of unique meal plans – such as its popular Sugar Detox plan, as well as a plan which complies with Wahl's Paleo requirements. Plus, this company has the added benefit of shipping all of their meals fresh in refrigerated cooler packages.
See petespaleo.com for a complete list of prices, meal plans and healthy food delivery Bridgeport options.
For our detailed write up on Petes Paleo including reviews, see our in-depth coverage on them.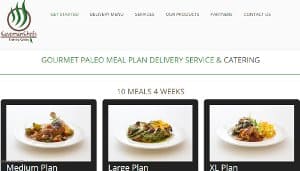 Caveman Chefs
Caveman Chefs is a Colorado-based company which creates Paleo-friendly meals for delivery around the country, including the Bridgeport area. They adhere closely to all Paleo guidelines, using only meat and produce from local farmers in and around the Denver area, and they also offer a broad range of options for individuals with specific food allergies or dietary requirements. This leads to a lot of unique and delicious meal options, all of which can be delivered straight to your door to increase the variety and convenience of your Paleo experience.
Visit http://www.cavemanchefs.com for more information on their Paleo delivery Bridgeport options
Caveman Chefs has offered 10% off all orders by mentioning the promo #ZachmyPALeos in the order comments or mentioned by phone during checkout.
For our detailed write up on Caveman Chefs including reviews, see our in-depth coverage on them.
Every Year there are More Options for Paleo Meal Delivery Bridgeport & Stamford Paleo Delivery Options
We hope that this guide has helped to inform you of the wide variety of options for maintaining a Paleo diet in the greater Bridgeport area, without the sometimes daunting requirement of cooking every single meal for yourself from scratch. Whether you are in the midst of a major life transition, busy at work, or just feel that keeping up with the daily meal requirements of the Paleo diet is too much to handle on your own, these delivery options will allow you to pursue the Paleo lifestyle with a greater level of convenience. While cooking your own meals from scratch is one of the key principles of the Paleo diet, getting some or all of your Paleo meals delivered can be a much more desirable alternative to giving up on the diet altogether.
Also, it is sometimes easier said than done to acquire all-natural, locally-sourced ingredients for every meal on your own. That's why the delivery companies listed above can be a valuable resource in helping you stay consistent in your Paleo lifestyle, as many of them are deeply experienced in the sourcing and selection of their ingredients. In this way, having Paleo meals delivered by any of these companies can be a helpful supplement to your own meals, as well as a learning tool for your own selection of ingredients and recipes.
Other Paleo Delivery Bridgeport Area Companies
If you have any suggestions of other places offering Bridgeport Paleo Friendly Meal Delivery or know of Bridgeport Paleo restaurants that might offer takeout or delivery options, please let us know in the comments below.