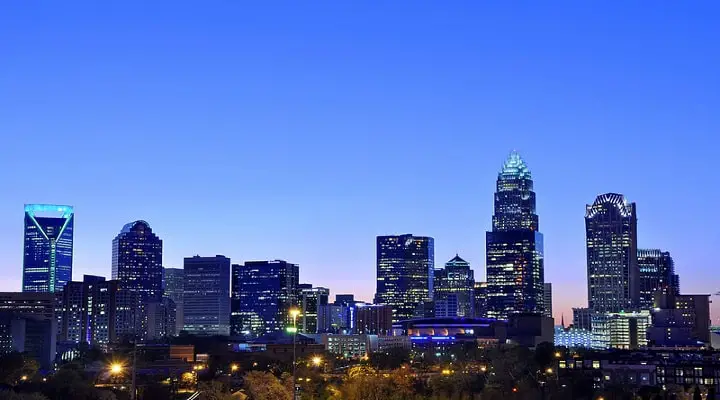 If you follow the Paleo Diet, you know how rewarding it is to prepare a meal made from wholesome, all-natural ingredients. You know how good you feel when you eat grain-free, dairy-free, and sugar-free meals. And you also know how time consuming shopping for and cooking these meals can be. In fact, you've probably come across one or two nights in your week when it just isn't feasible to cook Paleo, which is why you're now coming to us!
We know moments arise when life gets busy and complicated. You want to order take-out, or delivery, but can't be certain that your favorite restaurants cook Paleo. Now you can be. There are some great options in Charlotte and the surrounding areas that deliver Paleo meals. We've created the below list of local and national companies that deliver meals express to area residents so that you never need to decide between convenience and falling of the Paleo wagon.
This post contains affiliate links. Thank you for supporting us! Click here to learn what this means.
We cover the following....
Local Paleo Food Delivery Charlotte Options
This section covers options available right in the greater Charlotte area. If you are looking to patronize a local business, Charlotte has some great delivery Paleo and grain free delivery options. If you find yourself needing a last minute order of lunches or dinners for the week, they will likely have something that meets your dietary restrictions.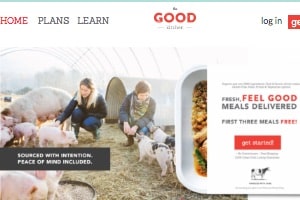 The Good Kitchen
Fans of The Good Kitchen will be pleased to know that they are based right in Charlotte, North Carolina! What started out as a Paleo-friendly meal delivery service now operates as a frozen meal supplier for Walmart locations as well as still offering their shipping services for their growing customer base.
The Good Kitchen is a great choice for pursuants of a Paleo diet, although they predominately advertise their Whole30-approved dishes (which by extension are Paleo-friendly due to the two diet's shared values).
Their ingredients are always sustainably-sourced, with meat being either grass-fed or pasture-raised, and supply gluten free, clean eating, paleo, ketogenic, autoimmune protocol, and Whole30-approved variations to increase accessibility to all of their customers.
The price of their meals depends on how many meals you opt for per week as opposed to being priced on the product itself. For example, choosing a 10 meal weekly plan means that each meal works out at $13 each, whereas a 21 meal weekly plan equates to each meal being $11.
For more information on The Good Kitchen and for prices see:
The Good Kitchen is offering a 15% discount for our readers. Use promo code "mypaleos" at checkout for 15% off your first order.
The Good Kitchen Reviews:
http://wholefoodhalfass.com/post/22172010132/whole-30-day-22-april-30-lunch-modpaleo-pork
http://www.everylastrep.com/nutrition/paleo-meals-delivered-by-modpaleo#
https://www.charlotteagenda.com/12083/modpaleo-ships-modern-tv-dinners-direct-to-your-door-with-a-focus-on-sustainability-nutrition-and-customer-service/
The Good Kitchen Facebook Reviews:
https://www.facebook.com/pg/eatTGK/reviews/?ref=page_internal
Project Lean Nation
Project Lean Nation are a local business based in the Charlotte area, with stores also in Buffalo, Charleston and Rochester. Their focus is on macro-balanced dishes suitable for people who are more athletic or have specific body composition goals.
They offer a number of Paleo-friendly meals such as Paleo Powercakes, Bacon Bleuburger and Barbacoa Beef. Although they don't solely provide for the Paleo population, they have many dishes suitable to choose from.
They give customers the option of signing up for 12, 18 or 24 meals a week, and also offer 'refuel shakes' as part of their product line, which use almond milk as a base liquid instead of dairy.
For more information on Project Lean Nation and for prices see:
https://projectleannation.com/
Nourish
For the Paleo practitioners among you that are looking for more 'plant-forward' or meat-free meals, Nourish will work to create delicious, gluten-free and vegan (therefore dairy-free) meals for your busy schedule. While this is not exactly a Paleo service, we thought we'd include them on this list for those who are looking for something Paleo-adjacent.
Nourish uses organic, pesticide-free produce sourced from local farmers and are forward-thinking in the way that they prepare and package their products. Their kitchen creates 90% less refuse than other kitchens in the US, and they ensure that their food packaging is totally biodegradable and recyclable. This is a great choice for people who want to decrease their carbon footprint and support sustainable businesses.
Nourish offers both meal plans and an a la carte menu, meaning that you can reap the benefits of an automatic weekly delivery service, or order as and when you need a quick lunch or dinner fix. It's worth noting that Nourish offers a complete menu including juices, breakfasts and side dishes, so nothing goes amiss, and they also only use low-glycemic sweeteners such as coconut sugar and maple syrup instead of refined sugar.
National Companies Offering Paleo Meal Delivery to Charlotte
The below companies are not local to Charlotte or North Carolina, but do offer meal delivery to the greater Charlotte area. If you are looking for an even greater selection of Paleo meals and meal lines, be sure to check out the companies in this section.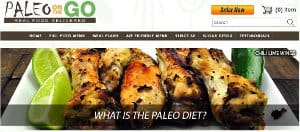 Paleo on the Go
Paleo on the Go is a popular Florida-based company that personally visits the farms from which they source. Their plans are highly customizable, and include options for those who need AIP specific meals, sugar-detox plans, or Whole30-approved dishes.
Paleo on the Go is one company that allow you to purchase single meals as opposed to a meal package. You can buy anything: an order of AIP-friendly cookie dough, a Paleo-friendly Spinach & Mushroom Lasagne, or a complete Whole30-approved elimination meal bundle.
Their food arrives at your doorstep ready to be heated and served, and generally shows up within 2 days of ordering!
Note: Paleo on the Go is offering a 10% discount for our readers, use code "MYPALEOS" at checkout for 10% off your entire order – one time use.
For our detailed write up on Paleo on the Go including reviews, see our in-depth coverage on them.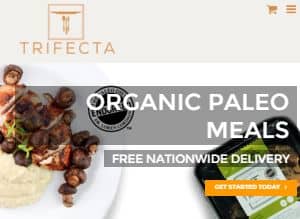 Trifecta
Trifecta, one of the largest companies on this list, offers Paleo, Keto, Clean Eating, Vegan, and Vegetarian meal plans starting from $108 per week.
The company advertises its services to those looking to supplement their active lifestyle with clean, healthy eating. Their meals are 100% organic, and their proteins are humanely raised. Trifecta appeals mainly to athletes, although everyone can benefit from their macro-balanced dishes, and their menu rotates on a weekly basis.
While the company mostly promotes signing up for a subscription plan, it has an option that allows customers to buy bulk items a la carte. This is perfect for those who wish to portion their meals themselves. Trifecta ships everywhere in the United States, and you'll be pleased to hear that shipping is completely free, so there's no hidden costs.
See trifectanutrition.com for current prices for their Paleo and organic meal delivery Charlotte offerings.
For our detailed write up on Trifecta including reviews, see our in-depth coverage on them.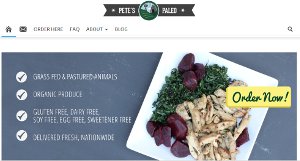 Petes Paleo
Pete's Paleo, a Southern California company, maintains close ties to local farmers and offers seasonal, fresh, organic ingredients. Their company is so local, that their menu changes based on available seasonal ingredients, so if you plan on ordering frequently, and like variety, Pete's is a great option for you. The company's services have been featured on a variety of television programs and in newspapers and magazines. Because their food is naturally sweetened by fruits and vegetables, they're a great company if you're looking to try a 21-day sugar detox. They also offer a plan adhering to the Wahls Paleo requirements.
See petespaleo.com for a complete list of prices, meal plans and healthy food delivery Charlotte options.
For our detailed write up on Petes Paleo including reviews, see our in-depth coverage on them.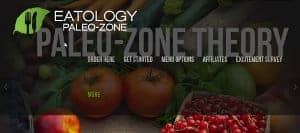 Eatology
Eatology creates a selection of Paleo meals that follows the Zone diet (which focuses on weight loss and macronutrient balance). The company is one of the more affordable options on this list, and prices their food based on blocks (portion sizes) instead of content. A two block meal is $10.50 and a 3-block meal is $12.75. If you're feeding a family, the company also offers a "party platter" which contains twelve blocks of food. Eatology requires that you purchase a meal plan, but they have changing, monthly discounts, and discounts for customers who purchase recurring meal plans (you can sometimes save up to 20%). Their meals contain no added sugar, and last in the freezer for up to six months.
See http://www.eatology.co for Eatology's Paleo-zone plans and pricing, including nationwide plans for healthy meal delivery Charlotte options.
Eatology is offering a 20% off promo for our readers (works for first & all later orders), use code "ZACHPALEO" at checkout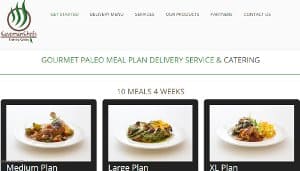 Caveman Chefs
Caveman Chefs maintains close ties with its local Colorado community, sourcing their produce, meat, and fish from Colorado farms and vendors. While they offer several locations in the Denver area for food pick up, they also offer to ship meals to the Charlotte area. The company was founded by a group of chefs whose experiences range the restaurant and catering industry, so they understand the importance of catering to their customers' specific needs. They are one of the few companies that allow for individual customization of meals and meal plans. You have the opportunity, when you order, to specify dietary restrictions and food allergies.
Visit http://www.cavemanchefs.com for more information on their Paleo delivery Charlotte options
Caveman Chefs has offered 10% off all orders by mentioning the promo #ZachmyPALeos in the order comments or mentioned by phone during checkout.
For our detailed write up on Caveman Chefs including reviews, see our in-depth coverage on them.
Every Year there are More Options for Paleo Meal Delivery Charlotte & Paleo Delivery Options
It should also be mentioned that many of these national companies offer packaging that is useful for travelling. If you're heading out of town and want to make sure you maintain your diet, you might order a few meals to take with you. However, if you're looking to sponsor the local restaurant communities when you leave town, check out read our other articles (which detail Paleo delivery options in other US and Canadian cities). Complementing your home cooking with a few pre-made meals can make following the Paleo diet less stressful and time consuming. Creating a lifestyle that incorporates wholesome, all-natural food might seem difficult, but it only takes a bit of preparation to maintain healthy eating habits. We hope this list has provided you with a number of options for pre-made Paleo meals. Even if you love shopping and cooking your own meals, sometimes you need a break from the kitchen. The services we've listed maintain close relationships with local farmers and can often access ingredients that may otherwise be difficult for you to obtain. We recommend giving any one of these restaurants and companies a try!
Other Paleo Delivery Charlotte Area Companies
If you have any suggestions of other places offering Charlotte Paleo Friendly Meal Delivery or know of Charlotte Paleo restaurants that might offer takeout or delivery options, please let us know in the comments below.