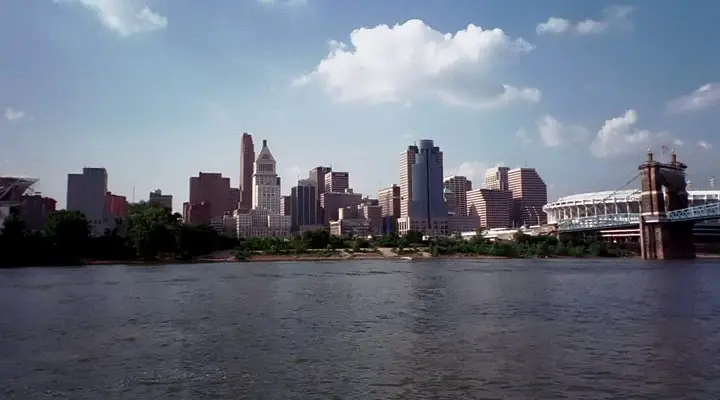 If you practice Paleo, then this probably sounds familiar: something comes up last minute, you get home later than expected, and now don't have time to prepare a meal. And while there are certainly plenty of places in Cincinnati that deliver food to your door, can you be certain these restaurants have options for Paleo dieters? Keep reading, and you can be! We've compiled a list of restaurants and companies who will deliver Paleo meals right to your door. There are actually a ton of options if you consider both local and national food delivery in the Cincinnati area. These companies offer a wide variety of grain, dairy, and sugar-free options. Whether you need a spur-of-the-moment weeknight dinner, or a monthly Paleo meal plan, there's something here for you. There are even options for those following specific Paleo plans (like AIP, Whole30, or Sugar detoxes). Hopefully you'll find something that works with your diet.
We cover the following....
Local Paleo Food Delivery Cincinnati Options
If something unexpected popped up in your schedule or if you ran out of time this weekend to grocery shop, there are still ways for you to stay on track with your Paleo diet. Ordering from local companies enables you to supplement your home cooking, and also allows you to sponsor your local food scene. There are some great services in the Cincinnati area that deliver Paleo meals. While some of local companies might not cater exclusively to Paleo clients, their menus contain a selection of items that adhere to Paleo's grain, dairy, and sugar-free requirements.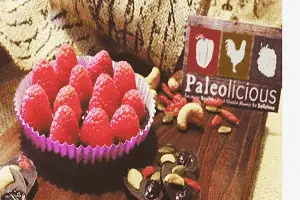 Paleolicious Cincy
Paleolicious Cincy offers organic local paleo and gluten free meals available catered, as box lunches or even via retail products like homemade baked kale chips or granola bars. They created the service to help busy families in the area eat better. They commit that the majority of their meal options can be made strict Paleo as well as vegan, vegetarian or prepared with specific allergies in mind. They do offer delivery, although delivery charges may apply – you will want to reach out to them with your specific location for details.
Paleolicious Cincy Reviews:
https://www.cincychic.com/featured/paleolicious-cincy
Paleolicious Cincy Facebook Reviews:
https://www.facebook.com/pg/paleoliciouscincy/reviews/?ref=page_internal
This post contains affiliate links. Thank you for supporting us! Click here to learn what this means.
National Companies Offering Paleo Meal Delivery to Cincinnati
Ordering locally is a good option for when you need a last-minute dinner solution. But for those of you looking for a more long-term solution to sustaining your Paleo Diet or the local companies don't quite deliver out to your area of the city or suburbs, you might look at a few of these national companies. If you need specialty meal plans, or if you want to keep a few meals frozen and on hand, these companies cater exclusively to Paleo customers. You might not be certain from where your local restaurants source their ingredients (though many source from local farmers and vendors), but you can trust that these national companies create meals exclusively from grass-fed and pastured proteins, wild-caught fish, and organic, local, and occasionally seasonal produce. Many of these companies have specific diet plans for those who are on plans like Wahls Paleo or the Zone Diet. These meals are occasionally offered a la carte, though usually as meal plans and they ship express to your door anywhere in the greater Cincinnati region.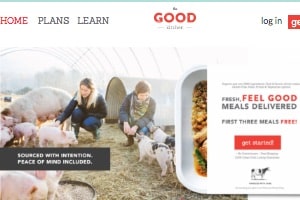 The Good Kitchen
The Good Kitchen focuses on meeting the highest possible level of Paleo Diet ingredient adherence. They source organic and/or GAPS certified produce and exclusively use grass fed and grass finished beef, pasture raised pork, eggs and lamb, seafood watch compliant fish and shellfish to create their meals. Based in North Carolina, the company is committed to using only local, seasonal produce from farmers they know and trust and changes their menu weekly to focus on what is currently in season at those farms. They offer a variety of options for you to tailor the content and quantity of your meals as well as the frequency of delivery. They also make it incredibly easy for customers to customize their meal plans and have options like Paleo vegetarian meals or healthy lunch boxes created for kids. Shipping is free with all orders, with a minimum of 5 dishes per order.
See thegoodkitchen.com for The Good Kitchens complete menu.
The Good Kitchen is offering a 15% discount for our readers. Use promo code "mypaleos" at checkout for 15% off your first order.
For our detailed write up on The Good Kitchen including reviews, see our in-depth coverage on them.
door.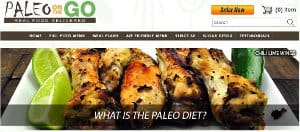 Paleo on the Go
Paleo on the Go is a meal delivery service designed specifically for customers who follow the Paleo Diet, and they are strict in their adherence to Paleo principles. Their ingredients are sourced from local farms, and they focus on providing organic produce and grass-fed, humanely raised protein. Not only can you order whole meals from them, but you can also order add-ons like bone broths or rendered fats: ingredients that can be time consuming to make on your own.The site has been promoted by a number of Paleo-centered organizations and high profile bloggers, who specifically mention their AIP meal plan and delicious food. Paleo on the Go's meals arrive at your door in cooler boxes, fresh from their kitchens.
See paleoonthego.com for prices and meal options and list of healthy meals delivered Cincinnati / nationwide plans.
Note: Paleo on the Go is offering a 10% discount for our readers, use code "MYPALEOS" at checkout for 10% off your entire order – one time use.
For our detailed write up on Paleo on the Go including reviews, see our in-depth coverage on them.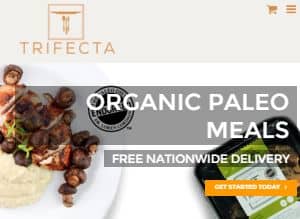 Trifecta
Trifecta is committed to 100% organic food and has partnered with some of the biggest names in the Paleo community in order to design their meal plans. The company is based in California and gets its ingredients from a variety of local farms. Besides Paleo, Trifecta offers a few others plans (clean eating, vegan, and vegetarian), and all plans are tailored to helping you supplement your fitness goals with healthy eating. Two great benefits of ordering from Trifecta: They offer an option to purchase food in bulk so that you can portion your meals yourself, and they also offer free shipping to the Cincinnati area!
See trifectanutrition.com for current prices for their Paleo and organic meal delivery Cincinnati offerings.
For our detailed write up on Trifecta including reviews, see our in-depth coverage on them.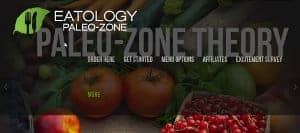 Eatology
Eatlogy is the only option on this list that creates Paleo meals specifically for the Zone diet – which strives to balance macronutrients in order to optimize performance and weight loss.Their meals are portioned into sizes (called blocks) and enable you to control the amount of food you are consuming. Eatology is also one of the more affordable options for meal delivery in this list. They have a variety of meal plan options and also offers discounts to customers who order recurring meal plans. You could save between 15% and 20%. Their prices are based on how many blocks each meal contains, and remain consistent no matter the food content.
See http://www.eatology.co for Eatology's Paleo-zone plans and pricing, including nationwide plans for healthy meal delivery Cincinnati options.
Eatology is offering a 20% off promo for our readers (works for first & all later orders), use code "ZACHPALEO" at checkout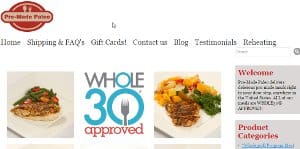 Pre-Made Paleo
Pre-Made Paleo creates meals from organic produce and grass-fed/free range meat. The company has been in business awhile and specializes in creating meal plans that adhere to Whole30, AIP, and sugar-detox. One of the more remarkable things about Pre-made Paleo is that they offer a rotating list of hard to find ingredients like wild boar sausage, elk, and water buffalo. They also have an attractive list of add-ons, not just bone-broths and rendered fats, but Paleo bacon and pork rinds, spice mixes, sauces, and snack bars. The company has a variety of shipping options, and – though they used to only offer frozen shipping – they've recently added an option for fresh meal delivery.
See premadepaleo.com for prices and Paleo meal delivery Cincinnati inclusive nationwide plans
Pre-made Paleo has offered a 5% discount (one time use) on all orders for our readers. Use code "MYPALEOS2018" at checkout
For our detailed write up on Pre Made Paleo including reviews, see our in-depth coverage on them.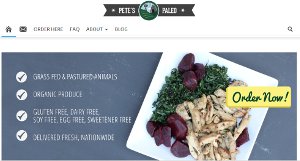 Petes Paleo
Pete's Paleo has been featured in a variety of print and television media. The company, operating out of Southern California sources exclusively from local farms and businesses. They offer a seasonally changing menu, with meals sweetened naturally by seasonal fruits and vegetables. This makes Pete's Paleo a terrific option for people looking to do a sugar-detox diet. They also offer a meal plan that was created in partnership with Dr. Terry Whals, whose meals work to reduce symptoms of major health issues. Consisting of a protein and two sides, their meals are shipped to your door in vacuum sealed pouches. All you need to do is reheat.
See petespaleo.com for a complete list of prices, meal plans and healthy food delivery Cincinnati options.
For our detailed write up on Petes Paleo including reviews, see our in-depth coverage on them.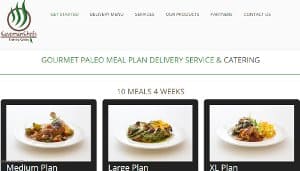 Caveman Chefs
Caveman Chefs is a Paleo delivery service headquartered in Denver and, while they offer a variety of local pick-up options, they also ship to the Cincinnati area. Caveman Chefs is another company with close ties to their local community. They source from Colorado farms and ranches and use local ingredients to craft innovative Paleo dishes. Caveman Chefs offers individual customers the opportunity to tailor meals to specific dietary requirements. Their plans are customizable to Keto and AIP restrictions as well as to food allergies.
Visit http://www.cavemanchefs.com for more information on their Paleo delivery Cincinnati options
Caveman Chefs has offered 10% off all orders by mentioning the promo #ZachmyPALeos in the order comments or mentioned by phone during checkout.
For our detailed write up on Caveman Chefs including reviews, see our in-depth coverage on them.
Every Year there are More Options for Paleo Meal Delivery Cincinnati & Paleo Delivery Options
We hope that you are now armed with a series of potential places you can patron in order to help you maintain your Paleo diet. Whether you're stuck at work, preparing for a life-change, or visiting friends and family out of town, know that there are options for you to stay on track with Paleo. Even if you don't struggle with finding time to meal prep and cook, there are benefits to supplementing your shopping and meal preparation with a few pre-made meals. Ordering from companies local to Cincinnati allows you to further support your local food scene. Ordering from national companies allows you try a variety of local produce and protein you might not otherwise get to experience. It doesn't matter if you need a one-night kitchen reprieve or a recurring option for pre-made Paleo meals – there are tons of choices out there for you! If you are looking to make the Paleo diet a more consistent part of your life, these companies will help you stay on track with your plan and are worth taking a look at.
Other Paleo Delivery Cincinnati Area Companies
If you have any suggestions of other places offering Cincinnati Paleo Friendly Meal Delivery or know of Cincinnati Paleo restaurants that might offer takeout or delivery options, please let us know in the comments below.