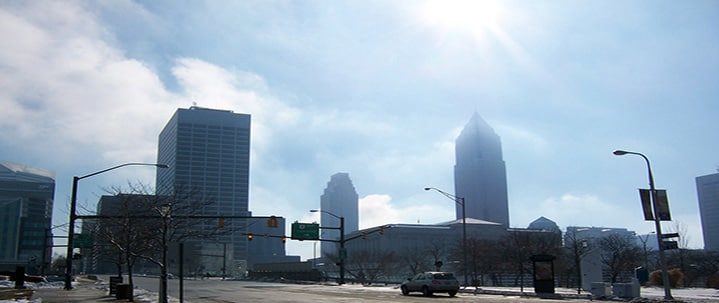 If you follow the Paleo Diet, then you're sure to have experienced the benefits of preparing and consuming grain-free, dairy-free, and sugars-free meals made from high-quality, natural ingredients. Often, the time it takes to shop for and prepare Paleo compliant dishes is an equally rewarding part of the Paleo lifestyle.
Just as often, it can be one of the biggest frustrations, as sometimes life gets hectic and you just don't have time to cook Paleo. There are moments in all of our weeks when our schedule doesn't allow us to commit to crafting Paleo-compliant meals.
If this sounds familiar, don't worry. There are actually a host of Paleo meal-delivery options available to residents in the Cleveland area. Whether you're interested in ordering a takeout meal from a local business supporting the Paleo lifestyle, or establishing a recurring meal delivery plan with a national paleo delivery company, we've got you covered. Below, we've created a list of businesses who deliver Paleo meals to residents of Cleveland, straight to your door. Read on to find a series of options geared towards helping you stay on track with your Paleo diet.
We cover the following....
Local Paleo Food Delivery Cleveland Options
Cleveland has an ever-expanding local food scene, but you may not have realized there are places that cater to customers who practice Paleo. If you had to stay later than anticipated at work, if a last minute emergency arose, or if you find yourself exhausted at the end of your day, ordering locally is a great option. While the companies we've listed below may not have every possible Paleo certification, they still have more than a few grain, dairy, and sugar-free options that allow you to maintain your diet. Hopefully, you'll be able to find something you like!
Elite Eating
Elite Eating are a local, Cleveland-based meal preparation service offering clean eating options including Keto, dairy-free, gluten-free, egg-free and nut-free dishes. This is great for those following a Paleo diet which is naturally gluten-free and dairy-free, with Elite Eating still catering for those who might have further dietary intolerances.
Elite ensure that they provide fresh, all-natural ingredients so that you receive high-quality meals that can either be delivered straight to your door or picked up at their Cleveland location. If you choose local delivery there is a small fee of $10. Deliveries arrive at your door between the hours of 5pm and 9pm in a temperature-controlled container with ice packs.
Amongst the many dishes Elite have on offer you'll find Root Vegetable and Egg Breakfast, Spicy Cilantro Egg Breakfast, Turkey Mash Bowl and Coriander Chciken with Roasted Red Potatoes. Elite also give you the option of buying protein by the pound and designing your own meals or mexi-bowls, for those who like particular foods or have specific needs.
Real Food Cleveland – A Raw Trainer Kitchen
Real Food Cleveland is the brainchild of Raw Trainer, a female competitive bodybuilder whose personal health problems allowed her to experience the healing benefits of a raw food diet. She now has the goal of spreading this message to the wider area of Northeast Ohio including Cleveland so that other people may discover how a plant-forward diet can improve their health.
Real Food Cleveland is definitely more suitable for Paleo practitioners who are looking for a less meat-centric diet and are willing to try out more plant-based meals. Dishes are often Paleo-friendly because they are mostly gluten-free and dairy-free, with all meals containing nutritional information for you to check. They use coconut aminos instead of soy sauce as an example of their commitment to gluten-free ingredients.
This small business sources their ingredients from local farms and businesses to ensure that they are supporting similar-minded people, and offer you the choice to pickup or have your order delivered. Deliveries arrive on Wednesdays and Sundays, whilst orders are ready to pickup on Mondays and Thursdays. There is a minimum $25 order, which accounts to roughly 2 meals.
Primal Diner
Primal Diner are a meal delivery service dedicated to the Primal/Paleo lifestyle, and as a result create dishes that use fresh, local ingredients and are free from GMO, hormones, dairy, added sugar, soy and gluten. They also strive to use wild-caught fish and grass-fed meats in all of their meals.
They have a number of menus available, including Paleo, Keto, Vegetarian/Vegan, Classic, Homestyle and Light Lunches. They even have an a la carte menu so that you can bulk buy protein and side dishes for those who like to put together their own meals but don't have time to meal prep.
For those solely interested in the Paleo menu, there are dishes such as Blueberry Waffles, Hawaiian Chicken, Bacon Frittata and Coconut Curry Chicken to choose from. Their meals come fully cooked, all you need to do is heat them in the microwave for 3-4 mins and dinner is served!
They are based on the coastline about a 20 minute drive away from central Cleveland, so are very conveniently located.
https://www.primaldinerohio.com/
We earn a commission from some links in this article. Thank you for supporting us!! Click here for more detail.
National Companies Offering Paleo Meal Delivery to Cleveland
Although there is some benefits to working with a local company, there are definitely some big benefits in working with one of the larger, national delivery services that specialize in Paleo meals. First, they will all deliver straight to your door (at home or at your office), no matter where you live in Cleveland or the surrounding region and second, they use ingredients you likely can't find locally, such as options for 100% organic meals or meals made in certified gluten free kitchens.
If you're following a specific meal plan, like AIP, Whole30, or the Zone diet, many of these companies have options for you. Most of these national companies primarily offer and advertise weekly and monthly meal plans, but quite a few of these companies also give customers the option of purchasing single meals. For people looking for a few hard-to-acquire Paleo ingredients many of these companies also offer add-ons like bone broths, sauces, or rendered fats.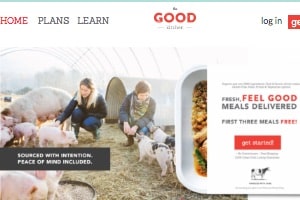 The Good Kitchen
The Good Kitchen sources organic produce and 100% grass fed/grass finished beef, pastured eggs, poultry, lamb and pork and seafood watch compliant fish and shellfish.
They partner with farmers in and around their kitchens in North Carolina that they have a relationship with, crafting their weekly changing Paleo menu around what is in season at those farms. They offer free delivery on all orders, with a minimum order of ten meals, and ship to all addresses in Cleveland (work and office addresses) as well as throughout the rest of Ohio.
If you're looking to try another state's local produce, the Good Kitchen is a good option! They offer several unique Paleo meal lines, including a Paleo vegetable meal menu for days of the week that you might want a break from meat-based dishes or if you are a Paleo-vegetarian.
See thegoodkitchen.com for prices and menus.
The Good Kitchen is offering a 15% discount for our readers. Use promo code "mypaleos" at checkout for 15% off your first order.
For our detailed write up on The Good Kitchen including reviews, see our in-depth coverage on them.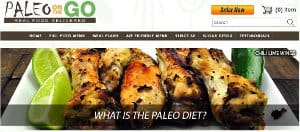 Paleo on the Go
Paleo on the Go is a popular delivery service which caters exclusively to Paleo customers. They've earned a series of certifications from Paleo organizations as well as rave reviews by bloggers.
Like most companies on this list, Paleo on the Go creates meals using grass-fed, free-range and humanely-raised meats as well as organic produce. They are one of the companies that offer a few different meals plans, including an AIP-friendly plan that cuts out nightshades and restricted ingredients.
Paleo on the Go also offers a la carte meal plans, so you are able to better customize your orders. They have options for breakfast, lunch, and dinner, as well as a range of signature meals like breakfast tarts and pot pies.
See paleoonthego.com for prices and meal options.
Note: Paleo on the Go is offering a 10% discount for our readers, use code "MYPALEOS" at checkout for 10% off your entire order – one time use.
For our detailed write up on Paleo on the Go including reviews, see our in-depth coverage on them.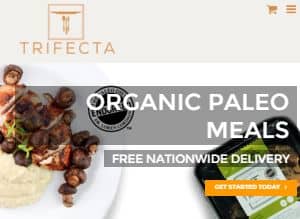 Trifecta
Trifecta Nutrition is a California-based company, and the majority of their ingredients come directly from local farmers. Trifecta advertises its meal plans to those looking to eat Paleo as a way to supplement their fitness goals.
They offer a la carte ordering in bulk, for customers looking to portion meals themselves. They're also committed to humane, sustainable food practices. They use 100% organic ingredients and strive to meet a minimum humane level rating of 5 in their use of proteins.
Trifecta has worked to limit its environmental footprint, using green packaging options instead of Styrofoam. A great benefit to ordering from Trifecta: shipping is free!
See trifectanutrition.com for current prices for their Paleo and organic meal delivery Cleveland offerings.
For our detailed write up on Trifecta including reviews, see our in-depth coverage on them.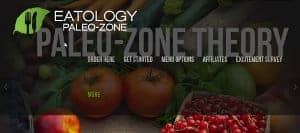 Eatology
Eatology's Paleo meals incorporate the principals of the Zone protocol, which works to balance carbohydrates, proteins and fats within each meal. Theirs is the perfect plan for anyone looking to lose weight and balance blood sugar levels.
As the meals are portion controlled, Eatology is also one of the least expensive meal services available. Their pricing remains consistent no matter the content of the meals, with increases in price responding only to increases in portion size.
Eatology also offers a variety of discounts for recurring meal plans. Depending on the monthly deal being offered, customers can save between 10% and 20%.
See http://www.eatology.co for Eatology's Paleo-zone plans and pricing, including nationwide plans for healthy meal delivery Cleveland options.
Eatology is offering a 20% off promo for our readers (works for first & all later orders), use code "ZACHPALEO" at checkout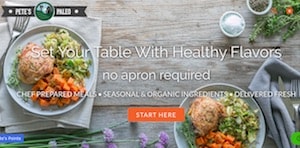 Petes Paleo
Pete's Paleo is a well-reviewed, high quality delivery service that prides itself on using in-season produce and proteins. They source their ingredients from local farmers and offer a constantly changing, seasonal menu based on available produce.
For those interested in a sugar-detox plan, Pete's meals are sweetened naturally by fruits and vegetables. The company has been featured on a variety of television programs and in several newspaper and magazines. For customers looking to establish a recurring meal plan, Pete's is a great option.
See petespaleo.com for a complete list of prices, meal plans and healthy food delivery Cleveland options.
For our detailed write up on Petes Paleo including reviews, see our in-depth coverage on them.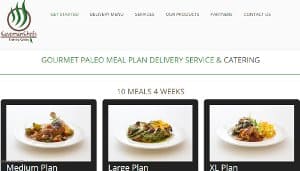 Caveman Chefs
Caveman Chefs is a Paleo delivery service based out in Denver. The company sources its ingredients locally, using protein and produce from Colorado farms and ranches, as well as wild-caught fish. Caveman chef's dishes are globally inspired, innovative, and highly customizable. While they're a bit limited in the meal plans available, they're one of the few companies that will work to accommodate individual dietary restrictions (like food allergies or AIP restrictions). The company offers a variety of local pickup locations, but also ship to the Cleveland area.
Visit http://www.cavemanchefs.com for more information on their Paleo delivery Cleveland options
Caveman Chefs has offered 10% off all orders by mentioning the promo #ZachmyPALeos in the order comments or mentioned by phone during checkout.
For our detailed write up on Caveman Chefs including reviews, see our in-depth coverage on them.
Every Year there are More Options for Paleo Meal Delivery Cleveland & Paleo Delivery Options
What we hope you've gotten out of this article is a series of options that will help you maintain your Paleo diet. When life gets busy, it's difficult to stay on track, and supplementing your home-cooking with pre-made meals can often make a difference in keeping up with your Paleo lifestyle. Even if you're going out of town, you can still make plans to eat Paleo. Many of these companies package their food in a way that makes it perfect for travelling. If you have to go out of town, you might consider ordering a few meals from one of the national companies, or you can also investigate local options by checking out one of our other articles. Even if you love the process of food shopping, meal prep, and cooking, there can be many benefits to ordering pre-made meals. When you order locally, you support your immediate food community. In ordering nationally, you have access to ingredients from across the United States that you may not have had access to before. No matter what your objectives are, there are tons of places you can explore, and we hope that you find a meal delivery option that works for you!
Other Paleo Delivery Cleveland Area Companies
If you have any suggestions of other places offering Cleveland Paleo Friendly Meal Delivery or know of Cleveland Paleo restaurants that might offer takeout or delivery options, please let us know in the comments below.