If you make the Daytona region home, you can rest assured that you or your Paleo or Primal family members will not fall by the wayside. If you follow a dietary plan like the Paleo Diet, Primal Diet, Whole 30, AIP, or Wahls Paleo, there are a variety of choices for you. In this article, we will run through the options in your area.
Daytona Beach is known for it's tourism, but it isn't just the tourists who can take advantage of it's wide selection of Paleo Diet and grain-free foods. Residents of these areas can partake in a succulent degree of healthy food options that satisfy the requirements of many different food preferences and needs.
We cover the following....
Local Paleo Food Delivery Daytona Beach Options
The companies in this section are based locally in Daytona Beach and offer at least one of their meal plans that target people following the Paleo diet. Although these companies are not as dedicated to Paleo as some of the companies covered later that specialize in Paleo diets and ingredients, they are a great option to consider for those who are looking to work with and support a local meal delivery service with local chefs in the Daytona area.
My Fit Meals
My Fit Meals offers a large range of daily meal plans, from several designed for athletes to a vegetairan, "smart" and also Paleo meal plan. They commit to using no refined sugars, artificial ingredients or dairy in their Paleo plan. Meal plans specify each of the meals you will receive for all 3 meals each week, which attractive photography of what you can expect for each meal. My Fit Meals is based in Daytona Beach and delivers to residents of Daytona (even as they are expanding to include Orlando deliveries as well).
For more information on My Fit Meals and for prices see:
My Fit Meals Reviews:
My Fit Meals Facebook Reviews: https://www.facebook.com/demetri.karagiannis
This post contains affiliate links. Thank you for supporting us! Click here to learn what this means.
National Companies Offering Paleo Food Delivery to Deltona, Daytona Beach and Ormond Beach
These companies offer a wide range of dedicated Paleo meal plans and all deliver to the entire Daytona Beach/Deltona/Ormond Beach region. Meals are delivered fresh or frozen, depending on the company below, in special cooler boxes via express shipping to any home or business address in the area. Given that these companies have specialized in the Paleo Diet, this includes their selection of grass fed meats and wild seafood and often locally farmed, in-season and organic produce, depending on the company.
They also are able to specialize beyond just Paleo, with several companies also offering plans designed for those doing the more restrictive Autoimmune Paleo Diet as one option, or other options such as a Wahl's Paleo plan from Pete's Paleo. The companies below bring meals and meal plans straight to you if you're a resident of the Daytona areas.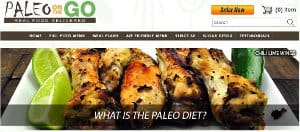 Paleo on the Go
Located in Florida, in order to bring their customers the best Paleo dishes, Paleo on the Go has teamed up with famous food bloggers, such as Paleo Mom, to create their product lineup. They have a variety of Paleo certifications, and their mouth watering food can be ordered right to anyone in the Daytona area.
See paleoonthego.com for prices and meal options.
Note: Paleo on the Go is offering a 10% discount for our readers, use code "MYPALEOS" at checkout for 10% off your entire order – one time use.
For our detailed write up on Paleo on the Go including reviews, see our in-depth coverage on them.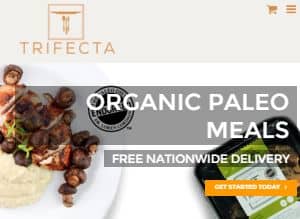 Trifecta
If you've been looking for organic meal delivery in Daytona, then you can rest your eyes on Trifecta. They offer up a minimum of level-5 humane rating for their animal products, as well as sustainable corn-based packaging for their meals. They ship their products everywhere in this area.
See trifectanutrition.com for current prices for their Paleo and organic meal delivery Daytona Beach offerings.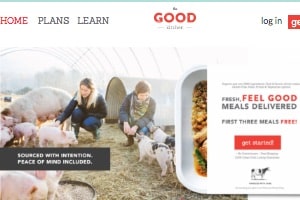 The Good Kitchen
Delivering delectable foods for our readers in Daytona, The Good Kitchen will bring you exactly the meals you are looking for through their customizable weekly and monthly meal plans. Pick out the dishes you want from their grass fed beef, pastured pork or chicken and pegan (Paleo vegetarian) based menus.
See thegoodkitchen.com for The Good Kitchens complete menu and list of healthy meals delivered Daytona Beach / nationwide plans.
The Good Kitchen is offering a 15% discount for our readers. Use promo code "mypaleos" at checkout for 15% off your first order.
For our detailed write up on The Good Kitchen including reviews, see our in-depth coverage on them.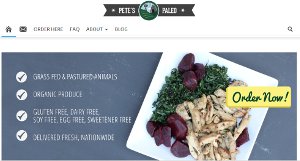 Petes Paleo
Pete's Paleo offers delivery services to all residents of Daytona, and will bring you organic produce and grass fed animal products. One of their most popular meal plans is the sugar detox, because all of their meals are made without any sort of sweeteners. Instead, their meals harness the natural sweetness of fruits and vegetables.
See petespaleo.com for a complete list of prices, meal plans and healthy food delivery Daytona Beach options.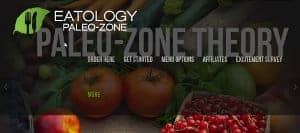 Eatology
With a focus on healthy, well-balanced meals, Eatology services the Daytona area. They combine delicious paleo ingredients in order to create meals that also follow the zone eating plan. In this way, they follow the plan's ratio for carbohydrates, proteins, and fats.
See http://www.eatology.co for Eatology's Paleo-zone plans and pricing, including nationwide plans for healthy meal delivery Daytona Beach options.
Eatology is offering a 20% off promo for our readers (works for first & all later orders), use code "ZACHPALEO" at checkout
For our detailed write up on Eatology including reviews, see our in-depth coverage on them.
For our detailed write up, including reviews, see our in-depth coverage on Eatology.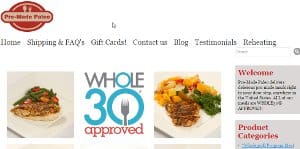 Pre-Made Paleo
Whole 30 approved and sanctioned, Pre-Made Paleo delivers the highest quality frozen meals for days when their customers don't want to cook or leave the house. They are completely Paleo adherent, and service the entire Daytona area.
See premadepaleo.com for prices and Paleo meal delivery Daytona Beach inclusive nationwide plans
Pre-made Paleo has offered a 10% discount (one time use) on all orders for our readers. Use code "MYPALEOS2018" at checkout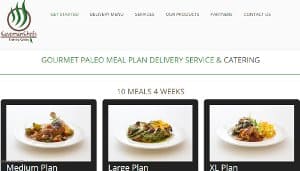 Caveman Chefs
Inspired by international food and the desire to bring creativity back to the kitchen, Caveman Chefs brings delicious Paleo foods to residents in the Daytona area. They are a great option for anyone looking to add a bit of spice to their daily meals.
Visit http://www.cavemanchefs.com for more information on their Paleo delivery Daytona Beach options
Caveman Chefs has offered 10% off all orders by mentioning the promo #ZachmyPALeos in the order comments or mentioned by phone during checkout.
For our detailed write up on Caveman Chefs including reviews, see our in-depth coverage on them.
Every Year there are More Options for Paleo Meal Delivery Daytona Beach & Deltona Paleo Delivery Options
With all of the nation-wide food delivery services, there is always food available for any sort of dietary requirement, especially Paleo and other grain-free diets. These companies also specialize in AIP and Wahls Paleo requirements, as well as the Whole 30 program. No matter where you are, these companies are convenient and healthy and service all of the Daytona.
Whatever your reasons for participating in the Paleo Diet, there is no reason that your food choices shouldn't be convenient and plentiful. We compiled this list in order to best educate you on your options and hope that the next time you are stressed for time, you will think of these great food delivery companies.
Other Paleo Delivery Daytona Beach Area Companies
If you have any other suggestions of other places offering Daytona Beach Paleo Friendly Meal Delivery or Daytona Beach Paleo restaurants that might offer takeout or delivery options, please let us know in the comments below.