As a resident of the Des Moines area, there are many options for getting meals that meet your Paleo, Whole 30, SCD, and GAPS dietary needs. In this article we are going to explore some of your best choices. Some of these companies have Paleo meal plans or offer product lines made without sweeteners of any kind. Others are local companies offering a takeout menu that is partially Whole30 compliant.
In Des Moines, you don't have to go far to find great food. There is a reason that it was voted one of Money's 100 best places to live. There is a large variety of food services in the area, and many of them cater to specialized dies such as Paleo, Primal and Whole 30.
We cover the following....
Local Paleo Food Delivery Des Moines Options
The following section covers companies based locally in the greater Des Moines area that offer Paleo food delivery. Although the choices are not as extensive from these companies in the local area as the companies that deliver nationwide in the section below, this can be a great option if you are looking to support a local business and want to encourage businesses supporting the Paleo lifestyle in the area.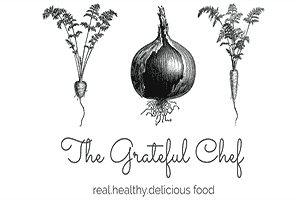 The grateful chef
The grateful chef was started by local chef Brandy Lueders as a way for serve healthy fresh meals to resident of the Des Moines area for those who are too busy to cook and make healthy meals on a regular basis. Although meals technically have to be picked up from their 16th street kitchen in Des Moines, they follow the model of ordering a meal plan at the beginning of the week and picking up your prepared meals on Wednesdays. Although all meals are not Paleo, many items on their menu are Whole 30 compliant, so if you are happy selecting just those dishes the Greatful Chef is a great option for ordering locally produced meals that follow a grain free, gluten free and sugar free eating plan.
For more information on The grateful chef and for prices see:
https://www.thegratefulchefdsm.com/
The grateful chef Reviews:
The grateful chef Facebook Reviews: https://www.facebook.com/thegratefulchef
This post contains affiliate links. Thank you for supporting us! Click here to learn what this means.
National Companies Offering Paleo Meal Delivery to Des Moines
In the following list, we run through great meal delivery alternatives to cooking or going to the grocery store. These companies deliver to all addresses in Des Moines, as well as the surrounding area, through their overnight meal delivery. Many of the companies even ship meals fresh in a refrigerated cooler with ice packs, so you can simply load them in your fridge, take them to work and reheat them in a microwave or oven. By choosing one of these larger companies dedicated exclusively to Paleo meal plans, you also get the benefit of them specializing in Paleo ingredients, grown seasonally by local farmers, and using hard to find grass fed meats and wild caught fish.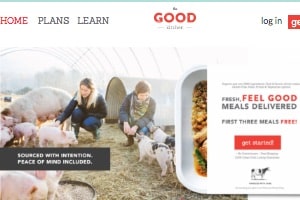 The Good Kitchen
The Good Kitchen has been offering Paleo meal delivery since 2011, back when they were named modPALEO (prior to a recent name change). They source organic and/or GAPS certified produce, 100% grass fed and grass finished beef, pastured eggs, poultry and pork and seafood watch certified fish and shellfish in their Paleo meals. They partner with local farmers located close to their kitchens in Charlotte to source local, in season ingredients. They offer a weekly changing menu to highlight what's in season at these local farms. The Good Kitchen offers free delivery to all residents of Des Moines (and to home and office addresses throughout Iowa), with a minimum order of 5 meals per order. Meal plans are customizable, and they list ingredients in each meal so you are able to pick and choose specific meals that meet your dietary requirements. In addition, they group their meals into different lines (beef, seafood, chicken, as well as offering a Paleo vegetarian line, something that not many other companies offer). They even have a new healthy kids lunch box line for those searching for healthy options for on the go meals for their children. 
See thegoodkitchen.com for menus and prices
The Good Kitchen is offering a 15% discount for our readers. Use promo code "mypaleos" at checkout for 15% off your first order.
For our detailed write up on The Good Kitchen including reviews, see our in-depth coverage on them.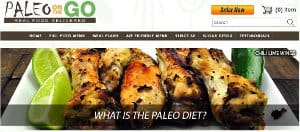 Paleo on the Go
Paleo on the Go focuses on Paleo meals for people keeping to strict Paleo plans like the Autoimmune Paleo Diet and others using Paleo to help with a whole host of improvements in their health. They operate out of a gluten free kitchen and have partnered with a number of big name bloggers in the AIP community. In addition, they have obtained multiple Paleo certifications for their meals. Paleo on the Go delivers to all addresses in Iowa and the greater Des Mines area.
See paleoonthego.com for prices and meal options.
Note: Paleo on the Go is offering a 10% discount for our readers, use code "MYPALEOS" at checkout for 10% off your entire order – one time use.
For our detailed write up on Paleo on the Go including reviews, see our in-depth coverage on them.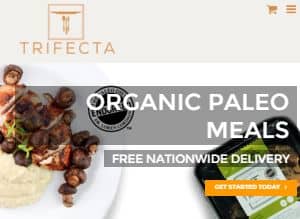 Trifecta
Trifecta wants their customers to know that they are valued. In order to do that, they bring the trifecta of nutrition, sustainability, and deliciousness. They've partnered with big names in the Paleo movement to bring initially create their Paleo meals and meal plans. They offer free shipping to all of our residents of Des Moines.
See trifectanutrition.com for current prices for their Paleo and organic meal delivery Des Moines offerings.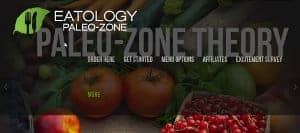 Eatology
Mixing science with great food, Eatology is an economical alternative to healthy eating. Following the zone plan doctrine, all the meals at Eatology follow the optimal ratios of carbohydrates, proteins, and fats. They are a great option for ordering food in Des Moines–they should be able to reach you no matter where you are the area.
See http://www.eatology.co for Eatology's Paleo-zone plans and pricing, including nationwide plans for healthy meal delivery Des Moines options.
Eatology is offering a 20% off promo for our readers (works for first & all later orders), use code "ZACHPALEO" at checkout
For our detailed write up, including reviews, see our in-depth coverage on Eatology.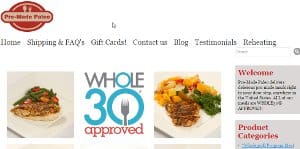 Pre-Made Paleo
The owner and executive chef of Pre-Made Paleo is also the author of the Whole 30 cookbook. They deliver pre-made, frozen meals to our readership in the Des Moines area. All of their meals are Paleo and Whole 30 compliant.
See premadepaleo.com for prices and Paleo meal delivery Des Moines inclusive nationwide plans
Pre-made Paleo has offered a 10% discount (one time use) on all orders for our readers. Use code "MYPALEOS2018" at checkout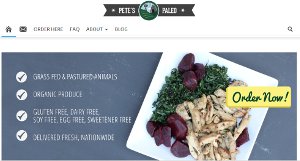 Petes Paleo
Pete's Paleo sources its ingredients from farms in its local region. One of their most popular meal plans is the sugar detox, because all of their products are made without sweeteners beyond what is found naturally in fruit and vegetables. And, they deliver to all of our readers in the Des Moines area.
See petespaleo.com for a complete list of prices, meal plans and healthy food delivery Des Moines options.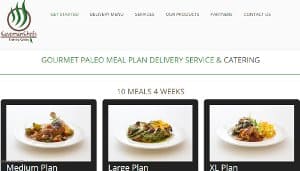 Caveman Chefs
Bringing the most creative, inspired meals to the Des Moines area, Caveman Chefs hopes to aid their customers in making their own delicious foods. They source as much of their ingredients as they can from their local area in Denver. Caveman Chefs is a great option for any of our readers in Des Moines looking to add some variety to their meals.
Visit http://www.cavemanchefs.com for more information on their Paleo delivery Des Moines options
Caveman Chefs has offered 10% off all orders by mentioning the promo #ZachmyPALeos in the order comments or mentioned by phone during checkout.
For our detailed write up on Caveman Chefs including reviews, see our in-depth coverage on them.
Every Year there are More Options for Paleo Meal Delivery Des Moines Paleo Delivery Options
As a resident of Des Moines, you have a lot of options available to you if you also follow a Paleo or grain-free diet. There are many reasons to choose to eat this way, but many of them are related to how healthy and nutritious the lifestyle is. That said, there are also many reasons why someone might choose to not eat healthy, including time and convenience. The companies that we have catered for you in the above list are there to make sure you stay on the wagon. Life is busy. There are jobs and schools and festivities to always plan around, especially if you are following a less well-known diet. Thankfully, the companies we've explored for you here are here to keep you on track.
Other Paleo Delivery Des Moines Area Companies
If you have any other suggestions of other places offering Des Moines Paleo Friendly Meal Delivery or Des Moines Paleo restaurants that might offer takeout or delivery options, please let us know in the comments below.