Whether you're a newcomer to the Paleo diet or a long-term believer in its benefits, you've likely experienced hesitation at the thought of having to cook all of your meals from scratch, using fresh, locally-sourced ingredients. Although this is traditionally one of main components of the Paleo lifestyle, the demands of modern life can make this ideal seem increasingly more difficult to achieve. Even if you're used to cooking all of your own meals every day, there are bound to be times where you wish you had a break from the constant chores that this situation entails. With the following guide, we will show you a number of local and national companies which deliver Paleo-compliant meals straight to El Paso. Depending on the specific company, you will be able to receive your meals either fresh or frozen, sent via express shipping to any home or office address in the El Paso area. Each company listed in this guide offers something a little bit different, ensuring that there is a delivery option out there for your particular tastes and eating habits, but no matter what, each one is sure to make your Paleo experience more manageable and efficient.
We cover the following....
Local Paleo Food Delivery El Paso Options
We'll start things off by covering some local companies which deliver Paleo friendly meal options right within the El Paso area. These local businesses generally don't focus on Paleo meals exclusively, but they all offer at least a few options that can tide you over when you're pressed for time. No need to wait for even a day or two for these meals – these companies will have you covered whenever you need a quick Paleo meal at a moment's notice.
Just Fit Foods
With two locations in El Paso, Just Fit Foods is a meal prep company designed for those trying to stick to a fitness program or looking to eat healthy. Meals can be picked up from their two retail locations, one in East El Paso (North Zaragoza/Montwood area) and one in West El Paso (Redd/ Resler area). Meals are not necessarily Paleo, but do focus on being healthy. One option they do offer is a "Custom Meal Plan for Athletes" where you can present to them a healthy meal plans (which presumably could be Paleo) and they will give a quote on building and cooking that meal plan for you. Although not as dedicated specifically to the Paleo Diet as some of the other options covered in this article, Just Fit Foods is an option to consider if you are looking to work with a local El Paso based company.
For more information on Just Fit Foods and for prices see:
Just Fit Foods Reviews:
https://epvegsnob.wordpress.com/2015/12/31/year-in-review-2015/ http://ink361.com/app/users/ig-1289219257/justfitfoodsep/photos http://kfoxtv.com/archive/food-prep-business-aims-at-serving-healthy-meals-for-el-pasoans http://cbs4local.com/news/local/dine-in-is-option-at-new-just-fit-foods-location-on-resler-drive
http://kfoxtv.com/archive/motivation-monday-meal-prep-businesses-cater-to-healthy-customers
Just Fit Foods Yelp Reviews: https://www.yelp.com/biz/just-fit-foods-el-paso
This post contains affiliate links. Thank you for supporting us! Click here to learn what this means.
National Companies Offering Paleo Meal Delivery to El Paso
In the next section, we will cover a number of national companies which deliver Paleo meals to the El Paso area. All of these companies have ample experience in creating Paleo-compliant meals and sourcing ingredients through personal relationships with farmers in the regions where these companies are based. All of them also offer regular meal plans which can help you organize your meals around your busy schedule, as well as shipping their meals via express shipping using either refrigerated cooler boxes or dry ice.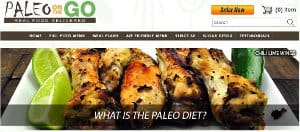 Paleo on the Go
Paleo on the Go is one of the most popular national delivery services out there, having won tons of well-deserved acclaim for its excellent Paleo meal service. They are especially known for their commitment to buying all items on the EWG's "Dirty Dozen" list organic, while also consistently providing fresh, organic produce and humanely-treated, grass-fed meats in their meals. Paleo on the Go's meals are shipped fresh in refrigerated cooler boxes, making for a quick and effective delivery service which is a great choice if you're looking for an all-around accessible and satisfying option to start out with. See paleoonthego.com for prices and meal options. Note: Paleo on the Go is offering a 10% discount for our readers, use code "MYPALEOS" at checkout for 10% off your entire order – one time use.
For our detailed write up on Paleo on the Go including reviews, see our in-depth coverage on them.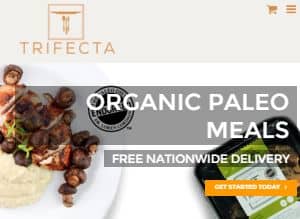 Trifecta
Trifecta is another very accessible and well-regarded company which can be a great starter option, especially since they are one of the few companies on the list that offers non-Paleo meal choices in addition to its Paleo lineup. But if you're a purist, rest assured – Trifecta's excellent Paleo meal plan leaves no room for compromise, offering delicious breakfast, lunch, and dinner menus for every day of the week. Furthermore, each of these menus is updated on a weekly basis, allowing for an unbeatable level of variety, added to the company's commitment to using only 100% organic ingredients in all of their meals. See trifectanutrition.com for current prices for their Paleo and organic meal delivery El Paso offerings.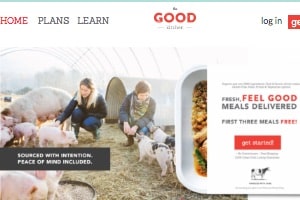 The Good Kitchen
If you need even more variety in your diet, The Good Kitchen is the choice for you. This company offers a number of different menus divided according to the main ingredients featured in each meal (including beef, pork, chicken, seafood, vegetarian, and primal menus). The Good Kitchen is guaranteed to have something for any taste, added to an ample array of meal plan options – such as how many meals you would like in each shipment (minimum of 5), and how often you would like them delivered (choice of weekly, biweekly, and monthly). These options allow for a virtually endless number of combinations, and ensure that The Good Kitchen will be able to provide a meal plan tailored to fit the details of your busy schedule, no matter what. See thegoodkitchen.com for The Good Kitchens complete menu and list of healthy meals delivered El Paso / nationwide plans. The Good Kitchen is offering a 15% discount for our readers. Use promo code "mypaleos" at checkout for 15% off your first order.
For our detailed write up on The Good Kitchen including reviews, see our in-depth coverage on them.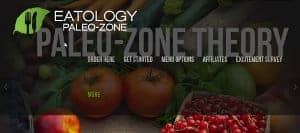 Eatology
Eatology is the preferred meal delivery service of dieters who also follow both the Zone and the Paleo diets, as this company prepares all of their meals according to the requirements of both diets. This will allow you to reap the full benefits of the Paleo lifestyle while also learning to balance your intake of macronutrients and encourage weight loss. To take this concept one step further, Eatology delivers their meals to you in serving-size portions, referred to as "blocks," which help to reduce overeating and moderate the number of calories being consumed at each meal. See http://www.eatology.co for Eatology's Paleo-zone plans and pricing, including nationwide plans for healthy meal delivery El Paso options. Eatology is offering a 20% off promo for our readers (works for first & all later orders), use code "ZACHPALEO" at checkout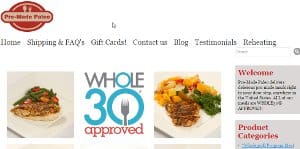 Pre-Made Paleo
If you follow the Whole30 program as an additional component of your Paleo lifestyle, then Pre-Made Paleo is the delivery service for you. This company boasts as its head chef the creator of all the recipes for the widely-renowned Whole30 cookbook series, which invests its meals with serious culinary value as well as strict adherence to Whole30 (and Paleo) principles. Plus, Pre-Made Paleo offers a number of unique items in its meals (including wild boar and elk, to name a few), while providing express shipping to any address in the country, including homes and offices in the El Paso area. See premadepaleo.com for prices and Paleo meal delivery El Paso inclusive nationwide plans Pre-made Paleo has offered a 5% discount (one time use) on all orders for our readers. Use code "MYPALEOS2018" at checkout
For our detailed write up on Pre Made Paleo including reviews, see our in-depth coverage on them.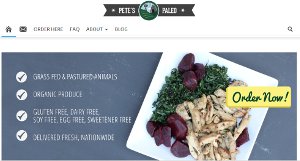 Petes Paleo
Pete's Paleo is a good choice for the true health fanatic, as this company follows Paleo principles to a T, and takes the drastic step of excluding all sweeteners (whether natural or artificial) from all of its meals. This means that Pete's is also the perfect choice for anyone pursuing a Sugar Detox program, and they even have a dedicated Sugar Detox meal plan which is wildly popular among followers of the program. Pete's also take its ingredients very seriously, partnering with local farmers in the San Diego area to provide the freshest in-season produce for use in its meals, as well as ensuring that all of its meats come from animals that have been humanely-treated and well-raised. See petespaleo.com for a complete list of prices, meal plans and healthy food delivery El Paso options.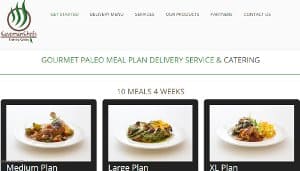 Caveman Chefs
Caveman Chefs is an innovative new delivery service, based out of Denver, which has already received consistent rave reviews for its unique meals and enthusiastic dedication to the Paleo ethos. They place a strong preference on Colorado farmers when sourcing their ingredients, being sure to buy organic and exclude the usual ingredients like grains, artificial sweeteners, and dairy products. Their preference for locally-sourced ingredients also tends to produce meals with a distinctively regionally flavor, which you might not otherwise be able to experience without leaving El Paso. Visit http://www.cavemanchefs.com for more information on their Paleo delivery El Paso options Caveman Chefs has offered 10% off all orders by mentioning the promo #ZachmyPALeos in the order comments or mentioned by phone during checkout.
For our detailed write up on Caveman Chefs including reviews, see our in-depth coverage on them.
Every Year there are More Options for Paleo Meal Delivery El Paso Paleo Delivery Options
Hopefully this guide has helped you find some options that you have access to as an El Paso, which can help to make your Paleo lifestyle more convenient and enjoyable. Everyone has busy schedules, and oftentimes the ideal of making all of your own meals from scratch is just not feasible – as unfortunate as that might be. Still, whether you're busy part of the time or all the time, being busy is no reason to turn your back on the Paleo diet altogether. The companies listed in this guide can all have a place in your daily schedule. The local companies mentioned above give you an opportunity to support El Paso and West Texas businesses and get locally-sourced meals at unbeatable convenience, while the national companies mentioned all offer a wide variety of meal choices and meal plan options which can be solid long-term options to make your Paleo experience less time-consuming and stressful. In this way, any one of these options can add a precious level of convenience to your daily meal planning schedule, without allowing you to give into the temptations presented by unhealthy processed foods. And when it comes down to it, that is what the Paleo diet is really all about.
Other Paleo Delivery El Paso Area Companies
If you have any suggestions of other places offering El Paso Paleo Friendly Meal Delivery or know of El Paso Paleo restaurants that might offer takeout or delivery options, please let us know in the comments below.