Sticking to the Paleo diet, with its ideals of non-processed foods and fresh, home-cooked meals, can often feel overwhelming or even unachievable. And, especially for new dieters, the strains and stresses of everyday life do nothing to improve this situation. If you've just landed a new job, moved into a new house, or experienced another major life transition, this can be especially true. In these situations, it might be tempting to abandon your dietary principles and give in to the temptation of easy and convenient processed foods. But in the following guide, we aim to show you that following the Paleo diet can be easy and convenient too.
A number of local and national companies offer meals which can be either picked up or delivered to addresses in the Greenville area. These companies provide chef-cooked meals with natural ingredients, while excluding ingredients like grains, sugars, and unhealthy oils. All of them have something different to offer, guaranteeing that there is an option out there to fit your individual tastes and preferences while still maintaining your commitment to the Paleo lifestyle.
We cover the following....
Local Paleo Food Delivery Greenville Options
If you're looking for something quick to eat right now, there are a number of companies in the Greenville area that have you covered. These companies offer fresh Paleo meals for pickup and delivery, and though they are usually not focused exclusively on the Paleo diet, they all include at least a few Paleo-friendly options on their menus which can get the job done in a pinch. So while the national companies mentioned later in our guide may offer more variety on their menus, these local companies allow you to support Greenville businesses while providing convenient meals made with locally-sourced ingredients.
Saskatoon Restaurant
The local Saskatoon restaurant in Greenville offers their own version of a Paleo meal delivery service. You will need to pick up your meals for the week directly from the restaurant. Each week they offer a 5 day, 3 meal per day meal plan designed to help with weight loss, made by the restaurant chefs. They offer some flexibility such as ordering extra meals if you would like to order for 7 days or only order dinner versus breakfast items, as well as if you have any specific allergies. They describe themselves as following a broader definition of Paleo as followed in many popular Paleo bestselling cookbooks. Meals are picked up each Monday, or if you don't have space in your refrigerator/freezer, can be picked up multiple times a week.
For more information on Saskatoon Restaurant and for prices see:
http://saskatoonrestaurant.com
Saskatoon Restaurant Reviews:
http://www.thelivinlowcarbshow.com/shownotes/8283/704-restauranteur-edmund-woo-promoting-low-carb-paleo-meal-plan-service Saskatoon Restaurant Facebook Reviews: https://www.facebook.com/pg/SaskatoonSteakFishWildGame/reviews/?ref=page_internal Saskatoon Restaurant Yelp Reviews: https://www.yelp.com/biz/saskatoon-steaks-fish-wild-game-greenville
Adam's Mobile Market
Adam's Mobile Market is both a food truck selling seasonal and local farmers produce as well as offering "Take and Bake" meals pre-made and ready to put into the oven. A number of their Take and Bake items are Paleo friendly and are marked with a Paleo symbol on their menu. They offer delivery of these Take and Bake entrees on Thursdays for an additional fee, or you can pick up the meals from the Mobile Market.
For more information on Adam's Mobile Market and for prices see:
http://www.adamsmobilemarket.com
Adam's Mobile Market Reviews:
http://www.greenvilleonline.com/story/entertainment/2015/03/09/get-fresh-healthy-prepared-meals-local-mobile-market/24650819/ Adam's Mobile Market Facebook Reviews: https://www.facebook.com/pg/adamsmobilemarket/reviews/?ref=page_internal Adam's Mobile Market Yelp Reviews: https://www.yelp.com/biz/adams-mobile-market-travelers-rest This post contains affiliate links. Thank you for supporting us! Click here to learn what this means.
National Companies Offering Paleo Meal Delivery to Greenville
While not quite as convenient as buying from local companies, the national companies listed below provide a wide variety of Paleo meal choices and deliver their meals to any address in the Greenville area. These companies ship their meals either fresh or frozen, depending on the company, and all of them offer express (and often free) shipping. All of these companies also follow Paleo guidelines closely, maintaining intimate relationships with local farmers and working to provide options for people with food allergies. Plus, all of them offer regular meal plan options, which can be perfect for dieters who like to plan their meals well in advance without the exhausting grocery list that can go along with this type of planning.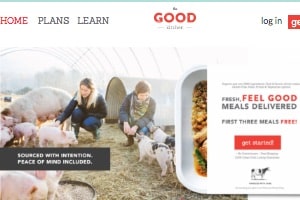 The Good Kitchen
Located right nearby in Charlotte, The Good Kitchen has many years of Paleo credentials. They were started as modPALEO in 2011 and just recently rebranded to indicate that they now offer a handful of Primal meals along with their sizable Paleo meal menu offerings. All meals are made with ingredients following the highest Paleo standards: organic and GAPS certified produce, 100% grass fed and grass finished beef, pastured eggs, poultry and pork and seafood watch compliant fish and seafood. In addition, they partner with local farms and focus on orienting their weekly changing menus around what is fresh and in-season at those farms. They strive to work with regional suppliers as well, such as Greensboro SC based Batistini Farms and Anson Mills, as well as a whole host of farms in southestern NC. Meals are delivered fresh to your door and unlike the companies mentioned thus far, they deliver to all residents in the general Greensville area and throughout South Carolina. No matter where you live they offer free meal delivery, the minimum order is 5 meals, and will ship the meals to any home or business address. The Good Kitchen offers a wealth of meal options to keep you interested – with choices divided into menus depending on the type of meat or main ingredients offered (such as Beef, Chicken, Pork, Seafood, Paleo Vegetarian, and Primal). These choices allow you to adjust the Paleo diet to fit your personal tastes and preferences, while maintaining a high standard of convenience at the same time.
See thegoodkitchen.com for The Good Kitchens complete menu and list of healthy meals delivered Greenville / nationwide plans.
The Good Kitchen is offering a 15% discount for our readers. Use promo code "mypaleos" at checkout for 15% off your first order.
For our detailed write up on The Good Kitchen including reviews, see our in-depth coverage on them.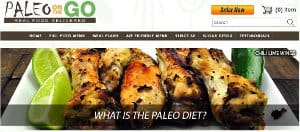 Paleo on the Go
If you're not sure which delivery service to choose, you can't go wrong by starting with Paleo on the Go. This national delivery service, like all of the national companies on our list, delivers to any address throughout Greenville and the Upstate SC region. Plus, it's one of the most popular and acclaimed delivery services in business today, with frequent awards from the Paleo community as well as high-quality meal options which include recipes created with well-known bloggers such as The Paleo Mom. Add a firm commitment to Paleo requirements and top-of-the-line ingredients to these credentials, and you've got one of the most reliable and satisfying Paleo delivery options available.
See paleoonthego.com for prices and meal options.
Note: Paleo on the Go is offering a 10% discount for our readers, use code "MYPALEOS" at checkout for 10% off your entire order – one time use.
For our detailed write up on Paleo on the Go including reviews, see our in-depth coverage on them.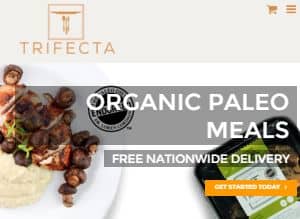 Trifecta
Trifecta is famous for offering Paleo meals made with 100% organic ingredients as part of its vastly popular national delivery service. This California-based company delivers all over the country, including Greenville, shipping its meals fresh in refrigerated cooler boxes, made with Trifecta's uniquely sustainable packaging, to ensure that their meals arrive at your door ready to be eaten at a moment's notice. Trifecta's options include a regular Paleo meal plan (with a menu that refreshes on a weekly basis) and a number of a la carte meal choices, as well as a number of alternate non-Paleo choices – which can be helpful if you have friends or family members who want to eat healthier without taking the full plunge into the Paleo lifestyle.
See trifectanutrition.com for current prices for their Paleo and organic meal delivery Greenville offerings.
For our detailed write up on Trifecta including reviews, see our in-depth coverage on them.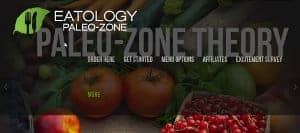 Eatology
Eatology is known as one of the most affordable Paleo delivery companies out there, offering flat rate prices based on the serving size of each meal, along with a discount for orders of recurring meal plans. This company is also a great choice for followers of the Zone diet, as it makes all of its meals according to both Zone and Paleo requirements. In this way, Eatology's meals utilize core Zone principles of macronutrient balance and weight management while also maintaining a strict adherence to Paleo guidelines and excluding ingredients like grains, artificial sweeteners, and unhealthy oils. Eatology also divides their meals into "blocks," intended to help control portion sizes, while also using an innovative foil packaging for its meals which allows them to be heated in both microwaves and conventional ovens.
See http://www.eatology.co for Eatology's Paleo-zone plans and pricing, including nationwide plans for healthy meal delivery Greenville options.
Eatology is offering a 20% off promo for our readers (works for first & all later orders), use code "ZACHPALEO" at checkout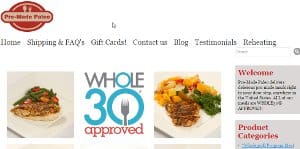 Pre-Made Paleo
Another great choice for dual dieters, Pre-Made Paleo combines the requirements of the Whole30 program with those of the Paleo diet. Even better, the head chef for Pre-Made Paleo is also the chef who designed the recipes in the Whole30 cookbook series. This makes Pre-Made Paleo the ideal option for those who follow both disciplines, while also ensuring that you get top quality, chef-created Paleo meals as a part of your daily routine. Pre-Made Paleo also offers some unique ingredients in its meals – including seasonal options like wild boar and elk – making them a great fit for the more adventurous Paleo dieters out there.
See premadepaleo.com for prices and Paleo meal delivery Greenville inclusive nationwide plans
Pre-made Paleo has offered a 5% discount (one time use) on all orders for our readers. Use code "MYPALEOS2018" at checkout
For our detailed write up on Pre Made Paleo including reviews, see our in-depth coverage on them.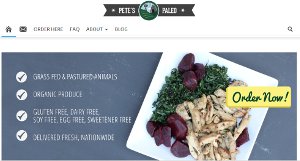 Petes Paleo
Pete's Paleo occupies a place of preference among the most health-conscious members of the Paleo community, as they boil the Paleo diet down to its barest essentials and omit all sweeteners (natural or otherwise) from their menu completely. This makes Pete's the perfect choice for serious Paleo dieters looking to add some convenience to their lives without budging an inch on their dietary principles, while also being a great choice for those following a Sugar Detox in addition to the Paleo diet. Pete's offers express delivery around the country, including Greenville and the surrounding area, with their food arriving fresh, in refrigerated cooler boxes, and benefiting from the unique usage of vacuum-sealed pouches, which preserve your meals at optimum freshness until it's time to eat.
See petespaleo.com for a complete list of prices, meal plans and healthy food delivery Greenville options.
For our detailed write up on Petes Paleo including reviews, see our in-depth coverage on them.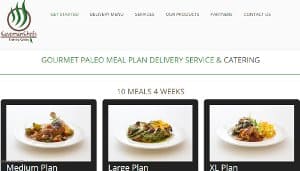 Caveman Chefs
One of the newer names on the national Paleo delivery scene, Caveman Chefs delivers delicious Paleo meals to addresses throughout the country, including the Greenville area. They are based in Denver, Colorado and have dedicated partnerships with local farmers – resulting in meals filled with fresh, seasonal ingredients and distinctive regional flavor. Plus, despite only being on the national market for a few years, they have already gained a strong reputation for accommodating individuals with food allergies and special dietary requirements, making them a great choice if you're interested in a delivery service that will cater to your needs while providing you with great Paleo meals on a regular basis.
Visit http://www.cavemanchefs.com for more information on their Paleo delivery Greenville options
Caveman Chefs has offered 10% off all orders by mentioning the promo #ZachmyPALeos in the order comments or mentioned by phone during checkout.
For our detailed write up on Caveman Chefs including reviews, see our in-depth coverage on them.
Every Year there are More Options for Paleo Meal Delivery Greenville Paleo Delivery Options
We hope that this guide has helped to inform you of some of the great Paleo meal options available to you in the Greenville area. All of these companies offer options to help make your Paleo lifestyle more convenient and manageable, no matter how busy your schedule might be. Having meals delivered by one of the national companies mentioned above, or stopping by one of the local Greenville businesses that offers Paleo-friendly meals, can make your days seem just a little less stressful, and might even be the step you need to keep from abandoning the Paleo diet altogether. So while making your own meals from scratch using fresh, locally-sourced ingredients is traditionally one of the core components of the Paleo diet, reaping the benefits of the diet does not have to be an all or nothing proposition. Ordering Paleo meals from any of the companies listed on this guide is essentially like letting someone else cook for you, while also shopping for ingredients and partnering with local farmers to provide the freshest grass-fed meats and organic produce available. Finding a balance between the local and national options listed in this guide (not to mention your local grocery store) can help you get the most out of your Paleo experience. By ordering from any of the national delivery companies listed above, you will be exposed to some of the best Paleo recipes out there, as well as a wide range of locally-sourced, seasonal ingredients that you might not normally have access to. You will also be able to craft a regular schedule for your Paleo diet, allowing you to avoid some of the stresses of your busy schedule while continuing to avoid unhealthy processed foods at the same time.
Other Paleo Delivery Greenville Area Companies
If you have any suggestions of other places offering Greenville Paleo Friendly Meal Delivery or know of Greenville Paleo restaurants that might offer takeout or delivery options, please let us know in the comments below.