The Paleo Diet requires that practitioners avoid additives commonly found in prepared foods, and those who wish to strictly follow the Paleo lifestyle often have to seek out ingredients and prepare meals themselves. This process can be incredibly rewarding, but it can also be difficult to sustain. There are moments that arise with every week that can make it difficult to shop and cook Paleo at home.
For those of you looking for solutions to that night of the week where you just don't have time to prepare a meal – look no further! There are actually quite a few options that you have at your disposal. Below, we've compiled a list of national companies local to Honolulu that cater to the Paleo Diet. These companies offer a variety of options for those looking to skip meal prep, and still enjoy wholesome, all natural food consistent with the tenets of Paleo.
We cover the following....
Local Paleo Food Delivery Honolulu Options
Days never go fully as planned, so if you've given yourself time to make dinner, but suddenly find that time taken up by something pressing – we've got you covered. There are a host of places in the Honolulu area where you can pick up quick, and healthy meals. If you're committed to supporting your local food scene, here are some places that offer local Paleo options. They work with local farmers, and use fresh, organic produce. There is hopefully something on their menu that both appeals to you and works with your specific diet plan.
Good Clean Food
Good Clean Food, based in Kailua, is a local Hawaiian Paleo meal delivery service. They deliver to crossfit gyms and other fitness locations throughout both Honolulu and Oahu, covering pickup locations pretty much throughout the island. Meals are made by trained chefs in a certified gluten free commercial kitchen. They offer a selection of 10 meals off their menu on Mondays and 4 other meals on Thursdays. Although not technically home delivery, this is likely as close as it get's for Paleo (and gluten free/dairy free) meals prepared in Hawaii. Good Clean Food also strives to use island grown ingredients when possible, including Big Island grass fed beef. If you need delivery of Paleo meals to your door there are some options in the next section, but if want to support a local business that uses locally grown produce, Good Clean Food is a great option.
For more information on Good Clean Food and for prices see:
Good Clean Food Reviews:
www.hawaiinewsnow.com/story/26397211/good-clean-food-hawaii-provides-paleo-delivery-service-for-healthy-eating
http://www.thekuproject.com/janelle-bremer/
http://transformedbyfood.com/gluten-free-dairy-free-in-hawaii-part-1-honolulu/
Good Clean Food Facebook Reviews: https://www.facebook.com/GoodCleanFoodHawaii/
Good Clean Food Yelp Reviews: https://www.yelp.com/biz/good-clean-food-hawaii-kailua-3
This post contains affiliate links. Thank you for supporting us! Click here to learn what this means.
National Companies Offering Paleo Meal Delivery to Honolulu
Ordering from these companies often means scheduling food delivery in advance, as it can take between two and five days for food delivery. However, there are many advantages to ordering meals from companies that cater, often exclusively, to practitioners of Paleo. In addition, these companies deliver not just to residents of Honolulu, but also to addresses throughout Oahu and even to other islands like Maui, Kauai and the big island and other cities like Hilo and Kona. You can be certain, for instance, that all of these companies source from organic (often local) farmers, and use grass-fed, antibiotic and hormone free meat as well as fresh seafood and organic produce. Many of these companies also have options that appeal to specific Paleo plans like autoimmune Paleo, sugar-free detox, and combination Paleo-Zone dieting. Each of the companies below will prepare your meals and deliver them express to your door, either fresh (and in cooler boxes) or frozen. All you need to do is reheat.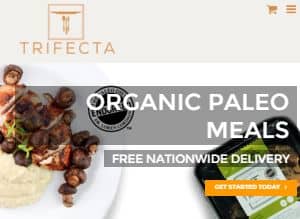 Trifecta
Trifecta, based in northern California, uses exclusively ingredients are 100% organic. They offer a Paleo plan with very strict sourcing requirements using only grass fed, humanely sourced and wild caught proteins and consistent with the Paleo requirements. Trifecta offers free delivery of their fresh (non-frozen) meals weekly, even to Hawaii! This means that if you live in Maui, Kauai or the Big Island, you can still get Trifecta Paleo meals shipped to your home or office weekly for no extra charge – also a great option for residents of Oahu that find it hard to get Good Clean Food meals where they live. While the company primarily advertises its meal plan, they also offer you the opportunity to purchase items a la carte grass fed meats and other protiens and organic vegetable sides so that, at home, you can do your own portioning. Trifecta does offer other organic and gluten free diet plans as well, so if you are ordering food for your family, or if someone in your house doesn't strictly follow Paleo, there are options you can peruse.
See trifectanutrition.com for current prices for their Paleo and organic meal delivery Honolulu offerings.
For our detailed write up on Trifecta including reviews, see our in-depth coverage on them.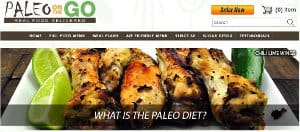 Paleo on the Go
Paleo on the Go is a great place to order meals from, especially if you are tailoring your Paleo diet to meet specific requirements (AIP, detox, elimination diets, etc). Paleo on the Go is a Florida-based company that creates personal relationships with their vendors and offers meals that boast local, organic produce. You can purchase individual meals or entire meal plans, and choose to have your meals delivered either fresh or frozen. Most importantly, this highly rated and reviewed company ships to the Honolulu area!
See paleoonthego.com for prices and meal options.
Note: Paleo on the Go is offering a 10% discount for our readers, use code "MYPALEOS" at checkout for 10% off your entire order – one time use.
For our detailed write up on Paleo on the Go including reviews, see our in-depth coverage on them.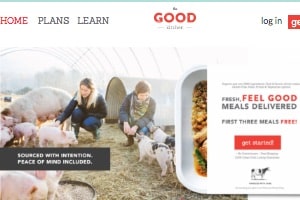 The Good Kitchen
Unlike some of the companies on this list, good Kitchen has an introductory offer where you can get your first three meals free of charge. When you purchase a meal plan, The Good Kitchen offers you a variety of options for customizing that plan to tailor your weekly or monthly needs. Like many companies, they source locally and use grass-fed beef, pastured pork, and antibiotic and hormone-free chicken, as well as organic produce. While they require that you order five meals per shipment, you can specify both the type of meals and the frequency of shipment. They also offer a variety of add-ons like bone broth.
See thegoodkitchen.com for The Good Kitchens complete menu and list of healthy meals delivered Honolulu / nationwide plans.
The Good Kitchen is offering a 15% discount for our readers. Use promo code "mypaleos" at checkout for 15% off your first order.
For our detailed write up on The Good Kitchen including reviews, see our in-depth coverage on them.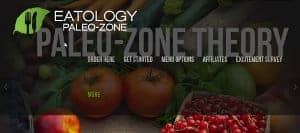 Eatology
Eatology's website is not an aesthetically intricate as some of the others, but they are one of the more affordable options for meal plan orders and are the only company on this list that create Paleo meals in compliance with the Zone diet (which focuses on weight loss and macronutrient balance). Eatology has a wide variety of plans, and while many of them cater to their local community, many are available for shipment all over the United States. Their pricing is both upfront and consistent, with single meals costing either $10.50 or $12.75 (depending on how many servings there are per meal). If you order a recurring plan, you can often save between 15% and 20% on each shipment. Their meals contain no added sugar and will last up to 6 months in the freezer.
See http://www.eatology.co for Eatology's Paleo-zone plans and pricing, including nationwide plans for healthy meal delivery Honolulu options.
Eatology is offering a 20% off promo for our readers (works for first & all later orders), use code "ZACHPALEO" at checkout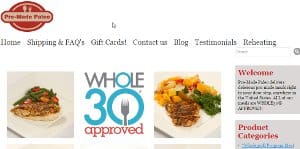 Pre-Made Paleo
Pre-made Paleo offers a variety of meal plan types, specializing in the Whole30 meal plan as well as AIP specific and family-centered plans. They used to ship only flash-frozen, vacuum-packed meals, but they've recently added an option for fresh food shipping. If you're interested in more unusual fare, Pre-made Paleo chefs frequently include interesting, and changing menu options like water buffalo, alpaca, and wild boar sausage. They offer several different shipping options, but all options are available to ship to the Honolulu area.
See premadepaleo.com for prices and Paleo meal delivery Honolulu inclusive nationwide plans
Pre-made Paleo has offered a 5% discount (one time use) on all orders for our readers. Use code "MYPALEOS2018" at checkout
For our detailed write up on Pre Made Paleo including reviews, see our in-depth coverage on them.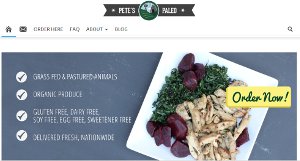 Petes Paleo
Pete's Paleo prides itself on offering a seasonal menu, which changes based on available meat, seafood, and produce. Their website offers you an idea of what they typically create in a given season, but their meal selection rotates with relative frequency, ensuring variety! The site has been featured on numerous TV shows, and in newspapers and magazines. Like a few other sites on this list, they offer specific programs, including a 21-day sugar detox and a plan adhering to the Wahls Paleo requirements. They even offer a family option, which provides four servings of each meal. You can choose to order singular or recurring meal plans, and the food is shipped right to your door.
See petespaleo.com for a complete list of prices, meal plans and healthy food delivery Honolulu options.
For our detailed write up on Petes Paleo including reviews, see our in-depth coverage on them.
Every Year there are More Options for Paleo Meal Delivery Honolulu Paleo Delivery Options
It's important to note that many of these companies offer packaging that is not only useful for storing, but also for traveling.  If you're heading to a place where eating Paleo might not be a viable option, these services allow you maintain your diet, even when life gets busy. Ordering meals can also be a great way to be exposed to local and seasonal produce from all over the United States, as many of these services maintain close relationships with local farmers and can often access ingredients that may otherwise be difficult for you to obtain. We know it can be challenging to stay on track with your Paleo diet, and the ability to order pre-made meals can make a big difference in your success. Even if you love shopping and cooking your own meals, it can be a relief to take a break from the kitchen. What we hope you take away from this list is that there are plenty of options for pre-made meals. Whether you're looking for a long-term solution or a spur-of-the-moment dinner option, you have plenty of options, and they're all worth a try!
Other Paleo Delivery Honolulu Area Companies
If you have any suggestions of other places offering Honolulu Paleo Friendly Meal Delivery or know of Honolulu Paleo restaurants that might offer takeout or delivery options, please let us know in the comments below.