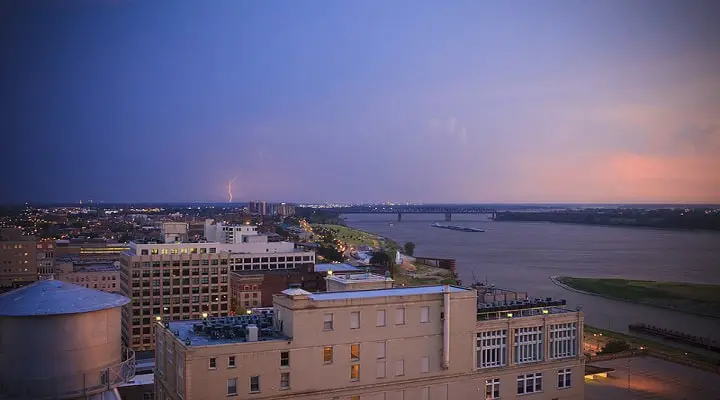 If you follow the Paleo lifestyle, you mostly likely spend a good portion of your weekend shopping at local markets, searching for wholesome, organic ingredients, then prepping and cooking meals from scratch. This process is incredibly rewarding, and most people who practice eating Paleo feel better after eliminating grains, dairy, and sugar from their diet. As incredibly rewarding as this process can be, however, there are times when it can be difficult to sustain.
When life gets especially busy, it can be tough to find time to shop, prep, and cook Paleo. You may have even tried to call up your go-to local delivery place, only to discover that they don't offer meals that are Paleo compliant. If you've been searching for a solution to that night of the week when cooking Paleo just isn't an option, search no further.
Though known mostly for its great barbecue, Memphis is – in fact – an incredible food scene, and there are a variety of Paleo options available to Memphis residents. Below, we've compiled a list of national and local companies that offer meals for customers following the Paleo diet. Read on to learn more about the options available in your area.
We cover the following....
Local Paleo Food Delivery Memphis Options
It's rare that a day goes exactly as planned, so if you've given yourself time to make dinner, but find that time gone by day's end – we've got you covered. Memphis' food scene has grown a great deal in the past five years but below we cover local options for Paleo customers.
Many of these restaurants work with local farmers and use fresh, organic produce, and while these companies may take some more liberties on ingredients that they consider Paleo than the national companies covered later, they offer menu options that are definitely Paleo friendly. We hope you'll find something that works with your diet.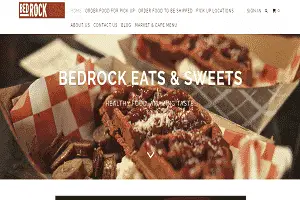 Bedrock Eats & Sweets
Bedrock Eats and Sweets was created by owner and chef Brandi Marter after her encounter with the Paleo Diet and her own health improvements on the diet. This spawned the downtown Memphis Bedrock Eats & Sweets cafe as well as a number of additional services, such as to-go meals, delivery and healthy meals sold in bulk. Recently they have even begun shipping meals nationally from their base in Memphis. Unlike many Paleo delivery services, Bedrock Eats and Sweets devotes a good portion of their menu to deserts and sweet breakfast items such as waffles. However they also serve items like bacon brussels sprouts and sweet potato salad. Meals are available for delivery in Memphis or through pickup locations and crossfit gyms around the area.
For more information on Bedrock Eats & Sweets and for prices see:
https://bedrockeatsandsweets.com/
Bedrock Eats & Sweets Reviews:
http://ilovememphisblog.com/2015/09/now-open-downtown-bedrock-eats-sweets-market-and-cafe/
http://www.memphisflyer.com/memphis/now-open-bedrock-eats-and-sweets-and-guilt-free-pastries/Content?oid=4154579
http://aviewfrommyseat.com/restaurant/bedrock-eats-and-sweets-memphis/
Bedrock Eats & Sweets Facebook Reviews: https://www.facebook.com/BedrockEatsandSweets/?fref=ts
Bedrock Eats & Sweets Yelp Reviews: https://www.yelp.com.au/biz/bedrock-eats-and-sweets-memphis
This post contains affiliate links. Thank you for supporting us! Click here to learn what this means.
National Companies Offering Paleo Meal Delivery to Memphis
While ordering from a national company means scheduling food delivery in advance, there are many advantages to ordering meals from the places on our list. These companies cater exclusively to Paleo customers, which means you can be certain they follow Paleo principles – sourcing from organic (often local) farmers, and using grass-fed, antibiotic and hormone free meat as well as fresh seafood and organic produce is the norm for the majority of the national companies listed. These companies also offer a whole host of meal plans for specific Paleo sub-groups like autoimmune Paleo, sugar-free detox diets, and Wahls Paleo plans. Each of these companies prepares your meals from scratch and delivers them, both fresh (and in cooler boxes) or frozen, straight to your door anywhere throughout the Memphis Tennessee region. All you need to do is reheat.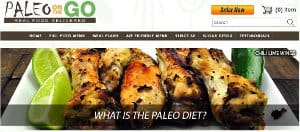 Paleo on the Go
Paleo on the Go is a popular meal delivery service that ships to the Memphis area. Meals are creative – you can order anything from blueberry muffins, to chicken potpie – and customers have the option of ordering meals a la carte or customizing a meal plan The company has been well received by both bloggers and consumer agencies and offers customers a variety of specialized plans including AIP, sugar detox, and the thirty-day elimination diet. The company sources ingredients from local and regional farms, which they have direct relationships with, and their meals are made with grass fed beef and organic produce. After you purchase a meal plan from Paleo on the Go, the meals will arrive at your doorstep, frozen and ready to be heated, then served.
See paleoonthego.com for prices and meal options.
Note: Paleo on the Go is offering a 10% discount for our readers, use code "MYPALEOS" at checkout for 10% off your entire order – one time use.
For our detailed write up on Paleo on the Go including reviews, see our in-depth coverage on them.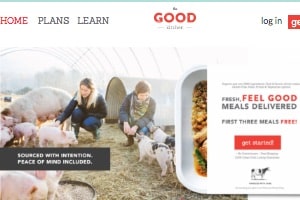 The Good Kitchen
The North Carolina-based Good Kitchen offers Paleo classics with regional favorites such as pulled pork, and ships throughout the Memphis area. While the company doesn't offer customers a la carte options, it's also one of the more customizable meal plan services, offering customers the opportunity to choose from beef, chicken, pork, seafood, and vegetarian menus. They create interesting, hearty dishes (marinated lamb meatballs, mushroom and asparagus marsala) from local, grass-fed beef, pastured pork, antibiotic and hormone-free chicken, and organic produce. Like Trifecta, The Good Kitchen ships free to all residences or businesses throughout the greater Memphis area.
See thegoodkitchen.com for The Good Kitchens complete menu and list of healthy meals delivered Memphis / nationwide plans.
The Good Kitchen is offering a 15% discount for our readers. Use promo code "mypaleos" at checkout for 15% off your first order.
For our detailed write up on The Good Kitchen including reviews, see our in-depth coverage on them.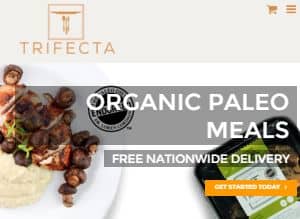 Trifecta
While Trifecta primarily advertises its meal plans, it is also dedicated to helping customers support their fitness goals. To this end, they offer customers the option to purchase a la carte items (sold in bulk) so that they can portion meals themselves. Trifecta is a great option for people looking to order vegan or vegetarian meals, as it caters to other specialty diets. All of Trifecta's meals are 100% organic and their protein is sourced from farms who meet a humane rating of 5. One of the best things about Trifecta: shipping is free!
See trifectanutrition.com for current prices for their Paleo and organic meal delivery Memphis offerings.
For our detailed write up on Trifecta including reviews, see our in-depth coverage on them.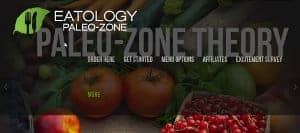 Eatology
Eatology creates meals based not only on the Paleo diet but also on the Zone diet (which focuses on weight loss and macronutrient balance). They are one of the most affordable options on the list for pre-ordering Paleo meal plans. Their pricing is consistent regardless of the type of food: a single meal costs either $10.50 or $12.75 (depending on how many servings there are per meal). Eatology offers several different meal purchase plans, and offers a persuasive discount on recurring plans. Their meals contain no added sugar and will last up to 6 months in the freezer.
See http://www.eatology.co for Eatology's Paleo-zone plans and pricing, including nationwide plans for healthy meal delivery Memphis options.
Eatology is offering a 20% off promo for our readers (works for first & all later orders), use code "ZACHPALEO" at checkout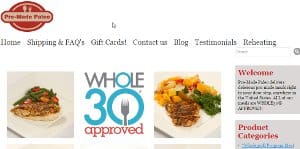 Pre-Made Paleo
For those wishing to tailor their Paleo plans to specific diet requirements, Pre-made Paleo has a variety of meals that cater to the Whole30 diet, AIP, and family centered plans. One of their defining features is their rotating specialty items, which often include hard-to-find ingredients like wild boar sausage, wild-caught grouper, or water buffalo. You can order from one of their meal plans, or choose from a la carte options like their popular burger sliders or sun-dried tomato pesto chicken. Though the company used to only offer frozen shipping, they now have an option for shipping fresh food. Depending on when you want your meals to arrive, you can choose from a variety of delivery options.
See premadepaleo.com for prices and Paleo meal delivery Memphis inclusive nationwide plans
Pre-made Paleo has offered a 5% discount (one time use) on all orders for our readers. Use code "MYPALEOS2018" at checkout
For our detailed write up on Pre Made Paleo including reviews, see our in-depth coverage on them.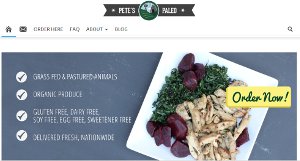 Petes Paleo
Pete's Paleo has been featured on a variety of television programs as well as in newspapers and magazines. It's another company that sources local produce and protein and has a rotating, seasonal menu that's entirely dependent on locally available ingredients. Because they only use naturally sweet fruits and vegetables, theirs is a popular option for customers looking to try 21-day sugar detox. Their menus are inventive, exciting, and include options like curry braised pork cheeks with carrots and cilantro, or garlic lamb shoulder with sorrel. They're also the only company on the list that offers a plan adhering to the Wahls Paleo requirements.
See petespaleo.com for a complete list of prices, meal plans and healthy food delivery Memphis options.
For our detailed write up on Petes Paleo including reviews, see our in-depth coverage on them.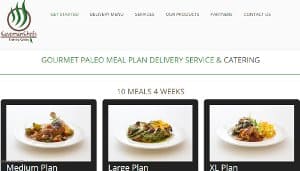 Caveman Chefs
Caveman Chefs is a company that offers custom meal plans that allow for some personalization: customers can adjust meals to meet specific dietary restrictions. The owners and operators of Caveman Chefs are all chefs with backgrounds in the Colorado restaurant and catering industry. Though they list options for local catering and pickup, they ship meals to Memphis as well. While this company only offers a few meal plan options, they offer an interesting and global menu that is perfect for anyone looking for a change in cuisine.
Visit http://www.cavemanchefs.com for more information on their Paleo delivery Memphis options
Caveman Chefs has offered 10% off all orders by mentioning the promo #ZachmyPALeos in the order comments or mentioned by phone during checkout.
For our detailed write up on Caveman Chefs including reviews, see our in-depth coverage on them.
Every Year there are More Options for Paleo Meal Delivery Memphis & Paleo Delivery Options
We know that when life gets busy it can sometimes seem difficult to sustain your Paleo lifestyle. Ordering the occasional pre-made meal can make a big difference in your ability to maintain your Paleo Diet. What we hope you take away from this list is that there are plenty of options for pre-made meals. Whether you're looking for a long-term solution or a spur-of-the-moment dinner option, you have plenty of options.
Even if you enjoy cooking, ordering pre-made meals from a national company can be a great way try local and seasonal produce from all over the United States. Your local restaurants can also gain access to ingredients that might otherwise be difficult for you to obtain.
If you're heading out of town, and think that eating Paleo might not be an option, you should note that many of these national companies offer packaging conducive to travelling. If you're interested in eating locally when you head out of town, you can also check out some of our other local articles detailing nearby options.
Other Paleo Delivery Memphis Area Companies
If you have any suggestions of other places offering Memphis Paleo Friendly Meal Delivery or know of Memphis Paleo restaurants that might offer takeout or delivery options, please let us know in the comments below.