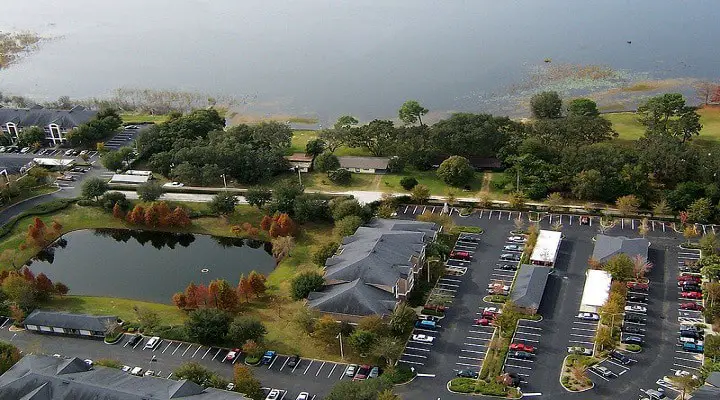 Following the Paleo diet means eating meals made from high quality, wholesome ingredients, and eliminating sugar, processed oils, and preservatives. The Paleo diet has a number of incredible health and lifestyle benefits. That being said, cooking food from scratch can also be time consuming, and sometimes you might find yourself pressed for time. The great news for Orlando residents is that there are actually a bunch of Paleo compliant delivery services in your area, as well as national companies who will deliver food straight to your door. Even if you follow a specialized Paleo Diet like AIP or Whole30 and/or you're looking to do a sugar detox, we've got you covered. What we've tried to do is compile a comprehensive list of places you can try on those days or nights when your schedule just doesn't allow for cooking.
We cover the following....
Local Paleo Food Delivery Orlando Options
This section lists local companies available to the Orlando area that offer delivery of some portion of their meals Paleo eaters. Although these companies aren't often as large as their national counterparts covered in the next section, they very well might have something that appeals to you and adheres to the tenets of Paleo.   You might find them perfect for those nights when you need a last-minute Paleo takeout meal.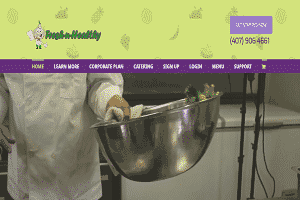 Fresh-n-Healthy Meals
First up on our list of local meal delivery services in the Orlando area is Fresh N Healthy Meals, a company that caters to a variety of different meal requirements including Paleo, Keto and Vegan, as well as a range dedicated entirely to improving athletic performance.
They have been voted #1 for healthy prepared meals in the Orlando jurisdiction for the past 3 years running, and deliver to Orange County, Osceola County, Volusia County, Seminole County and Lake County, so even if you're not located in the central Orlando area it's likely that you can still experience the delicious meals that Fresh N Healthy provide.
Not only do they cater to the general main meal requirements that most customers take advantage of, but Fresh N Healthy Meals also have dessert options, snacks, breakfast and food by the pound that you can order. This is great for people who have consistently busy lifestyles as well as those who like to put their own meals together in specific macronutrient quantities.
Meal plans are automatically reordered on a weekly basis and give you either the 10 meal or 15 meal package. The 15 meal package comes with free delivery and a free dessert or snack, and the 10 meal plan just contains free delivery. Alternatively, if you're not interested in committing to a weekly meal plan, you can order one stand-alone delivery, with a minimum order spend of $50.
For more information on Fresh-n-Healthy Meals and for prices see:
http://freshnhealthymeals.com/
Fresh N Healthy Meals Reviews:
https://www.google.com/search?q=fresh%20n%20healthy%20meals&lrd=0x88e77f7530842eed%3A0xd43aed2dda9bb621%2C1%2C&rct=j
Fresh-n-Healthy Meals Facebook Reviews: https://www.facebook.com/freshnhealthymeals?pnref=lhc
Fresh-n-Healthy Meals Yelp Reviews: https://www.yelp.com/biz/fresh-n-healthy-meals-orlando-3
Honerable Mentions – Local Orlando Meal Delivery Services that are Quasi-Paleo
Fit Life Foods
Fit Life Foods is a popular fresh, healthy prepared meal service based in Orlando, offering home delivery and pickup options at multiple locations. They have 14 pick up locations in the local area, including central Orlando, Tampa Bay, Sarasota and South Florida, which is perfect for those who are slighlty further afield from Orlando. However, you can always benefit from their home delivery service, which offers 10% off orders and ships to many areas in the state of Florida.
They have a wide variety of meals available, including Paleo-friendly dishes like Rustic Chicken & Gravy, Pecan Crusted Chicken and Sweet Potato Pancakes.
Whilst Fit Life Foods doesn't market the Paleo diet, all of their meals state whether they are gluten-free, dairy-free, low-carb or vegetarian. Many of their offerings are suitable for Paleo practitioners, and all meals have a complete nutritional breakdown, allowing you to figure out which dishes are suitable for your goals. On top of this, every dish has a small and medium size option, so you can have them as a snack or a full meal.
Mindful Meals
Mindful Meals are a healthy, fresh meal preparation service delivering to the Orlando and Greater Florida area. They reassure their customers that their dishes are always gluten-free, clean and locally-prepared.
They don't say that they are a Paleo company, but a number of their meals are not only gluten-free, but dairy-free too, great for those who follow a Paleo-style lifestyle. The only caveat in this is that Mindful Meals are not completely grain-free, so some dishes do contain gluten-free grains such as rice. However, for those who don't need to be really strict, Mindful Meals are a good local choice.
What's good about this business is that all of their dishes come with a nutritional breakdown, including calories, fats, protein and carbohydrates, giving you the full knowledge to make choices that are in line with your dietary-related goals.
Regardless of whether you need home delivery or would prefer to pick your order up yourself, Mindful Meals has got you covered, with over 25 pick up locations and biweekly (Mondays and Wednesdays) delivery services.
https://www.mindfulmealdelivery.com/
This post contains affiliate links. Thank you for supporting us! Click here to learn what this means.
National Companies Offering Paleo Meal Delivery to Orlando
The companies we've listed below specialize in crafting fresh, organic meals for Paleo customers, and all of them deliver to home and business addresses throughout the entire greater Orlando area. These companies create meals to order, and ship them express, either fresh or frozen, straight to your door. Most also partner with local farms and vendors who specialize in Paleo products – so you end up getting meals created with organic, local, and in-season produce, and free range, grass-fed proteins. While several of these companies require that you order meal plans, some of them allow customers to purchase a la carte meals as well as add-ons like snack bars, bone-broths, and rendered fats. Many also offer a number of specialized Paleo plans, like Autoimmune Paleo, Wahls Paleo, Whole30 or the Paleo-Zone Diet… If you're looking to keep a few meals on hand or in your freezer, take a look at some of these companies and see which ones appeal.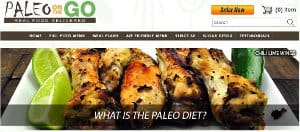 Paleo on the Go
Located west of Orlando in the Tampa area, Paleo on the Go is a popular meal delivery service that caters exclusively to Paleo customers. They've been well reviewed by Paleo bloggers and have multiple certifications regarding the credentials of their products.
Paleo on the Go has a page dedicated to transparency, where they list all of the farmers and vendors with whom they have relationships. All meals are 100% Paleo, but there are different meal lines, including AIP, and sugar detox menus.
The company is one that allows you to order a la carte meals, and they have options for breakfast, lunch, and dinner. They offer you creative options like soups, stews, and pot pies, as well as a variety of add-ons (bone broth and bacon/sausage products from Penderson farms).
If you are looking for a company that takes their Paleo credentials very seriously, delivers all over the Orlando area and is located in Florida, Paleo on the Go is definitely worth considering. Meals are shipped next day to Florida residents.
See paleoonthego.com for prices and meal options.
Note: Paleo on the Go is offering a 10% discount for our readers, use code "MYPALEOS" at checkout for 10% off your entire order – one time use.
For our detailed write up on Paleo on the Go including reviews, see our in-depth coverage on them.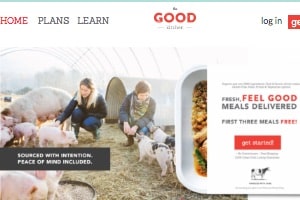 The Good Kitchen
The Good Kitchen focuses on partnering with local farms in their area to create their weekly changing menus centered around what is in season at those farms.
The produce used in their meals is organic and/or GAPS certified, meats are grass-fed and -finished, their eggs, pork and poultry is pastured and their fish and shellfish is all Seafood Watch-compliant. The Good Kitchen offers free shipping to all addresses throughout the greater Orlando area, both home and office addresses, so you can still get delivery even if you don't live right downtown.
There is a minimum order size of 10 meals, and meal plans prices are based on the number of meals you order, not the content. They organize their menus into beef, chicken and pork, as well as offering a dedicated Whole30-approved meal line.
See thegoodkitchen.com for prices and menus.
The Good Kitchen is offering a 15% discount for our readers. Use promo code "mypaleos" at checkout for 15% off your first order.
For our detailed write up on The Good Kitchen including reviews, see our in-depth coverage on them.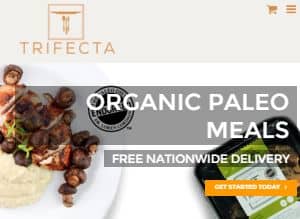 Trifecta
Trifecta Nutrition is one of the larger Paleo delivery services endorsed by well-known athletes such as Rich Froning, Mike Rashid, Brooke Ence and others.
They advertise meal plans specifically for Paleo, Keto, Vegetarian and Vegan customers, as well as those who have more relaxed diets. The company is committed to 100% organic food and uses humanely-raised meats.They also offer customers sustainable packaging (you can read about their methods on their website!).
Trifecta mostly advertises its meal plan options, but – because the company knows that many of their customers are pairing nutrition with weight loss goals – they offer a la carte, bulk order options for people looking to portion their meals themselves. Best thing about Trifecta: shipping is free to the Orlando Area
See trifectanutrition.com for current prices for their Paleo and organic meal delivery Orlando offerings.
For our detailed write up on Trifecta including reviews, see our in-depth coverage on them.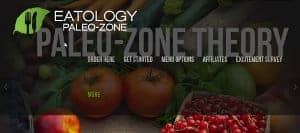 Eatology
Eatology's meals not only follow Paleo protocol, but incorporate elements of the Zone diet as well. Because their meals allow you to balance the proportion of carbohydrates, proteins and fats within each meal, Eatology is a great option for people looking to lose weight. Eatology is also one of the more affordable options on this list. Their meals are competitively priced and they offer a variety of discounts for customers who order recurring meal plans, as well as a rotating monthly discount. Their meals are portioned in "blocks" and they offer customers the opportunity to order two block meals, three block meals, or their "party" platter – a 12 block meal that's perfect for feeding a larger family.
See http://www.eatology.co for Eatology's Paleo-zone plans and pricing, including nationwide plans for healthy meal delivery Orlando options.
Eatology is offering a 20% off promo for our readers (works for first & all later orders), use code "ZACHPALEO" at checkout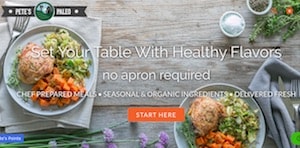 Petes Paleo
Petes Paleo, yet another entirely organic meal service offering delivery to the Orlando area, maintains a close relationship with local farmers. Their menu is seasonally rotating, and made from in-season, naturally flavorful ingredients. For those looking to do a sugar detox, Pete's meals are sweetened naturally with fruits and vegetables and exclude any artificial sweeteners. They offer several tailored meal plans, including a Wahls Paleo plan for customers looking to reduce symptoms of major health issues. All meals are delivered to your door fresh, via express shipping.
See petespaleo.com for a complete list of prices, meal plans and healthy food delivery Orlando options.
For our detailed write up on Petes Paleo including reviews, see our in-depth coverage on them.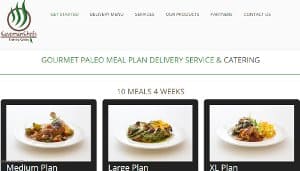 Caveman Chefs
Caveman Chefs is yet another great meal delivery service that delivers food to the Orlando area. Because they offer innovative Paleo dishes from around the world, they're a great option if you're looking for a little bit more variety in your meal selection. Their ingredients are sourced locally and, like some of the companies on this list, they have a list of their partners for customers to take a look at. The company is Colorado-based and gives its customers the opportunity to establish their specific dietary requirements: allergies, likes, dislikes, etc.
See http://www.cavemanchefs.com for more information on their Paleo delivery Orlando options
Caveman Chefs has offered 10% off all orders by mentioning the promo #ZachmyPALeos in the order comments or mentioned by phone during checkout.
For our detailed write up on Caveman Chefs including reviews, see our in-depth coverage on them.
Every Year there are More Options for Paleo Meal Delivery Orlando & Paleo Delivery Options
At some point, we all have moments in our lives when time is tight and when eliminating something from your to-do list can make a big difference in your stress level. Whether you're moving to a new house, starting a new job, recovering from an illness, or are simply looking for a bit of help keeping on track with your Paleo diet, it doesn't matter. There are many reasons for you to consider order pre-made meals, and many options out there for you to choose from. Supplementing your home-cooking with a few pre-made meals can often mean the difference in staying on track with your diet. These companies are expert in sourcing healthful, organic, and humanely raised ingredients, and are committed to helping you stay on track with your diet and achieving your nutritional goals. We recommend checking them out and hope you'll find something you love.
Other Paleo Delivery Orlando Area Companies
If you have any suggestions of other places offering Orlando Paleo Friendly Meal Delivery or know of Orlando Paleo restaurants that might offer takeout or delivery options, please let us know in the comments below.