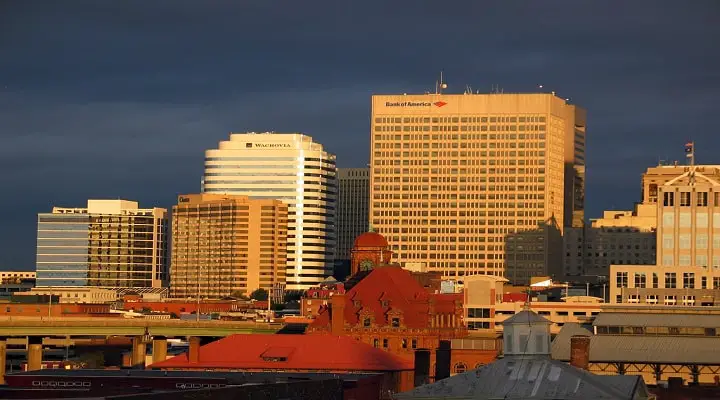 If you follow Paleo, you're familiar with the many benefits to the diet: When you eat healthful, wholesome produce and humanely raised proteins, you eliminate those chemical additives that prohibit the body from effectively healing itself. But part of practicing a Paleo lifestyle also means shopping at local specialty stores to find the right ingredients, as well as creating meals from scratch. Eating Paleo can be a time consuming process, and sometimes we run out of time.
If you're searching for a solution to those nights where dedicating yourself to your kitchen just isn't an option, you've come to the right place.
With Richmond's incredibly diverse food scene, you likely have a few options at local restaurants for Paleo friendly meals. In this article we've also put together a list of local and national companies that make and deliver grain, dairy, and sugar-free meals from scratch. Whether you're interested in a spur-of-the-moment takeout dinner or a month-long Paleo meal delivery service, there's an option here for you. Take a look, and hopefully you'll find something you like.
We cover the following....
Local Paleo Food Delivery Richmond Options
There are an incredibly varied amount of restaurants catering to customers in the Richmond Virginia area. Whether you're interested in southern home-cooking or James Beard award winning bakeshops – you can find that in Richmond. But with the increasing popularity of the Paleo diet, you can also find restaurants able to accommodate the needs of Paleo customers. In the past, there had also been local companies in Richmond offering Paleo Delivery meals. Two of such companies have closed over the years, with one described below planning to open up again in the future.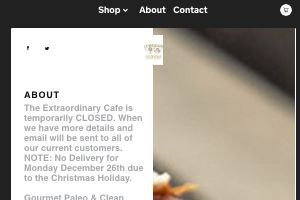 The Extraordinary Caveman
Although temporarily closed as of this writing, The Extraordinary Caveman was a local Richmond area cafe and delivery service that focused on delivering Paleo Meals to the local area as well as across the US. They have stated that they have a plan to re-open, so you may want to check their website periodically for updates.
For more information on The Extraordinary Caveman and for prices see:
https://squareup.com/store/tec-rva/
The Extraordinary Caveman Reviews:
https://hey-cafes.com/05614726/the_Extraordinary_Caveman
The Extraordinary Caveman Facebook Reviews: https://www.facebook.com/pg/TheExtraordinaryCaveman/reviews/?ref=page_internal
The Extraordinary Caveman Yelp Reviews: https://www.yelp.com/biz/the-extraordinary-caveman-richmond
In addition to the Extraordinary Caveman as a possible local option, Paleo To-Go from Hampton VA has a pickup location somewhat close to the Richmond area in Williamsburg VA – located at Crossfit Williamsburg. If you travel frequently to that area that might be a viable option for you. It's a bit far but could work for those who live Southeast of Richmond.
This post contains affiliate links. Thank you for supporting us! Click here to learn what this means.
National Companies Offering Paleo Meal Delivery to Richmond
Although there aren't great local meal delivery company options anymore in Richmond, there are definitely a number of national Paleo delivery companies that deliver to Richmond residents. These companies deliver individual meals and also weekly and monthly meal plans to customers throughout the greater Richmond area. They maintain close working relationships with local farmers and vendors and source from organic farms, using only free range, pastured, and grass-fed meat, and high quality rendered fats and oils. These companies are also have options for dieters following specific Paleo plans like AIP, zone, and detox diets.
If you know your week is going to be extraordinarily busy, if you're not a big fan of cooking, or if you'd like to keep a few meals in your freezer for emergencies, you might think about ordering from one of these national companies.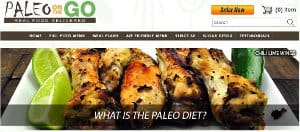 Paleo on the Go
Paleo on the Go is a well-reviewed meal delivery service that ships to the Richmond area. The company has been lauded by both bloggers and consumer agencies and offers their customers a variety of specialized plans including AIP, sugar detox, and the thirty-day elimination diet. The company obtains ingredients from local farms and their meals are made with grass fed beef and organic produce. If you're interested in seeing where they source from, they list their vendors on a separate page on their website. Meals are creative – you can order anything from pancakes, to chicken potpie – and customers have the option of ordering meals a la carte or customizing a meal plan. After you purchase a meal plan from Paleo on the Go, the meals will arrive at your doorstep, frozen and ready to be heated, and then served.
See paleoonthego.com for prices and meal options.
Note: Paleo on the Go is offering a 10% discount for our readers, use code "MYPALEOS" at checkout for 10% off your entire order – one time use.
For our detailed write up on Paleo on the Go including reviews, see our in-depth coverage on them.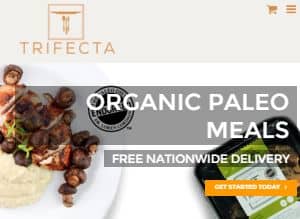 Trifecta
While Trifecta primarily advertises its meal plans, it's also dedicated to helping customers support their fitness goals. To this end, they offer customers the option to purchase a la carte items so that they can portion meals themselves. Trifecta is also a great option for people looking to order vegan or vegetarian meals as it caters to a wide variety of other specialty diets. All of Trifecta's meals are 100% organic and their protein is sourced from farms who meet a humane rating of 5. One of the best things about Trifecta: shipping is free!
See trifectanutrition.com for current prices for their Paleo and organic meal delivery Richmond offerings.
For our detailed write up on Trifecta including reviews, see our in-depth coverage on them.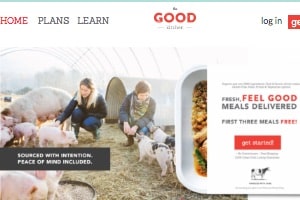 The Good Kitchen
The Good Kitchen is one of the few companies that offer introductory deals when you purchase your first meal plan from them. Whether you're interested in beef bulgogi, or a vegetarian Buddha bowl, you can choose your menu options based on main ingredients, making it incredibly easy for customers to customize their meal plans. Based in North Carolina, The Good Kitchen is committed to using only local, seasonal produce from farmers they know and trust. They offer a variety of options for you to tailor the content and quantity of your meals as well as the frequency of delivery. Like Trifecta, they offer free shipping to Richmond residents.
See thegoodkitchen.com for The Good Kitchens complete menu and list of healthy meals delivered Richmond / nationwide plans.
The Good Kitchen is offering a 15% discount for our readers. Use promo code "mypaleos" at checkout for 15% off your first order.
For our detailed write up on The Good Kitchen including reviews, see our in-depth coverage on them.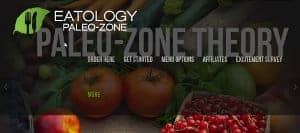 Eatology
Eatology's Paleo meal plans incorporate the principles of the Zone protocol, which works to balance the carbohydrates, proteins, and fats within each meal. Theirs is a great plan for anyone looking to lose weight and balance blood insulin levels. They offer meal options like barbecue chicken burgers with smoky sweet potatoes, or bacon ranch pizza, so it's hard to feel cheated. As the meals are portion controlled, Eatology is also one of the least expensive meal services available. Their pricing remains consistent no matter the content of the meals, with increases in price responding only to increases in portion size. Eatology also offers discounts if you sign up for one of their recurring meal plans.
See http://www.eatology.co for Eatology's Paleo-zone plans and pricing, including nationwide plans for healthy meal delivery Richmond options.
Eatology is offering a 20% off promo for our readers (works for first & all later orders), use code "ZACHPALEO" at checkout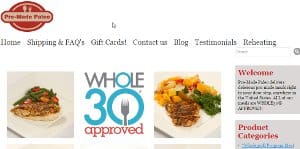 Pre-Made Paleo
Pre-made Paleo offers a variety of interesting dishes that you can order a la carte, or as part of a meal plan. They offer AIP specific meals, as well as Whole30 and family-centered plans. Their chefs regularly add new and interesting things to their menus, like water buffalo, alpaca, and wild boar sausage. They also offer a variety of different shipping options, available to customers in the Richmond area. If you've ordered from Pre Made Paleo before, you might have only been given the option to order frozen meals. Recently, however, the company added the opportunity to choose meals shipped fresh.
See premadepaleo.com for prices and Paleo meal delivery Richmond inclusive nationwide plans
Pre-made Paleo has offered a 5% discount (one time use) on all orders for our readers. Use code "MYPALEOS2018" at checkout
For our detailed write up on Pre Made Paleo including reviews, see our in-depth coverage on them.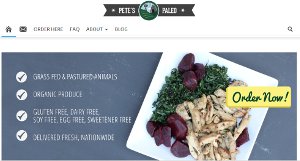 Petes Paleo
Pete's Paleo has been featured on a variety of television programs as well as in newspapers and magazines. It's another company that sources local produce and protein and has a rotating, seasonal menu that's entirely dependent on locally available ingredients. Because they only sweeten their food with naturally sweet vegetables and fruit, they're a popular company for customers looking to try a 21-day sugar detox. They're also the only company on the list that offers a plan adhering to the Wahls Paleo requirements.
See petespaleo.com for a complete list of prices, meal plans and healthy food delivery Richmond options.
For our detailed write up on Petes Paleo including reviews, see our in-depth coverage on them.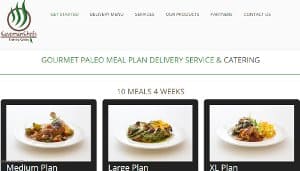 Caveman Chefs
Caveman Chefs is a company that offers custom meal plans that allow for some personalization: customers can adjust meals to meet specific dietary restrictions. The owners and operators of Caveman Chefs are all chefs with backgrounds in the Colorado restaurant and catering industry. Though they list options for local catering and pickup, they ship meals to Richmond as well. While this company only offers a few meal plan options, their create an interesting and global menu that's great for anyone looking for a change in cuisine.
Visit http://www.cavemanchefs.com for more information on their Paleo delivery Richmond options
Caveman Chefs has offered 10% off all orders by mentioning the promo #ZachmyPALeos in the order comments or mentioned by phone during checkout.
For our detailed write up on Caveman Chefs including reviews, see our in-depth coverage on them.
Every Year there are More Options for Paleo Meal Delivery Richmond & Paleo Delivery Options
When there are dozens of companies able to ship food straight to your door, it's never been simpler to maintain your healthy eating. Many of the national services also offer packaging useful for traveling, so even when heading out of town, it's still possible to stay on your Paleo diet.
One of the great benefits or ordering national is that these companies allow you the opportunity to try local and seasonal produce from all over the United States. You can get fresh produce from Florida, North Carolina, and Colorado and so are often getting produce, meat, and fish that you might not otherwise find in your local markets.
Often, ordering a few meals can make a world of difference with staying on track with your diet. Even if you love shopping for and cooking your own meals, there will be nights of the week when it's nice to have a backup plan. What this list has hopefully established is that there are a good many options for Paleo practitioners who need the occasional pre-made meal.
Other Paleo Delivery Richmond Area Companies
If you have any suggestions of other places offering Richmond Paleo Friendly Meal Delivery or know of Richmond Paleo restaurants that might offer takeout or delivery options, please let us know in the comments below.