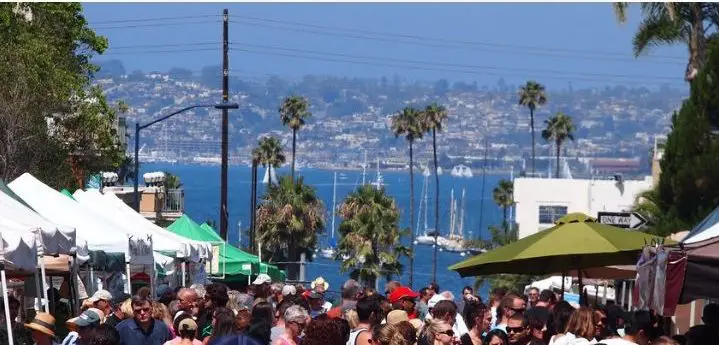 San Diego has an incredible local food scene, with tons of supermarkets and specialty food stores that allow practitioners of the Paleo diet their choice of healthful, wholesome ingredients.
Whether you're a practiced Paleo chef, or just starting your journey into the Paleo lifestyle, you know how fulfilling it can be to prepare your own home-cooked meals from scratch.
Similarly, you've probably experienced that one night of the week in which life gets hectic and you just don't have time to devote to the kitchen. If you're looking for help maintaining your Paleo lifestyle during these stressful times, you're in luck!
Whether you need a spur-of-the-moment meal or a more sustained solution, we've got you covered. San Diego has a plethora of local places you can patron that serve Paleo-compliant meals. There are also a whole host of national companies that offer individual meals and meal plans that will ship right to your door.
Below, we've detailed local restaurants and national companies who tailor meals to meet the specific needs of Paleo Practitioners.  Read on to learn more.
We cover the following....
Local Paleo Food Delivery San Diego Options
In the following section, we've listed a bunch of places local to San Diego from whom you can order Paleo meals. While they don't always cater exclusively to practitioners of the Paleo diet, they'll have a few menu options that are Paleo compliant.
If you come to the end of your day and have run out of time to cook dinner, these places are worth a try!
This post contains affiliate links. Thank you for supporting us! Click here to learn what this means.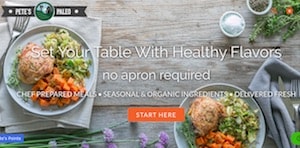 Petes Paleo
Pete's Paleo, one of the major nationwide Paleo delivery services, is based right in San Diego.
Pete's sources their produce and proteins locally, so locally that they offer a seasonal menu based on what produce is available.
Pete's meals contain no added sugars and are great for anyone looking to do a sugar detox.
Pete's meals contain no added sugars and are great for anyone looking to do a sugar detox, getting the seal of approval from 21-Day Sugar Detox founder Diane Sanifilippo. They also have programs for AIP and FODMAP diet followers, making their products widely accessible.
If you are looking for meals produced locally and like the idea of seasonal local ingredients prepared in a minimal, fresh manner, you will likely want to check out Pete's.
For more information on Petes Paleo and for prices see:
Petes Paleo Reviews:
http://calorielab.com/news/2012/08/06/test-driving-the-paleo-diet-petes-premade-paleo-unboxing-and-day-1-of-the-caveman-challenge/ http://stupideasypaleo.com/2013/04/23/petes-paleo-review/ http://jenjoandpaleo.wordpress.com/2014/08/15/review-petes-paleo/ http://www.healthhomeandhappiness.com/review-petes-paleo-premade-paleo-meals-just-heat-and-serve.html Petes Paleo Facebook Reviews: https://www.facebook.com/PetesPaleo/posts_to_page/
Level Up Meals
Level Up Meals offers meal plans tailored to both the Paleo Diet and a general whole foods-centric diet which you can further customize. This local company grew out of a desire by the founder to create easily-accessible meals that don't contribute to the onset of chronic health conditions like cancer.
Level Up dishes are made with cage-free poultry and eggs, antibiotic-free meats and include seasonal, organic fruits and vegetables when available.
One notable unique aspect of Level Up Meals is that they have chosen to exclude pork from their full line of meals. This may be because of the health risks associated with reheating pork products (such as food poisoning), although this hasn't been elaborated on.
Level Up Meals delivers to the San Diego area, but also has affiliate pickup locations, often within local Crossfit gyms. It's not clear whether they charge for home delivery, but because this is a small business venture without the same support as national companies, it might be something to expect.
For more information on Level Up Meals and for prices see:
Level Up Meals Facebook Reviews: https://www.facebook.com/pg/LevelUpMeals/reviews/?ref=page_internal
Level Up Meals Yelp Reviews: https://www.yelp.com/biz/level-up-meals-san-diego
Viva Foods
Viva Foods, a smaller local San Diego meal delivery service, focuses serving healthful, Paleo-friendly meal plans that can be customized for your dietary needs.
Once you purchase a meal plan, you will receive an email with the upcoming weeks menu as well as receiving personal contact with someone from their company to follow up with you on your order.
They offer plans from 6 meals per week up to 12 meals per week as well as optional snacks. Viva Foods are able to tailor the menus to fit the following individual needs: Paleo, Diabetic, Low Sodium, Dairy Free, Gluten Sensitivity, Heart Healthy and Vegetarian. This may well be useful for those of you who have multiple dietary requirements and need a meal delivery service who are a bit more specialized.
When it comes to the quality of the ingredients used in these dishes, there is little to no information made public to the consumer, so if you're concerned about where your food is coming from, it might be worth contacting them directly.
For more information on Viva Foods and for prices see:
Viva Foods Reviews:
https://local.yahoo.com/info-193686755-viva-foods-health-kitchen-san-diego
Viva Foods Facebook Reviews: https://www.facebook.com/pg/vivafoodsmealdelivery/reviews/?ref=page_internal
Viva Foods Yelp Reviews: https://www.yelp.com/biz/viva-foods-health-kitchen-san-diego
Prepared with Purpose
Prepared with Purpose are a Whole30-approved delivery service in the heart of San Diego. Whole30 is a reset plan that remains consistent with the principles of Paleo eating, with some additional dietary restrictions that allow people to explore hidden intolerances and sensitivities they may have. As a result, this means that all Prepared with Purpose meals are completely Paleo-friendly.
Chef Joan, the founder of Prepared with Purpose, lives up to her company name by sourcing ingredients of the highest quality for her customers. She uses local, in-season, organic produce to avoid bioaccumulation of pesticides and herbicides. She also uses high-welfare animal protein which has been grass-fed and finished, as well as fresh, wild-caught fish.
Because her belief system centers around real, whole foods, all meals that arrive at your door will be free of alcohol, gluten, soy, dairy, grains, GMO, added sugars and artificial sweeteners.
One thing that customers might want to be aware of is that Prepared with Purpose use glass containers which will need to be purchased with your first order. However, after this initial cost, your glassware can be used week and week again, providing you leave them out for the delivery driver, clean and neatly stacked.
https://preparedwithpurpose.com/
Semi-Paleo Local Options in San Diego
Michaela's Meals
Michaela's Meals are a local meal delivery service, supplying healthy, organic and gluten-free meals to the Greater San Diego area. Their culinary team is adept at making dietary customizations for those of us who follow a Paleo diet, as well as Ketogenic diets and vegetarians. 
They use fresh, organic and GMO-free produce as well as responsibly-sourced protein, and adhere to seasonal availability, meaning that you as the customer receive a meal package that changes on a regular basis.
Each meal contains 5-7 ounces of high-quality protein and 1/2 cup of complex carbohydrates, with the remaining bulk of the meal consisting of seasonal vegetables. This makes it easy for you to track your macronutrient requirements without needing to pore over complicated food labels time and time again.
Michaela's Meals offers you the option of delivery or pickup, and allows you to either sign up for a regular discounted subscription service or individual meal packages, taking into account every customer's needs. Furthermore, their meal packages are subdivided into groups of 5, 8, 10, 14 or 21 meals allowing you to make the best choice based on your lifestyle and schedule.  
National Companies Offering Paleo Meal Delivery to San Diego
One of the advantages of ordering from a national company is that you can be absolutely certain that their ingredients are fresh, organic, and adhere to Paleo principles.
These companies cater almost exclusively to Paleo clients and craft their menus using grass fed and pastured proteins, local in-season and organic produce, and high quality oils, fats, and broths.
To get the food straight to your door, these companies ship express, their meals either fresh or frozen, and packaged in insulated cooler boxes with ice packs or dry ice.
Most of these companies also offer specific Paleo meal plans, accommodating clients who follow the Autoimmune Paleo protocol,  Zone diets, or sugar free detoxes. If you're interested in a more sustained solution to meal-prep and cooking, give any one of these companies a try!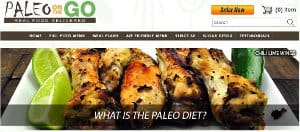 Paleo on the Go
Paleo on the Go is a popular Paleo delivery service that ships to the San Diego area. They've received rave reviews from well known Paleo bloggers and have won several Paleo magazine readers choice awards for their services.
This company gives customers an option to order both meal plans and single meals. They have a great working relationship with local farmers and focus on using organic produce from the dirty dozen list. The farms they work with concentrate on achieving high-welfare standards, so that you know that the food you eat from Paleo on the Go had a high-quality standard of living, something that most Paleo dieters truly value.
They're an extremely accessible service for all, especially for those looking to order specific Paleo plans like Whole 30, AIP or 21 Day Sugar Detox. Paleo on the Go deliver straight to your front door, but do require a minimum order of $99 in order to minimize excessive shipping costs at your expense.
See paleoonthego.com for prices and meal options.
Note: Paleo on the Go is offering a 10% discount for our readers, use code "MYPALEOS" at checkout for 10% off your entire order – one time use.
Here is a video of me unboxing my latest Paleo on the Go order: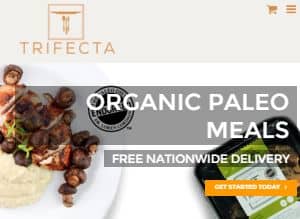 Trifecta
Trifecta, based in California, gears its meal plans toward athletes, or those looking to enhance their athletic performance through diet. They offer Paleo as well as a variety of plans (for households whose members might not eat Paleo) like clean eating, vegetarian, and vegan meal plans. Trifecta uses 100% organic ingredients and, in their use of proteins, strives to maintain a humane level rating of 5. They allow customers to order meal plans or order items in bulk (in case you want to portion out food yourself). The best part about Trifecta? They ship straight to your door.
See trifectanutrition.com for current prices for their Paleo and organic meal delivery San Diego offerings.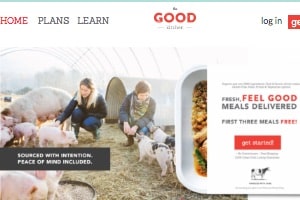 The Good Kitchen
The Good Kitchen has some great offers for first time customers: In your first shipment you can often get three meals free. The Good Kitchen is another company invested in sourcing ingredients from their local, North Carolina farmers and vendors. Though you have to purchase a meal plan, they have many different options you can choose from. They're another company on the list with plenty of vegetarian options, and it doesn't matter what type of meal you choose, meal plans are priced by number of meals, not content.
See thegoodkitchen.com for The Good Kitchens complete menu and list of healthy meals delivered San Diego / nationwide plans.
The Good Kitchen is offering a 15% discount for our readers. Use promo code "mypaleos" at checkout for 15% off your first order.
Here is a video of me unboxing my most recent The Good Kitchen delivery: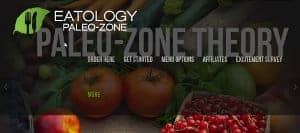 Eatology
Eatology is one of the most affordable options on this list and is unique in that its Paleo meals also follow the Zone protocol (which breaks meals into "blocks" in order to balance macronutrients and optimize weight loss). Eatology bases their meal price on blocks, regardless of content, and there are an abundance of meal-plan options you can choose from. Though their website offers plenty of pickup locations local to Texas, they also have an option to ship to the San Diego area.
See http://www.eatology.co for Eatology's Paleo-zone plans and pricing, including nationwide plans for healthy meal delivery San Diego options.
Eatology is offering a 20% off promo for our readers (works for first & all later orders), use code "ZACHPALEO" at checkout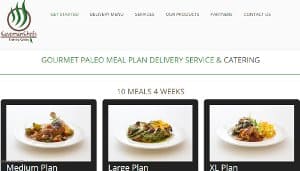 Caveman Chefs
Caveman Chefs is headquartered in Denver and uses local Colorado farms and ranches to source their organic produce and protein. Caveman chefs advertises local pickup options, but also delivers to the San Diego area. The owners have been in the restaurant and catering business for a while and know how important customization is. They are one of the few companies that allow you to request special dietary requirements like Keto, AIP, FODMAP or any other variation or food allergy you might have.
Visit http://www.cavemanchefs.com for more information on their Paleo delivery San Diego options
Caveman Chefs has offered 10% off all orders by mentioning the promo #ZachmyPALeos in the order comments or mentioned by phone during checkout.
For our detailed write up on Caveman Chefs including reviews, see our in-depth coverage on them.
Every Year there are More Options for Paleo Meal Delivery San Diego & Paleo Delivery Options
What we hope this article has made clear is that there are a multitude of home-delivery options available to Paleo customers in the San Diego area. Between the great meals available locally and all the national services, there is no shortage of options for you to choose from. And there are tons of benefits to order pre-made meals. If you order local, you are supporting San Diego's vibrant local food scene. If you order nationally, you have access to wholesome, natural ingredients from Florida, Colorado, North Carolina – places whose local produce might not otherwise be available to you.
Paleo Meals San Diego
As you can see from the companies listed above, San Diego is a great place to live if you want to kep Paleo but don't have time to make all your meals yourself,  3 times per day, 7 days per week, 365 days per year.
Even if you love meal prep and cooking, being able to order the occasional meal can make a real difference in your ability to maintain your Paleo Diet. If you're traveling out of town, consider checking out one of our other articles on local options for eating Paleo. Hopefully with all these options, you'll find something you enjoy!
Other Paleo Delivery San Diego Area Companies
If you have any suggestions of other places offering San Diego Paleo Friendly Meal Delivery or know of San Diego Paleo restaurants that might offer takeout or delivery options, please let us know in the comments below.