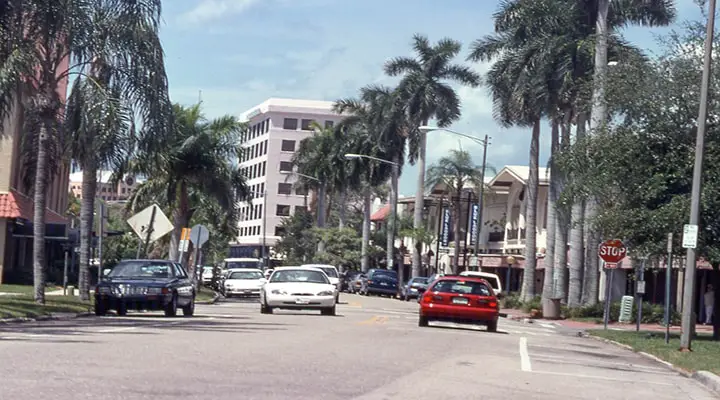 The Paleo lifestyle can be rewarding in many ways, but for those of us with busy schedules, the requirement of cooking our own meals from scratch using only fresh, locally-sourced ingredients is not one of them. While this practice remains one of the core tenets of the ideal Paleo lifestyle, it is simply not achievable for many of us in today's world. With this in mind, we have put together the following list of companies which offer Paleo meals for delivery in the Sarasota area in order to make your Paleo lifestyle a little less stressful.
This guide covers local Sarasota companies as well as nationally-based Paleo delivery companies which deliver to any home or office address in the Sarasota area. The local companies can be great if you need a quick meal and don't have the time to cook, while the national companies can be an even better choice if you've just moved to a new city, started a new job, or experienced another major change in your life which has made it harder to maintain your usual dietary habits. These delivery options will remove the stress of cooking and shopping for ingredients, making your life more convenient and manageable while leaving your dietary principles intact.
We cover the following....
Local Paleo Food Delivery Sarasota Options
This section will cover a number of companies based locally in Sarasota which provide fresh Paleo meals for delivery throughout the area. Even if they don't focus exclusively on Paleo-compliant food, all of these companies offer at least a few Paleo-friendly options which can tide you over in a situation where you don't have time to cook. These local companies often source their ingredients locally as well, allowing you to support your local economies in more ways than one, while getting a much-needed break from the kitchen at the same time.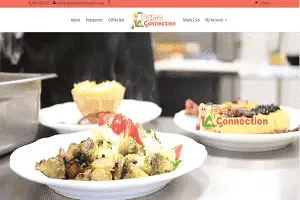 Paleo Connection
Paleo Connection is a local Sarasota restaurant, cafe and meal delivery service dedicated to exclusively serving Paleo food. Meals can be ordered for either delivery or pickup. In addition to Paleo meals, they also offer a large array of Paleo friendly treats such as cookies, tarts, breads, muffins, etc.  All sauces in the meals are homemade and meat is grassfed, seafood is wild caught and produce used is organic when possible.
For more information on Paleo Connection and for prices see:
http://paleoconnectionsarasota.com/
Paleo Connection Reviews:
https://www.tripadvisor.com/Restaurant_Review-g34618-d10665592-Reviews-Paleo_Connection-Sarasota_Florida.html#REVIEWS
http://ct10.net/2016/07/01/paleo-connection-sarasota/
Paleo Connection Facebook Reviews: https://www.facebook.com/pg/paleosarasota/reviews/?ref=page_internal
This post contains affiliate links. Thank you for supporting us! Click here to learn what this means.
National Companies Offering Paleo Meal Delivery to Sarasota
The following section covers a collection of seven national Paleo delivery companies which deliver meals throughout the Sarasota area. Either of these companies can be extremely valuable in helping you maintain your Paleo principles on a tight schedule, with most of them offering regular meal plans as well as more limited options if you still want to cook a portion of your meals. Every company has features which set it apart from the others, which we'll aim to point out for you so that you can find the option which best fits your individual tastes and dietary habits.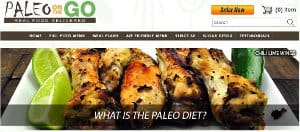 Paleo on the Go
Located in nearby Largo, Paleo on the Go is a national delivery service which offers a little something for everyone, making it a great choice if you're just starting out with the diet or are unsure how a delivery service like this would work. They offer a variety of different meal plans for variations of the Paleo diet – such as Autoimmune Protocol (AIP), Sugar Detox, and 30 Day Elimination plans – and frequently collaborate with high-profile Paleo bloggers like The Paleo Mom to create new and refreshing recipes on a regular basis. Plus, they ship all of their meals fresh, via express shipping and in refrigerated cooler boxes, to ensure that your food is ready to eat when it arrives at your door.
See paleoonthego.com for prices and meal options.
Note: Paleo on the Go is offering a 10% discount for our readers, use code "MYPALEOS" at checkout for 10% off your entire order – one time use.
For our detailed write up on Paleo on the Go including reviews, see our in-depth coverage on them.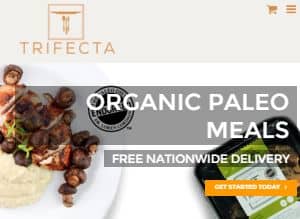 Trifecta
Trifecta is another national delivery service which is often a great starter option for those who are new to meal delivery services. For one thing, they're one of the few companies on this list which offers non-Paleo meal plans in addition to Paleo options, making them a great choice if you also need to accommodate family and friends who don't follow the Paleo diet. However, their Paleo meal plan does not cut any corners, with 100% organic ingredients in every meal and a diverse, exciting menu which refreshes each week. Add the fact that you get free shipping on every order with Trifecta, and you'll see that it's hard to go wrong with this company.
See trifectanutrition.com for current prices for their Paleo and organic meal delivery Sarasota offerings.
For our detailed write up on Trifecta including reviews, see our in-depth coverage on them.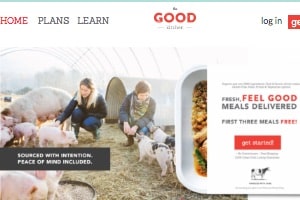 The Good Kitchen
If you have very specific tastes and dietary habits, The Good Kitchen is likely the best option for you. This company offers a variety of customizable options, beginning with a number of different menus to choose from, organized based on the main ingredients used in each meal (i.e. Beef, Pork, Chicken, Vegetarian). An additional Primal menu allows you to pare your meals down to the barest essentials of nutrition if desired, while you also get to choose how often you would like your meals shipped (weekly, bi-weekly, or monthly) and how many meals you would like in each shipment (minimum of 5). With all these options, The Good Kitchen is sure to have one to fit your individual tastes and habits.
See thegoodkitchen.com for The Good Kitchens complete menu and list of healthy meals delivered Sarasota / nationwide plans.
The Good Kitchen is offering a 15% discount for our readers. Use promo code "mypaleos" at checkout for 15% off your first order.
For our detailed write up on The Good Kitchen including reviews, see our in-depth coverage on them.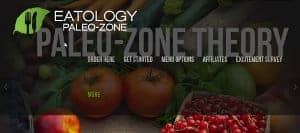 Eatology
Eatology is a national delivery company which takes the unique step of combining requirements of the Zone diet with those of the Paleo diet in creating its meals. All of its meals are both Zone and Paleo-compliant, allowing Zone dieters to reap the benefits of the Paleo diet, while those already following the Paleo diet can experience more balanced levels of macronutrients and promoted weight loss central to the Zone discipline. Unlike many of the other companies on our list, Eatology ships its meals frozen, but divides them into portion-controlled "blocks" which prevent overeating and help to balance your calorie intake throughout the day.
See http://www.eatology.co for Eatology's Paleo-zone plans and pricing, including nationwide plans for healthy meal delivery Sarasota options.
Eatology is offering a 20% off promo for our readers (works for first & all later orders), use code "ZACHPALEO" at checkout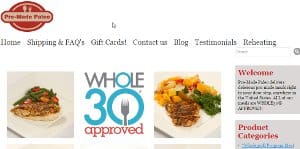 Pre-Made Paleo
Pre-Made Paleo is a national delivery company which, like the other companies on this list, delivers Paleo meals to any address in and around Sarasota. However, Pre-Made Paleo has the added benefit of merging the requirements of the Whole30 program with those of the Paleo diet. They even boast the creator of the recipes in the popular Whole30 cookbook series as their head chef, allowing you to receive delicious, chef-created meals which still painstakingly adhere to the requirements of the Paleo diet. Also, Pre-Made Paleo often features unique ingredients (such as wild elk and water buffalo) on its menu, making them a perfect choice if you're looking for a change from the usual.
See premadepaleo.com for prices and Paleo meal delivery Sarasota inclusive nationwide plans
Pre-made Paleo has offered a 5% discount (one time use) on all orders for our readers. Use code "MYPALEOS2018" at checkout
For our detailed write up on Pre Made Paleo including reviews, see our in-depth coverage on them.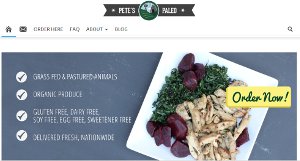 Petes Paleo
For the Paleo purists out there, Pete's Paleo is an obvious choice. This company is based in the San Diego and maintains an unwavering commitment to Paleo principles and local ingredient-sourcing – with local farms serving as the main source of ingredients for their meals. The produce and meat that these farms offer seasonally guides the company's menus, while Pete's also completely omits sweeteners of all kinds from their menus, in addition to ingredients like gluten, dairy, and unhealthy oils. They also have acclaimed meal plans for followers of the Sugar Detox and Wahl's Paleo diets, and ship all of their meals fresh, in vacuum-sealed pouches, to ensure that their meals arrive in Sarasota at optimal freshness.
See petespaleo.com for a complete list of prices, meal plans and healthy food delivery Sarasota options.
For our detailed write up on Petes Paleo including reviews, see our in-depth coverage on them.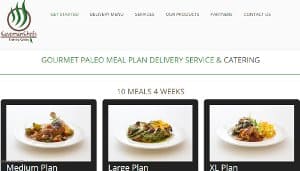 Caveman Chefs
Caveman Chefs is a relatively new Paleo delivery service, based in Denver, Colorado, which has built an impressive reputation for itself in the few years since its establishment in 2014. This company maintains an unwavering enthusiasm for the Paleo diet, while retaining close ties with local farmers to provide consistently fresh food with seasonal ingredients from the region. Plus, while their food is always high quality no matter what, Caveman Chefs also offers a variety of different meal plan sizes to choose from (i.e. medium, large, and XL), along with accommodations for just about any food allergy or dietary restriction that you might have.
Visit http://www.cavemanchefs.com for more information on their Paleo delivery Sarasota options
Caveman Chefs has offered 10% off all orders by mentioning the promo #ZachmyPALeos in the order comments or mentioned by phone during checkout.
For our detailed write up on Caveman Chefs including reviews, see our in-depth coverage on them.
Every Year there are More Options for Paleo Meal Delivery Sarasota & Paleo Delivery Options
Sometimes it might seem hard to keep up with the time-consuming job of cooking which the Paleo diet entails. However, hopefully this guide has helped to establish some of the options that you have open to you in the Sarasota area to make your Paleo experience a little more manageable. Cooking your own meals from scratch may be an important part of the Paleo lifestyle in theory, but in practice, it is often just too hard to sustain.
For this reason, the companies listed above can be extremely valuable to your Paleo lifestyle. The local companies provide a convenient option right in Sarasota, while the national companies make things even easier by simply delivering food to your door. You'll be amazed how much time you'll save by removing grocery shopping and cooking from your daily agenda. In the end, what's most important is that you don't abandon your Paleo diet completely and back track on the progress that you've already made. By offering the same convenience promised by processed foods, the companies mentioned in this guide will remove the temptation and keep you on the path of healthy eating and less stressful living.
Other Paleo Delivery Sarasota Area Companies
If you have any suggestions of other places offering Sarasota Paleo Friendly Meal Delivery or know of Sarasota Paleo restaurants that might offer takeout or delivery options, please let us know in the comments below.