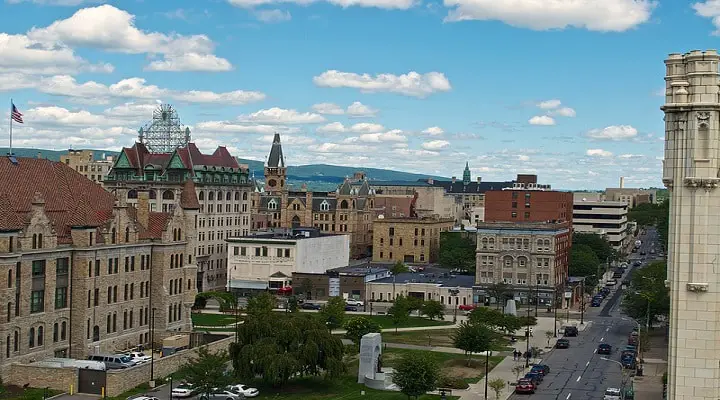 If you're a Paleo dieter, you've likely experienced times when your schedule was so hectic that you considered abandoning the diet to avoid having to cook your own meals from scratch. However, while the concept of buying fresh, locally-sourced ingredients and cooking all of your meals at home remains one of the core tenets of the Paleo diet, in today's world this is often a tough ideal to maintain. Everyone has busy schedules which can get in the way of cooking on a daily basis, but this doesn't need to get in the way of your basic dietary principles as a result.
The following guide will explore a number of meal delivery services, both local and national, which can help to relieve the burden of daily cooking on your daily schedule. The local companies are all based in and around Scranton, and deliver fresh Paleo meals throughout the area, while the national companies deliver to any address throughout Wyoming Valley. The wealth of options contained within makes it a safe bet that you'll find something here to suit your daily schedule and eating habits.
We cover the following....
Local Paleo Food Delivery Scranton Options
This section will cover a selection of locally-based companies which deliver Paleo friendly meals throughout the Scranton area. These companies often extend their focus beyond the Paleo diet, but all offer at least a few Paleo-friendly options which can be great solutions on days when your meal plans fall through unexpectedly. Plus, these companies give you the opportunity to support local businesses, while supporting local farmers at the same time – as these businesses often rely on Wyoming Valley farmers for their produce and meats.
Meal Prep Grind
Although not focused directly on the Paleo Diet, Meal Prep Grind is a local service created to offer healthy meals to healthy eaters and athletes who are looking for prepared, pre-portioned meals. Of particular interest to follower of grain free Paleo diets would be their bulk offerings, which have items such as bulk sweet potatoes, bulk mushrooms and onions and sauteed kale. Although fairly simple preparations, these items might be good for those who need a ready made Paleo friendly meal in a crunch or those who are counting their protein vs fat vs carb intakes. They offer deliver within Scranton as well as some surrounding areas including Wilkes-Barre.
For more information on Meal Prep Grind and for prices see:
http://store.nepamealprepgrind.com/
Meal Prep Grind Reviews:
http://wnep.com/2017/01/09/dinner-donating/
http://culinationmagazine.com/index.php/2016/09/06/one-sided-love-affair-restaurant-industry-chef-jay-racavich/
Meal Prep Grind Facebook Reviews: https://www.facebook.com/MealPrepGrind/
This post contains affiliate links. Thank you for supporting us! Click here to learn what this means.
National Companies Offering Paleo Meal Delivery to Scranton
The next section will cover a list of seven national companies based throughout the country, all of which deliver Paleo meals to addresses throughout Scranton, Wilkes-Barre, and the surrounding areas. While many of these companies offer unique menu and delivery options which set them apart from the competition, all of them are committed to maintaining Paleo principles in their meals and preparing meals for their customers which are both healthy and satisfying. Depending on the company, your meals will be shipped either fresh or frozen, in durable insulated packaging (such as refrigerated cooler boxes or dry ice), making these services ideal for longer-term meal planning.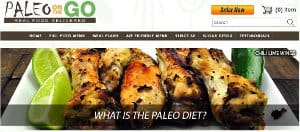 Paleo on the Go
Paleo on the Go is a popular national delivery service with a little something for everyone. You can start with their famous "Paleo Pop-Tarts," but that's only the tip of the iceberg for a company which has consistently won recognition throughout the Paleo community for their diverse menu and commitment to making fresh, healthy food accessible to those throughout the country. They offer a variety of specialized meal plans, for dieters following Autoimmune Protocol (AIP) or 30-Day Elimination programs, and they ship all of their meals in refrigerated cooler boxes to ensure that your food arrives in Wyoming Valley fresh and ready to eat.
See paleoonthego.com for prices and meal options.
Note: Paleo on the Go is offering a 10% discount for our readers, use code "MYPALEOS" at checkout for 10% off your entire order – one time use.
For our detailed write up on Paleo on the Go including reviews, see our in-depth coverage on them.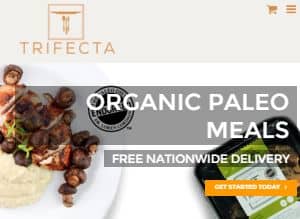 Trifecta
Trifecta is a national delivery service which caters to dieters of all kinds, offering a variety of different meal plans to choose from. Their Paleo meal plan is only one of these many choices, but it offers both consistency and variety, with a reliable adherence to Paleo principles and a menu which updates every week. They also ship their meals fresh, in weekly shipments which arrive every Friday, making weekend trips to the grocery store all but non-existent and taking the stress out of meal planning.
See trifectanutrition.com for current prices for their Paleo and organic meal delivery Scranton offerings.
For our detailed write up on Trifecta including reviews, see our in-depth coverage on them.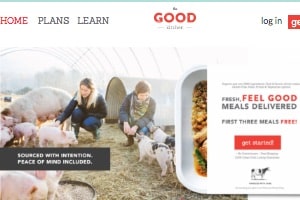 The Good Kitchen
The Good Kitchen is a national delivery company which offers customers lots of ways to customize their Paleo meal plan, making it a great choices for dieters with specific tastes and dietary habits. To start with, the combination of meals possible with The Good Kitchen is virtually endless, with separate menus for meals which use beef, pork, chicken, or seafood as their main ingredients, as well as a Vegetarian menu and a "Primal" menu. From there, you can choose how many meals you would like delivered at a time (minimum of 5) and how often you would like them delivered (weekly, bi-weekly, or monthly).
See thegoodkitchen.com for The Good Kitchens complete menu and list of healthy meals delivered Scranton / nationwide plans.
The Good Kitchen is offering a 15% discount for our readers. Use promo code "mypaleos" at checkout for 15% off your first order.
For our detailed write up on The Good Kitchen including reviews, see our in-depth coverage on them.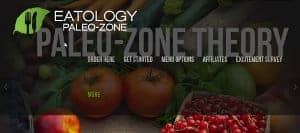 Eatology
Eatology caters specifically to followers of both the Zone and Paleo diets, with a meal service that combines the requirements of both protocols in all of its meals. This means that along with the usual benefits received from following Paleo principles, you will also get a more balanced level of macronutrients in your meals – which will help to promote weight loss and general wellness. In addition, Eatology packages their meals in portion-sized "blocks" meant to prevent over-eating, with innovative packaging materials that can be shipped frozen and heated in either a microwave or a conventional oven.
See http://www.eatology.co for Eatology's Paleo-zone plans and pricing, including nationwide plans for healthy meal delivery Scranton options.
Eatology is offering a 20% off promo for our readers (works for first & all later orders), use code "ZACHPALEO" at checkout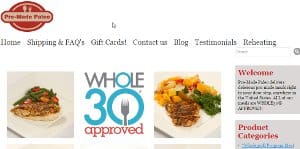 Pre-Made Paleo
Pre-Made Paleo is a national delivery service which gives you a convenient way to follow the popular Whole30 program while continuing to maintain your Paleo principles as usual. Not only is this service convenient, but the fact that the creator of the recipes in the Whole30 cookbook series is also the company's head chef means that these Whole30-compliant meals come straight from the source. Add this to a menu which often includes unconventional offerings such as water buffalo and wild boar sausage, and you've got a service which is on the cutting edge of the Paleo delivery scene.
See premadepaleo.com for prices and Paleo meal delivery Scranton inclusive nationwide plans
Pre-made Paleo has offered a 5% discount (one time use) on all orders for our readers. Use code "MYPALEOS2018" at checkout
For our detailed write up on Pre Made Paleo including reviews, see our in-depth coverage on them.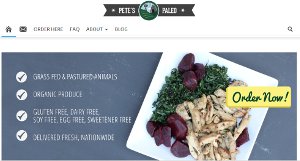 Petes Paleo
Pete's Paleo is a San Diego-based delivery company which caters specifically to the most health-conscious of Paleo enthusiasts. Their strict adherence to Paleo principles is perhaps most evident in their tight-knit relationships with local farmers – which even extends to allowing the farmers' harvest schedules to provide the basis for their seasonal menu offerings. Pete's also takes the bold step of eliminating all sugars and sweeteners, making it a great option for followers of the Sugar Detox and Wahl's Paleo program, while also demonstrating a level of culinary mastery which is able to transcend the lack of these common food additives and bring out the natural flavors of the food itself.
See petespaleo.com for a complete list of prices, meal plans and healthy food delivery Scranton options.
For our detailed write up on Petes Paleo including reviews, see our in-depth coverage on them.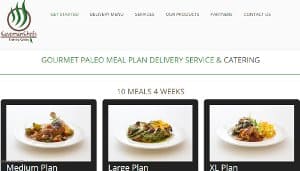 Caveman Chefs
Caveman Chefs is a Denver-based company which, like all of the other companies on our list, delivers to addresses throughout Scranton, Wilkes-Barre, and the surrounding areas. This company was founded in 2014 by a group of food service veterans from the area, all of whom share a common enthusiasm for good food and Paleo principles. They have intimate working relationships with a number of local Colorado farmers, who provide much of the produce and meats used in their food, giving their meals a distinctive regional flavor which you might not otherwise have access to in the Scranton area. Plus, Caveman Chefs offers accommodations for just about any food allergy or dietary requirement that you might have – making them an especially accessible delivery option.
Visit http://www.cavemanchefs.com for more information on their Paleo delivery Scranton options
Caveman Chefs has offered 10% off all orders by mentioning the promo #ZachmyPALeos in the order comments or mentioned by phone during checkout.
For our detailed write up on Caveman Chefs including reviews, see our in-depth coverage on them.
Every Year there are More Options for Paleo Meal Delivery Scranton & Wilkes-Barre Paleo Delivery Options
We hope that this guide has helped you find an option which will save you time and make following the Paleo diet more manageable. We know that a busy schedule can often get in the way of following the diet according to its original requirements, such as cooking all of your own meals from scratch, but hopefully this guide has helped to establish that following the Paleo diet does not necessarily have to be a black and white proposition. Its main goal is to help you eat healthier in the long run, not to make your life more stressful and difficult.
This is where the delivery companies described above come in. By taking care of meal planning, ingredient sourcing, and cooking for you, these companies will take the stress of your Paleo lifestyle and save you considerable time throughout the day. The recipes and types of ingredients used in these meals might eventually help influence your own cooking techniques, but in the meantime, they offer a healthy alternative to convenient, but unhealthy, processed foods. Because at the end of the day, the most important principles of the Paleo diet are avoiding processed foods and living a healthier life – both of which can be achieved by trying the delivery companies listed above.
Other Paleo Delivery Scranton Area Companies
If you have any suggestions of other places offering Scranton Paleo Friendly Meal Delivery or know of Scranton Paleo restaurants that might offer takeout or delivery options, please let us know in the comments below.