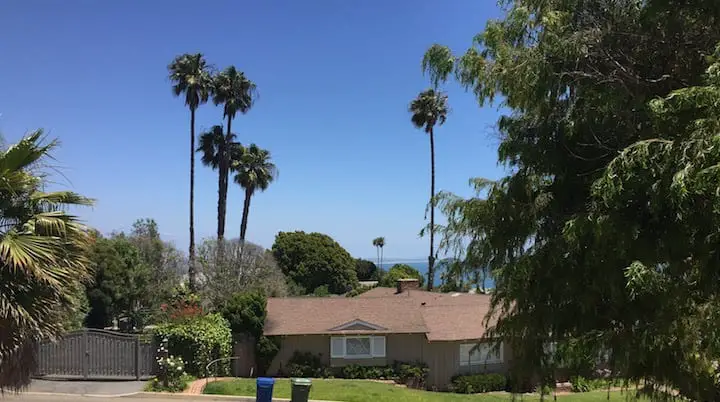 One common question is whether there are Paleo meal delivery services in your local area, in this case for those living in California. We put did the research and the good news is that there are several Paleo-friendly delivery services servicing California.
California is famous for being one of the most health-conscious states in America, with the Paleo diet ranking highly amongst many. It's also understandable that you might be looking for a way to make following a Paleo diet even easier, what with our modern busy lifestyles.
It can really save time taking advantage of the many Paleo meal delivery companies that are out there. However, you might want to remain loyal to local suppliers and farmers, so are there any Californian Paleo meal delivery services out there?
Apparently there are quite a few. We've put together a list to make choosing one easy and hassle-free.
If you're interested in finding local California Paleo meal delivery services to order from, read on…
This post contains affiliate links. Thank you for supporting us! Click here to learn what this means.
We cover the following....
Paleo Meal Delivery Services Based in California
The companies below are based and have kitchens right in California and many have a focus on working with farms based in locally in the state. They likely should be considered as your primary options.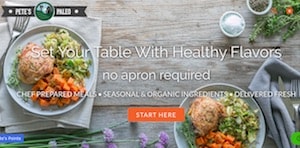 Pete's Paleo
Pete's Paleo are well-known amongst Paleo practitioners, originally born out of a San Diego shared commercial kitchen and serving the local area. They have since widened their scope and delivery range to include the entire state of California and beyond.
Pete's Paleo is the poster child for using locally grown in-season California produce and working with farmers as they plan their weekly changing menu. They also have some of the highest standards of any company with farmers market style all organic ingredients and all grass fed/finished/wild proteins.
Pete's Paleo specialise in creating fresh, Paleo meals that are easy to heat up and serve for when you need them most. They're marketed at a more premium price, but that's because this business is passionate about supporting and using local, sustainable suppliers. The extra price tag goes towards keeping these smaller farms profitable and allows them to pasture-raise or grow organic food. This means you're getting the best food to nourish yourself and your family with! 
Pete's generally promotes their subscription service, which can be ordered weekly or fortnightly, but you can also order 'When Ya Need Us' Paleo boxes, which is their more flexible option if you don't need consistent deliveries.
To check out Pete's Paleo menu for this week see: petespaleo.com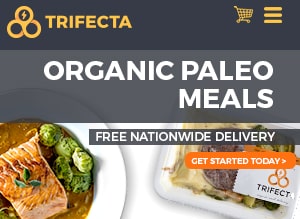 Trifecta
Trifecta have been the popular meal delivery service for athletes for a number of years, gaining notoriety through Crossfit athletes like Rich Froning and Brooke Ence. They are based out of northern California and attempt to work with suppliers in their area, while delivering throughout California.
They have a variety of meal plans available to customers, including Paleo dishes as well as Keto, Clean, Classic, Vegetarian and Vegan. You can filter down to Paleo if you only want to receive strictly Paleo dishes.
Because Trifecta's target audience is primarily athletes, their meals are macro-balanced to ensure that customers get maximum benefits at any time of day. Trifecta's Paleo meal plan includes organic produce and sustainable meat so that you feel comfortable knowing your food is high-quality, helping you to feel at your best.
The meal plans available at Trifecta are marketed as a subscription service, meaning that you receive weekly meals for a set price. The Paleo meal subscription service starts at $108.43 per week, giving you Lunch for 7 days total. You can amend this so that you also receive Breakfast and/or Dinner, and you can further change the number of days worth of food you receive from 7 to 5.
Shipping is free across the United States, and best of all? Trifecta is based right in California, so you'll get your fresh Paleo delivery within a couple of days of ordering.  
To check out Trifecta's organic Paleo plan see: http://trifectanutrition.com/paleo-meal-plans/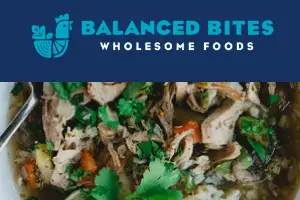 Balanced Bites
Balanced Bites is a Paleo meal delivery service based right out of San Francisco in California. Balanced Bites has gained a lot of traction over recent years, and is now one of the more well-known Paleo meal delivery companies that deliver to the entire US.
Balanced Bites specialises in both Paleo and Paleo-Keto ready-to-heat meals, with interesting takes on familiar meals such as their Satay Beef with Shredded Cabbage & Carrot Noodles, Mom's Stuffed Cabbage Rolls, and Pork Shoulder Carnitas. You're bound to find something that suits everyone's palate.
Balanced Bites meals are available to purchase in boxes of 10. You have the choice of making a one-time purchase, or opting in for their subscribe and save service. Boxes of 10 meals works out at around $15.99 per meal, or $159.99 in total. All meals contain nutritional information including macronutrient and calorie content.
Another added benefit of ordering from Balanced Bites is that if you're ordering from within the contigous United States (which hopefully you will be if you're in California!), you'll get your order shipped for free. Your box of delicious Paleo meals will then be with you within 1 and 3 days of ordering.
For more information, head to: https://meals.balancedbites.com/  
Model Meals
Model Meals is a Paleo and Whole30-approved meal delivery company serving California, Nevada and Arizona. They use organic and locally-sourced ingredients to create delicious Paleo meals prepared by professional chefs, which are then delivered right to your door in sustainable, eco-friendly packaging.
Models Meals are delivered fresh, not frozen, so that you can heat them up right away. Interestingly, this Paleo meal prep company also doesn't have a subscription service; all you need to do is order as and when you need them. You can choose your meals easily using your smartphone or desktop, and you'll get notifications on the process of your delivery.
Most meals are priced between $13 and $16, with dishes like Grass-Fed Steak and Yolky Egg + Jicama Hash, Sweet Chili Wild Salmon + Broccolini and Parsnip Mash, and Grass-Fed Teriyaki Beef Lettuce Cups. Another perk of Model Meals is that they clearly label freezer-friendly dishes, for those of you who would like to stock up on Paleo meals that can be frozen for future use.
To find out more, take a look at: https://modelmeals.com/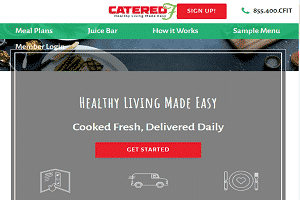 Catered Fit
Catered Fit are a Florida-based meal preparation company with two locations in California: San Diego and Los Angeles. If you're based in one of these two locations, you'll be able to benefit from their daily meal delivery as well as their national weekly meal delivery option. If you're based in the rest of California, there's no need to worry, because you can still get Catered Fit's weekly meal box delivered to your door.
They have a wide range of Paleo meals available as part of their many dietary options. Other diets they cater for include Keto, Athlete, Pescatarian, Meatless and Diabetic, and more!
If you want to order from their Paleo menu, you have an array of options available to you. You can choose Women's, Men's or Athlete portions, which vary in their macronutrient profiles so that each individual gets the most out of their Paleo meals.
Weekly boxed deliveries are shipped in 100% recycled material, which includes their vacuum-sealed meal packaging, keeping your food fresh and nutrient-dense. You can either pop these meals into the fridge or freezer, ready to heat up as and when you need them. Just pick the desired number of tasty Paleo meals you like; Catered Fit enables you to stock up on 5, 10, 15 or 20 at a time!
To find out more about Catered Fit, head to: https://www.cateredfit.com/
Paleo Meal Delivery Services Shipping to California
So now you've got a good idea of the Californian Paleo meal delivery companies serving the state. But what if you want more choices? What if you're bordering with local states like Nevada, Arizona and Oregon, and you want to know what else is out there?
Well, we've got a few Paleo meal prep companies neighbouring California to tell you about!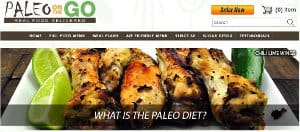 Paleo on the Go
For those looking to do the Paleo Diet for health reasons and are looking in to specialty versions of the Paleo diet catering to anti-inflammatory features like that of the Paleo Autoimmune Protocol, you might want to consider a company like Paleo on the Go.
Paleo on the Go has become one of the biggest names of catering to Paleo diets for health reasons. They have customized their vast menus to fit with those needing AIP or Whole30 style restrictions.
This is at the same time as trying to add in specially crafted versions dishes that can often be tough to give up on these most restrictive diets.
If this sounds like what you have been looking for, the good news is that Paleo on the Go delivers throughout California.
To check out Paleo on the Go's specialty menus for healing versions of the Paleo Diet see: paleoonthego.com 
Note: Paleo on the Go is offering a 10% discount for our readers, use code "MYPALEOS" at checkout for 10% off your entire order – one time use.
Here is a video of me unboxing my latest Paleo on the Go order: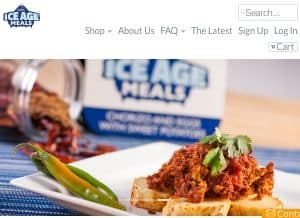 Ice Age Meals
Ice Age Meals is a Paleo meal delivery service shipping to California from Reno, Nevada. This company was set up by Paleo Nick, who is a strong advocate for the Paleo lifestyle and believes that everyone should be able to access healthy, nutritious foods.
The way that Ice Age Meals works is that customers buy boxes of meals; Ice Age Meals does not lock people into subscriptions. Instead, you have the choice of building boxes of 6, 14, 24 or 48 meals. The more Paleo meals you stock up on, the more money you save.
6 meal boxes are the most expensive choice, working out at a minimum of $15.83 per meal. As you increase the number of Paleo meals you order, the price per meal goes down, with the box of 48 being the cheapest. Meals in the 48 box start at only $10.99 per meal, and you have a wide range of products to choose from.
All Ice Age Meals are shipped frozen. They may arrive slightly thawed, but don't worry, because they can be easily put back into the freezer without losing their hygiene status. If you've got the freezer space, Ice Age Meals is the perfect choice for your affordable, high-quality Paleo needs.
Head to the following link to find out more: https://iceagemeals.net/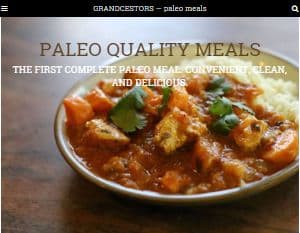 Grandcestors
Grandcestors are a Paleo meal delivery servicec operating out of Colarado, placing them slightly further away on the map from California than other delivery companies. However, they are still very much near the West coast than the East, so we've chosen to include their fantastic fare on our list.
Grandcestors have a number of healthy Paleo meals for customers to choose from, sometimes trialling new recipes on their website at a lower cost to see if people like them. This has led to some firm favorites being created, such as their Jambalaya and Colorado Hash. Another perk to using Grandcestors is that their meals are Whole30-approved, which is great news for those who are following a stricter Paleo approach.
All of Grandcestors' meals are priced at an affordable $9.99 each, with trial recipes costing only $8 each. They ship to all of the 48 continental US states, meaning that Californians are one of the many customers who can grab a bargain with them.
To find out more, check out: http://grandcestors.com/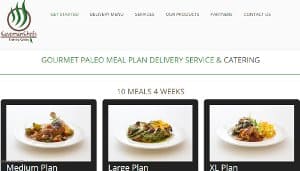 Caveman Chefs
Caveman Chefs are another Paleo meal company based out of Colorado, and are held in high esteem by many customers in the area. They have a large selection available, offering customers the choice of buying subscription plans or 'a la carte', which is their one-time order option. They also have meal plan trial packs for those who want to test out their products without committing to a regular shipment.
Although they primarily target the Paleo audience, they also have Keto and Vegetarian meal plans available, for those who benefit from lower-carbohydrate or less meat-centric diets. They are still Paleo-friendly, but Caveman Chefs goes that one step further to keep everyone well catered for.
Another thing that sets Caveman Chefs apart from the rest is their meal size options. Where most Paleo meal delivery services only have one size to choose from, Caveman Chefs has Regular, Large, XL, Family of 2, 3, 4 or 5 choices for every single dish they make.
The only caveat to ordering from Caveman Chefs is that their out-of-state shipping does cost quite a lot; $60 per shipment. If you're interested in trying these guys out, it's probably best to stock up and make a bulk order so that you don't need to get your Paleo meals quite so frequently!
For more details about Caveman Chefs, head to: https://cavemanchefs.com/ 
Every Year there are More Options for Paleo Meal Delivery in California
Gone are the years of consuming nutrition philosophies from major media outlets. People are becoming more and more aware of the benefits of a Paleo lifestyle and want more Paleo food options. As a result, there are bound to be more and more Paleo meal delivery services that arise in the future, so keep your eyes peeled for up and coming California businesses.
We also stay up to date on the latest Paleo meal delivery services, so if you're not sure what's currently on offer, make sure to check our website for all the latest options and who we're loving. We hope that this article has helped you to find a California Paleo meal delivery service that you'll love and will want to order from time and time again.
Other California Paleo Meal Delivery Services
Have we missed anyone that should be highlighted as a great Paleo meal service in CA?
We try our best to find fantastic Paleo meal delivery services who are able to serve the entire state, but if you've fallen in love with a particular company that we haven't listed here, please let us know! We'd like to find out more and show our support.