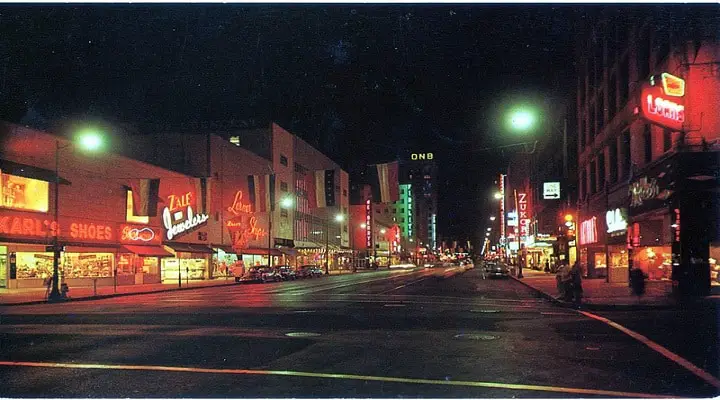 If you follow the Paleo diet, then you know that it comes with many rewards, but also that it can be extremely time-consuming. This is due mostly to the requirement of cooking all of your own meals from scratch, using fresh, locally-sourced ingredients – an ideal which can be difficult to keep up with if you've just undergone a major life transition or have a schedule which is almost always jam-packed. However, you can rest assured that there are ways to lighten the stressful load of grocery shopping and cooking without abandoning the diet altogether.
This guide will cover some of the options available to you in Spokane, in the form of both local and national companies which deliver Paleo meals to addresses throughout the area. The specific details of each service differ depending on the company, but each maintains a serious commitment to maintaining Paleo requirements in their food, while excluding ingredients prohibited by the diet, such as grains, dairy products, and unhealthy oils. The aim of this guide is to provide you with the information you need to find out which service will be the best for your individual tastes and lifestyle type.
We cover the following....
Local Paleo Food Delivery Spokane Options
The first section will cover companies based in Spokane, which deliver Paleo meals throughout the region. These companies offer you a level of convenience hardly ever associated with the Paleo diet – allowing you to have a fresh, Paleo-compliant meal on its way to you in hours, or even minutes! So even if these companies generally don't focus on the Paleo diet exclusively, they still offer a priceless service, while giving you the opportunity to support local businesses at the same time.
Pantry Fuel
Although they offer gluten and dairy free meals exclusively, Pantry Fuel may be able to meet the needs of some people looking for Paleo Friendly meals if you choose their High Protein meal plan. Pantry Fuel does focus on sourcing ingredients from sustainable farms local to Spokane and the surrounding area for their meals. All meals in their High Protein plan are gluten free, and focus on vegetables and proteins. Pantry Fuel delivers to most areas of Spokane, and also offers pickup locations throughout the city, county, Liberty Lake, and Coeur d'Alene. Food is delivered in cooler bags, with an option of requesting ice packs if you anticipate you may not be home within a number of hours after the delivery time. If you are looking for a local option for Paleo meals, Pantry Fuel may be the perfect fit if you are open to negotiating which meals to include in your meal plan or possibly not following the Paleo Diet strictly, but would be open to meals that check off the gluten free, dairy free and local/seasonal ingredient boxes.
For more information on Pantry Fuel and for prices see:
Pantry Fuel Reviews:
http://www.outtheremonthly.com/pantry-fuel-stocks-spokane-cupboards-with-healthy-meals/ http://www.spokesman.com/stories/2016/mar/01/pantry-fuel-delivers/ https://blogs.gonzaga.edu/tobecontinued/2016/08/01/to-your-health/ https://www.spokanejournal.com/local-news/feeding-demand-for-health-meal-delivery-in-spokane_1/
Pantry Fuel Facebook Reviews: https://www.facebook.com/pg/PantryFuel/reviews/
This post contains affiliate links. Thank you for supporting us! Click here to learn what this means.
National Companies Offering Paleo Meal Delivery to Spokane
The next section will cover seven companies from various locations around the country which deliver Paleo meals straight to your door. These companies all ship their meals to Spokane via express shipping, using either refrigerated cooler boxes or dry ice to keep your food cold, making them only slightly less convenient than the local services listed above.
While this means you may need to order your meals a few days in advance for single orders, most of these companies offer recurring meal plans which will allow you to receive meals on a regular schedule. These companies all offer a wide variety of culinary options as well, ensuring that at least one of these options will match up with your tastes.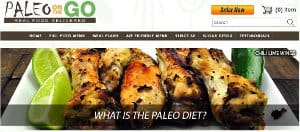 Paleo on the Go
Paleo on the Go is a widely-acclaimed national delivery service with numerous awards under their belt for their varied menu, broad customer appeal, and their pledge to buy all items on the EWG's "Dirty Dozen" list organic. This company is a great choice if you're unsure where to start, as their diverse menu and crowd-pleasing favorites like "Paleo Pop-Tarts" ensures that there is something here to please just about everyone. Paleo on the Go also offers meal plans for a variety of different specialized Paleo programs such as Autoimmune Protocol (AIP) and 30-Day Elimination, making them a great catch-all option for those with specific dietary preferences.
See paleoonthego.com for prices and meal options.
Note: Paleo on the Go is offering a 10% discount for our readers, use code "MYPALEOS" at checkout for 10% off your entire order – one time use.
For our detailed write up on Paleo on the Go including reviews, see our in-depth coverage on them.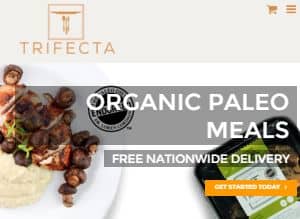 Trifecta
Trifecta is the only company on our list which caters to dieters outside the Paleo crowd, with a varied selection of meal plans for healthy eaters of all types. This is great for those who have friends or family members to provide for who don't follow the Paleo diet, but you can rest assured that Trifecta's Paleo meal plan is also top of the line – even if it's not their sole focus. This meal plan is fully compliant with all Paleo principles, and features a diverse menu which changes each week – with different meals for each day of the week! This is more than most of us could hope to achieve on our own, making Trifecta a great example of the benefits to be gained from trying a Paleo delivery service.
See trifectanutrition.com for current prices for their Paleo and organic meal delivery Spokane offerings.
For our detailed write up on Trifecta including reviews, see our in-depth coverage on them.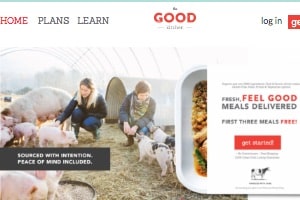 The Good Kitchen
The Good Kitchen is a delivery service which allows you more control over your Paleo meal plan than most of the other companies on our list. They offer a variety of meal choices to choose from, all of which can be selected manually from menus that are divided into categories like Beef, Pork, Chicken, Seafood, Vegetarian, and even Primal. Then, after tailoring your plan to include the exact types of meals that you prefer, you also get to choose how many meals come in each shipment (minimum of 5), as well as how often those shipments arrive (weekly, bi-weekly, or monthly).
See thegoodkitchen.com for The Good Kitchens complete menu and list of healthy meals delivered Spokane / nationwide plans.
The Good Kitchen is offering a 15% discount for our readers. Use promo code "mypaleos" at checkout for 15% off your first order.
For our detailed write up on The Good Kitchen including reviews, see our in-depth coverage on them.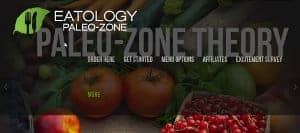 Eatology
Eatology is a national delivery service which offers a combination of the Zone and Paleo diets, making them a perfect option for those who follow one or the other and are now looking to expand their diet's scope. All of Eatology's meals follow the requirements of both diets, meaning that while you will keep receiving the benefits that you already get from the Paleo diet, you will also get meals which offer more balanced macronutrient levels in order to promote weight loss and increase your overall wellness. Plus, Eatology packages their meals in convenient portion-sized "blocks," which help control calorie intake and can be heated in either a microwave or a conventional oven.
See http://www.eatology.co for Eatology's Paleo-zone plans and pricing, including nationwide plans for healthy meal delivery Spokane options.
Eatology is offering a 20% off promo for our readers (works for first & all later orders), use code "ZACHPALEO" at checkout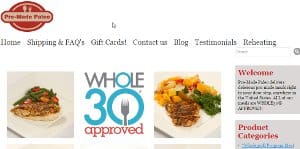 Pre-Made Paleo
Pre-Made Paleo offers a ready-made solution for dieters who have wanted to try the popular Whole30 program but have been unable to find the time until now. All of their meals combine the Whole30 approach with the full requirements of the Paleo meal, and the presence of Richard Bradford (the creator of the recipes in the Whole30 series of cookbooks) as the company's head chef allows you to get Whole30-approved meals straight from the source. As if this weren't enough, Pre-Made Paleo also offers an adventurous menu featuring such unusual offerings as wild elk and water buffalo, making them an even better option for those looking to try something a bit out of the ordinary.
See premadepaleo.com for prices and Paleo meal delivery Spokane inclusive nationwide plans
Pre-made Paleo has offered a 5% discount (one time use) on all orders for our readers. Use code "MYPALEOS2018" at checkout
For our detailed write up on Pre Made Paleo including reviews, see our in-depth coverage on them.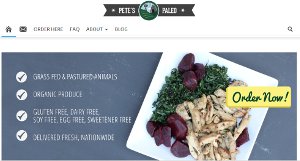 Petes Paleo
Pete's Paleo is a San Diego-based delivery company which, like all of the other companies on our list, delivers to any address in and around Spokane. Their dedication to Paleo principles is impressive even in a list of companies which cater to Paleo dieters – particularly when it comes to their relationships with local farmers in the San Diego area. They use produce and meats from these farmers whenever possible, even planning their seasonal menus around the farmers' harvest schedules. In addition, Pete's excludes all sugars and sweeteners from their food, making them a great choice for the especially health-conscious, as well as for followers of the Sugar Detox and Wahl's Paleo programs (for whom they offer specialized meal plan options).
See petespaleo.com for a complete list of prices, meal plans and healthy food delivery Spokane options.
For our detailed write up on Petes Paleo including reviews, see our in-depth coverage on them.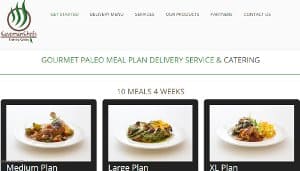 Caveman Chefs
Caveman Chefs is a Denver-based national delivery service whose owners are serious Paleo enthusiasts as well as veterans of the Denver food service industry. Although they've only been around since 2014, Caveman Chefs has already built up a considerable following for their hearty and satisfying meals, which come in a weekly meal plan that's offered in medium, large, and XL sizes. Cavemen Chefs has also become well-known for their willingness to accommodate any food allergy or dietary requirement you might have, making them a worthwhile option for just about anyone to try out.
Visit http://www.cavemanchefs.com for more information on their Paleo delivery Spokane options
Caveman Chefs has offered 10% off all orders by mentioning the promo #ZachmyPALeos in the order comments or mentioned by phone during checkout.
For our detailed write up on Caveman Chefs including reviews, see our in-depth coverage on them.
Every Year there are More Options for Paleo Meal Delivery Spokane & Paleo Delivery Options
We know that it's not always easy to keep up with the time-consuming demands of the requirement that Paleo dieters cook all of their own meals using fresh, locally-sourced ingredients.
That's why we put together this guide, to showcase options which can help you make following the Paleo diet more compatible with your busy schedule. Whether your schedule is unpredictable or always busy no matter what, we hope that at least one of the delivery options listed above can help you take the guesswork and stress out of your Paleo lifestyle.
The local companies in the first section can be great options if you only need to be free from cooking every once in awhile, such as on an unexpectedly busy day. These companies are all based in Spokane, and often use fresh ingredients from the Pacific Northwest region when possible – making them a great way to support local businesses and farmers at the same time.
The national companies, on the other hand, present ideal options for those with consistently busy schedules, as they allow dieters to set recurring meal plans which eliminate the need for constant grocery shopping and cooking. Whatever your situation, we able that at least one of the options above is able to make your Paleo experience more enjoyable and convenient.
Other Paleo Delivery Spokane Area Companies
If you have any suggestions of other places offering Spokane Paleo Friendly Meal Delivery or know of Spokane Paleo restaurants that might offer takeout or delivery options, please let us know in the comments below.