One factor which can keep people from sticking with the Paleo diet long-term is the time-consuming requirement of cooking all of your own meals from scratch, using fresh, locally-sourced ingredients. Although following this principle can be a crucial part of living a healthy lifestyle and making good dietary choices, if you are currently in the process of a major life transition such as moving into a new house, caring for a new baby, or starting a new job, you probably just do not have time in your schedule to cook all of your own meals. However, the following guide will cover a number of meal delivery services which can offer time-saving solutions for your busy schedule.
This guide will follow a number of companies, both local and national, which deliver Paleo-friendly meals directly to the Springfield Mass area. The local companies are notable for their contribution to the local economy, as well as for their use of local ingredients whenever possible. They also offer the highest level of convenience, as they are located right in your area and can be a great last-minute solution if you find yourself suddenly unable to cook. The national companies are better for more long-term meal planning, and the wealth of variety available in the choices listed below will ensure that there is an option to cater to your particular tastes and eating habits.
We cover the following....
Local Paleo Food Delivery Springfield Options
The following section will focus on companies based in Springfield, which deliver Paleo friendly meals in the area. They may offer only a handful of Paleo options, rather than focusing on the diet exclusively, but they make up for this lack of variety with a high level of convenience. This can be essential on an especially busy day when you might otherwise be tempted to resort to the convenient lure of processed foods, and can be used as a "quick fix" to keep yourself from sliding back into old habits.
Beets & Barley
Beets and Barley is a vegetarian meal delivery service based out of Northampton. So not exactly a Paleo meal service, but they do offer salads that can be made Paleo if requested without Chevre and several gluten free meal options, and it may be possible to customize some of their meal options. They offer delivery to areas outside of Northhampton and Williamsburg for a fee. If you are using the Paleo Diet as a means to eat healthy but are not staying strictly on the diet, Beets and Barley could meet some of your needs – however if you need something more strictly Paleo you will want to look at the companies in the next section that also deliver to Springfield.
20 miles
For more information on Beets & Barley and for prices see:
http://www.beetsandbarley.com/meal-delivery.html
Beets & Barley Reviews:
http://www.growfoodnorthampton.com/tuesday-market/
Beets & Barley Facebook Reviews: https://www.facebook.com/BeetsBarleyCatering/
This post contains affiliate links. Thank you for supporting us! Click here to learn what this means.
National Companies Offering Paleo Meal Delivery to Springfield
This next section will cover a selection of seven national delivery companies which deliver Paleo meals throughout the Springfield area. Each company offers slightly different meal choices and delivery options, but all of them maintain a dedication to upholding Paleo principles in their meals – which covers everything from excluding certain ingredients (i.e. grains, dairy, and artificial sweeteners) to buying as much of their produce and meats as possible from local farmers in their area.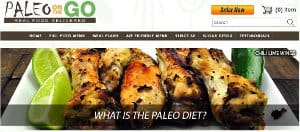 Paleo on the Go
Paleo on the Go is one of the most popular Paleo delivery services out there, thanks in part to their famous "Paleo Pop-Tarts." They offer much more than this, however, including meal plans for individuals following Autoimmune Protocol (AIP) or 30-Day Elimination programs, and recipes which feature collaborations with notable Paleo bloggers such as The Paleo Mom. In addition, Paleo on the Go has won acclaim for their practice of buying all items on the EWG's "Dirty Dozen" list organic, and they ship all of their meals to the Springfield area fresh, in refrigerated cooler boxes to ensure that your food arrives ready to eat.
See paleoonthego.com for prices and meal options.
Note: Paleo on the Go is offering a 10% discount for our readers, use code "MYPALEOS" at checkout for 10% off your entire order – one time use.
For our detailed write up on Paleo on the Go including reviews, see our in-depth coverage on them.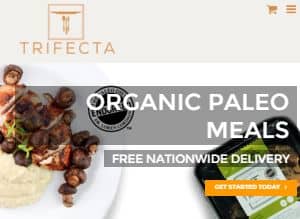 Trifecta
Trifecta is another popular national delivery service, with a stellar reputation throughout the Paleo community for their commitment to using 100% organic ingredients in all of their meals. Their Paleo meal plan offers meals for all seven days of the week (breakfast is optional), with each week's meals arriving on Fridays in a single shipment – eliminating the need to go grocery shopping over the weekend. They also offer a variety of non-Paleo meals plans in addition to their Paleo meal plan, allowing you to accommodate family and friends who don't follow the Paleo diet if necessary.
See trifectanutrition.com for current prices for their Paleo and organic meal delivery Springfield offerings.
For our detailed write up on Trifecta including reviews, see our in-depth coverage on them.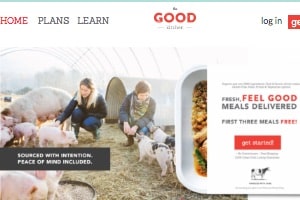 The Good Kitchen
The Good Kitchen offers extra variety in their meal plans for dieters who know exactly what they want. Their ingredient-specific menus (i.e. Beef, Pork, Chicken, Vegetarian, Seafood) allow you to mix and match meals based on your individual tastes, while the additional Primal menu allows you to choose meals which reduce the Paleo diet to its barest essentials. In addition to tailoring your personal menu to fit your tastes, you can also choose how often your meal plan shipments will be delivered (weekly, bi-weekly, or monthly) and how many meals they will contain (minimum of 5).
See thegoodkitchen.com for The Good Kitchens complete menu and list of healthy meals delivered Springfield / nationwide plans.
The Good Kitchen is offering a 15% discount for our readers. Use promo code "mypaleos" at checkout for 15% off your first order.
For our detailed write up on The Good Kitchen including reviews, see our in-depth coverage on them.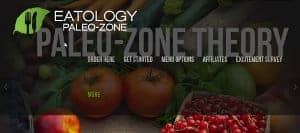 Eatology
Eatology is a popular service among followers of both the Zone and Paleo diets, as all of its meals are prepared using the requirements of both. That means that all of this company's meals carry the health benefits of any Paleo meal that you might prepare for yourself at home, while also maximizing the balance of macronutrients in each meal to promote weight loss and general wellness. The packaging of Eatology's meals takes this concept even further by dividing their meals into portion-sized "blocks" to prevent overeating and control calorie intake.
See http://www.eatology.co for Eatology's Paleo-zone plans and pricing, including nationwide plans for healthy meal delivery Springfield options.
Eatology is offering a 20% off promo for our readers (works for first & all later orders), use code "ZACHPALEO" at checkout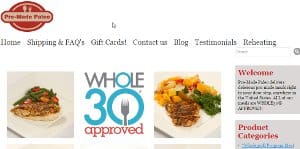 Pre-Made Paleo
Pre-Made Paleo offers up a fusion of the Paleo and Whole30 regimens, making it a great fit for those who follow the Whole30 program in addition to the Paleo diet. Pre-Made Paleo's head chef also created the recipes for the Whole30 cookbook series, ensuring that all of their meals are true to both Whole30 and Paleo principles, while also being satisfying culinary experiences at the same time. The presence of unique ingredients such as wild boar sausage and water buffalo on Pre-Made Paleo's menus can also be an enticing attribute for adventurous eaters who have fallen into a culinary rut with their own meals.
See premadepaleo.com for prices and Paleo meal delivery Springfield inclusive nationwide plans
Pre-made Paleo has offered a 5% discount (one time use) on all orders for our readers. Use code "MYPALEOS2018" at checkout
For our detailed write up on Pre Made Paleo including reviews, see our in-depth coverage on them.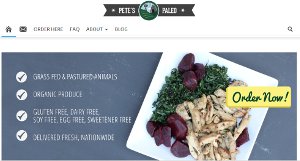 Petes Paleo
Pete's Paleo is a great delivery service for the especially health-conscious dieters out there. This company bases their menus around the harvest schedules of local San Diego farmers, with whom the owners have formed intimate working relationships with over the years. They also completely eliminate all sugars and sweeteners from their meals, with dedicated Sugar Detox and Wahl's Paleo meal plans for followers of those programs. Pete's also packages their meals in vacuum-sealed pouches which ensure that your meals arrive in Springfield as fresh as when the chefs prepared them in San Diego.
See petespaleo.com for a complete list of prices, meal plans and healthy food delivery Springfield options.
For our detailed write up on Petes Paleo including reviews, see our in-depth coverage on them.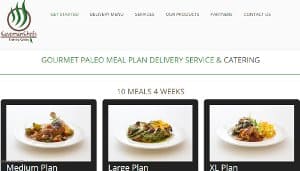 Caveman Chefs
Caveman Chefs is a national delivery service which was founded in 2014 by food industry veterans from the Denver area, all of whom have an enthusiastic dedication to the Paleo diet and sharing it with others. They have formed close connections with Colorado farmers in the area, often basing their menus on the farmers' seasonal offerings and creating satisfying meals which are great for anyone who either has a large appetite (meal plans are offered in medium, large, and XL sizes) or just loves great Paleo food. Caveman Chefs also offers a wide variety of accommodations for individuals with food allergies or special dietary requirements, making them a great service to try out if you're looking for a service which can be adapted to fit your needs.
Visit http://www.cavemanchefs.com for more information on their Paleo delivery Springfield options
Caveman Chefs has offered 10% off all orders by mentioning the promo #ZachmyPALeos in the order comments or mentioned by phone during checkout.
For our detailed write up on Caveman Chefs including reviews, see our in-depth coverage on them.
Every Year there are More Options for Paleo Meal Delivery Springfield & Paleo Delivery Options
We hope that this guide has helped to inform you of the many options available to make life easier for Paleo dieters in the Springfield area. Whether you're in the midst of major life transition or just a generally busy person, these options can help to either eliminate or share the burden which grocery shopping and cooking present. This will allow you to keep up with the Paleo diet, without allowing yourself to resort to buying unhealthy processed foods in a bid for more convenience.
The local and national companies listed above provide this element of convenience without requiring you to sacrifice your dietary principles in the process. The local companies can be a valuable resource in situations where you need a quick meal at short notice, while the national companies offer more variety in their meal choices and a possibility for long-term meal planning with minimal hassle. At the least, these companies can help keep you from giving the Paleo diet up completely. At best, they can allow you to make your Paleo lifestyle more enjoyable, while allowing you to save the time that you would otherwise spend cooking for the things that are most important to you.
Other Paleo Delivery Springfield Area Companies
If you have any suggestions of other places offering Springfield Paleo Friendly Meal Delivery or know of Springfield Paleo restaurants that might offer takeout or delivery options, please let us know in the comments below.