If you follow the Paleo Diet, you know how rewarding it can be to prepare a meal comprised entirely of healthful, all-natural produce and humanely raised meats. You also know that shopping for and preparing meals adhering to Paleo's grain, dairy, and sugar-free restrictions can be incredibly time-consuming. There are bound to be times in which your day doesn't go according to plan, and unexpected events have left with you with no time to cook.  If you've been searching for a solution to those times when you just can't make it to the kitchen, look no further! We've compiled a list of places where you can order pre-made Paleo meals delivered right to your door – and there are more of them than you may be aware of. Below is a collection of local and national companies that will craft and deliver Paleo-compliant meals. Read on to discover the many restaurants and services that deliver meals to those living in the St. Louis area.
We cover the following....
Local Paleo Food Delivery St. Louis Options
St. Louis has an expanding local food scene. Ordering locally is a great option for anyone looking to grab a spur-of-the-moment, Paleo-compliant meal. While they may not cater exclusively to Paleo customers, they still have more than a few grain, dairy, and sugar free options that allow you maintain your diet. Hopefully, you'll be able to find something you like!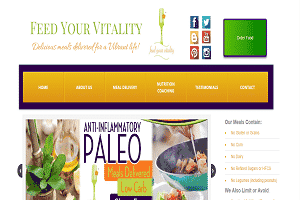 Feed Your Vitality
Feed Your Vitality, local to St. Louis, offers a Paleo/Anti-Inflamatory meal plan that follows the tenets of the Paleo Diet, excluding all grains, refined sugars, legumes and dairy. The company's focus is on foods for specific health conditions. They are willing to tailor their meal plans to fit a number of dietary needs and restrictions, including GAPS/SCD, hCG and Shape Reclaimed diets. Feed Your Vitality offers the option of either delivery in the local St. Louis area or pickup either from their kitchen location or a number of other small business pickup sites in the area.
For more information on Feed Your Vitality and for prices see:
https://www.feedyourvitality.com/symbowl/
Feed Your Vitality Yelp Reviews: https://www.yelp.com/biz/feed-your-vitality-saint-louis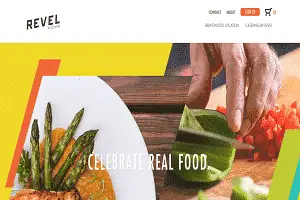 Revel Kitchen
Revel Kitchen, a Paleo Friendly cafe located in Brentwood, offers a designated to-go option for their menu items. Meals are grouped based on whether they are vegetarian, Paleo, local and/or natural. Their menu is grouped into bowls, wraps, salads, juices/smoothies and egg based dishes with Paleo friendly options like cauliflower rice instead of rice, collard greens instead of wraps, etc. You can order the meals via their website for pickup from the restaurant at a designated time.
For more information on Revel Kitchen and for prices see:
Revel Kitchen Reviews:
https://www.nytimes.com/2015/04/26/travel/restaurant-report-athlete-eats-in-st-louis.html
https://townandstyle.com/review-revel-kitchen/
http://www.organicstl.com/revelkitchen/ http://www.sincerelyjennamarie.com/2016/06/weekend-casual-linkup.html
Revel Kitchen Facebook Reviews: https://www.facebook.com/pg/eatrevelkitchen/reviews/?ref=page_internal
Revel Kitchen Yelp Reviews: https://www.yelp.com/biz/revel-kitchen-brentwood
This post contains affiliate links. Thank you for supporting us! Click here to learn what this means.
National Companies Offering Paleo Meal Delivery to St. Louis
Local companies are incredibly useful for those day-to-day occasions when you can't make time for meal-prep. But if you're traveling, have upcoming exams, or if you'd simply like to have a bunch of pre-prepared meals on hand, you might order from a national company. These companies cater specifically to their Paleo clients, so you can be sure that they source local, organic produce, and only use pastured and humanely raised proteins. Their chefs create meals that arrive express to your door, fresh or frozen. These companies are also great options to order from if you're on a specific Paleo plan like Autoimmune Paleo, Paleo-Zone, or a sugar detox diet. Most of these companies also offer time-saving add-ons like bone-broths, rendered fats, snacks, and they all allow customers to customize meals and meal plans.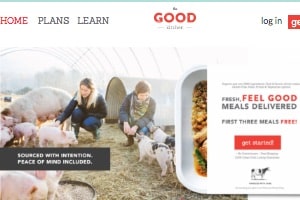 The Good Kitchen
The North Carolina based Good Kitchen sources organically grown produce locally and uses 100% grass-fed and grass-finished beef, pastured pork, and antibiotic and hormone-free chicken in all meals. With a history of creating Paleo meals that dates back to 2011, when the company was originally named modPALEO, they know all the ins and outs of supporting people on the Paleo diet. They even have options for those who are Paleo vegetarians or Pegans and a line of healthy lunch box meals for kids. The Good Kitchen offers free shipping of their fresh (non-frozen [unless ordering from their bulk freezer line]) meals to home and business addresses both within Saint Louis itself but also to all residents of Jefferson, Franklin, Saint Charles county and beyond, something that is not possible to find with the local companies. While they require that you order at least five meals per shipment, you can customize your plan by choosing the type of meals and the frequency of shipment. Plans can also be changed any time.
See thegoodkitchen.com for prices and menus.
The Good Kitchen is offering a 15% discount for our readers. Use promo code "mypaleos" at checkout for 15% off your first order.
For our detailed write up on The Good Kitchen including reviews, see our in-depth coverage on them.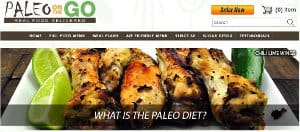 Paleo on the Go
Paleo on the Go, a popular meal delivery service founded in 2012, delivers a great selection of meals and meal plans to the St. Louis area. This company has been highly rated by bloggers and ranked by Paleo magazines and institutions. Their plans are highly customizable, offering options for single-meal or full-plan purchase. They also have meal plans for those who need AIP specific meals, sugar-detox plans, or the thirty-day elimination challenge. Paleo on the Go personally visits the farms from which they source, and their partners are listed on their website for their customers to explore. They also partner with Penderson farms (in Texas) to offer customers a selection of Paleo sausages and bacon. Their food arrives at your doorstep, frozen and ready to be heated and served.
See paleoonthego.com for prices and their list of healthy meals delivered St. Louis / nationwide plans.
Note: Paleo on the Go is offering a 10% discount for our readers, use code "MYPALEOS" at checkout for 10% off your entire order – one time use.
For our detailed write up on Paleo on the Go including reviews, see our in-depth coverage on them.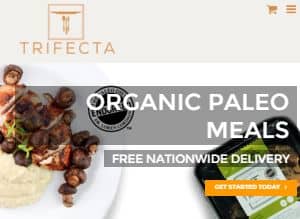 Trifecta
Trifecta, one of the largest companies on this list, offers a Paleo plan, as well as plans that focus on clean eating, vegetarian, and vegan meals. Trifecta's meals are 100% organic, and because the company offers a variety of diet plans, it can be a great option for those who are ordering meals for a household. The company knows that many of its customers are fitness focused, and so it allows you the option to purchase items in bulk, a la carte, so that you may portion your meals yourself. A great benefit of ordering from Trifecta: they offer free shipping to anywhere in the United States.
See trifectanutrition.com for current prices for their Paleo and organic meal delivery St. Louis offerings.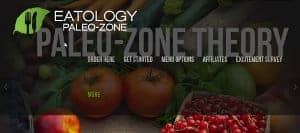 Eatology
Eatology's weekly rotating menu of Paleo-compliant dishes also follow the Zone protocol, which focuses on portion control and macronutrient balance for those looking to lose weight. Eatology is one the most affordable options on this list, and price their food based on blocks (portion sizes). Regardless of content, a two block (medium) meal is $10.50 and a 3-block (large) meal is $12.75. They also offer "party-platter" versions of their meals, which contain twelve blocks – enough for a family of four or five. For customers who purchase recurring meal plans, Eatology has great discounts. Their meals contain no added sugar, and last in the freezer for up to six months. While they offer local pick-ups options, they also deliver to anyone in the St. Louis area.
See http://www.eatology.co for Eatology's Paleo-zone plans and pricing, including nationwide plans for healthy meal delivery St. Louis options.
Eatology is offering a 20% off promo for our readers (works for first & all later orders), use code "ZACHPALEO" at checkout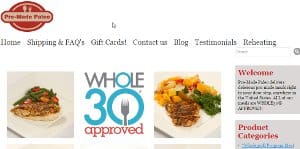 Pre-Made Paleo
Pre-made Paleo is known for their adherence to the Whole30 diet (they've got AIP and family centered plans as well). The company has a wide variety of ordering options and a great selection of meats and fishes. One of their defining features is their rotating specialty items, which often include hard-to-find ingredients like wild boar sausage, alpaca, or water buffalo. They also offer a large list of Paleo snacks, like snack mixes, hog-skins, and RX bars. Though the company used to only offer frozen shipping, they now have an option for shipping fresh food. Depending on when you want your meals to arrive, you can choose from a variety of delivery options.
See premadepaleo.com for prices and Paleo meal delivery St. Louis inclusive nationwide plans
Pre-made Paleo has offered a 5% discount (one time use) on all orders for our readers. Use code "MYPALEOS2018" at checkout
For our detailed write up on Pre Made Paleo including reviews, see our in-depth coverage on them.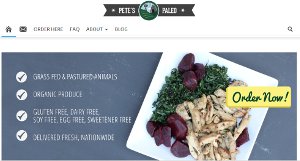 Petes Paleo
Pete's Paleo is a southern California company who maintains close ties to local farmers and offers seasonal, fresh, organic ingredients. Pete's menu rotates weekly, based on the produce and protein available. The company is a popular one and has been featured on a variety of television programs and in newspapers and magazines. They pride themselves on using no added sugars; their food is sweetened naturally with fruits and vegetables. This makes them a great company for anyone looking to try a 21-day sugar detox plan. Pete's Paleo is also the only company on this list that offers a specific Wahls Paleo plan. They also offer a family plan, which provides four servings of each meal.
See petespaleo.com for a complete list of prices, meal plans and healthy food delivery St. Louis options.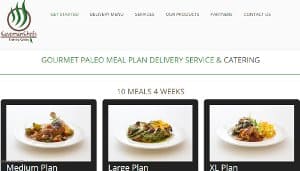 Caveman Chefs
Caveman Chefs is a Colorado-based company run by chefs whose experiences range throughout the restaurant and catering industry. Their Paleo meals are created from locally sourced produce, meat, and wild-caught fish. You have the opportunity to choose the size of your meals (medium, large, and extra-large) and meal plans are priced by quantity rather than content. You also have the opportunity, when you order, to specify specific dislikes, dietary restrictions, and food allergies.
Visit http://www.cavemanchefs.com for more information on their Paleo delivery St. Louis options
Caveman Chefs has offered 10% off all orders by mentioning the promo #ZachmyPALeos in the order comments or mentioned by phone during checkout.
For our detailed write up on Caveman Chefs including reviews, see our in-depth coverage on them.
Every Year there are More Options for Paleo Meal Delivery St. Louis & Paleo Delivery Options
Augmenting your kitchen prep and home cooking with a few pre-made meals can make a huge difference in maintaining your Paleo diet. We know it can occasionally be difficult to create and adhere to a lifestyle that includes consistently healthy food, but a bit of research and preparation is all it takes to stay on track with your healthy eating habits. Even if you love cooking, it can be useful to step away from the kitchen every now and again. National companies offer packaging that is useful for those who need to travel out of town, and ordering locally allows you to support your local food community, and gives you access to ingredients that might otherwise be difficult to obtain. We hope this lists provides you with a whole host of options you can go to if you need a bit of help with your Paleo plan. There's something for everyone, whether your plan is AIP specific, or if you're vegan and vegetarian, and we hope you can find something that appeals to you. These places are worth a try!
Other Paleo Delivery St. Louis Area Companies
If you have any suggestions of other places offering St. Louis Paleo Friendly Meal Delivery or know of St. Louis Paleo restaurants that might offer takeout or delivery options, please let us know in the comments below.