The process of adapting the Paleo diet can be difficult for a number of reasons, and the requirement of cooking all of your own meals using locally-sourced, organic ingredients is one of them. Especially for those of us with busy schedules, this requirement can often seem overly stressful and even unachievable at times, leading many to consider abandoning the diet and giving in to the lure of processed foods. However, as we hope to demonstrate in the following guide, there are a number of options available to you in the Stockton area which can make your Paleo experience more manageable and convenient.
This guide will cover a number of local and national companies which deliver Paleo meals to any address in Stockton, Lodi, and the surrounding area. The local companies offer a convenient option located right in your area, allowing you to get a fresh-cooked Paleo meal at a moment's notice without the hassle involved with cooking. The national delivery companies, on the other hand, are a great option if you need a more long-term break from shopping. Whatever your situation, rest assured that at least one of the companies listed below will have an option which fits it.
We cover the following....
Local Paleo Food Delivery Stockton Options
If you live in San Joaquin County, you are lucky to have nearby options which offer fresh, convenient Paleo meals for pickup and/or delivery. While these local companies may not all be exclusively focused on the Paleo diet, all of them offer at least a few options for Paleo dieters, which can be a life-saver in a situation where you don't have time to cook and might otherwise give in to the temptation presented by convenient processed foods. These local companies allow you an element of much-needed convenience without the accompanying compromise, while also giving you an opportunity to support local businesses and farmers at the same time.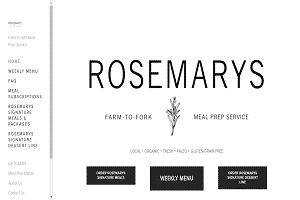 Rosemary's Farm to Fork
Rosemary's Farm to Fork is a local food delivery service passionate about the Paleo Diet. Meals are delivered twice a week to Stockton and Lodi, as well as surrounding communities as well as to partner gyms for pickup. As the name implies, they focus on local, clean, organic ingredients where possible. In addition to their weekly meal menu, Rosemary's Farm to Fork also offers a signature grain free desert line.
For more information on Rosemary's Farm to Fork and for prices see:
http://www.rosemarysfarmtofork.com/
Rosemary's Farm to Fork Yelp Reviews: https://www.yelp.com/biz/rosemarys-dixon
This post contains affiliate links. Thank you for supporting us! Click here to learn what this means.
National Companies Offering Paleo Meal Delivery to Stockton
The next section covers seven national delivery companies which can provide more long-term solutions to help you maintain your Paleo lifestyle on a busy schedule. Each company has something unique to offer, but each one is committed to following Paleo guidelines in its meals and providing organic, locally-sourced ingredients whenever possible. Also, these companies all ship their meals to any address in Stockton, Lodi, and the surrounding area using express shipping, with meals being shipped either fresh or frozen, depending on the company.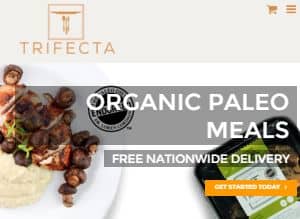 Trifecta
Based nearby out of Sacramento, Trifecta is a larger national delivery service with an acclaimed Paleo meal plan and a number of other non-Paleo meal plans as well – which can be perfect if you have family and friends who don't follow the Paleo diet. Trifecta commits to using 100% organic ingredients in all of their meals, including their proteins, which are also grass fed and commit to sourcing meats at a minimum humane level of 5. The Paleo meal plan covers a whole week's worth of meals (breakfast is optional), with a menu that is refreshed on a weekly basis. In addition, Trifecta delivers each week's meals on Friday, removing the stress of planning for the upcoming week's meals, and offers free shipping on every order.
See trifectanutrition.com for current prices.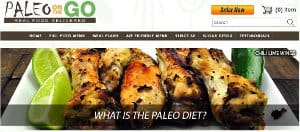 Paleo on the Go
Paleo on the Go is one of the most popular and acclaimed Paleo delivery services in the country, with meal plans for just about any variations of the Paleo diet (including Autoimmune Protocol, Sugar Detox, and 30 Day Elimination plans) and a diverse menu often featuring collaborations with high-profile members of the Paleo community such as The Paleo Mom. They are famous for their commitment to using only the highest quality ingredients in their meals, including their pledge to buy all items on the EWG's "Dirty Dozen" list organic. Their meals are shipped fresh, via express shipping, in refrigerated cooler boxes, ensuring that they will arrive in the Stockton area fresh and ready to eat.
See paleoonthego.com for prices and meal options.
Note: Paleo on the Go is offering a 10% discount for our readers, use code "MYPALEOS" at checkout for 10% off your entire order – one time use.
For our detailed write up on Paleo on the Go including reviews, see our in-depth coverage on them.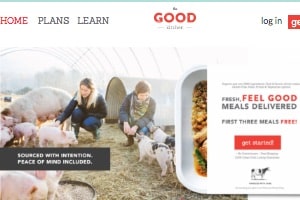 The Good Kitchen
The Good Kitchen makes it a point to provide a wide range of options to its customers, making it one of the most customizable Paleo delivery services out there. First of all, you can mix and match meals from a variety of different menus organized based on the main ingredients used in each meal (Beef, Pork, Chicken, Seafood, and Vegetarian), with the added option of a "Primal" menu which boils the Paleo diet down to its most primitive essentials. From there, you get to choose how often your meals are delivered (choice of weekly, biweekly, and monthly) and how many meals are in each shipment (minimum of 5). These options allow for countless combinations and The Good Kitchen a perfect option for anyone with very specific tastes and habits.
See thegoodkitchen.com for The Good Kitchens complete menu and list of healthy meals delivered Stockton / nationwide plans.
The Good Kitchen is offering a 15% discount for our readers. Use promo code "mypaleos" at checkout for 15% off your first order.
For our detailed write up on The Good Kitchen including reviews, see our in-depth coverage on them.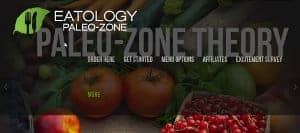 Eatology
Eatology adds another dimension to its Paleo meals by following the requirements of the Zone diet in addition to Paleo requirements. This makes Eatology the logical choice for Zone dieters who want to try Paleo as well, but it also allows those who don't already follow the Zone diet to experience meals with more balanced macronutrient levels, which promote weight loss as well as general wellness. Eatology ships all of their meals frozen, in portion-controlled "blocks" which can be heated in microwaves and conventional ovens alike, while allowing you to consistently moderate your calorie intake.
See http://www.eatology.co for Eatology's Paleo-zone plans and pricing, including nationwide plans for healthy meal delivery Stockton options.
Eatology is offering a 20% off promo for our readers (works for first & all later orders), use code "ZACHPALEO" at checkout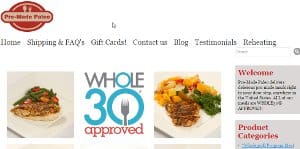 Pre-Made Paleo
For those who follow the dietary requirements of the Whole30 program in addition to those of the Paleo diet, Pre-Made Paleo is an excellent delivery service for you. Even if you don't already follow the Whole30 program, this company might be a good place to start, as the head chef is also the creator of the recipes for the popular Whole30 cookbook series. This means that all of Pre-Made Paleo's meals are specially chef-designed and made with high-quality ingredients which meet the standards of both diets, making this company a great choice for dual dieters and foodies alike.
See premadepaleo.com for prices and Paleo meal delivery Stockton inclusive nationwide plans
Pre-made Paleo has offered a 5% discount (one time use) on all orders for our readers. Use code "MYPALEOS2018" at checkout
For our detailed write up on Pre Made Paleo including reviews, see our in-depth coverage on them.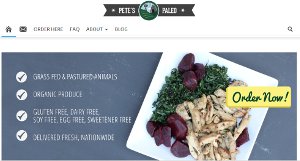 Petes Paleo
Pete's Paleo is a great delivery service for those who want to take their Paleo diet a step further by eliminating all sugars and sweeteners from their diet. Pete's uses no sweeteners of any kind in their food, allowing for clean, low-carb meals which appeal to even the most health-conscious of dieters. This company also maintains close relationships with local farmers in the San Diego area, with such a firm commitment to seasonal produce that they allow these farmers' harvest schedules to dictate their meal schedules. Plus, Pete's ships all of their meals fresh in special vacuum-sealed pouches – ensuring that they arrive at your door as fresh as when their chefs prepared them.
See petespaleo.com for a complete list of prices, meal plans and healthy food delivery Stockton options.
For our detailed write up on Petes Paleo including reviews, see our in-depth coverage on them.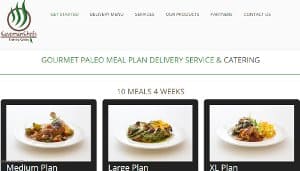 Caveman Chefs
This company is a Denver-based delivery service which broke on to the national scene a few years ago and has consistently received rave reviews ever since. The founders of Caveman Chefs are passionate promoters of the Paleo lifestyle, and this passion is reflected in their food, which is made with fresh, seasonal ingredients from local Colorado farmers who have long-standing relationships with the company. All of Caveman Chefs' meals are shipped fresh to Stockton, Lodi, and the surrounding area in refrigerated cooler boxes, with a number of different meal plan sizes (i.e. medium, large, and XL) to choose from and accommodations available for many different dietary requirements and food allergies.
Visit http://www.cavemanchefs.com for more information on their Paleo delivery Stockton options
Caveman Chefs has offered 10% off all orders by mentioning the promo #ZachmyPALeos in the order comments or mentioned by phone during checkout.
For our detailed write up on Caveman Chefs including reviews, see our in-depth coverage on them.
Every Year there are More Options for Paleo Meal Delivery Stockton & Lodi Paleo Delivery Options
Keeping up with the Paleo lifestyle's requirement of cooking every meal from scratch, using fresh, seasonal ingredients is often easier said than done. However, we hope that the following guide has shown that it is possible to do away with this requirement while still following the other principles of the Paleo diet. The local and national companies listed above can help you achieve this, taking away the burden of shopping and cooking while making sure that the food you eat is still clean, healthy, and Paleo-friendly.
The companies described in this guide can all be valuable resources if you have a busy schedule and frequently find yourself unable to cook. At the end of the day, what's most important is that you maintain healthy dietary practices and don't feel tempted to abandon the Paleo diet completely. The companies listed above can help relieve your stress and make your Paleo lifestyle more enjoyable and achievable – allowing you to finally realize the full benefits of the Paleo diet in the process.
Other Paleo Delivery Stockton Area Companies
If you have any suggestions of other places offering Stockton Paleo Friendly Meal Delivery or know of Stockton Paleo restaurants that might offer takeout or delivery options, please let us know in the comments below.