This is a new post format I am trying out. I thought it might be helpful for others trying out the Paleo Diet to get a quick overview of some of the Paleo meals I had eaten from the past week. The idea is to try to provide inspiration on the types of meals you might throw together for yourself on your average work day.
I have to admit that I am far from a chef (although family members did make some of the more impressive meals here). My goal is really to show what quick snacks are available to you. If I can make it, I am sure you can!
Paleo Zoodles (Paleo Pasta) with Vegetarian Bolognese Style Home Made Marinara Sauce
Using a peeler we purchased on Amazon for making homemade papaya salad, we used zucchini to make zoodles as a pasta replacement: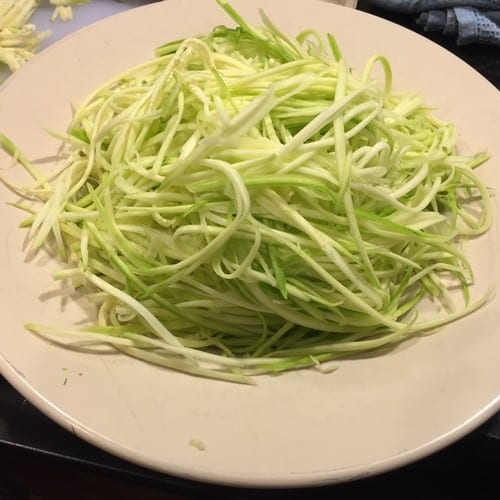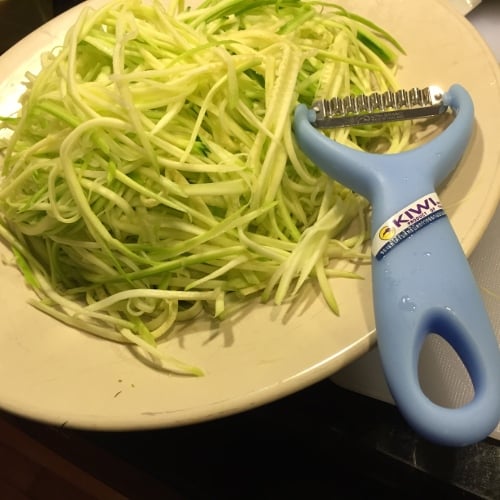 We made a homemade marinara sauce (it came out reminiscent of a vegetarian bolognese sauce) , using:
canned tomato
tomato paste (found brand in a tube with no added sugar, just tomatoes and salt)
fresh onions
red bell peppers
garlic
red wine
canned anchovies (just added 1 – Omit for vegetarian/vegan version)
some dried thyme
cremini mushrooms 
a bay leaf
a pat of grass fed Kerry Gold butter
and salt, pepper
Optional (SCD but not Paleo) topped our with Parmesan cheese, but omit for Paleo, would still be delicious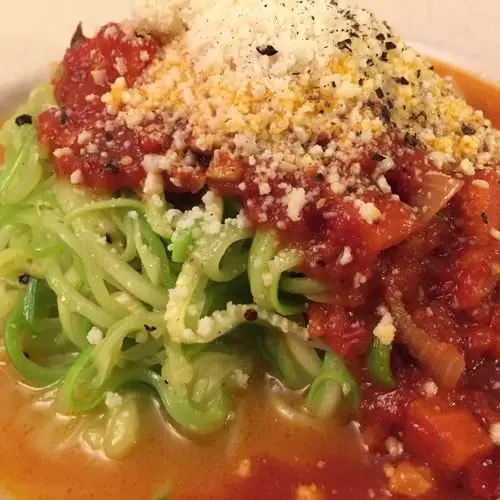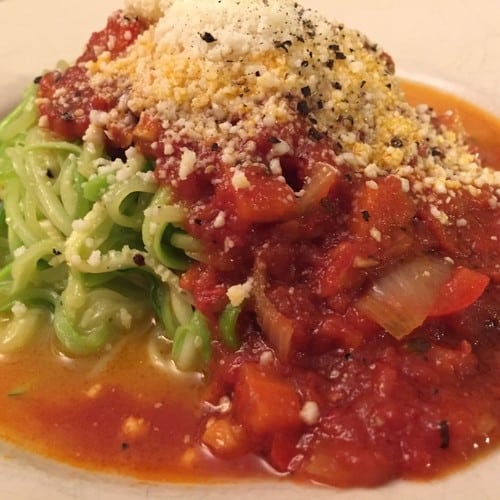 Paleo Desert Option – Fresh Mangosteens
We often eat fruit for desert these days. It's an easy and delicious, quick and light option for Paleo desert. But it's nice sometimes to have something other than the standard grapefruit or watermelon. One of our favorite exotic fruits is the Mangosteen, pictured below. They are a little pricey, and we have only seen them from southest asia (so not exactly local produce), but they are delicious. Fall seems to be the time to pick them up. We got ours from HMart, one of the local Korean Grocery stores, which I love for exotic fruit, mushrooms and good prices on less typical fish.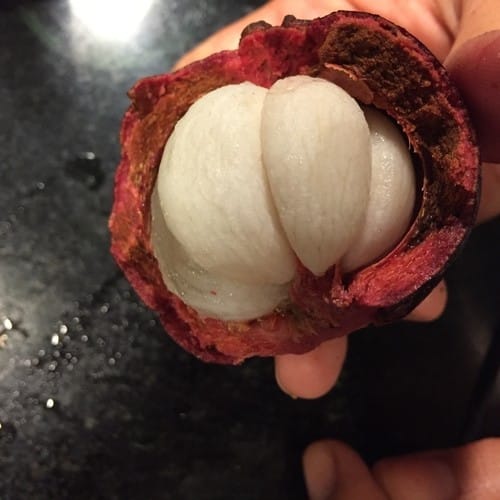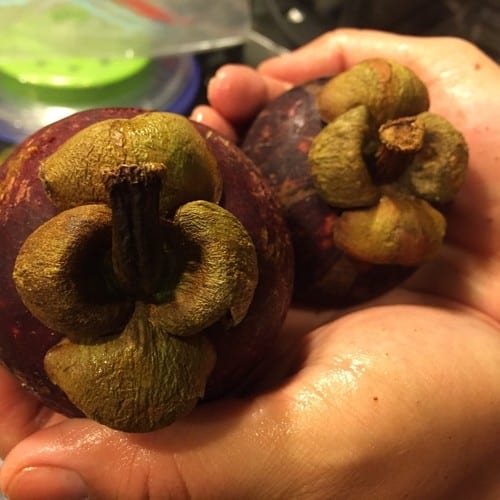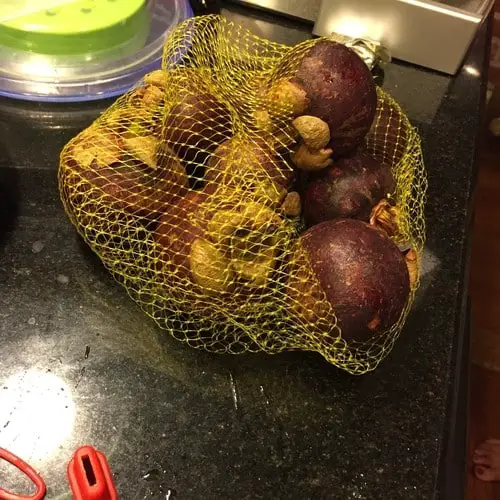 Custom Steamed Sea Bass in Banana Leaves – My Meal out for the Week
Eating out is always a bit of a nerve racking experience for me – being very strict on the Paleo/SCD diets I never know if there will be something I will be able to eat at a restaurant I have never been to. I did not have high hopes when heading to a Lao restaurant, Thip Khao on a Wednesday night this week in DC.
As I expected the waitress initially explained that everything on the menu contained sugar, but was nice enough to ask the chef if he could speak to me to see if there was anything they could offer. I honestly would have been ok just enjoying a tea and the company (I had eaten a snack beforehand) but I was pleasantly surprised when the chef was incredibly accommodating, and offered to make me a totally custom dish, with a custom made version of their homemade thai curry without the coconut milk (it contained sugar) or palm sugar usually added to the curry.
I wouldn't expect to get this lucky necessarily every time I go to this restaurant or if others go (it was a completely custom dish so they definitely went out of their way) but it does go to show that it never hurts to ask if there is something on a menu that can meet your dietary restrictions – you never know when you will find someone who is willing to go out of their way to help you out. I have to say the "Knap Paa" steamed fish dish he put together was really delicious: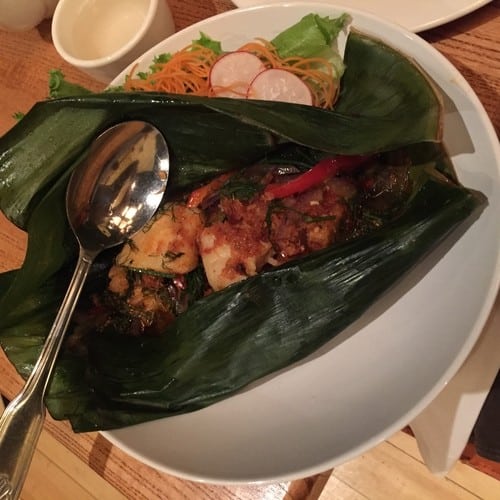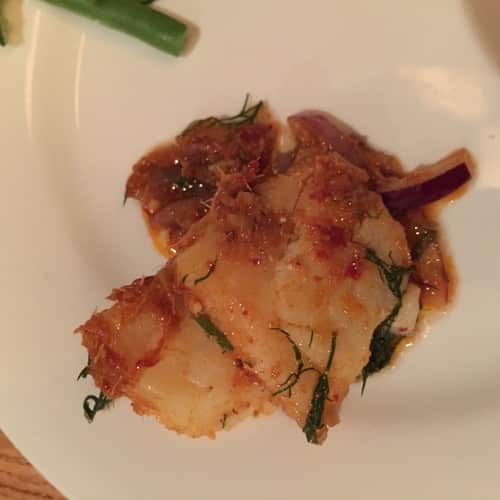 Sorry this is only a couple of the meals from this week. I had planned to take pictures of everything that I made or ate, but I still need to get better at the process. It's hard to remember if you aren't used to photographing your food. I hope to do a more comprehensive job next week. I hope this gave some inspiration of some of the Paleo foods that are luring around.
If you have any suggestions of other Paleo friendly, Pescatarian/Vegetarian/Vegan strict Paleo quick meals or snacks that I or others should consider, please leave a comment I'd love to hear from you.