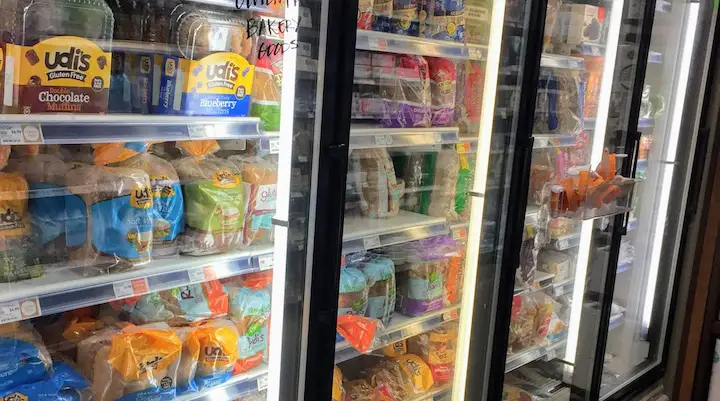 In a store like Target that seems to have everything, do they stock Paleo frozen meals?
Target is most well-known for being the store that has anything you need. You go in for one thing and come out with 20 things you didn't even know you needed. But what if Paleo friendly frozen meals are on your list?
Simply put, yes Target does carry some Paleo frozen meals – if you look carefully and are flexible Target doesn't fail to please.
However, be prepared for a fairly limited Paleo selection at Target. Although they do have Paleo frozen meals on offer, there aren't many. Target does sell a range of what we call 'quasi-Paleo' frozen meals, which are meals that aren't quite Paleo but are a reasonably healthy alternative.  
If you want to find out which Paleo frozen meals Target does offer, as well as their 'quasi-Paleo' alternatives, read on…
We cover the following....
Paleo Friendly Frozen Meals at Target
First up we have our completely Paleo frozen meals that are frequently available for you to buy at Target. Although their range is somewhat limited, there's always a chance that Target will add more Paleo-friendly foods, especially if there's a demand for it.
If there's something that you'd like your local Target to stock, why not have a chat with their store manager to see if its possible? After all, they can't know that there's a need for Paleo frozen meals if no-one tells them!
Paleo Frozen Meal (Breakfasts) Available at Target
There are Paleo waffles hidden in the frozen section at Target. The company to see out is Birch Benders. Here are some more details on the product to look for:
Birch Benders Paleo Frozen Waffles – Although we don't recommend eating these at every opportunity, Birch Bender's Paleo Frozen Waffles are useful to add as a side to breakfasts or for dessert. It also makes eating Paleo much easier for fussy kids and adults alike! These waffles are $4.99 for a pack of 6.
Paleo Frozen Side Dishes at Target
Target also stocks the following, which is more of a compliment to a meal than your traditional entree, but can be a great option when putting together a quick heat and eat Paleo meal:
Caulipower Frozen Sweet PotaTOASTS – These sweet potato toasts are a great alternative to regular bread, and can be topped with a multitude of toppings: smashed avocado, almond butter with pomegranate seeds, fried eggs, you name it! Although they don't suffice as a meal on their own, they're really useful to have on hand for breakfasts and lunches. You can grab a bag for $5.99 at Target.
Loosely Paleo Friendly Frozen Meals at Target
Many would consider the below two entrees as eligible as Paleo frozen meals…and these are available at Target. However, for those who would rather stay very strictly to the diet for health or weight-loss reasons, the below meals may work for some people and not for others.
These two meals do contain ingredients like potato starch as an additive that you would not find in some of the strict Paleo meals mentioned at the end of this article where we cover more strict Paleo frozen meal options.
Evol Frozen Guajillo Chicken and Cauliflower Bowl – The Evol Cauliflower bowl is a Paleo-friendly frozen entree, flavored with a creamy non-dairy guajillo sauce and mixed with tender chicken. This bowl contains protein and healthy veggies, so you're getting a well-balanced meal, and costs $3.69 per unit – – but it does contain potato starch so you would have to consider if that will work for your strictness level with the Paleo diet.
Evol Frozen Unwrapped Chicken Egg Roll Bowl – Evol's other Paleo-friendly frozen meal is the Chicken Egg Roll Bowl, which is a healthy alternative to most Chinese takeaway entrees. This meal contains riced cauliflower instead of rice, with added brussels sprouts and carrots for more vitamins and nutrients. This meal is also valued at $3.69, making it a very reasonable price for a Paleo-approved meal – but it also does contain trace amounts of potato starch as an additive.
Almost Paleo Gluten-Free Frozen Entrees at Target
The following list that we've put together for you are what we typically refer to as truly 'quasi-Paleo' meals or "primal" meals; frozen meals that aren't 100% compliant with the Paleo diet but are still completely gluten-free and reasonably healthy, hitting many of the high points of what people seek out when looking for Paleo foods.
Bear in mind that some of these meals will contain other ingredients that you might be intolerant or allergic to, so this list is only really for those who don't have autoimmune symptoms or don't mind eating the occasional non-Paleo frozen meal.
Don't worry though, we've listed the allergens and non-Paleo ingredients in each meal so that you can make the best choice for you and your household when you're ordering online at Target or walking around the store.
We wanted to include some of these to round out the options for those who are seeking to stay mostly Paleo but aren't totally strict.
Evol Fire Grilled Frozen Steak Bowl – Evol has a variety of other options available in the frozen section at Target that aren't Paleo-friendly, but they are gluten-free. This particular meal contains rice, dairy, beans, corn and canola oil, all of which are not permitted on a Paleo diet, but might be a good option for those who are less strict. The following Evol frozen entrees are all priced at $3.69 per meal.
 Evol Frozen Chicken Enchilada Bowl – This gluten-free frozen meal contains rice, dairy, beans, corn and canola oil but also includes tender chicken breast so is high in protein. However, this frozen meal is higher in carbohydrates than most Paleo-friendly meals, so if you want to stay low on carbs, you might want to consider a frozen entree with a cauliflower base instead, like the ones listed below. 
Evol Hawaiian Style Frozen Grilled Chicken – The Hawaiian Evol bowl is not only gluten-free but dairy-free too, which is great news for those looking to limit or avoid consumption of the main allergens from their diet. This Evol frozen meal does list rice, soy, and corn as other main ingredients.
Cucina & Amore Cauliflower Indian Vegetable Curry Quick Meal – the Cucina & Amore range are mostly vegan frozen meals with some vegetarian counterparts, with the added bonus of being gluten-free. Because most of their meals are vegan, this also means that they are naturally free from dairy, which is useful for those following a Paleo diet. These frozen meals are also great for those who are looking to follow a less meat-centric diet for other health reasons. The only thing to watch out for in this meal is sunflower oil, which is technically not permitted on a Paleo diet. All of the Cucina & Amore meals listed in this article are $3.99 at Target.
Cucina & Amore Cauliflower Peruvian Vegetable Ceviche Quick Meal – This Cauliflower Peruvian Vegetable Ceviche meal is both gluten-free and dairy-free, and contains corn and sunflower oil as two non-Paleo ingredients.
Cucina & Amore Cauliflower Moroccan Vegetable Harissa Quick Meal – The Harissa frozen meal from Cucina & Amore is both gluten-free and dairy-free, and just uses sunflower oil as its only non-Paleo ingredient.
Cucina & Amore Mango Jalapeno Quinoa Meal – Cucina & Amore's Quinoa meals are all gluten-free and often vegan, but contain non gluten-containing grains which are not Paleo (quinoa), added sugars and sunflower oil. This is an option suited to those who have higher carbohydrate needs and don't mind eating the occasional 'quasi-Paleo' frozen meal.
Cucina & Amore Basil Pesto Quinoa Meal – This particular quinoa meal found at Target is the only one which is not fully vegan, containing dairy as well as quinoa, added sugar and sunflower oil. 
Cucina & Amore Artichoke Roasted Pepper Quinoa – Our final Cucina & Amore frozen meal is gluten-free and dairy-free, and just contains quinoa and sunflower oil as its additional non-Paleo ingredients.
Amy's Gluten Free Frozen Pad Thai Meal – Amy's is a popular brand found in many supermarkets in the US as well as Target, and has a gluten-free range for those looking to avoid this common allergen. Their gluten-free frozen pad thai meal is a healthier version of a Pad Thai meal which is also dairy-free. This frozen meal is a great treat for those who enjoy Thai food but struggle to find Paleo-friendly versions. However, bear in mind that this frozen meal, althought gluten and dairy-free, does contain non-Paleo ingredients including rice, added sugar, soy (tofu), sunflower oil and cashew nuts (legumes). These are all not permitted on a Paleo diet, but because Amy's take on a PAd Thai is completely gluten and dairy-free, it's one of the more healthy options on offer. You can find this meal on sale for $4.29 at Target.
How Does Target Rank as a Place to Buy Paleo Frozen Meals?
As you can see, there are a few Paleo frozen meals on offer at Target, but there are far more 'quasi-Paleo' meals, which is useful for those who are on a less strict Paleo diet.
However, many of us follow the Paleo diet because we're seeking a natural way to manage symptoms of various health conditions. This means that sometimes, even the quasi-Paleo frozen meals aren't appropriate for us as it can bring on unpleasant symptoms like bloating, painful joints and skin rashes.
For this reason, we've added a section about nationwide delivery companies offering 100% Paleo frozen meals. If you aren't happy with the options at Target, these companies all delivery no matter where you live throughout the US (they deliver to any home or workplace address).
If this is something that sounds like a good option for you, read on to find out more about some of our favorite Paleo meal delivery services…
Delivery Companies Offering Paleo Frozen Meals
The below meals are designed from the ground up to be compliant with the Paleo diet. There is a big difference in the ingredients found in these meals as opposed to what you will find in your typical grocery store frozen meals or even what you would typically be able to source for meals at home.
They include ideal Paleo ingredients like grass fed and grass finished or wild proteins, organic produce, in season produce from farms as if you were shopping at a farmers market and with sauces made from scratch.
We mention them because they do deliver across the US so if you are near a Target store, you definitely can get these meals delivered to you as an alternative.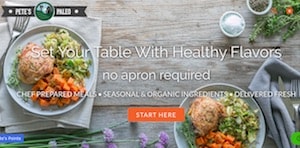 Pete's Paleo
Pete's Paleo is a popular meal delivery service in the Paleo community, gaining acclaim over the years and creating an inclusive menu for all Palo dietary requirements. They have a Paleo menu specifically designed for AIP-Paleo diets, which makes eating an AIP diet so much easier. They also cater to Keto and Low-FODMAP diets, as well as indicating meals that are suitable for those following a sugar-detox.
Pete's Paleo only use seasonal and organic ingredients in their meals, meaning that their menu rotates weekly so that customers are always getting interesting and delicious Paleo meals. They ship their meals fresh as opposed to frozen, using vacuum-sealing technology to retain the nutrient-density of their meals. Meals can be easily and safely frozen upon arrival, just in case you like to keep a reserve of Paleo meals stored for emergencies.
This meal delivery service makes it easy to sign up for a subscription service or to only order when you need meals, so that you have the flexibility of making a choice that's right for you and your household.
See more about Pete's Paleo at: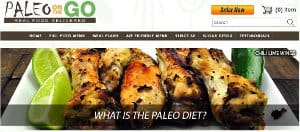 Paleo on the Go
Paleo on the Go is geared toward those who are doing the Paleo Diet for health reasons, designing their meals to be compliant with the Paleo Autoimmune Protocol, a stricter form of Paleo designed to help with the most persistent health conditions. They also have made sure their meals comply with the Whole30 diet, a slightly more strict subset of Paleo.
They focus a large part of their menu on recreating foods you may be craving on these more restrictive diets by recreating them using ingredients that are allowed.
Like some of the companies mentioned above, Paleo on the Go works directly with suppliers to have a better sense of the food supply that goes into their meals. Specifically, they have very high standards for using only grass fed and grass finished and wild proteins. They also use the EWG dirty dozen guidelines to determine which ingredients they must source only from organic farms.
To check out Paleo on the Go's extensive menus for various permutations of the Paleo diet see:
paleoonthego.com
Note: Paleo on the Go is offering a 10% discount for our readers, use code "MYPALEOS" at checkout for 10% off your entire order – one time use.
I recorded a video of unboxing one of my recent Paleo on the Go orders: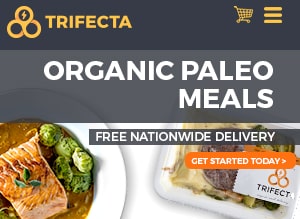 Trifecta
Trifecta is a national meal delivery company popular amongst athletes, families and business-people alike. Their easy approach to ordering and consuming healthy, macro-balanced meals is suited to many lifestyles, with a whole menu dedicated to the Paleo diet.
Not only this, but Trifecta also has meal plans for Keto, Clean, Vegan and Vegetarian diets, as well as their Classic menu for more varied appetites. Trifecta is a weekly subscription service, meaning that you will receive a set number of meals every week via delivery, with a minimum order of 7 meals per week. You'll expect to pay from $108.43 per week for 7 meals, making Trifecta's meals roughly $15.49 each.
Another great thing about Trifecta is they ship all over the United States, so chances are, they'll deliver to your door within a couple of days of ordering!
To find out more about Trifecta's offerings, make sure to head to: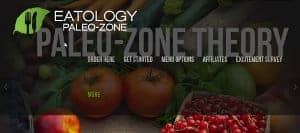 Eatology 
Eatology use Paleo principles as well as Zone diet protocols to create diet plans that are dedicated to customers who have a number of goals: weight loss, blood sugar management and athletic performance are just a few of these.
The Zone diet uses a 'block' system to manage portions in these meals, so that customers receive perfectly balanced, delicious and Pale0-friendly frozen meals at their front door. Customers can pick between 2-block or 3-block meals using the guidance on the Eatology website, which are priced at $10.50 and $12.75 respectively.
For reference, Eatology recommends 2-block meals for most women and 3-block meals for most men as a starting point. Portions are smaller than most Paleo meals that you can order, but this is because they are designed to manage blood sugar effectively to ensure that your energy levels remain stable.
Eatology has options for ordering that suits every person, including Family Platters, recurring orders, one-time orders and even Semester meal plans, which are designed for students at college. Customers have complete control over which option works best, and can be changed easily when your needs do.
To see what Eatology currently has on offer, check out:
Eatology is offering a 20% off promo for our readers (works for first & all later orders), use code "ZACHPALEO" at checkout
Other Paleo Meal Suggestions
So hopefully this article has given you some insight as to what Target has on offer in regards to Paleo frozen meals. Although there isn't a huge line currently in stock, this may change as the Paleo diet continues to remain popular. You can also contact your local Target store to find out if they have plans to extend their Paleo line, or mention that there is a demand for these types of healthy meals.
If anything has caught your eye on your Target travels that is Paleo-friendly and we've forgotten to mention it, please let us know, and we'll add it to the list!