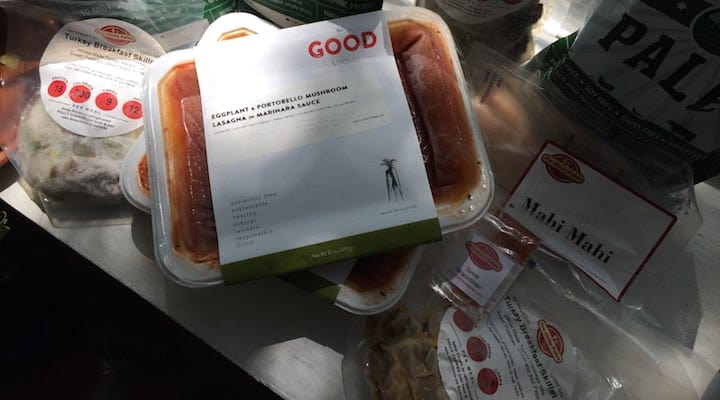 Updated 11/15/19
In this article, we cover the options from every angle of getting Whole30 Meal Delivery. If you're reading this article, you're either in the midst of, or just beginning to start your Whole30 challenge or have decided to make following the Whole 30 a long-term lifestyle choice.
Perhaps you're interested in losing weight, or maybe you're trying to reset your healthy eating and gain more natural energy. 
But following the Whole30 can be – well – challenging, especially long term. Not only are you eliminating major food groups from your daily meals, but the diet's specifications often require you to make your meals from scratch. For those who lead a busy life, it can be difficult to find time to shop for and cook meals compliant with the Whole30.
But as the popularity of Whole30 has risen, so have the number of companies out there who offer pre-prepared Whole 30 meals that strictly follow all the requirements. Whether you're interested in having an entire month's supply of Whole30 meals shipped to your door, or you're looking to keep a few freezer meals on hand for emergencies, this article covers the ins and outs of Whole30 delivery and take-home options.
If you're still trying to figure out if the Whole30 diet is feasible for you, the companies below can give you a much-needed resource. 
We cover the following....
Whole30 Food Delivery Services with Nationwide Coverage
Although online meal-delivery services abound, there aren't many that are dedicated to the Whole30 program and its specific philosophy and dietary requirement. If you've been searching for Whole30 meal delivery but have been coming up short, don't worry! There are, in fact, companies that will ship grain, dairy, sugar, and legume-free Whole30 meals to any home or business address in the United States.
The companies we've listed below in some cases specialize in Paleo meals and meal planning, but several also specialize in creating meals compliant with Whole30 restrictions and have even gone the step of getting approved by the Whole30 organization.
These companies source their produce locally, working with vendors and farmers to create diverse and constantly changing menu options. If you're interested in ordering Whole30 compliant meals made with organic produce, grass-fed meats, and hard to find game, take a look at the following companies.
This post contains affiliate links. Thank you for supporting us! Click here to learn what this means.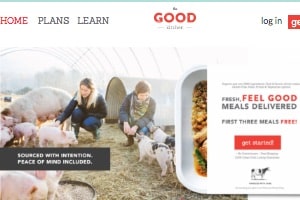 The Good Kitchen
The North Carolina-based Good Kitchen, approved by the official Whole30 organization, prides itself on creating Paleo and Whole30 friendly meals made from non-gmo, organic produce (EWG guidelines for Clean 15/Dirty Dozen and as much as possible outside of that), 100% grass-fed and finished beef, pastured pork, poultry and eggs, and Seafood Watch approved fish and seafood. Their weekly changing menu is based on the ingredients available at the local farms that they partner with based in their area which they encourage to use regenerative agriculture practices. 
They recently made a big push to focus on the Whole30 diet as a large part of their menu. Most of their meals are Whole30 compliant, but they have a filter at the top of their menu to just show those dishes that are fully Whole30 compliant. In addition, they provide a full list of ingredients under each meal, so you can make sure you choose those meals that meet your personal dietary preferences. As one example, their summer pork skillet is without any added sweeteners, and is made with "…ground Pork, Zucchini, Yellow Squash, Cherry Tomato, Okra, Onion, Avocado Oil, Black Pepper, [and] Sea Salt."
 They allow filtering their weekly menu by the type of protein of each dish: beef, pork, seafood, etc. Meals are shipped in vacuum sealed to-go containers that are easy to heat up in the microwave at work or on the go.  
See thegoodkitchen.com for their complete menu.
The Good Kitchen is offering a 15% discount for our readers. Use promo code "mypaleos" at checkout for 15% off your first order.
I took a video of unboxing my latest The Good Kitchen purchase: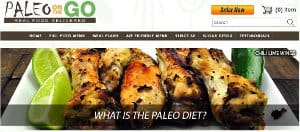 Paleo on the Go
Paleo on the Go
While Paleo on the Go specializes in creating Paleo-compliant meals, they've also recently incorporated a line of meals they are calling their "Strict 30." This menu "aligns with other popular and effective 30 day 'reset' plans" and cuts out dairy, soy, grains, legumes, and artificial sweeteners, making it compatible with the Whole30.
For those who are trying the Whole30 challenge as a way to improve their health, this is a great company to order from, as Paleo on the Go specializes in crafting meals for customers with dietary restrictions and autoimmune conditions, so as an example they have gone the extra step of operating a dedicated gluten-free kitchen to cut down on the possibility of cross-contamination. 
Paleo on the Go has a network of farmers and vendors from whom they source most of their produce and proteins. Their vendors are listed on their website. They source organically any ingredient that appears on the Environmental Working Groups "dirty dozen" list (strawberries, spinach, etc) and, to keep costs down, source conventionally foods that appear on the clean 15 list (avocados, onions, etc). Their Strict 30 menu is a mostly a la carte menu, offering enticing options like elk burgers with wild mushrooms, turkey tetrazzini, and breakfast scrambles. They also offer a 5-meal variety pack.
If you plan on re-introducing certain food groups to your diet, following your initial month of Whole30, you might find yourself continuing to order from Paleo on the Go.
See paleoonthego.com for prices and Strict 30 / Whole30 delivery meal options.
Note: Paleo on the Go is offering a 10% discount for our readers, use code "MYPALEOS" at checkout for 10% off your entire order – one-time use.
This is me opening and heating up meals from a recent Paleo on the Go shipment:
For more details on how Paleo on the Go supports those attempting a Whole 30, see the following article about their approach to offering a Whole30 meal delivery service:
http://blog.paleoonthego.com/whole-30-paleo-diet-delivery/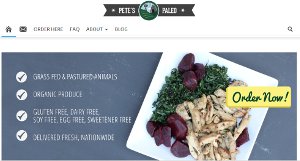 Pete's Paleo
Petes Paleo
While Pete's Paleo doesn't advertise itself as Whole30 compliant, but the reality is they have always followed some of the main tenents central to the Whole30 Diet: high quality grass fed/wild/organic proteins and vegetables, dishes made from scratch based on whole food ingredients, they plate each meal with a portion of grass fed/finished/wild protein and two portions of nutrient-dense vegetables. Pete's uses fruits and vegetables to naturally sweeten their meals; they exclude even honey and maple syrup from their cooking, making them a great match for someone doing a Whole30. 
They take sourcing organic produce from local farms very seriously, planning their weekly menus around what's in season in the farms that they work with. A bit like making meals each week based on what is available at your local farmers market. Although they offer meal plans, they also offer orders of set numbers of meals through their "eat what you love" menu.
See petespaleo.com for a complete list of prices for potential Whole30 meals delivery and Whole30 meal service options.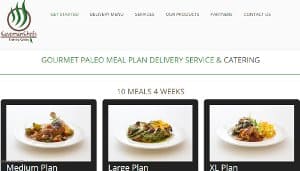 Caveman Chefs
Caveman Chefs is a Colorado-based company that sources its produce and protein from local farms and ranches. While Caveman Chefs specializes in cooking Paleo, they have a meal plan dietary preference option specifically for customers following the Whole30. When creating your plan, simply select the Whole30 option (which comes in medium, large, or extra large meals sizes).
Caveman Chefs creates its dishes using grass-fed meats, local and in-season produce, and wild-caught fish. For customers with dietary restrictions, including those seeking to get Whole 30 meals delivered, Caveman Chefs attempts to customize their meal plans to meet your specific dietary restrictions. Unlike the previous two companies, Caveman Chefs require that customers order a minimum of 24 meals, so it is a bit more of a commitment. If you live in Colorado, you can pick up Caveman Chef meals from several local locations. If you don't live in Colorado, no problem: The company ships nationally.
Visit http://www.cavemanchefs.com for more information on their Whole30 meal delivery services.
Use my referral code to save $25 off your Caveman Chefs order. 
Other Options for Mostly Whole30 Compliant Meal Delivery
The following companies on our list are meal delivery websites that ship meals nationally and specialize in creating meals for the Paleo Diet. While these companies may not offer meals that cater explicitly to the Whole30 challenge, this doesn't mean their meals aren't Whole30 compliant.
As we've discussed above, many of the tenets of Paleo are similar to those of the Whole30 challenge. The main difference to be aware of are sweeteners: Paleo allows for the addition of honey, maple syrup – anything that isn't refined sugar, while Whole30 cuts out all artificial sweeteners. Paleo also allows for ingredient substitutions to re-create healthier versions of processed foods. The Whole30 challenge advocates changing your eating mentality, so you may decide to forgo.
If you've examined the other options and are looking for a wider selection of meals and meal plans, take a look at the following companies on our list. While you may want to review the ingredients listed, we're certain you will find more than a few meals that meet your dietary restrictions.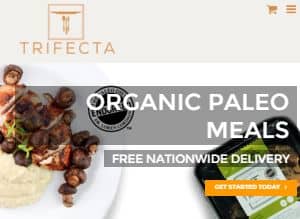 Trifecta
Trifecta Nutrition might also be a great option for customers looking to embark on the Whole30 challenge. The company focuses on nutrition to enhance an active lifestyle, and they advertise several different meal plans. While their vegan, vegetarian, and clean eating plans are popular, customers doing the Whole30 challenge might be interested in their Paleo Plan. While Trifecta Nutrition doesn't allow for as much customization as some of the other sites on this list, they do allow customers to specify dietary restrictions. Any meals that contain the listed ingredients will be excluded from your meal plan, and other meals will be substituted.
Trifecta also has a great option for Whole30 customers: they allow you to purchase a la carte items in bulk. If you're interested in portioning your own meals, it might be worth your while to order a few of Trifecta's already cooked items like bison, flat-iron steak, mixed vegetables, or mashed sweet potatoes. Best thing about Trifecta? The shipping is free!
See trifectanutrition.com for current prices and their options for Whole30 premade meals and providing a Whole30 food delivery service.
Whole 30 Compliant Frozen Meals
If you're a fan of cooking and are simply looking to keep a few emergency meals on hand, you might be interested in checking out your local supermarket or health food store for Whole30 Compliant frozen meals. While availability is definitely limited depending on where you live, this doesn't mean you won't be able to find something near you.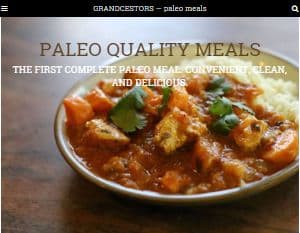 Grandcestors Frozen Meals
If you live in Colorado, Idaho, Kansas, New Mexico, Oregon, Utah, or Washington, you should be able to find Grandcestors' line of Whole30 approved meals in your local Whole Foods.
The Colorado-based company offers a line of seven different entrees (like Chicken Tikka Masala, Meatloaf, or Colorado Hash) that use grass fed, free range protein, organic produce, and balance proteins, healthy carbs, and fats. Their meals are low in calories and are ready after just a few minutes in the microwave. Even if you live outside of Grandcestors distribution network, you can order their meals online, and they'll ship straight to your door.
For Full Pricing See:
Prices via Amazon or http://grandcestors.com/
For our detailed write up on Grandcestors possible including Grandcestors froen meal reviews and options for Whole30 home delivery, see our in-depth coverage on them .
Whole30 Takeout Options
In addition to the companies we covered so far that offer Whole30 approved meal delivery or Whole30 compliant freezer meals available at your local health food store, there are times when you might be searching for a last minute Whole30 takeout options instead. This is often the case if you haven't planned ahead, and do not have meals ready to go in your freezer. Here are a few more tips for trying to get Whole30 meals delivered in your city.
First, if you'd be interested in local catering or meal prep company with a kitchen in your city, where you can drive over and pick up grain free, gluten free meals, we have written a series of articles on local Paleo companies in specific cities in our city specific meal delivery series (for example if you are looking for Whole30 meal delivery Los Angeles companies, Whole30 meal delivery nyc companies or Whole30 meal delivery Chicago companies we have articles on those cities). You might take a look and see if your city has an article on local Whole30 delivery food specifically tailored to your area, we have covered over 80 cities in the U.S.
Second, if you are really only looking for restaurants in your city, Yelp can be a decent resource for finding restaurants with some Paleo compliant meals on their menus based on user reviews. Just keep in mind that 80% of what people often recommend as Paleo or Whole30 probably won't qualify as truly Whole30 compliant, so you'll have to do your own research and possibly call the restaurant to confirm all the ingredients used in the meal. These days, even if the restaurant doesn't deliver, you can often use a service like Postmates to pick up the meals and deliver them to you.
Getting Whole30 Prepared Meals Delivered
It's not necessarily the restrictive nature of the Whole30 challenge that keeps people from completing it; rather it's the difficulty of finding the time to shop for and prepare Whole30 compliant meals. If you're ready to commit to thirty days of being grain, dairy, legume, and sugar free, there are plenty of companies offering premade Whole 30 meals that will help you maintain your healthy eating.
What we hope you've been able to glean from this article are some solutions for when you're too busy to commit to cooking. It's also important to consider that one of the biggest difficulties on the Whole30 challenge is maintaining healthy eating when you're away from home. Many of the sites on our list ship meals in packaging conducive to travel – something to consider!
Rather than falling off the wagon, or starting the Whole30 challenge over again, prepare for the challenge by stocking up on some emergency meals. Better yet, order an entire 30 days' worth of meals. With so many companies that deliver pre-made Whole30 compliant meals straight to your door, there's no reason not to give the Whole30 challenge a try.