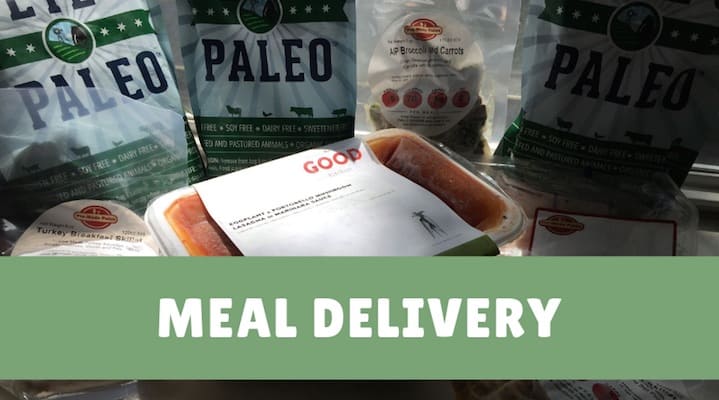 If you like how the Paleo/Whole30/grain free diets make you feel but wonder if you can keep up with it long term, ordering meals from the increasing number of companies specializing in these diets might be a solution.
This post is pretty in-depth with a lot of information, but here's the short version: I have tried a good handful of the nationwide meal delivery services that cater to Paleo and grain-free eaters. Over time, I ended up ordering primarily from The Good Kitchen (click here to check out their current menus and prices). I found their meals to be in the sweet spot between flavorful and varied recipes which list all the ingredients, a reasonable emphasis on locally sourced high-quality/organic produce and grass-fed/pastured/wild proteins, convenient meal packaging to take to work and reasonable prices and free shipping.
How I Ended Up Ordering from The Good Kitchen the Past Few Years
After trying several different companies, I The Good Kitchen consistently. Like all the companies I'll cover here, they deliver to any address in the US. Here were my reasons for choosing them:
Variety/Sauces – In the meals I sampled, The Good Kitchen did a good job with putting together a flavorful meal that really felt like a "dish" with sauces and a unique flavor for each different meal. Instead of feeling like all of their meals seemed similar, it felt almost like I was eating meals from different restaurants. This was especially important for me at work where I was be seeing what everyone else was eating for lunch and didn't want to feel deprived or bored with my healthy meals.
Packaging – I was typically bringing the meals to work and The Good Kitchen meals came in trays that seemed pretty close to what my coworkers were bringing to work from the freezer aisle of the grocery store. The meals seemed to be designed to be reheated in a microwave and didn't require additional plates, etc which can be cumbersome at work.
Selection of proteins – At the time of the ordering from them, The Good Kitchen had the biggest selection of vegetable based and fish based entrees. For someone else who favors poultry or pork or beef based dishes, you may also find this is a nice thing about The Good Kitchen. Unfortunately, they have recently discontinued their vegetable based line, in favor of a line focusing on strict Whole30 as well as Paleo compliance which is a big loss for me but may not affect you if you are like most people who eat meat on the Paleo Diet.
Overview of Companies that Focus on Paleo and Whole30 Compliant Meals
Here's an overview of the the major companies that are out there that cater to our community, with some of my thoughts on each:
The Good Kitchen – In my experience The Good Kitchen offers generally flavorful meals with lots of immersive sauces, with reasonable prices and free shipping. They work with local farms in their area to try to source ingredients, do offer pastured and grass fed proteins, and "seafood watch compliant" seafood and say they follow EWGs clean fifteen/dirty dozen to choose organic vs non-organic ingredients although they work with the savory institute to encourage farms to use sustainable regenerative agriculture practices and otherwise use organic ingredients "as much as possible". The one thing is The Good Kitchen does also now offer some portion of their menu for people who are primal and have added back some whole grains, so I just avoid those meals – they do commit to listing all the ingredients for all their meals offered which makes it easier to pick out what works for you.
Paleo on the Go – Paleo on the Go has partnered with some of the big names in the Paleo community who focus on using diet to help heal from health issues. Although their meals are Paleo compliant, they take things a step further by making sure their menu complies with the more restrictive Paleo Autoimmune Protocol. The main dishes can be on the pricier side but their sides tend to be pretty reasonably priced. They dedicate a portion of their menu to trying to recreate foods you might be nostalgic for from before you went on these diets but using AIP compliant ingredients, things such as pot pies, cookies and pop tarts. They typically use a lot of arrowroot and cassava on these dishes, which doesn't work for me but is ok on the AIP. They also use grass fed pastured proteins but follow the EWG dirty dozen to decide what to source organic versus what to source conventional to keep meal costs down. In my experience, they also use a fair amount of sauces and several of the meals I tried are pretty flavorful.
Pete's Paleo – Pete's Paleo probably goes the furthest in terms of working with local farmers to base their menus around what's currently in season. They also tend to keep dishes simple without lots of sauces in order to highlight the flavors of the ingredients themselves. I have to say I really like this concept, but in practice, I did find some of their meals to seem a bit plain and repetitive (if you are going to use the ingredient as the star of your dish, you probably need to vary the ingredients quite a bit) and also the packaging was difficult for me to bring to work as they just vacuum seal the individual parts of the dish and you assemble it and heat it on a plate (so there is a little bit of prep in terms of plating) but on the other hand this is likely the most eco-friendly way to do things in terms of minimizing packaging and gives you the ability to mix and match sides with mains.
Trifecta Nutrition – Trifecta Nutrition has several gluten free meal plans but one of their main plans is designed for the Paleo Diet. They tend to require a subscription to participate but do offer an unique a la carte option where you can order prepared and seasoned individual ingredients. Trifecta has the unique claim to fame that they commit to their meals being 100% organic beyond offering grass fed/pastured/wild proteins, so if 100% organic is of key imporance to you they might be worth checking out.
True Fare – One of the original authors contributing to the Whole30 cookbook runs this service that ships frozen and more recently fresh Paleo meals. In my opinion, although the meals tend to be on the healthful side using organic ingredients in their main line and pastured/grass-fed/wild proteins, they tend to taste on the healthful side as well.
Caveman Chefs – What started as a small local Colorado business eventually expanded to serve the whole continental US as well. They focus on those protiens available in Colorado. Although this has changed somewhat over the years, one nice thing is that they offer to work with anyone to try to fit their dietary preferences (most of the companies listed here are now too big to customize orders/meals for each customer beyond what they offer on their normal menu).
Factor 75 – Although they do not technically include a dedicated a Paleo plan, Factor 75 offers a number of Paleo meals, including organic ingredients and grass fed/pastured proteins. It's been a while since I ordered from them, but found the meals I tried to be quite lite with some unusual use of seeds to add texture. Granted these were their Paleo vegetables meals.
Eatology – Eatology focuses on the healthy weight aspect of the Paleo Diet, combining the requirements of Paleo and Primal guidelines with the carb to protein to fat ratios prescribed in the zone diet. Although the meals contain meat, I was sent some sample dishes from the company so that friends of mine (who did eat meat) could sample their food. In general, the feedback I heard were that they were tasty. Although they forego some of the organic and seasonal ingredients promoted by some of the other companies mentioned they also tend to be one of the more reasonable options.
Sun Basket – Sun Basket is one of the newer meal kit companies (like Blue Apron – where ingredients and a recipe are delivered instead of completed meals) but where a Paleo plan is offered. As more companies have entered to the meal kit space, they have started to specialize and Sun Basket caters to the healthy eating specialty diet crowd. In addition to now offering almost entirely organic ingredients, the grass fed/wild standards Sun Basket uses for meat and seafood matches up nicely with what is suggested for Paleo.
Green Chef – Green Chef is another specialty meal kit company that offers a Paleo plan. One of their claims to fame has been offering entirely organic ingredients in all of their meal kits, but without the grass fed/wild protein emphasis of Sun Basket.
My Unboxing/Reheating Videos of Several of my Recent Orders
To give a sense of the different meals in my last few orders, I put together the following videos of unboxing and heating up meals from a few of the companies.
Here's a video covering a recent The Good Kitchen order:
This video covers my recent Paleo on the Go order:
Best option for those on the AIP
The Paleo Autoimmune Protocol can make it a little more complicated (and stressful) to try to find prepared food options beyond just finding Paleo compliant foods.
Luckily several of the companies that cater to those doing Paleo have figured this out and added AIP compliant meal items to their menus.
A few companies that have added AIP menu items are Paleo on the Go, True Fare. Pete's Paleo has even started listing which of their meals might qualify as AIP friendly.
However, the company that has fully dedicated themselves to helping people on the AIP is Paleo on the Go (see their site, linked here, for their extensive AIP menu). The owner, Dave Rohde, spent time following AIP himself and since that time has switched his company to not only offering Paleo compliant meals but has transformed their menu to have lots of food choices for people with AIP restrictions.
Beyond typical dishes you might normally think of on a Paleo menu which they offer AIP friendly versions of: vegetable and protein soups, bone broths, side dishes and entrees of grass fed/wild proteins and vegetables, they have another side to their menu for those on the AIP.
Paleo on the Go has dedicated a big portion of their menu to recreating foods that someone on a restrictive autoimmune paleo diet might be nostalgic about. These are things like AIP pot pie (they use a lot of cassava flour to recreate pastries), marinara sauce with no tomatoes/nightshades, cookies, pop tarts.
Basically if one of your biggest challenges on the AIP is dreaming about cheating and eating "normal" comfort food, there is a whole section of the Paleo on the Go menu designed just for you.
I'm not sure I would recommend eating these types of foods all the time but it's certainly a lot better than setting back your health by eating non-AIP versions of these foods.
One concern I have heard before is that Paleo on the Go can be on the expensive side, especially their entrees. As one option, I would recommend taking a look at some of their sides, which tend to be a lot more reasonable (they also frequently put these sides like cauliflower fried rice on sale).
But if price is a consideration, there are a few other companies offering AIP friendly meals you might look into. Caveman Chefs offers a limited menu of AIP entrees which can sometimes be more reasonable. In addition, True Fare offers an AIP friendly menu, although you may or may not feel these are a better value, but gives another option to explore.
Best option for those doing a strict Whole30
If you are on a Whole30, there are a specific set of companies that take extra steps to make their menu, or a portion of their menu, Whole30 compliant.
You could probably get away with ordering from many of the more general Paleo meal delivery companies and be fine, confirming each of the meal ingredients yourself, but it's nice to be able to relax knowing the company that created the meal specifically designed them to be compliant with the Whole30.
As I mentioned above, the company I have been mostly ordering from over the last several years has been The Good Kitchen, and it just so happens that TGK has gone through the process of becoming Whole30 Approved and dedicating the majority of their menu to Whole30 compliant dishes.
So they would be my suggestion of a great company to use if you are doing a Whole30.
If you'd like to consider other options, there are a few other companies that you might want to look into. True Fare has dedicated their menu to the Whole30 for years. The founder and Chef partnered with the Whole30 founders early on to help them create one of their original Whole30 cookbooks.
On a budget? Cheapest options for Paleo delivery
One concern many people have when they hear that these delivery service specialize in Paleo meals and use grass fed/pastured/wild/organic ingredients is how much is this all going to cost?
It's a reasonable question, and it's true that in many cases making meals yourself at home can save money, although when you add in the costs of specialty products like local farm raised grass fed proteins, wild caught fish and organic local/seasonal produce from farmers markets, the reality is these companies are often getting a good deal on these ingredients by partnering with farms and buying in bulk.
But if you have to make your budget work, and that is one of your higher priorities (and you might not be splurging on organic ingredients all the time at home because of cost) the below companies might be the ones you'll want to check out.
Eatology is likely the cheapest option of all of the meal delivery services, especially when you factor in that they regularly offer big discounts in addition to their already competitive prices. For example, at the time of writing they were offering a recurring meal plan for their smaller 2 block meals for $8.30 per meal. With some of the periodic discounts they offer, one time order can be even less if you buy during one of their promotions. (they offered a promo code to us for our readers of "ZACHPALEO" for 20% off new and follow-up orders so you can try out there service, which may or may not be a better deal than sales they currently have going on)
Shipping is extra, so you will want to factor that in as you are pricing things out – this may mean that buying a lot of meals at once and stashing some in your freezer may be the most cost effective option, per meal. They also offer family platters, which can get the price down to below $6 for a two block meal if you are ok with portioning out the meals yourself (or if you eat the whole family platter in a single week, eating the same dish a bunch of times).
One of the ways Eatology keeps their costs down is that they are based out of East-Central Texas, where the cost of living (and operating a business) is on the lower side. However, they do not offer some of the higher end ingredients used by some of the other companies, such as grass fed/pastured meats, organic and seasonal produce from local farms and things along that line. This may be one of the factors that allow them to offer their Paleo meals at a reasonable price point.
Another option for those on a budget can be to check out the side items, especially the vegetable side items, from Paleo on the Go. I've seen some of these dishes, like their cauliflower fried rice and risotto, for as little as ~$4.50 on sale before (and I tend to stock up on those dishes when I do see this). Although these might not be quite enough for a big dinner, they can often be filling enough for a light lunch or smaller meal.
Lastly, if you want to save money but feel it's critical to also only get all organic ingredients, in addition to grass fed/finished/pastured/wild proteins and don't mind more plain items or doing the final seasoning yourself, Trifecta Nutrition offers an a la carte menu where they sell cooked and lightly seasoned plates of a single ingredient, such as organic mushrooms, organic cauliflower, grass fed/finished flat iron steak, bison, elk, wild caught salmon and Alaskan cod, etc. This is a popular option with athletes in training who want control over exactly the quantities of every food they eat, but it is also Trifecta's way of offering the lowest possible prices on their organic and grass fed/pastured/wild ingredients that can be hard to get depending on where you live.