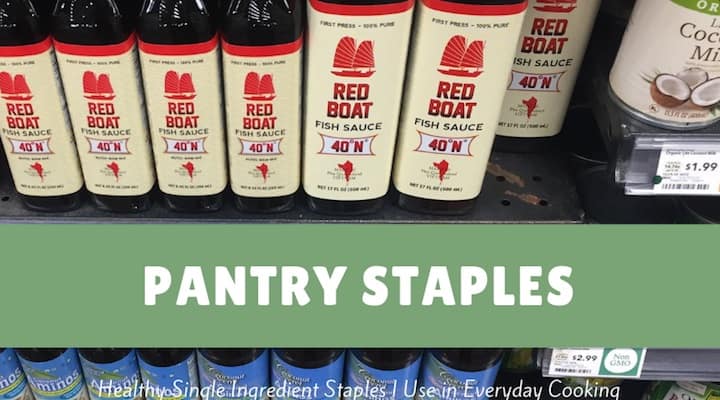 Here are several Paleo staples that make cooking Paleo/Whole30 compliant dishes at home a whole lot better and easier:
The right staple ingredients can make it a lot easier to produce a dish you can be excited about. One of the areas that is the most time consuming when you are making all of your food from scratch is creating sauces for each of your dishes.
The pantry staples I have listed here can take you a long way towards creating dishes that not only highlight the fresh ingredients that are the stars of the dish but also transform that dish from just a simple preparation of a vegetable or protein to something that feels more like a real recipe.
Don't get me wrong, simple preparations can be delicious but sometimes you need some variety. Using the highest quality staple ingredients listed in this article can really take the flavor profile to the next level, without a lot of time spent on a custom sauce for each dish.
Red Boat Fish Sauce
The first item on this list has been famous in the Paleo/grain free community for a long time. But no list would be complete without Red Boat fish sauce.
Fish sauce is typically the secret ingredient in many asian cuisines especially Thai and Vietnamese dishes. Red Boat is typically considered one of the higher end/most delicious fish sauces out there, and luckily it is also the one recommended by people eating whole food diets. The ingredients are simply aged anchovies, water and sea salt.
It should definitely be incorporated in the early stages of cooking a dish, otherwise the taste and smell can be a bit strong if you are not used to it, but if you love southeast asian cuisine you probably love fish sauce and don't even realize it. It's what gives many dishes their unmistakable flavor.
Like many of the ingredients covered here, just a little bit of fish sauce added early on to a sauce or braised food can transform it from tasting like a simple preparation with no sauces to a unique dish with some real sauce/flavor to it, so a couple of seconds adding this ingredient to dishes can really pay off in terms of the flavor gained.
Trader Joes Coconut Milks
I have covered great ways to use Trader Joes coconut milk in the past, so I won't go into too many details here, but just keep in mind that Trader Joes has one of the best coconut milks on the market.
It can be hard to find a coconut milk without lots of crap in it, such as gums, presevatives and unnecessary flavorings (especially if your plan is to use it as part of a dish such as Thai curry, you don't want vanilla "flavor" in your coconut milk).
Trader Joes offers one of the few coconut milk lines where the ingredents are just coconut and water with no preservatives, gums, etc. Better yet, it's all organic and it's one of the best priced coconut milks out there. It doesn't get much better than that!
Some great uses of coconut milk are curries, smoothies and deserts (like whipped coconut cream). If you are looking for a healthy way to make a meal feel more substantial and creamy, it can be a great option as long as you pick the right brand.
Organic Avocado Oil

In my experience, almost all of the Avocado oils I've found available are not organic and often refined to increase their smoke point even further.
The one brand I have found that is organic and I have been very happy with is Olivado organic extra virgin avocado oil.
I love the dispenser on this olive oil that pops out of the top when you open the cap. It allows you to target the oil exactly where you need it and avoid pouring more oil into a dish than you planned on.
I also love the dark color of this oil, showing that it is full of the vitamin E and chlorophyll that avocado oil is famous for.
Organic Olive Oil
This one is kind of a no brainer these days, but finding a great source for olive oil is always worthwhile.
Given how much olive oil you tend to use on grain-free diets as it's one of the few allowed (and encouraged oils), you want to find a reliable source that is both reasonably priced while also meeting all the high nutritional standards of these diets: organic, mechanically pressed, etc.
The best deal I have found on organic olive oil is at Costco. They sell a huge 2 liter handles of organic extra virgin olive oil for the best price per liter that I have seen.
However, another great place to stock up on organic extra virgin olive oil is Trader Joe's, especially great if you don't have a Costco membership. I actually like the Trader Joe's organic Spanish olive oil better than that Costco organic olive oil in terms of the flavor profile of the actual olive oil.
It also comes in half-liter bottles as opposed to 2 liters, so you don't need to buy such a large amount at one time, which given that olive oil is something you don't want to keep forever could be a good thing.
Kadoya Toasted Sesame Oil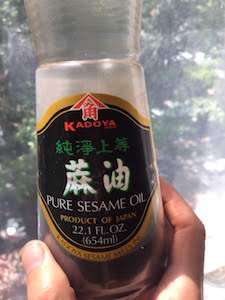 Toasted sesame oil is another one of those single ingredient foods that can turn a very plain dish into a dish that feels like it has a sauce, just by additing a little.
There is a pretty big difference however between a decent toasted sesame oil and a really good one.
This is the one area where I might suggest forgoing the organic toasted sesame oils at the health food store in favor of the genuine _ toasted sesame oil imported from Japan. It can make the difference between a dish that tastes good and a dish that tastes great – as western companies typically don't get their toasted sesame oils quite right in terms of flavor.
One thing to keep in mind about toasted sesame oil is that it should always be added to a recipe at the end, as it does not stand up to heat well and the flavor is best with little to no cooking.
With a smoke point that is higher than many of the other healthy oils recommended for grain free diets, avocado oil can be useful to have on hand for stir-frying or other higher heat cooking methods.