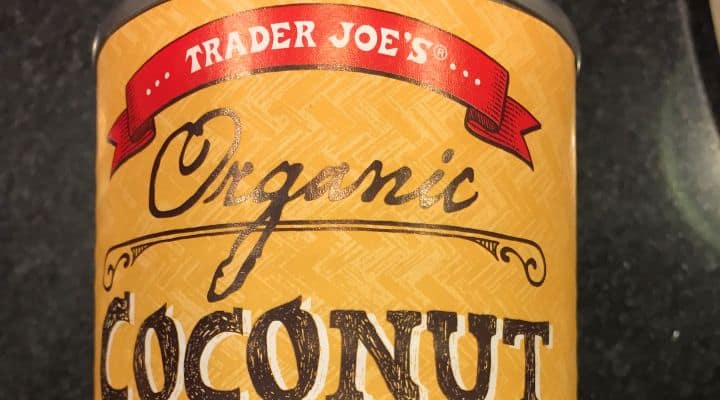 I am excited to report that Trader Joe's has added a second Coconut Milk product that does not contain either gums or preservatives!
We cover the following....
Finding Coconut Milk with No Guar Gum or other Gums and Additives has Always Been a Challenge
Gums and/or preservatives are found in virtually all other Organic Coconut Milks on the market. Despite hundreds of coconut milk brands out there, this is one of only a handful of 100% paleo coconut milks without additives available.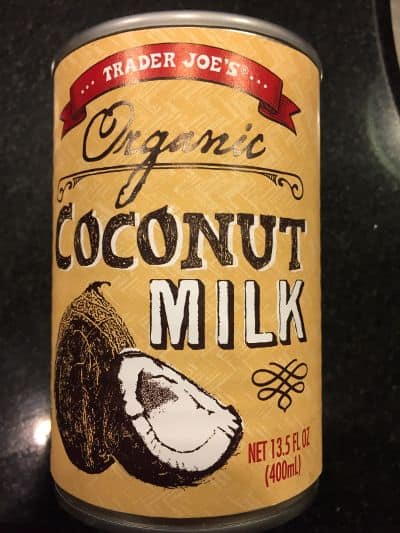 This post contains affiliate links. Thank you for supporting us! Click here to learn what this means.
Trader Joe's has for the last several years been one of the few widely available sources of 100% pure coconut milk with their one "lite" coconut milk product with no added gums. This Trader Joes lite coconut milk is good for paleo creamy coconut based soup stocks and paleo smoothies with coconut milk but was not great for deserts or any recipe that needed thick coconut cream due to it's low coconut and high water content. Note: newer coconut cream version also available from Amazon for those who do not live close to a Trader Joe's store.
Trader Joe's Lite Coconut Milk – Good for Light Paleo Dishes
The lite coconut milk is also not organic, so this is the first Organic coconut milk from Trader Joe's where the only ingredients are pure coconut and water. Their creamy higher fat or organic coconut milk products in the past had always contained added gums, similar to other commercial coconut milk brands.
Trader Joes must have noticed the trend of people looking for gum free coconut milk because they specifically address this on their can, highlighting that "no gums or thickeners have been added" to this new version. This is the power of the paleo community at work! Companies are starting to adjust based on this new wave of ingredient and health conscious consumers.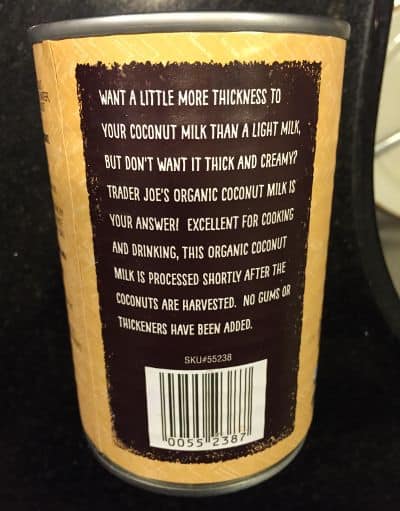 Why are Organic Coconut Milk Brands Adding Fillers to Their Products?
As strange as it sounds, traditionally Organic Coconut Milk products on the market have been some of the worse about adding gums and other additives. You would think that companies offering Organic products would go out of their way to make them additive/gum free, but this has not typically been the case.
Many other products including the Whole Foods 365 brand organic coconut milks all contain gums. I guess Organic Carrageenan is just a lot cheaper than adding in the amount of Organic coconut needed to achieve the creamy thick effect of "thick" coconut milks.
My guess is cutting costs on production and adding thickeners instead of organic coconut was too lucrative for many companies to pass up. Luckily there are slowly starting to be a few shining examples of products choosing purity over profits.  I hope the trend continues.
Organic Coconut Milk Without Additives at a Very Reasonable Price
Although there are a lot of suggestions in the Paleo community to use the Natural Value brand organic coconut milk and coconut cream products, previously one of the only companies offering organic coconut milk in the U.S. without gums or additives, there is definitely a price premium for their products.
It's great to have access to this cheaper alternative at $1.69 (the Trader Joe's price here were I live in the Mid-Atlantic). That price seems very reasonable for such a high quality product.
One other really nice thing is that Trader Joes is listing the percentage of coconut to water ratio in this product. They list the organic coconut extract percentage at 48%: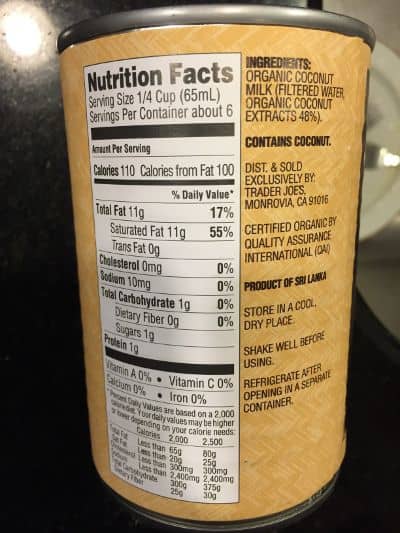 If you really geek out on coconut milk, something you will likely want to consider if you make recipes with coconut milk whipped cream, the difference between products labeled coconut milk and coconut cream tends to be pretty arbitrary.
There is no standard definition of what makes something coconut milk versus coconut cream. Some brands of coconut cream are much creamier than others and vice-versa. On the other hand, comparing coconut/water percentage levels between paleo diet coconut milk brands gives you a much more exact metric of how creamy/lite different products are. So it's helpful that Trader Joe's included the coconut solids percentage. I have seen that included on a few other additive free coconut milk paleo products, but not many.
Finally, a Reasonably Priced Coconut Milk No Guar Gum Option for the Paleo, SCD and GAPS Diet
If you are doing a grain free diet for health reasons, such as those with autoimmune conditions following the AIP, SCD (the Specific Carbohydrate Diet) or GAPS diets, you have to be very careful about the purity of the ingredients you are choosing. Inadvertently choosing products that contain unlisted additives, gums, preservatives or sugars can cause real setbacks with your health and your life.
Coconut milk is a wonderful ingredient to expand the possibility of recipes on these diets, and organic coconut is extremely healthy and generally well tolerated.  Unfortunately, with most companies including so many additives and fillers in their coconut milk products, finding a source of these products has become increasingly difficult.
Luckily this Trader Joes Organic Coconut Milk qualifies as fully SCD legal coconut milk, AIP coconut milk and GAPS coconut milk compliant. If you have a need for using coconut milk on paleo, it is a great paleo coconut milk brand. With the large number of Trader Joe's stores throughout the country, the addition of this organic coconut milk gives a great alternative option to having to order all Coconut Milk from Amazon or other often less convenient sources.
Where is TJ's Sourcing this new Organic Paleo Coconut Milk?
It's always a fun game to try to guess which brand name product Trader Joe's is sourcing with their unbranded products. This one does say it's a product of Sri Lanka, so it will be interesting if we can figure out which brand they are sourcing this specific coconut milk from. If anyone has an idea of which product Trader Joe's is repackaging and selling, please share your findings in the comments.
I hope the word get's out about this new Trader Joe's Organic coconut milk without additives and it is a huge success. Given that many Trader Joe's products are only available for a limited time, maybe if it's popular enough they will continue to offer it for years to come. It is definitely a great addition to the best paleo coconut milk products available on the market.