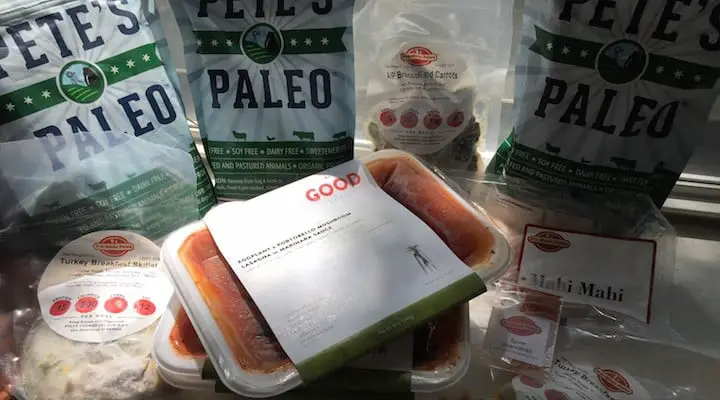 Our readers in New Jersey often wonder what Paleo meal delivery services are out there specifically catering to NJ residents. We attempted to research all the local options, from companies based in NJ delivering to specific metro areas and larger companies that deliver throughout the state of New Jersey.
What are the Paleo meal delivery services available in NJ? There are several local Paleo meal delivery services based in NJ, such as Naked Chef, Clean Eats Meal Prep, Graze and Braise and Eat Clean Bro, as well as a number of services that deliver throughout New Jersey such as Paleo on the Go, Eatology and The Good Kitchen.
We have been covering Paleo meal delivery services in our recent guides but wanted to do a deeper dive in the options specifically in New Jersey in this article. We take a look in depth at each of these Paleo centric companies that cater to NJ residents.
We cover the following....
Local Paleo Meal Companies Delivering to New Jersey
We found the following Paleo Meal Services that Deliver to NJ residents, with some smaller businesses delivering to specific areas of the state while several others deliver state-wide. With all of the choices covered in this article, you'll likely find a great fit for you.
Clean Eats Meal Prep
Clean Eats Meal Prep are a popular meal delivery service based in New Jersey offering an extensive menu. Although they don't market for Paleo diets, they do offer gluten-free, keto and low-carb meal plans, many of which include Paleo-friendly meals.
For example, their 101 Salmon meal involves oven-baked salmon, garlic smashed cauliflower and your choice of vegetable, creating a simple yet clean dish that you can enjoy as a Paleo practitioner. Their meals range in vlaue between $9.49 to $12.99 per complete meal, making them an affordable option for those in the New Jersey area.
You can also earn reward points by purchasing regularly at Clean Eats Meal Prep. For every $1 you spend online, you'll collect 1 point in return. When you collect 100 points, you'll be able to get $3 worth of store credit to use against future orders.
Another perk to ordering from Clean Eats Meal Prep is that they offer a kids menu, which are perfectly portioned for your little ones at $4.99-$6.99.
To find out more, head to: https://www.cleaneatsmealprep.com/
Graze and Braise
Graze and Braise specialise in creating healthy meals with every ingredient listed, so that you can feel confident in knowing exactly what's going into your food. These meals are all 100% Paleo and gluten-free, delivering to the New Jersey area.
Graze and Braise meals contains 4oz of cooked protein as well as 5-7oz of veggies, using only grass-fed, pasture-raised and antibiotic-free proteins, and boast of small-batch cooking methods, preserving flavor and quality.
If this weren't enough, this small business also ensures sourcing locally, by having seasonal menus that make the most of in-season vegetables. For example, their Winter menu uses yams and butternut squash liberally, as well as cassava and brussels sprouts and a wide range of Paleo seasonings and spices.
Graze and Braise also have a Protein Plus option for those who have higher protein requirements. Your selected meals will be delivered fresh on Sundays or Mondays, and can be frozen within 36 hours of delivery if you wish. Depending on the subscription that works best for you, you can expect to pay between $11.42 and $12.60 per meal.
Graze and Braise's current offerings can be found online here: https://www.grazeandbraise.com/
Naked Chef
Naked Chef specialise in creating Paleo, vegan, low-carb and keto meals for their customers in the New Jersey area. This is a meal delivery service offering fresh entrees using only the best ingredients so that you receive truly nourishing and environmentally conscious meals.
Naked Chef meals use grass-fed beef and wild-caught fish as well as organic, local ingredients, all of which are completely gluten-free and GMO-free. They ensure that the packaging they use is eco-friendly, so that you don't need to worry about excessive plastic being used and then thrown away.
This meal delivery service comes highly rated by their customers, some of which include professional athletes such as American cornerback Keion Crossen and MMA champion Garry Tonon.
Naked Chef sells each meal individually as opposed to as a meal bundle, giving you the flexibility of choosing as many or as little meals as you need. As such, meals in the Paleo section of the website are priced between $10.49 and $14.25. You can also buy cooked meats in bulk (a la carte style), as well as their family style dinner, which is $29.99 and serves 4.
To make an order online with Naked Chef, take a look at: https://nakedchef.shop/
Eat Clean Bro
Eat Clean Bro is another healthy meal delivery company serving fresh meals to New Jersey, as well as a wide range of other states in America. Although they are local to New Jersey, they offer UPS delivery to many states on the East coast.
They have an extensive menu on their website, catering for different dietary requirements such as low carb, keto, 500 calories or less, vegetarian, clean options and lean options. You can filter based on preference, taking the effort of finding Paleo-friendly meals out of the equation. For those looking to find strictly Paleo meals, we recommend using the low carb or keto filters, although there are also compliant meals listed under the clean menu.
The other thing that makes Eat Clean Bro easy to navigate is their allergy information. They have interactive notes on every meal so that you can easily see which meals contain allergens such as dairy, wheat, shellfish, eggs, soy and nuts. This is a great tool for those of us following a Paleo diet, and especially for those who have AIP needs too, as you can avoid the meals that list those ingredients and opt for those that have minimal or no allergens included.
Eat Clean Bro also have a rewards scheme for all regular customers. For every $1 you spend with them, you'll receive 1 Bro Point. When you collect 100 points, you'll be able to get $3 credit to put towards future orders. To put this into context, most meals cost between $9.99 and $12.99, so it doesn't take long to rack up those rewards!
For more details, make sure to check out Eat Clean Bro here: https://eatcleanbro.com/
Fit Food NJ
Fit Food NJ is a healthy fresh meal delivery service in New Jersey. Although they do not have a dedicated Paleo menu, they do have a low carb menu with some Paleo-friendly options available, such as their Italian-Style Ground Turkey over Spaghetti Squash.
As well as some compliant low-carb meals, Fit Food NJ also have a Bulk (by the pound) menu, which lists a variety of cooked proteins and sides that can be combined at home in order to create Paleo meals without needing to prepare them from scratch. This is a great tool for those who are busy or just don't want to spend too much time on meal preparation; you can just combine your chosen proteins with sides and reheat when needed.
Some examples of foods available from the Bulk menu include Chimichurri Herb Chicken, Austin Rubbed Steak, Garlicky Green Beans and Roasted Broccoli, amongst many others. Prepared complete meals from Fit Food NJ cost between $10 and $12.95, and Bulk items can range from $4.95 to $14.95 per pound, depending on the item chosen.
To find out more about Fit Food NJ and if you're in their delivery area, check out: https://www.fitfoodnj.com/
Brielle Dahan
Brielle Dahan is a personal chef based out of Montclair, New Jersey, offering Paleo, vegetarian and vegan healthy meal delivery to your door. This option is ideal for those looking to ensure that their diet is completely organic and antiobiotic- and hormone-free.
This bespoke delivery service is also great for those looking to limit the amount of meat in their diet, yet also continue following a Paleo lifestyle. Brielle ensures that your diet is completely gluten-free, soy-free, GMO-free, antibiotic-free and hormone-free, so that you receive the highest quality meals without having to cook them yourself.
Brielle's meal delivery service is included within the price of service, so the price that you're quoted is the price you'll pay – no hidden surprises! The only caveat to using this gourmet service is that you'll need to invest a minimum of 3 days per week, but you can choose 5- or 7-day meal plans as well.
If you're someone who's local to Montclair, doesn't have a lot of time to hand and wants to maintain a high-quality Paleo lifestyle, make sure you take a look at this great service at: https://www.brielledahan.com/
This post contains affiliate links. Thank you for supporting us! Click here to learn what this means.
National Paleo Meal Companies Delivering to New Jersey
If you're out of the catchment area for some of these local New Jersey meal delivery services, or perhaps you have strict dietary requirements, you might be interested in getting meals delivered by a national company specializing in the Paleo Diet who can accommodate these needs. Here are a few of our trusted favorites!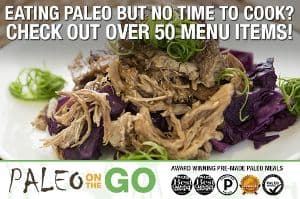 Paleo on the Go
Paleo on the Go are a national Paleo meal delivery service offering their frozen meals to all states in America, including Hawaii and Alaska. They are a 100% Paleo company with a specialism in creating AIP-friendly dishes. This is great news for those who have multiple food sensitivites and aren't able to risk meal companies that aren't explicitly Paleo.
Paleo on the Go also ensure that they are transparent in their food sourcing, opting for humanely-raised livestock which are antibiotic- and hormone-free, as well as being pasture-raised and grass-fed. Any seafood in their meals is also wild-caught and/or organic. They have monthly meal bundles that are formulated based on what's in season at the time.
Meals are generally sold in ready-made bundles, although Paleo on the Go does also give the option of buying meals individually at different price points. If you don't mind experimenting with different meals, we highly recommend one of their meal bundles; their AIP starter pack includes 4 meals, 1 soup, 1 dessert and 1 broth for only $99.
To see what else Paleo on the Go is offering this season, head to: https://paleoonthego.com/
Note: Paleo on the Go is offering a 10% discount for our readers, use code "MYPALEOS" at checkout for 10% off your entire order – one time use.
Here is a video of me unboxing my latest Paleo on the Go order: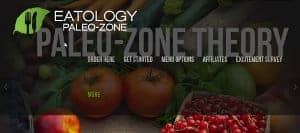 Eatology
Eatology are another of our favorite and trusted Paleo meal delivery services offering meals nationally. They have combined Paleo and the Zone diet principles in order to create meals that are perfectly macro-balanced to ensure maximal energy levels and stable blood sugars.
Instead of confusing us with macronutrients and energy requirements, Eatology use blocks to measure how big their meals are and who they are generally aimed for. For example, 2-block meals are generally targeted to women, whereas 3-block meals are generally targeted to men, based on their energy needs throughout the day.
The great thing about Eatology is that their meals are all the same price; the only variation in price is based on portion size. All 2-block meals are $10.50, and all 3-block meals are $12.75, no matter how many meals you purchase. You can also save money on your orders if you sign up for their recurring program.
Check out the Eatology range here: https://www.eatology.co/
Eatology is offering a 20% off promo for our readers (works for first & all later orders), use code "ZACHPALEO" at checkout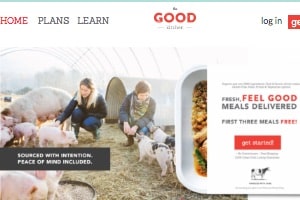 The Good Kitchen
You may be familiar with The Good Kitchen's offerings if you've been to Walmart's frozen section recently; Walmart have been stocking The Good Kitchen's frozen meals as part of their health initiative to encourage people to try healthier products.
The Good Kitchen also have their own line online to order from, which can be in the form of a regular home delivery service or a one-time bulk order, depending on your preference and needs. If you're interested in getting routine deliveries, you'll be able to save money per meal by opting for their subscription service. Alternatively, you can also order 20 delicious Paleo meals for a one-time cost of $249, which includes free delivery.
In regards to food quality, The Good Kitchen are amongst the top, using only 100% grass-fed and grass-finished beef, pasture-raised pork, poultry, lamb, turkey and eggs, and Seafood Watch compliant seafood. The Good Kitchen are also actively looking to improve farming and sourcing methods by engaging in sustainable agricultural projects with suppliers.
To place your order, head to: https://www.thegoodkitchen.com/
The Good Kitchen is offering a 15% discount for our readers. Use promo code "mypaleos" at checkout for 15% off your first order.
I created a video while unboxing a recent TGK order in case that is helpful:
Paleo in a Pandemic
If you're reading this in 2020, then you'll know we've had a bit of trouble on our hands recently, what with a wideworld pandemic and all that.
So it's understandable that many of us who have been following a Paleo diet will be avoiding going to the grocery stores and trying to find out if there are any Paleo meal delivery services in the local area, including (but not limited to) New Jersey.
So today we've decided to put together a list of local New Jersey Paleo meal delivery companies, so that you don't have to worry about making meals from scratch, and you don't need to be concerned with going out to get fresh ingredients from the grocery store every few days in order to stay in line with your Paleo lifestyle. Instead, all you need to do is order online, stay home, relax, and wait for your nutritious meals to arrive on your doorstep!
Every Year There Are More Options For Paleo Meal Delivery in New Jersey
We hope that this guide has given you a good perspective on the many different Paleo meal delivery companies operating out of New Jersey, as well as some national options just in case you're unable to get doorstep delivery or you have stricter dietary needs.
Because New Jersey is quite a health-conscious area, it's incredibly likely that more and more Paleo meal delivery services will start to open in time, so that you have an even wider array of small businesses to choose from and support. We appreciate that in an ideal world all of us would be able to prepare healthy meals from scratch, but it's always good to have ready-made Paleo-friendly frozen meals to hand for extenuating circumstances (especially if we're unable to get out and about as much as we'd like due to Covid-19!).
And even if you're reading this during/after the 'new normal', there's no reason why you can't make sure you're well-stocked with Paleo frozen meals for when you're too busy or tired to make dinner!
Other New Jersey Paleo Meal Delivery Companies
Have you come across any other Paleo meal delivery services in the New Jersey area that we've missed out? We'd love to hear about them! Just shoot us a message and we'll make sure we update our article so that everyone can enjoy their meals!