Sprouts Market is a great choice for those in the Western US to stock up on healthful organic and natural foods, but what about Paleo meals, specifically in their frozen food aisle? This is a question that has been posed and in this article we dive deep into researching what's available.
In short, are there Paleo friendly frozen meals at Sprouts for purchase?
Yes! Sprouts has several frozen meals that would be generally considered to be Paleo.
We'll cover these meals in this article.
Whether you're a seasoned Paleo practitioner, or you're just getting started on your Paleo journey, there are always going to be food-related questions that need answering. There has been a lot of interest from readers about what is available at their local store.
Sprouts is a popular grocery store stocking health foods, so it would be reasonable to assume they have some Paleo meals available. Well, we've taken a look around and compiled a list of what they've got on offer for Paleo people like you and I.
If you're wondering whether it's worth a trip to Sprouts to stock up on Paleo frozen meals, read on…
We cover the following....
Paleo Frozen Meals at Sprouts
So we've already said that there are Paleo frozen meals available at Sprouts, but just how extensive is their line? These are the meals we could uncover that Sprouts stocks that would generally be considered to be Paleo (at least by many).
Here are 3 of their Paleo frozen entrees, which are on offer at most of their stores.
Cedarlane Adobo Chicken Paleo Bowls – This Paleo bowl has riced cauliflower as a base, with white chicken and a coconut amino-balsamic vinegar marinade.
Cedarlane Lemon Thyme Chicken Paleo Bowls – Cedarlane's Lemon Thyme bowl has a base of roasted root vegetables topped with white chicken and a lemon-thyme marinade.
Birch Benders Paleo Toaster Waffles – These can be found in the frozen section at Sprouts, and contains tiger nut flour and cassava starch with the goal of making compliant waffles. Although most would consider technically Paleo, we don't recommend using these as a dinner replacement every night – probably better as an occasional breakfast or after dinner treat!
Bear in mind that Sprouts is consistently adding things to their stores, so if there's something that you want them to add to their line, make sure you get in contact and tell them. This is the only way to let them know that there's a demand for more Paleo frozen meals.
Unfortunately, this is all Sprouts has on offer in terms of Paleo frozen meals. As you can see, there's not a huge line of frozen meals that fit the Paleo parameters, but there are quite a few 'quasi-Paleo' frozen meals, which we'll cover next.
Quasi-Paleo Frozen Meals at Sprouts
Quasi-Paleo frozen meals are meals that we consider mostly Paleo. All of the frozen meals we found at Sprouts to be 'quasi-Paleo' are completely gluten-free, so you don't need to worry about accidentally eating gluten in any of the meals we've listed.
However, some of these meals will contain some non-Paleo ingredients, such as dairy, soy, added sugar, industrial seed oils, rice and legumes. It's up to you whether you can tolerate small amounts of these ingredients in your diet, so we've listed which non-Paleo ingredients are in the meals listed below.
If you're keeping primal and or are not intolerant to these ingredients, these quasi-Paleo frozen meals available at Sprouts can be a useful alternative if you're struggling to find strict Paleo meals.
Gluten-free and dairy-free meals:
Red's All-Natural Riced Cauliflower White Meat Chicken Teriyaki Bowl – This cauliflower bowl topped with chicken is gluten-free and dairy-free. The non-Paleo ingredients in this dish includes soybean and added sugars.
Blake's Chicken Pot Pie – Blake's Chicken Pot Pie is also gluten-free and dairy-free. However it contains soybean and rice which are not considered Paleo.
Red's All-Natural Chicken & Riced Cauliflower Burrito Bowl – Another variation of Red's cauliflower bowls is gluten-free and dairy-free. Where it uses cauliflower as a base, it takes out rice which is usually used as a filler in most frozen entrees. Its non-Paleo ingredients include sugar, canola oil and corn.
Amy's Thai Pad Thai – Amy's take on a gluten-free pad thai is also dairy-free. However, it does contain non-compliant ingredients such as tofu, sugar, rice, soybeans, cashews and industrial seed oils.
Gluten-free meals containing dairy:
Cedarlane Chicken Souvlaki – These bowls are part of Cedarlane's other options, which also happen to be gluten-free. However, they aren't marketed as Paleo because they contain dairy and rice. If you're not concerned about the occasional meal with dairy or non-gluten grains, these are a good option.
Cedarlane Chicken Fajita – Similarly, the Cedarlane Chicken Fajita entree is also gluten-free. However, it does include whey, rice, beans and seed oils in the ingredients list.
Cedarlane Chicken Enchilada The Cedarlane Chicken Enchilada is  gluten-free, and lists corn, beans, dairy, seed oils and soybean as part of the ingredients list.
Other Paleo Products at Sprouts
If you are going to Sprouts to look for Paleo friendly frozen meals, you might want to consider picking up some other Paleo products that are stocked by Sprouts to compliment the meals or for in-between meal snacks.
These are products that aren't frozen meals, but they are completely Paleo-friendly, available to buy at Sprouts, and can be used to supplement your healthy whole foods lifestyle.
Birch Benders Paleo Pancake & Waffle Mix – This is the dry version of the waffles you can get in the frozen section. This pancake & waffle mix contains cassava flour, coconut flour, almond flour and eggs – a potential breakfast treat.  
Garrett Valley Sugar-Free Dry-Rubbed Paleo Bacon – Many brands that sell bacon have added sugars in their ingredients list, except this sugar-free Paleo bacon that Sprouts stocks in their chilled section. You can use this bacon at breakfast or as a side in your meals.
Applegate Chicken & Sage Breakfast Sausage – These Paleo breakfast sausages are a perfect source of protein for the morning, and can be paired with eggs or Paleo pancakes. You'll find these chicken sausages in the frozen aisle at Sprouts.
Bonafide Provisions Chicken Bone Broth – Many people find that bone broth is helpful in keeping their gut health tip-top. This is why the Bonafide Provisions broth is great for Paleo practitioners. You can drink it on its own warmed in a mug, or you can add it to your meals to add flavor to a soup or a curry. These broths are found in the frozen section at Sprouts.
Bonafide Provisions Beef Bone Broth – This is the beef version of Bonafide Provisions' bone broths. Both the chicken and beef broths have equal benefits, so it's entirely up to preference which you choose.
Bubba Burger Grass-fed Burger – These grass-fed burgers are found in the frozen section at Sprouts and make a good protein source for any meal. The only thing with these burgers is that they don't come with any side dishes like a typical frozen entree would. However, all you need to do is find some frozen veggies to pair it with and you'll have a healthy, Paleo-friendly meal at home.
Jones Dairy Farm Golden Brown All Natural Turkey Sausage Links – Another good option for a breakfast are these turkey sausages. In fact, you can use them in any meal you like and the ingredients would be considered by many to be Paleo compliant. You'll find them at Sprouts in the frozen section.
Jones Dairy Farm Golden Brown All Natural Pork Sausage Link – This is the pork sausage that Jones Dairy has available at Sprouts. If you're not a fan of turkey, you might want to try these instead. They're an option for Paleo breakfasts and can be found in the frozen aisle at Sprouts.
This post contains affiliate links. Thank you for supporting us! Click here to learn what this means.
Getting Paleo Frozen Meals Delivered to Your Home
For some, limiting yourself to what's available at your local Sprouts may feel might still feel like your needs aren't being met.
For example, the best of the options at Sprouts likely would not meet the needs of those who are keeping strictly to the diet and only eating meals that are exclusively grass-fed/wild-caught proteins and organic vegetables with no gray area ingredients. Mass-produced meals in any grocery store rarely fully qualify, even those marketed as Paleo.
If this is the case, don't worry, because we've got you covered. The companies covered below deliver to your home, no matter where you live as long as you live in the US. These companies take the Paleo principles very seriously, often using ingredients that are more in line with Paleo principles than what you might be able to find to make meals at home.
It's all well and good that there are a couple of Paleo frozen meal options at Sprouts, but 2 entrees and 1 waffle choice may not be suitable for your lifestyle.
For others, it's fantastic that there are so many Paleo pantry and other options at Sprouts, but you might find that you simply don't have time to assemble meals, hence the need for frozen entrees in the first place.
Here's a list of reputable Paleo meal delivery services offering frozen meals shipped straight to your doorstep. You don't need to leave the house to get them, and you can stock up on as many Paleo frozen meals as you need.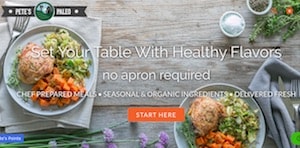 Pete's Paleo
Pete's Paleo are based in Atlanta, Georgia, and is another fantastic Paleo meal delivery service supplying to customers in the United States. They produce fresh Paleo meals that are shipped in vacuum-sealed packs, which retains their freshness and nutrient density. This means that they aren't frozen meals, but this doesn't mean that you can't freeze them upon arrival, and in fact, they freeze very well.
Pete's Paleo source their ingredients from organic local farms, and ensure that they only use what is in season at the local farms that week. Their animal protein is grass-fed, pasture-raised and free-range, and they use seasonal and organic produce. They also don't add any extra unnecessary ingredients like sugar, soy or industrial seed oils.
If you're interested in using Pete's Paleo, you'll sign up for a subscription service. You can choose between 5, 10 or 14 meals a week, with an additional Family Plan if needed, and can pick weekly or fortnightly deliveries. Alternatively, you can order when you need them, which means that you don't receive regular deliveries.
For more information about Pete's Paleo and to see their seasonal menu this week see: petespaleo.com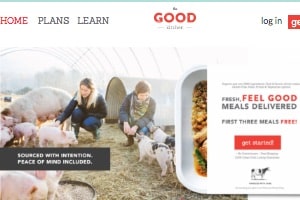 The Good Kitchen
The Good Kitchen is based in North Carolina, and have both a Paleo meal delivery service and frozen meals stocked at a number of stores. One of the retailers that stocks The Good Kitchen's Paleo frozen meals is Walmart.
The Good Kitchen are passionate about creating Paleo meals that are also appropriate for those following the Whole30 reset challenge, meaning that their meals are sugar-free, alcohol-free and legume-free. This is good for people who are also following a Paleo AIP diet, which is a bit stricter than the baseline Paleo diet.
If you're interested in taking advantage of their frozen meal delivery service, you can either subscribe for weekly orders or make a one-time order. One-time orders contain 20 meals and costs $249; roughly $12.45 per meal. If you go for their subscription service, you'll pay between $11 and $14 per meal depending on how many Paleo frozen meals you need.
The Good Kitchen source their ingredients from high-welfare farms and farmers who use organic practices, so you can be confident knowing that you're getting really nutritious food.
To see all the meals available for delivery through TGK, see: thegoodkitchen.com 
The Good Kitchen is offering a 15% discount for our readers. Use promo code "mypaleos" at checkout for 15% off your first order.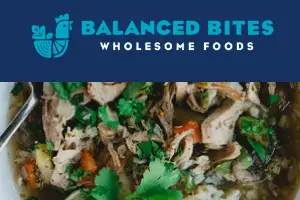 Balanced Bites
Balanced Bites was set up by Paleo best-selling author Diane Sanfilippo. They're based in California, and ship Paleo, Keto and low-sugar frozen meals all over the United States.
Balanced Bites meals are delivered in boxes of 10 meals. You'll pay $159.99 for 10 meals, which averages out to $15.99 per meal. Their meals are then shipped frozen to your door. You'll have the choice of putting them straight into the freezer, or, if you just can't wait, you can heat one up and have it right away!
Typical favorites available at Balanced Bites includes Pork Shoulder Carnitas, Green Sauce Steak with Plantains and Orange & Olive Chicken. You'll also love the fact that all of the ingredients, although not entirely grass-fed and organic, are of very high-quality and help you to benefit from a nourishing, nutritious meal even when you don't have time to cook.
To find out more, check out: https://meals.balancedbites.com/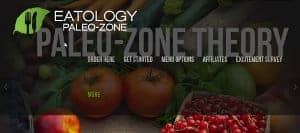 Eatology
Eatology has been creating Paleo and Zone diet appropriate meals for a number of years now. They specialize in creating entrees that can be used by those looking to balance their blood sugar, or who are athletes interested in enhancing their performance.
They use the combination of Paleo and Zone diet principles to get the best results for their customers. This means that every meal is perfectly balanced and will keep your energy levels up for hours.
Their Paleo frozen meals can be bought as an ongoing subscription, or can be bought as a one-off order. Interestingly, they even have family platter options for those who have between 4-6 people living in a household, making food preparation hassle-free and enjoyable whilst still maintaining the Paleo philosophy.
Because they use a 'block' system to measure out their portion sizes, you'll be expecting to pay $10.50 for 2 block meals, and $12.75 for 3 block meals. To give you an idea of what this looks like, 2 block meals contain roughly 155-175 calories, and 3 block meals contain 230-250 calories.
If you're interested in buying from Eatology, see the following link:
To see all of Eatology's Paleo Zone meal offerings take a look at their current menu:  http://www.eatology.co 
Eatology is offering a 20% off promo for our readers (works for first & all later orders), use code "ZACHPALEO" at checkout
Have Other Paleo Frozen Meal Suggestions at Sprouts or Elsewhere?
Hopefully we've managed to answer your question today about Paleo frozen meals at Sprouts. We appreciate that there aren't a lot of options currently available in stores, but we encourage you to support your local store and contact them regarding Paleo frozen meals.
If there's a greater demand for more Paleo frozen meals, it's likely that Sprouts will listen and start stocking them. They can also keep you up to date with when they expect to have new shipments of Paleo frozen meals in, so you don't have to miss out on getting your favorite meals.
Alternatively, you can also take advantage of the many Paleo meal delivery companies that are out there, who would be happy to ship a box of delicious Paleo meals straight to your doorstep, without you needing to lift a finger (except maybe the one pressing the checkout button!).
If there are any other Paleo frozen meals or similar that you've found at Sprouts, why not leave us a comment below so that we can check them out?