A common question that comes up when talking about for-purchase Paleo meals is whether you can buy these Paleo frozen meals in bulk to save money, similar to the way people buy bulk toilet paper at Costco to cut costs.
Purchasing Paleo frozen meals can be a huge time saver and help you manage the logistics of staying on the diet long term. But let's face it, they can get pricey quickly.
The great news is that a number of the companies in the Paleo prepared meal space have heard your pleas and a number offer bulk or family pricing for their meals. In this article, we cover what is currently available.
This post contains affiliate links. Thank you for supporting us! Click here to learn what this means.
We cover the following....
Which Companies offer Bulk Paleo Frozen Meals?
We've put together a list of national companies who offer bulk Paleo frozen meals, so that you can safely order and stock up for when you need them most.
All of the companies covered here will deliver to all addresses anywhere in the US, so no matter where you live you can order meals from these bulk plans.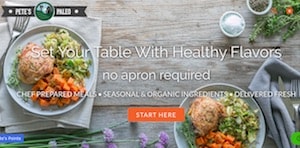 Pete's Paleo
Pete's Paleo are a Paleo meal delivery service with kitchens both in Atlanta and San Diego. They have gained popularity over the last few years for the ultra-seasonal meal ingredients and the many local farms and suppliers that they source from.
Pete's is predominately a subscription-based service, but they have several bulk package offerings as well.
The least expensive is their No Prep, Heat & Eat Cauliflower Bowls 10 meal bundle, with each meal for roughly $10. This is their least expensive out of a few sizes of bulk cauliflower rice bowls, ranging from 3-10 meals in size. This can also be a great option to try out their meals. The cauliflower rice bowls are shipped frozen, unlike other Pete's meals, so they truly are a frozen bulk Paleo meal option.
They also offer a "When ya need us" Paleo meal bulk bundle. This option contains 14 meals, each one well-rounded with 5 ounces of protein and 7 ounces of veggies.
This 14 meal bulk bundle costs $196.00, meaning that each meal costs $14. You'll also be pleased to hear that most orders like these ship completely free.
The majority of Pete's Paleo meals are delivered fresh, not frozen, so this might be something you need to be mindful of. However, Pete's Paleo ensure maximal freshness by vacuum-sealing their containers, meaning that they will also freeze very well. All you need to do is remember to put them in your freezer when you receive them (just like you would with a box of frozen meals).
See petespaleo.com for current bulk meal offerings (note several of the bundles mentioned are under the "Eat What you Love" section of the website)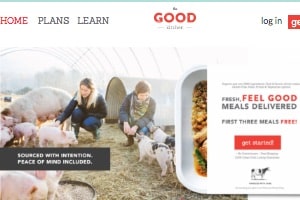 The Good Kitchen
The Good Kitchen are based in North Carolina, and have both a subscription service and an a la carte menu available to customers, but they also offer a bulk purchase of 20 meals they call their "One Time Order".
The One Time Order option from The Good Kitchen is currently priced at $249, making each meal about $12.50. One thing to keep in mind with this type of order is that they will pick the individual meals for you.
Although this may not be the absolute cheapest option we have listed for bulk meals, it's a substantial savings over the average price of some of the pricier frozen Paleo Meals out there – especially considering TGK is one of the companies using only the high end range of Paleo compliant ingredients.
They use grass fed, grass finished or wild proteins in their meals, a far cry from what is in frozen meals available at the grocery store. In addition, they focus on organic and in-season ingredients from local farms near their kitchens in NC.
The Good Kitchen are well-known for their sustainable business practices, only using local and high-welfare farms and opting for organic ingredients where possible.
Their Paleo meals and Whole30 meals are shipped frozen to retain their freshness and nutritional value. If you decide to go the a la carte route instead, bear in mind that The Good Kitchen will only allow you to buy a minimum of 7 meals from their a la carte menu, which shouldn't be a problem for those of you looking to bulk purchase.
The price of each meal ranges from $11.99 to $15.99 if ordering the meals individually versus as part of their One Time Order bulk option. There doesn't appear to be a maximum number of meals if ordering a la carte that you can order, so feel free to load up on as many tasty meals are you want!
See thegoodkitchen.com for The Good Kitchens complete menu and bulk meal options
The Good Kitchen is offering a 15% discount for our readers. Use promo code "mypaleos" at checkout for 15% off your first order.
I created a video while unboxing a recent TGK order in case that is helpful: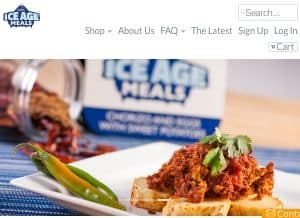 Ice Age Meals
Ice Age Meals is a popular Paleo meal delivery service that ships to the entire USA, including Hawaii and Alaska. They produce Paleo frozen meals that are affordable and macro-balanced.
Ice Age Meals give you a range of different options to buy in bulk. The benefit of ordering from this company is that you don't have to commit to a subscription service; you can purchase a box as and when you need a new supply of Paleo frozen meals.
They have boxes of 6, 14, 24 and 48 available, which suits an array of needs. If you're interested in buying in bulk the latter two options may be more appropriate for you, depending on how many people are living in your household.
Additionally, if you choose the 24 meal option, you can save 25% on your order. If you choose the 48 meal box, you'll save 29% on your order. The amount you pay overall will vary depending on the meals you choose, but you can expect to pay roughly between $10.99 and $13.75 per meal.
On top of this, all meal boxes of 24 and 48 will ship nationally for free, so there are no hidden or unexpected costs.
To find out more, check out https://iceagemeals.net/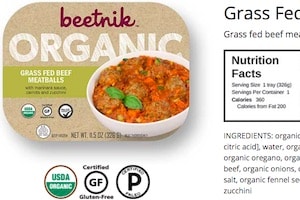 Beetnik Foods
Beetnik Foods are a family-run, Paleo meal company based in Austin, Texas. They have been creating Paleo frozen meals since 2012, and their popular organic meals are now stocked in many retailers such as Walmart, Kroger and Whole Foods.
This allows you to stock up on as many frozen meals as you like instores, but you can also purchase Beetnik Paleo meals online as well. Beetnik Foods has a dedicated online store where you can buy their meals in bulk.
An example of one of their value packs is their Super Paleo Pack, which is valued at $169.00 and includes 24 meals. That makes this option extremely affordable at only $7 a meal, which is great for those of us on a budget.
On top of this, Beetnik Foods also have a similar Whole30 themed meal bundle which is valued at the same price.
You can expect meals such as their Organic Shepherd's Pie with Grass-Fed Beef and their Organic Peruvian Chicken Stew.
To get an idea of what else is on offer at Beetnik Foods, head to:
Prices via Amazon or http://www.beetnikfoods.com/
Family Size Paleo Frozen Meal Bundles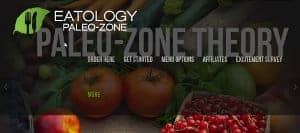 Eatology
Eatology specialise in making delicious Paleo meals that also fit in with Zone principles. The Zone diet is popular amongst Crossfit athletes and people interested in stabilising their blood sugar levels and weight loss.
To make sure they create Paleo meals that are suitable for everyone, they use a block system to ensure there's a good balance of protein, fats and carbohydrates in every dish.
For those who are looking to buy these types of meals in bulk, we suggest taking a look at their Family Platters. This menu is designed for those ordering for between 4 and 6 people, but you can divide the dishes up into single meals at home if you'd prefer.
Each Family Platter is priced at $45 and can be divided into 6 individual meals, making each meal about $7.50. If you're ordering from Eatology, your Paleo food will arrive frozen, and lasts for 6 months in the freezer – a great reason to stock up when you can.
See http://www.eatology.co for Eatology's Paleo-zone meals and family meal options.
Eatology is offering a 20% off promo for our readers (works for first & all later orders), use code "ZACHPALEO" at checkout
Pete's Paleo (also covered above) Family Meals
In addition to the Pete's Paleo Bulk meal bundles covered above, Pete's Paleo also offers a family meal package that can help cut costs as well.
Pete's family meals are 4 servings per meal, and contains 5 total meals – meaning you get 20 servings of food although with less variety than ordering 20 individual different entrees.
There are some cost savings, at $280 for 20 servings, that is $14 per serving. However, the bulk meals from Pete's such as the cauliflower rice bowls mentioned above are typically less expensive, so unless you have a family and are simply ordering the family meals to cut costs, you may do better with some of the bulk offerings mentioned above.
Large Size Paleo Subscription Boxes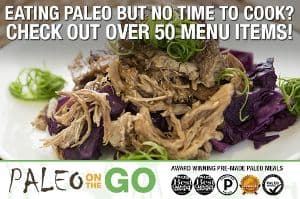 Paleo on the Go
Paleo on the Go are based in Florida, and provide Paleo frozen meals to every state in the USA. Using frozen meals means that your food will retain its freshness and quality, so that you can enjoy Paleo on the Go's meals to the full.
They have a whole section dedicated to the AIP diet (the Autoimmune Protocol), as well as a Whole30 menu. If you're interested in buying Paleo meals in bulk, you can purchase one of their meal bundles. Their monthly meal bundle includes 10 meals, 1 soup, 1 bone broth and 1 dessert.
You can also rest assured that you're getting the best ingredients in your meals, as Paleo on the Go only sources from high-welfare farms which raise their livestock on pasture. Much of the produce they use is organic, and their cooking oils and minimally processed.
See paleoonthego.com for bundles, prices and meal options.
Note: Paleo on the Go is offering a 10% discount for our readers, use code "MYPALEOS" at checkout for 10% off your entire order – one time use.
In case it's helpful, I took a video of unboxing a recent Paleo on the Go order: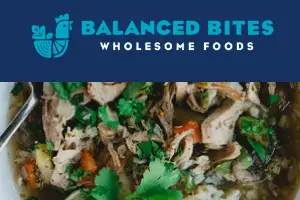 Balanced Bites
Balanced Bites, a relatively new Paleo meal delivery service set up by best-selling author Diane Sanfilippo, delivers frozen Paleo and low-sugar meals to citizens of the US.
If you're looking to bulk buy these meals, you'll want to order one (or two!) of Balanced Bites meal bundles. You can buy as many of the Paleo boxes as are available, with each box costing $159.99. This means that each meal costs $15.99.
Balanced Bites makes sure to use fresh, high-quality ingredients in their meals, and has other add-ons like olive oil sachets and chicken broth that you can tack onto the end of your order.
If you live in the continental US, you'll also benefit from free shipping, so you'll only pay for the value of the meal bundle and nothing else. If you live in Hawaii or Alaska, unfortunately there will be an additional shipping fee which is calculated at checkout. However, Balanced Bites meals are so appetizing that you'll want to at least give them a try!
To see what's currently on offer, see: https://meals.balancedbites.com/
Why Use Paleo Frozen Meals?
We appreciate that the Paleo lifestyle tends to veer away from the Standard American Diet, also called the SAD diet for people in the Paleo community. This means that the Paleo diet doesn't fit our modern lifestyles very easily, for the primary reason that we just don't have time to chop vegetables and prepare meals from scratch every day.
Using Paleo ready-made meals might be considered 'cheating' by the more stringent in the Paleo community, but for most Paleo practictioners, using ready-to-heat Paleo-friendly meals is a lifesaver. In fact, Paleo frozen meals retain a lot of nutritional value because they are preserved in one state, whereas fresh meals tend to deteriorate the longer that they are left before consumption.
Having a supply of Paleo frozen meals tucked away can mean the difference between having a delicious, nutritionally-rounded meal for dinner, or reaching for a take-out menu and ordering a meal that makes you feel bloated and heavy – not your best self.
For many people following a Paleo diet, straying from the Paleo principles is simply not an option. There are many people like myself, who found the Paleo diet as a result of pursuing an alternative way to improve the symptoms of my autoimmune disease.
If you're like me, you'll find that you can't just order a takeout meal, and you can't risk eating foods that irritate your symptoms. In fact, some of the side-effects you might experience from not following a strict Paleo diet can put you out for days at a time.
So it's really important that there are a number of Paleo frozen meals available for us to use on days that we're running late, working long hours, or simply just don't want the hassle of preparing a meal.
Every Year There Are More Bulk Paleo Frozen Meal Delivery Services
As you can see from the article we've put together today, there are plenty of companies all over the United States offering bulk Paleo frozen meals that are available for delivery straight to your doorstep.
And with more and more people realising the benefits of following a Paleo diet, those numbers are only bound to increase. People are caring more about the source and quality of their food than ever before, so companies like the ones listed above will only become more popular as time goes on.
We hope that you've learnt that using bulk Paleo frozen meals can be a great tool to add to your healthy lifestyle, and that actually, taking advantage of a meal delivery service is only going to assist you in staying the path for the long-term.
If the year of 2020 has taught us anything, it's that you can't always guarantee that you're going to be able to go to the grocery store any time you like. There's not always times that you're going to be able to get fresh food to prepare a healthy Paleo meal. In cases like these (although we hope they're few and far between), it's always a good idea to have an array of bulk Paleo frozen meals to hand.
Other Bulk Paleo Frozen Meal Options
We're always looking for more bulk Paleo frozen meal companies to promote, so if you've come across a meal delivery service that's blown you away, why not comment them below so everyone can check them out and show their support?