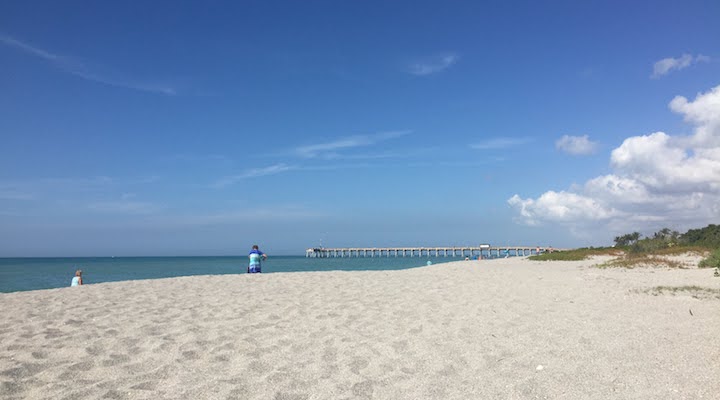 If you're a Floridian, then you probably care about your health and nutrition. This is why many citizens of Florida are asking; are there any Paleo meal delivery services in Florida? Well, we did the hard work for you, and we can say: yes!
If you're reading this page now, then you probably know all about the benefits of a Paleo lifestyle: stable energy levels, better sleep, clear skin, improved mood and little to no bloating, just to name a few.
But it's always good to be reminded of the positive aspects of a Paleo diet, especially on those days where you don't want to cook and you're starting to reach for the bag of chips. Finding a meal delivery service that caters to your Paleo needs can involve extensive, time-consuming research, and let's face it, you've got better things to do.
Which is why we've come up with a complete guide to ordering Paleo meals in Florida.
Read on to find out who might be serving up delicious Paleo food just around the corner!
This post contains affiliate links. Thank you for supporting us! Click here to learn what this means.
We cover the following....
Paleo Meal Delivery Services Based in Florida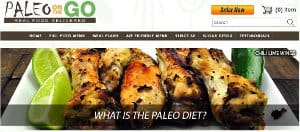 Paleo on the Go
Paleo on the Go are a well-known Paleo meal delivery service based in Largo, Florida. They provide chef-prepared, real food to your doorstep. Everything they make is 100% Paleo and AIP-friendly, which is great news for those of you who have more specific dietary restrictions.
Paleo on the Go wholeheartedly care about farm-to-fork food, ensuring that they use local farms and suppliers for their dishes. The farms that they have cultivated strong relationships with have high animal welfare standards, so you know that the animals have had a happy and healthy life.
They deliver throughout the state of Florida, as well as all other states in the US. Rest assured that even though they might be a bigger company, they have built their business on honest and eco-friendly practices. Their delivery and food packaging is recylable and made from recycled material.
POTG has also spent time and effort cultivating menu options for those on the strictest forms of the Paleo Diet for autoimmune issues. Along with their more standard dishes, they have put together dishes that are often hard to make on the most restrictive forms of the Paleo Diet, such as empanadas, pot pies and hot pockets and found ways to make them while still conforming to the the Paleo Autoimmune protocol. This can be great for those tying to use the Paleo Diet to try to heal from health issues.
Food is shipped frozen to maximise freshness, and rather than having a weekly subscription service, they have a $99 minimum order spend, so you can stock up as and when you need.
To find out more, check out: paleoonthego.com 
Note: Paleo on the Go is offering a 10% discount for our readers, use code "MYPALEOS" at checkout for 10% off your entire order – one time use.
Here is a video of me unboxing my latest Paleo on the Go order: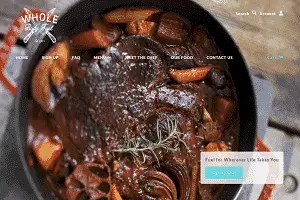 Whole Body Fuel
Based locally in Tampa are Whole Body Fuel, a meal delivery service with a whole menu dedicated to Paleo meals. Not only this, but Whole Body Fuel caters to those following athletic performance based plans, ketogenic diets and vegetarian diets, as well as standard fare.
Whole Body Fuel serves the local Tampa area, but also ships nationally every Monday night, which is great for those living in the rest of the state of Florida. Another plus is that you can recommend this service to friends and family who live out of state.
Breakfast, lunch and dinner has never looked so good, with Paleo meals such as Apple Cinnamon Paleo Protein Pancakes and Salsa Roja Pork with Cumin Dusted Butternut Squash and Steamed Green Beans; there's something for everyone!
To support this local company, order from: https://wholebodyfuel.com/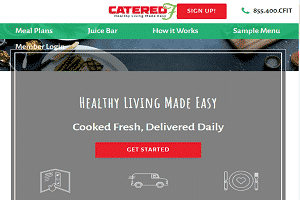 Catered Fit
Catered Fit is based in Fort Lauderdale, and delivers Paleo meals daily to Southern and Central Florida. However, if you're based in Northern Florida, never fear, because Catered Fit ships weekly to all other Florida locations and states between Texas and New York.
Catered Fit has four main meal plans: Classic, Paleo, Meatless and Keto. They include the nutrient breakdown of every meal so that you can account for calorie intake. Their meals are cooked fresh and delivered fresh in vacuum-sealed packs. However, they can be frozen once delivered, or kept in the fridge for up to 14 days.
For those choosing the bulk meal option, you will need to sign up for weekly delivery. Alternatively, you can choose to opt out of auto-renewal.
Their ingredients are locally-sourced, and they use 100% recycled packaging, so you can be sure that Catered Fit are doing their best to encourage local businesses and improve their environmental sustainability.
To see Catered Fit's offerings, see: https://www.cateredfit.com/
Regional FL Paleo Meal Delivery Services
Orlando Food Department/Fire Dept Meals
Orlando Food Department have recently rebranded as Fire Dept Meals, and is a meal delivery service operated by firefighters in the city of Orlando. Unfortunately, although a fantastic service through and through, they are only able to deliver to a 25 mile radius from their base. This is because they deliver everything personally, and are not quite big enough (yet!) to incorporate other methods of shipping.
However, if you're local to the Orlando area, you might want to show your support for this team and help them to expand their business. They don't brand themselves as Paleo, but many of their meals are Paleo-compliant, as indicated by the labelling system they use. All meals are also adaptable; all you have to do is ask!
To get yours, all you have to do is order $65 worth of food with no extra commitments or contracts, and they will happily hand-deliver your meals on the following Monday.
To make your order, see: https://firedeptmeals.com/  
National Paleo Meal Delivery Services Delivering throughout Florida
The following companies all commit to delivering to addresses in Florida as well, even though the kitchens are in other areas of the Southwest.
We've tried to order the following Paleo meal delivery services in relation to distance to Florida; we've found national Paleo meal delivery services based in bordering and local states such as Georgia, North Carolina and Texas.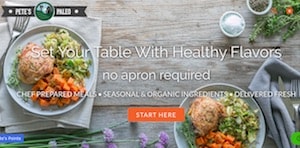 Pete's Paleo
Pete's Paleo is a renowned Paleo meal delivery service with their kitchen (and sourcing for meals for Florida residents) based out of Atlanta, Georgia. They specialize in creating seasonal, fresh, locally-sourced meals that also use organic ingredients. But what sets Pete's Paleo apart from other meal delivery services is that they ONLY use in-season ingredients from local farms – it's as if they go to a farmers market each week, see what's in season and fresh and then plan their meals each week around those ingredients.
They have a Paleo menu and a Paleo Lite menu for those looking for a lower-calorie meal plan, as well as a line dedicated to sugar detoxes.
Their meals are delivered fresh (vacuum sealed so they last about 10 days in the refrigerator) and to your door, including all zip codes in the state of Florida. Pete's Paleo uses a subscription service where you choose either 5, 10 or 14 meals to be delivered weekly based on your needs. They also have a family option and a vegetarian plan.
To find out more about Pete's Paleo, see: petespaleo.com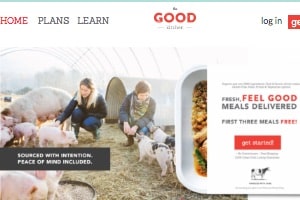 The Good Kitchen
The Good Kitchen is based in North Carolina, and provide a range of Paleo and Whole-30 approved meals that can be delivered straight to your doorstep, even if you live in Florida. In fact, The Good Kitchen delivers all over the continental US. Their line of frozen Paleo meals are also featured in Walmart stores all over the country, so you can also buy in-store if you need to.
Their online service explains that The Good Kitchen are passionate about farm-to-table food, and source their ingredients from local farms that use sustainable farming practices.
They are also one of the more affordable national Paleo meal delivery services, offering meal packages that work out to between $11-$13 per meal. That's a reasonable price to pay for a dish that's grass-fed, pasture-raised, free-range and delivered to your house.
See thegoodkitchen.com for prices and menus.
The Good Kitchen is offering a 15% discount for our readers. Use promo code "mypaleos" at checkout for 15% off your first order.
I took a video when unboxing a recent TGK order: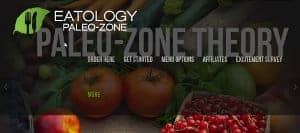 Eatology
Eatology use Paleo and Zone diet principles to design meals that are clean and macro-balanced. The Zone diet uses a 'block' system to portion out the correct quantities of protein, carbohydrate and fat in each meal.
Eatology are based in Bryan, Texas, but ship all over the United States. However, because this business is still quite small, for every 15 meals you order to Florida you will need to pay an additional shipping charge of $25. Deliveries from Texas to Florida will take between 2 and 3 days depending on where you live in the state.  
However, if you're a Paleo athlete, then you'll find that Eatology are one of the best meal delivery services around that help you to meet your goals. Not only is fat loss a side effect of using Paleo and Zone theory, but you'll find that balanced energy levels and improved mood are other benefits.
To see what they've got on offer, go to: http://www.eatology.co 
Eatology is offering a 20% off promo for our readers (works for first & all later orders), use code "ZACHPALEO" at checkout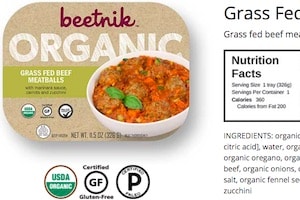 Beetnik Foods
Beetnik Foods has roots in Austin, Texas, and serves the entire USA as a supplier of frozen and organic Paleo meals to large retailers such as Walmart, Kroger and Whole Foods.
However, you can also benefit from experiencing Beetnik's range of meals by ordering their meals online. Their online store allows you to buy individual meals for an average of $8 each, as well as opting for Paleo meal packs which include 24 meals each.
Beetnik Foods are all about organic, with all meals being completely organic. They also make sure to only use animal protein that has been humanely-raised, such as grass-fed beef and pasture-raised poultry. As a result, you get a product that tastes great and you can feel great about.
To get a look at Beetnik's meals, check out:
Prices via Amazon or http://www.beetnikfoods.com/
Every Year there are More Options for Paleo Meal Delivery in Florida
Regardless of your situation, you're always going to have days where you don't feel enthralled with the idea of preparing a Paleo meal from scratch. In these cases, having a reliable Paleo meal delivery service in your toolkit is really helpful. Having some Paleo ready-made meals on hand can help you to stay on track with your diet and keep you feeling energized and happy. Many of the companies on this list care about using local farms to source their ingredients, so that you can feel confident knowing that you're receiving the best of the best. We hope that you'll find a Florida Paleo meal delivery service that suits your needs and that you love.
Other Florida Paleo Meal Delivery Companies
We are always on the lookout for other Florida Paleo meal delivery companies, but with new ones popping up all the time, sometimes we'll miss a few. So if you have found some trusted Paleo Meal delivery companies in Florida, please let us know in the comments below so we can all check them out!