In this article, we've put together a list of Paleo meal delivery services that are based right here in Pennsylvania (everyone loves a local business!)
How many times have you walked into your local Pennsylvania grocery store and wondered; 'where are all of the Paleo meals?' If you've been following the Paleo diet for any length of time you'll know that finding Paleo meals are like looking for golddust.
The benefits of sourcing from local businesses is that they're likely to use local resources too, so you're supporting farms and suppliers that might be just down the road from you. The food quality from these places tends to be higher too, so it's great for your health too.
So without further ado, read on to find out which Paleo meal delivery services based in Pennsylvania ship straight to your door.
We cover the following....
Local Paleo Meal Delivery Companies in PA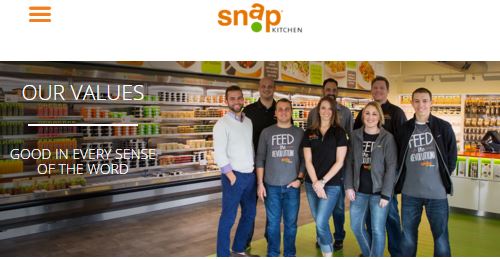 Snap Kitchen
First up on our list is Snap Kitchen, a health-conscious Paleo-friendly food delivery service that are expanding at a rapid pace. They prepare Paleo, Whole30, keto-friendly, low-carb, high protein, vegetarian or custom meal plans so you have total freedom picking what's right for you and your family. With 7 locations in Philadelphia alone, Snap Kitchen are dominating the healthy meals stratosphere, and are likely to keep growing.
Snap Kitchen are dedicated to making delicious, nutritious meals, such as breakfasts, lunches and dinners, all of which can be ordered on a weekly basis. You can pick meal plans based on your location and preference; Snap Kitchen offers a Local Lifestyle Plan and a Shipment Plan.
Local Lifestyle Plans are for customers who don't mind picking up their order at one of their retail locations on a weekly basis, and can include 3, 5 or 7 day plans recurring.
Shipment Plans are designed for customers who live within a 7 mile radius of one of Snap Kitchen's retail locations, in which you will receive a box of 6 or 12 meals delivered weekly to your doorstep.
Although Philadelphia and the immediate surrounding areas are the only city that Snap Kitchen serves, get in touch with them to see if they have any plans to conquer Pittsburgh, Altoona, Harrisburg and more.
To find out more, head to: https://www.snapkitchen.com/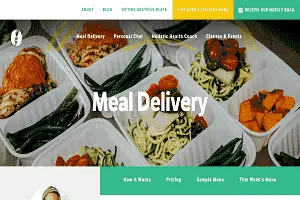 Grateful Plate/Home Appetit
Grateful Plate, who have partnered with Home Appetit, are another meal delivery service based in Philadelphia, who are passionate about providing holistic health solutions to the citizens of Philly. Many of their dishes are dairy-free and gluten-free, which are two of the main allergens those on a Paleo diet strive to avoid. If you have further dietary restrictions, it's worth getting in touch to get a more accurate ingredients list for their meals.
The way that Grateful Plate work is that you order $100 worth of meals per person weekly, which amounts to 8 meals. These meals are split into 2 categories: Greens & Grains and Entrees. The Greens & Grains meals appear to be more of a side dish, with the Entrees being the larger meals. If you want to add more people to your weekly subscription, it comes at an additional cost of $50 per person (so $150/week for 2 people).
This meal delivery service mainly caters to residents of Philadelphia, although they do ship to various neighbourhoods outside of Philadelphia, so it's worth using their Zipcode checker to see if you're in the catchment area.
To find out more information about Grateful Plate/Home Appetit, see: https://gratefulplatephilly.com/ or https://www.homeappetitphilly.com/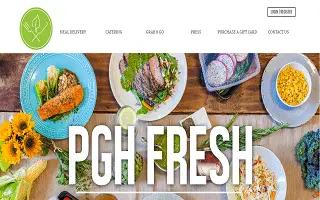 Pittsburgh Fresh
Pittsburgh Fresh are another local meal delivery service, this time based in…you guessed it…Pittsburgh! This meal delivery company has many healthy food options available, including a variety of Paleo-friendly dishes.
Every entree on their website is labelled with dietary information which can be filtered via allergens or diet type. For instance, if you want a Paleo meal, you can use the drop-down bar on their menu page to filter for Paleo meals only. If you're more casual with your Paleo preferences, you can pick gluten-free and dairy-free filters instead.
Pittsburgh Fresh has 12 different subscription plans to suit different needs; their minimum meal plan is just 1 meal a week for $25, with their premium package priced at $300 for 20 meals ($15 per meal).
One great perk of ordering from Pittsburgh Fresh is their Family Portions; healthy meals which cost between $24.99 and $49.99 and serve 4 family members. It also appears as though Pittsburgh Fresh delivers to a wide range of states in the US, so it's highly likely that you'll be able to get your meals delivered to anywhere in Pennsylvania.
To see what's currently on the Pittsburgh Fresh menu, head to: https://www.pghfresh.com/
National Paleo Meal Delivery Companies Delivering Throughout PA
Although that's all for locally-based Paleo meal delivery services, never fear, because there are many other national Paleo meal delivery companies that are delivering Paleo meals anywhere in Pennsylvania.
No matter how rural the area in PA you live, these companies will deliver to your home (or office).
Another nice thing about these companies that because they are some of the most prominent chefs catering to the Paleo livestyle, they have partnerships to source the highest quality grass fed/finished and wild proteins and with farms to source organic produce. So if you are taking a strict approach to Paleo, they could be just what you are looking for.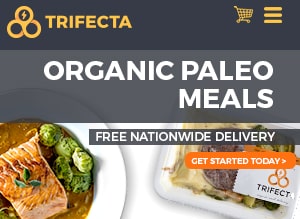 Trifecta
Trifecta are a very popular meal delivery service offering Paleo options to anywhere in the United States, including Pennsylvania. They primarily target athletes, but have many options for those who might need help assisting their healthy lifestyle, or are looking for weight loss solutions.
Trifecta have any of 6 meal plans to choose from; keto, clean, Paleo, vegan, classic or vegetarian. The Paleo meal plan has subscription options starting at $108.43 for 7 meals per week. All of Trifecta's Paleo meals are high in protein, and include organic, seasonal produce, so you're getting the best quality ingredients in every meal.
On average, every Paleo meal contains 400 calories and 32g protein, with 23g net carbs and roughly 20g fat, which can help to support weight loss without sacrificing high-quality nutrition.
You'll also benefit from getting free shipping on your order, which means that the price displayed on your order is the price you pay – no hidden fees!
If you want to see what's on offer at Trifecta, head to:
http://trifectanutrition.com/paleo-meal-plans/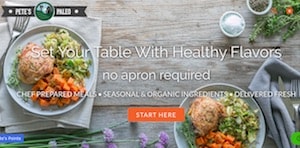 Pete's Paleo
Pete's Paleo is a dream come true for Paleo purists. The owner and Chef who attended the prestigious cordon bleu culinary school changes the menu weekly based on what's available seasonally at local organic farms that they work diretly with.
It's a bit like having a professional chef go to the farmers market every week and create a Paleo menu based on what is in season.
The ingredient choices are very strict, with meals based around grass fed and wild proteins of the very highest standards advocated by the strictest of Paleo advocates. They are coupled with sides constructed around the in-season organic vegetables as is available in the farms near their kitchens.
They have both an east coast and west coast kitchen and meals are delivered refrigerated and vacuum sealed (not frozen) so that you can take them out of the fridge and heat them a bit (similar to batch cooking for yourself).
To check out Pete's Paleo menu for this week see: petespaleo.com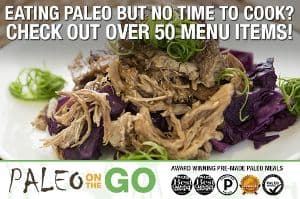 Paleo on the Go
Paleo on the Go is a big name in the Paleo space, specializing in meals who are following the Paleo Diet for health reasons.
The founder of the company used the Autoimmune Paleo diet to help heal himself from health issues and so the company really caters to those doing this subset of the Paleo Diet designed to help address underlying health issues.
They actually have quite a large menu, with items that will work well for those doing all different variations of Paleo, AIP and Whole30, however where they really shine is in recreating what would normally be considered cheat foods using only the most stringent AIP approved ingredients. The thought is that if you are doing one of the more extremely strict versions of the diet it is a really nice treat to have comfort foods that have been recreated to comply with the ingredient options available on the very restrictive AIP.
To find out more, check out: paleoonthego.com 
Note: Paleo on the Go is offering a 10% discount for our readers, use code "MYPALEOS" at checkout for 10% off your entire order – one time use.
Here is a video of me unboxing my latest Paleo on the Go order: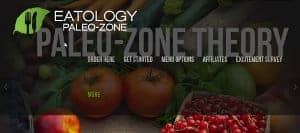 Eatology
If you liked the fact that Pittsburgh Fresh provide Family Platters as one of their Paleo meal options, but perhaps you're out of delivery range, you'll love Eatology instead!
Eatology are a completely Paleo meal delivery company offering nutritious meals to the United States, and they have a whole menu dedicated to family platters. These are really useful for those of you who want the whole family to be eating the same food (saving you time and money!), but don't want the unnecessary packaging of 4-6 separate containers. Family Platters at Eatology cost $45 and serve between 4-6 people.
Eatology actually use Zone diet principles to formulate Paleo-friendly entrees. The Zone diet is just a method of ensuring that your energy levels remain stable over the course of the day, as well as maintaining proper macronutrient balance in all of your meals. This way of preparing meals also means that weight loss goals are supported. If you don't have any weight loss goals, that's also fine, because Eatology have bigger portion sizes that you can choose from so that you can effortlessly maintain body mass.
If you'd like to see which Family Platters are on offer at Eatology, check out:
Eatology is offering a 20% off promo for our readers (works for first & all later orders), use code "ZACHPALEO" at checkout
Neighboring States to Pennsylvania
However, we also know that many of our readers like to support local businesses where possible for economic and health reasons (it's also more environmentally conscious), so we've found some Paleo meal delivery companies neighboring Pennsylvania.
Elite Eating Cle
Elite Eating Cle are a healthy meal delivery service based in Ohio, but also use FedEx in order to provide shipping to addresses further afield. They don't sell a Paleo meal plan per say, but they do have keto options as well as listing all allergens in their meals. Many of their meals are naturally gluten-free and dairy-free, so Elite Eating Cle may be a good option for those who are less strict with their Paleo lifestyle.
Interestingly, Elite Eating Cle also allows you to bulk buy protein by the pound, as well as custom meals (you can choose Paleo-friendly ingredients this way) and sides in bulk. For example, you can purchase a bulk package from Clean Eating Cle which includes your choice of 36oz protein and two sides, both of which weigh 24oz or are the equivalent of 6 cups (48oz or 12 cups in total!). This is a super affordable way to eat Paleo if you don't mind eating similar things each day.
If you're interested in finding out more about Elite Eating Cle's options, make sure you head to their page at: https://eliteeatingcle.com/
Clean Eats Meal Prep
Clean Eats Meal Prep are a meal delivery service based in New Jersey, but will deliver to some locations in Pennsylvania, including Philadelphia but not other cities like Harrisburg or Pittsburgh. For those of you close to the New Jersey border, you might find that these guys tick the boxes and cross the T's.
Clean Eats Meal Prep have a wide range of options that might be useful to Paleo practitioners, such as their keto, gluten-free, low-carb, by the pound, breakfast, kids, most loved an basics menus. The way that Clean Eats Meal Prep have set up their website means that it's really easy to filter out what you need from a meal delivery service.
Many of the low-carb options on Clean Eats Meal Prep are naturally Paleo-friendly, such as their 101 Salmon, which is priced at $12.49 and contains salmon, garlic smashed cauliflower and your choice of vegetable.
Each meal is individually priced, with items on the low-carb menu costing between $10.49 and $12.99 each.
To find out more about Clean Eats Meal Prep, check out their website at: https://www.cleaneatsmealprep.com/
Eat to Evolve
Eat to Evolve are growing at an exponential rate, with headquarters in Kansas but multiple store locations in surrounding states. This suggests that they're looking to expand, and you might find that they'll have stores in Pennsylvania in no time!
For now, you'll be able to order their healthy premade meals online to be shipped directly to your doorstep anywhere in Pennsylvania. They have 4 lifestyle options to choose from: Paleo, Evolve30 (which looks like their take on the Whole30 approach), Primal or Keto, which is great news for those who have stricter dietary needs.
At Eat to Evolve, it's easy to choose either a subscription service or an a la carte shipment, depending on what works best for you and your family. Every meal is subdivided into Breakfast, Entree, Grab & Go or Snack sections, so you can order meals for any time of the day or week. If you go for the Eat to Evolve subscription service, you can save 8% on weekly or biweekly orders.
If you're interested in Eat to evolve's current fare, head to: https://eattoevolve.us/
Every Year There Are More Options For Paleo Meal Delivery in Pennsylvania
So that's it for today on our list of Pennsylvania meal delivery services, but we hope that this has been helpful for you so that you can stay right on track with your Paleo lifestyle.
Although we know that many people on a Paleo diet prefer to cook from scratch, we appreciate that sometimes this isn't always possible. Life gets in the way and before you know it, it's 10pm and there's nothing in the fridge that looks like it could become a meal. That's why it's always a great idea to have some back-up Paleo-friendly meals in the freezer that you can just pop in the oven (or the microwave if you're not averse).
The whole reason why these Paleo meal delivery companies came about was to help you and others sustain a Paleo lifestyle with ease. Using a Paleo diet to ensure good health and longevity shouldn't be stressful and difficult, because that negates the point of the lifestyle. The companies on this list understand this and that's why they care about using well-sourced ingredients and ensuring that you're able to receive regular service.
Other Pennsylvania Paleo Meal Delivery Companies
We try to ensure that this article is updated on a regular basis, but if there are any other Paleo meal delivery companies that you know of (and we haven't mentioned them) in the state of Pennsylvania, let us know in the comments below!