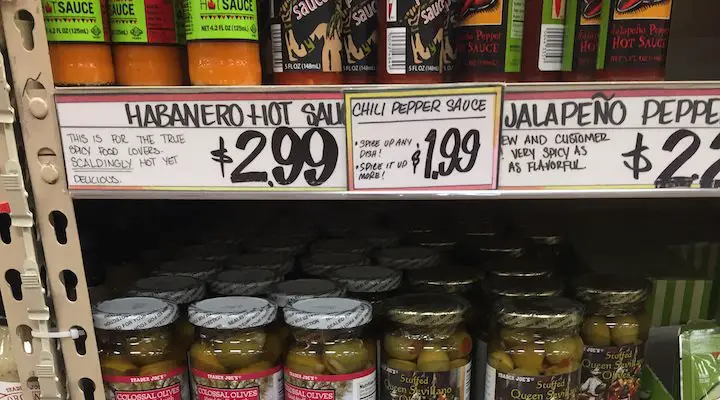 Salsa verde – the perfect accompaniment to your favorite Mexican-style dishes. For those on the Whole30 diet, it's natural to wonder whether you can find a Whole30-compliant version of salsa verde. Trader Joes is known for having a popular Salsa Verde, but is the salsa verde at Trader Joe's Whole30 or Paleo? 
The short answer is yes, Salsa Verde at Trader Joe's is Whole30-approved and therefore Paleo-friendly. The only ingredients in Trader Joe's salsa verde are:
fresh tomatillos
green chile
water
onions
fresh jalapenos
salt
spices
All of the above ingredients are typically permitted on a Whole30 and/or Paleo diet.
But there are some other things that are worth mentioning. For example, is it really ok to eat packaged goods that contain "spices" as an ingredient on the Whole30?
We cover the following....
A Note on "Spices" as an Ingredient
Something that you might understandably be concerned about is the vagueness of the term 'spices'. The word 'spices' could very well refer to a number of different flavorings, some of which might be unfavorable.
The good news is, the FDA (Food and Drug Administration) states that you can't list flavor enhancers like MSG as a spice, so you needn't worry about MSG being hidden in your salsa verde.
However, it does mean that it's difficult for those who are avoiding certain spices to know exactly what's in your food. For example, Paleo practitioners who are also following an AIP diet can't consume any seed-based spices, such as cumin, caraway or coriander. This certainly makes it harder to figure out if you can have Trader Joe's or any other brand's salsa verde.
In cases like this, it's probably easier to go with a brand that's still Whole30, but also states all of its ingredients in full, such as the Herdez salsa verde or the Casa Sanchez salsa verde.
Trader Joe's is great at making sure you can identify what's going into their products, and subsequently what's going into your mouth, which is one of the main reasons why we trust them. They also tend to have a wide array of products that are suitable for a Paleo or Whole30 diet, so you don't need to worry about only getting half of what's on your grocery list – you can shop there exclusively!
Those of us following a Paleo diet have grown to know and trust Trader Joe's due their quality and high standards for their products. A rule of thumb that Paleo dieters have always practiced is being able to understand the ingredients list on the back of items, or better yet, not need to because you're buying fresh, whole foods. If there's more than 10 things on the ingredients list, or there's something there that you don't understand, don't put it in the basket!
Other Stores Selling Whole30-Compliant Salsa Verde
In case another store is more convenient for you rather than Trader Joe's, we compiled the below list of Whole30 friendly salsa verde options at other popular stores.
Take a look at our list below for all other Whole30-friendly salsa verde brands. We've also taken the liberty of including the ingredients list on each branded item, just in case there are any other specific dietary requirements you might have.
Whole Foods Whole30 Salsa Verde Brands
Whole Foods Fresh Salsa Verde with Avocado – Guacamole (Hass Avocado, Tomatillo, Onion, Garlic, Sea Salt, Jalapeno Pepper, Cilantro, Cilantro Essential Oil), Tomatillo, Cilantro, Lime Juice, Salt
Casa Sanchez – Tomatillos, Onions, Peppers, Water, Cilantro, Sea Salt & Garlic.
Mesa Salsa Co. – Tomatillo, Avocado, Onion, Bell Pepper, Garlic, Serrano Pepper, Cilantro, Salt, Black Pepper, Garlic Powder, Ascorbic Acid.
Herdez Salsa Verde – Tomatillos, Chile Peppers, Onions, Iodized Salt, Less Than 2% of: Cilantro, Xanthan Gum
365 Organic Roasted Verde Salsa – Organic Green Crushed Tomatoes, Organic Tomatillos, Water, Organic Jalapeno Peppers, Organic Tomatillo Puree, Organic Onion, Organic Dried Onion, Organic Fire Roasted Diced Tomatoes (Organic Roasted Red Tomatoes, Organic Tomato Juice), Salt, Organic Distilled White Vinegar, Organic Lime Juice Concentrate, Organic Dried Garlic, Organic Cilantro, Organic Cumin, Organic Natural Flavor (Please note: The organic lime juice concentrate is stated to add a trivial amount of sugar to the product, so take from this what you will!)
Safeway Whole30 Salsa Verde Brands
Casa Sanchez – Tomatillos, Onions, Peppers, Water, Cilantro, Sea Salt & Garlic.
Bobby Salazars Salsa Verde, Hot – Tomatillos, Tomatoes, Jalapeno Peppers, Onions, Water, Cilantro, Fresh Garlic, Habanero Chiles, Salt, Hot Red Chile Peppers, (Citric Acid and Sodium Benzoate to Preserve Freshness).
La Victoria Medium Thick'n Chunky Salsa Verde – Tomatillos, Jalapeno Peppers, Water, Onions, Salt, Distilled Vinegar, Garlic, Garlic Powder, 0.1% Sodium Benzoate [as A Preservative], Dehydrated Cilantro, Xanthan Gum And Citric Acid
Herdez Salsa Verde – Tomatillos, Chile Peppers, Onions, Iodized Salt, Less Than 2% of: Cilantro, Xanthan Gum
Sprouts Whole30 Salsa Verde Brands
Tacupeto Verde Con Mango Tomatillo Salsa – Roasted Tomatoes, Tomatoes (Tomatoes, Tomato Juice, Salt, Calcium Chloride, Citric Acid), Water, Salts, Garlic, Habanero Peppers, Vinegar, Arbol Chile Peppers
Goldwater's Foods Rio Verde Tomatillo Salsa – Tomatillos, Green Chiles, Red Bell Peppers, Fresh Onions, Carrots, Apple Juice Concentrate, Green Onions, Jalapeno Chiles, Cider Vinegar, Sea Salt, Fresh Garlic, Spices
Late July Organic Salsa Verde Mild Salsa -Roasted Tomatillos, Water, Roasted Tomatoes In Tomato Juice, Green Chiles, Onions, Serrano Peppers, Salt, Garlic, Cilantro, Lime Juice Concentrate, Guar Gum, Gum Acacia, Organic Spice, Citric Acid
Herdez Salsa Verde – Tomatillos, Chile Peppers, Onions, Iodized Salt, Less Than 2% of: Cilantro, Xanthan Gum
Kroger Whole30 Salsa Verde Brands
Herdez Salsa Verde – Tomatillos, Chile Peppers, Onions, Iodized Salt, Less Than 2% of: Cilantro, Xanthan Gum
Kroger Mild Tomatillo Salsa Verde – Tomatillos, Jalapeno Peppers, Water, Onion, Contains Less than 2% of Salt, Dehydrated Garlic, Cilantro, Xanthan Gum, Spice, Natural Flavor
Why We Recommend Trader Joe's
If you've not used Trader Joe's much in the past, you might wonder why we're interested in this specific brand's salsa verde. Trader Joe's is one of the most popular grocery stores in the United States, and for good reason.
According to the Trader Joe's website, all Trader Joe's branded private label products meet at least the following standards across the board (source):
NO genetically modified ingredients
NO partially hydrogenated oils (artificial trans-fats)
NO artificial flavors
NO artificial preservatives
YES colors derived only from naturally available products
NO MSG
So although I definitely would not say that all Trader Joe's products are automatically W30 friendly, the above rules do go some way in helping to ensure that several typical sneeky ingredients aren't present in Trader Joe's branded products.
So hopefully by reading labels you can get a good sense of what you are eating when you shop at Trader Joe's.
Why Whole30? What about Paleo?
Whole30 is an extension of the Paleo diet, coined by co-founders Dallas Hartwig and Melissa Hartwig Urban.
It's designed to be a short-term 'reset'diet, with goals of regulating blood sugar levels, improving your relationship with food and identifying possible food allergies or intolerances. In order to do so, Whole30 follows the regular Paleo philosophy with these additions/nuances:
– No added sugars of any kind (small portions of fruit are allowed). This excludes coconut sugar, maple syrup, honey, agave syrup, monkfruit extract and sweeteners like Splenda, stevia and xylitol.
– No alcohol, either to drink or in cooking.
– No grains of any sort, including non gluten-containing grains such as rice, corn, buckwheat, aramanth and quinoa.
– No dairy of any kind, including goat or sheep varieties.
– No legumes or beans, including anything derived from soy.
– No carageenan, MSG or sulfites (check those labels!).
– No 'compliant' treats. Even if all of the ingredients are technically Whole30 friendly, combining them into a dessert or 'treat' goes against the philosophy of the Whole30 diet.
So basically, Whole30 is a stricter version of Paleo; therefore, anything that is Whole30-approved is automatically Paleo-friendly (except for a handful of exceptions for specific ingredients – like Whole30 allowing white potatoes while Paleo does not). This makes it super easy to find Paleo foods just by searching for the Whole30 seal of approval on many grocery store products.
However, there are also a wide range of products and foods in the supermarket that aren't labelled as Paleo or Whole30-approved, and yet they are! This is why people have been asking whether the salsa verde at Trader Joe's is Whole30 or not.
From our research, we can definitively state that Trader Joe's home brand of salsa verde is Whole30-approved.
But what about other grocery stores? Are there Whole30-friendly salsa verde brands elsewhere?
Other than this, we hope that this article has been informative and has helped you to find Paleofied versions of the foods you love. Please let us know in the comments if you have found any other salsa verde brands that are Whole30 and are a must-try!