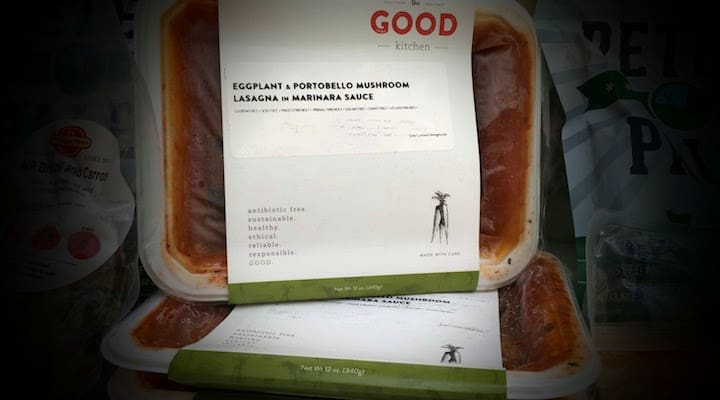 Eating a Paleo vegetarian diet for many years, I have long searched for options I could order to save time during a busy week. For anyone else struggling to find delivery options that are both Paleo and vegetarian this guide will lay out all my findings over the years.
These are the companies I would recommend looking into if you are looking for vegetarian Paleo meal delivery:
Paleo on the Go
Pete's Paleo
Trifecta Nutrition
Rawvolution
For each of these companies, the Paleo vegetarian meals are found in a slightly different menu/area and can take a bit of digging to locate. We cover these details and why we have recommended each of these companies in detail in the rest of the article.
Choosing a Vegetarian Paleo Meal Delivery Service
All of the companies covered below deliver to all continental US states (with several also delivering to Alaska and Hawaii), with the help of ice packs and express shipping.
What this means is that all of these companies deliver to you – your home, your work, etc so that you don't have to try to hunt down a service in your area (which is exceedingly difficult to find if you are looking for meals that both meet Paleo guidelines AND are vegetarian).
Paleo on the Go Vegetarian Offerings
Paleo on the Go is a popular Paleo delivery service, specializing in helping those who are doing Paleo for health reasons. But they have a vast menu and tend to have a number of dishes that qualify as both 100% vegetarian and Paleo.
Here are a few sample menu items that would qualify on the current weeks' menu at the time of this writing:
Broccoli Rissoto – (cauliflower, broccoli, avocado, onion, Native Forest Original Simple Coconut Milk [organic coconut, filtered water], freshly squeezed lemon juice, extra virgin olive oil, garlic, scallions, sea salt)
Roasted Garlic Sweet Potato Mashers – (Japanese white sweet potato, coconut milk, garlic, olive oil, sea salt)
Savory Sautéed Kale – (organic kale, extra virgin olive oil, garlic, sea salt)
Golden Plantain Pilaf – (green plantains, extra virgin olive oil, minced onion, minced garlic)
Roasted Brussels Sprouts – (Brussels sprouts, extra virgin olive oil, garlic powder, sea salt)
Southern Style Biscuits – (coconut milk, cassava flour, palm shortening, avocado oil, sea salt, baking soda
I reviewed several of the above dishes on a video I recorded unboxing a recent order I purchased from Paleo on the Go:

One nice thing about Paleo on the Go is that they are very experienced with supporting people on the AIP and other elimination diets, so they tend to take their ingredient sourcing and questions about ingredients seriously.
Even if you are on a slight variation of the Paleo diet, such as Whole30, AIP, or even SCD, Gaps or another specialty diet, with their vast menu they likely have other items that can help you out.
In order to strike a balance between keeping costs down on their meals and sourcing the highest quality ingredients they follow the Environmental Working Group guidelines of sourcing produce on the "Dirty Dozen organic and buy conventional if necessary only from the Clean Fifteen list" as described in detail on their dedicated sourcing guidelines page on their website.
Pete's Paleo Vegetarian Offerings
Pete's Paleo, one of the larger and better known Paleo meal services, actually offers a vegetarian option for anyone ordering their meal plans, even though it is not typically promoted.
In order to figure out what you'll be getting on your vegetarian order from Pete's you need to look at the weekly menu and replace the meat-based protein portion of the dish with an extra vegetable side. So to give you a sense from this weeks menu the vegetarian offerings would be:
Sautéed Bok Choy and Delicata Squash
Sweet Potato Mash and Sautéed Greens
Roasted Carrots and Garlic Collards
Golden Beets w/ Greens and Peppers
Plantains and Cauliflower Rice
Roasted Mushrooms and Mashed Yams
Roasted Broccoli and Rutabaga Mash
One very cool thing about Pete's Paleo, in my opinion, is that they align what they cook each week with the in-season produce being harvested at local farms in their area. So they are truly a farm to table production.
This seems like a win-win for both the farmers, getting to maximize what they produce and for the person eating as they are getting meals made with produce picked at it's peak. This can also mean a lot of root vegetables in the wintertime, although as they are based in southern California this moderates the limits on what is in-season during the winter months.
Having ordered Pete's vegetarian meal plan in the past, the one comment I also have is that many of these vegetable sides that make up 100% of the vegetarian meal offerings tend to feel a bit simple. Pete's seems to have a philosophy of keeping their recipes simple with just herbs and roasting to highlight the flavors of the ingredients. But they seem to spend more effort on sauces for their protein items (based on the menu descriptions) and really keep the vegetable sides with simple preparations. So after a week of eating roasted vegetables in olive oil with some added fresh herbs, it is possible to feel like you need a break. However, as a compliment to other meals you make yourself, it can feel like a nice time saver.
One funny thing is that Pete's really does not seem to promote their vegetarian offering hardly at all, even though it's been available consistently for several years. The majority of the blog articles on their website about vegetarian diets focus on defending eating humanely raised meat.
The only specific reference to the vegetarian offering I could locate on their website was in their ingredients FAQ section. It states about their vegetarian offering: "Our vegetarian meal plan has the same menu as our regular meal plans, except the protein is substituted out with another one of the same vegetable sides. So instead of each meal consisting of 1 protein and 2 vegetable sides, it will come with 3 individually portioned vegetable sides. Please note that these are truly just vegetable sides, we do not offer any plant based proteins."
Trifecta Nutrition's Paleo Vegetarian Options
Trifecta Nutrition is one of the big companies offering organic Paleo delivery meals nationwide, having offered a Paleo dedicated meal plan for many years. In addition, they also offer a separate vegetarian meal plan with a more traditional vegetarian menu. Unfortunately for someone who is trying to follow a vegetarian Paleo diet, neither of these meal plans will work for you.
However, there is something that will. While not a traditional meal plan, Trifecta also offers an "a la carte menu" where they offer their all organic vegetables simply prepared. This means they are steamed or roasted with pepper, a little sea salt and possibly some parsley, garlic and/or onions.
The idea with these a la carte offerings is that they are the minimal ingredients you'd need for the base of a meal, and then you can dress them up with whatever sauces or spices you prefer.
The idea is that it saves you the step of prep and cooking, and you can simply reheat the items which as the come refrigerated and ready to stick in the fridge. It could also be helpful if you have trouble sourcing these vegetables organic where you live.
Here is a current list of the A La Carte vegetable menu items offered by Trifecta:
Mixed Vegetables, baked and lightly seasoned – (Organic Broccoli, Organic Yellow Squash, Organic Zucchini, and Organic Cauliflower)
Organic Asparagus – (Baked and Lightly Seasoned)
Organic Sliced Portabello Mushrooms – (Baked and Lightly Seasoned)
Organic Cauliflower – (Baked and Lightly Seasoned)
Organic Cherry Tomatoes – (Baked and Lightly Seasoned)
Organic Broccoli – (Baked and Lightly Seasoned)
Organic Sliced Green Bell Pepper – (Baked and Lightly Seasoned)
Although slightly unconventional when you think of meal delivery, Trifecta's base vegetable dishes appeal to those who want a lot of control over their meals but want to save some time with the sourcing, baking and seasoning. Having baked a LOT of Paleo vegetables, it makes sense that avoiding the baking time alone can be a huge time savings. If you want to find out more about Trfiecta's a La Carte offerings see this article answering many of the most common questions about the service.
Rawvolution's Paleo Options
Looking at the same topic from a slightly different angle, raw vegan cuisine often qualifies as both Paleo and Vegetarian (and vegan) in most cases. There are starting to be some raw vegan delivery services starting to pop up as well, and one, Rawvolution, is even delivering nationwide (like the Paleo delivery companies covered so far).
This may sound like a strange choice to include in an article on vegetarian Paleo food, but raw vegan food follows the same rules as Paleo food. Most raw vegans cut out dairy, processed foods and even generally cut out grains. Rawvolution commits to cutting out all wheat and grains in their meals and don't use refined sugars (except for raw organic coconut nectar which is in some dishes).
Here are examples from the current weeks Rawvolution subscription "Box" that would qualify as both Paleo and Vegetarian/Vegan:
Apple Beet Salad – (Apple, beets, celery, shallots, walnuts, olive oil, lemon juice, sea salt, black pepper)
Broccolini Salad – (Broccoli, olive oil, sea salt)
Cauliflower Couscous – (Cauliflower, olives, parsley, mint, cilantro, lemon juice, olive oil, black pepper, sea salt)
Cheesy Broccoli – (Broccoli, cashews, lemon juice, sea salt)
Core Belief – (Fresh-Pressed Juice Green apple, cilantro, lime)
Cucumber Dill Salad – (Cucumbers, onions, dill, olive oil, apple cider vinegar, lemon juice, garlic, sea salt)
Gazpacho – (Fresh-Pressed Juice Tomato, celery, cucumber, cilantro, lemon, garlic, jalapeño, sea salt)
Mock Chicken Sandwich – (Sunflower seeds, celery, lettuce, cashews, tomato, sprouts, coconut water, mustard, garlic, lemon juice, olive oil, apple, zucchini, onions, flax seeds, coconut, oregano, turmeric, sea salt)
Mushroom Ragout – (Crimini mushrooms, shiitake mushrooms, celery, onions, parsley, tamari, olive oil, black pepper)
Unfortunately, about half of the items on their menu contain wheat-free tamari, a version of soy sauce made without wheat.
Some examples from the current week include some of their more filling sandwiches and entrees: Big Matt + Cheese, Bok Choy Salad, Cocophoria Sandwich, Enchilada Blanca. It looks like about a third of the current weeks menu items contain tamari to give a sense.
This wouldn't be such a big issue (half of their menu being Paleo friendly and half not) if it were not for their policy of you having to purchase their weekly delivery box with no substitutions. So basically you would end up with half of the food that you cannot eat if you are following a strict-ish Paleo diet without soy.
Soy is a big no-no on the Paleo diet, so unless you are doing a very loose form of Paleo, these items likely won't work for you. Some on the Paleo Diet would also avoid raw coconut nectar which is a sweetener used in a number of dishes.
Unless you can split your box subscription with another family member or friend that is willing to eat the soy ingredients, you might be out of luck. But if you are on the looser end of Paleo, I thought Rawvolution worth mentioning when talking about the options out there.
Other Services Worth Mentioning
I wanted to include a couple of other companies that are at least having on your radar, even though I wouldn't currently recommend them for people who are eating Paleo vegetarian.
The Good Kitchen
The Good Kitchen used to be my top recommendation for Paleo vegetarian meal delivery as they used to have a large portion of their menu that was specifically designed to be Paleo vegetarian. You used to be able to filter on their menu to just get these Paleo vegetarian meals, which would change weekly with several new Paleo vegetarian recipes each week.
I have ordered numerous packages of exclusively Paleo vegetarian (with some Paleo pescatarian occasionally mixed in) from The Good Kitchen over the years. For example, here is a video of me unboxing one of my Paleo vegetarian meal orders from The Good Kitchen:
I was very sad when I found out that they decided to discontinue their Paleo vegetable/vegetarian line recently as part of scaling down their menu offerings (this was part of their push to get their menu items Whole30 approved).
However, in a recent push to partner with Walmart stores to have The Good Kitchen meals available in their stores, I know of at least one of their vegetable line meals that they are offering in Walmart stores, their beet burger.
I have ordered their beet burger in years past directly from them. However, the sides have changed with the entree available at Walmart and interestingly, there are some ingredients such as pea protein included that were not in the version I ordered directly from them. Which makes me wonder if this is somehow related to suggestions from Walmart. In any case, it's an option for those who have a Walmart in their local area and can locate this dish (assuming you are ok with all of the ingredients listed).
What about vegan Paleo meal delivery?
As you will likely notice from the ingredients list of the meals listed in this article, the Paleo delivery meals recommended here not only qualify as Paleo Vegetarian friendly but are all vegan as well.
This will be the case for the majority of the Paleo vegetarian friendly meals as these companies do not use ingredients that are considered Paleo vegetarian but not Paleo vegan like butter or honey in the majority of their meals (and as pointed out in this article, are never used in the sample list of meals we gathered that are offered at the current time).
The pegan or Paleo vegan movement has gained steam in recent years. For anyone doing these diets, just know that you do not have to cook 100% of your meals from scratch forever. Use this article as a starting point to examine the companies listed for meals that will work for you own version of the Paleo diet.
Why you might consider Paleo Vegetarian Meals even if you aren't a Vegetarian
Even for those on a Paleo diet who eat meat, there are reasons to consider eating some amount of Paleo vegetarian meals.
As someone who does eat some fish and seafood (I consider myself a Paleo pescatarian), I feel that eating a number of my meals each week that do not contain any fish or seafood is likely a healthful choice.
Many whole vegetables are considered very healthy and many experts on the Paleo diet recommend making sure you are getting enough vegetables, especially those highest in nutrients like leafy greens.
In some guidance published by the Loren Cordain recently, who many people consider to be the founder of the modern Paleo movement confirms in an article about AGEs and the Paleo Diet, mentions:
"fruits and veggies – staples of The Paleo Diet are exceedingly low in AGEs"

Rage of Ages: Advanced Glycation End Products

The emphasis of the article was that the Paleo Diet if practiced right is naturally low in AGEs. But the emphasis I'd like to make is that Dr. Cordain considers that those correctly following the Paleo Diet will make fruits and veggies staples of their diets. One easy way to make sure this is the case is to include vegetable-only Paleo meals as a portion of your total menu.
Some other good reasons to consider eating vegetable-only Paleo meals are:
Lower costs for vegetable based meals
Typically lower calories for those watching their weight than meat based Paleo meals
Typically higher fiber than meat based Paleo meals
Lower carbon footprint for Paleo vegetable based meals than even meals containing grass-fed/sustainably farmed proteins (incorporating more Paleo vegetable meals is a way to lower your carbon foot without cutting meat based proteins out entirely