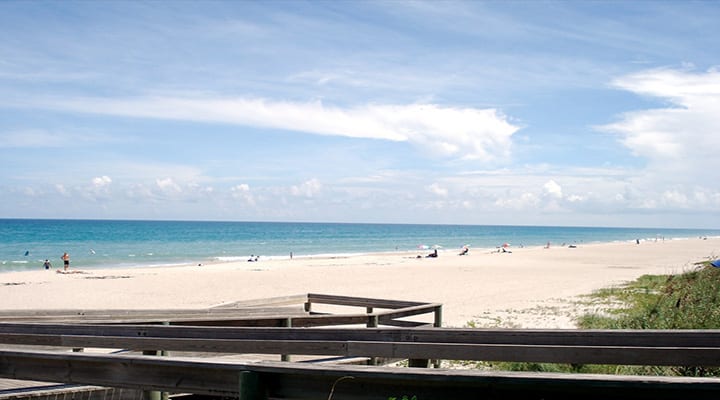 All residents throughout the Palm Bay/Melbourne region have great access to not just Paleo foods, but many grain-free alternative plans such as the Whole 30 and the Primal Diet. In this post, we will help you explore your options and discuss some of the excellent choices that are available to you.
We cover the following....
Local Paleo Food Delivery Palm Bay Options
The following section covers companies based locally in the Palm Bay area that offer takeout Paleo meal plans. This is a great option for those who want to get some of their meals on the Paleo diet prepared for them by a local chef. Although these are currently pickup meal services that deliver to local gyms in the area, keep in mind that by including the companies listed in the section below, you are able to also have meals delivered to your address throughout the Palm Bay Brevard county area if that is important to you.
Fia's Paleo Meals
Fia's Paleo Meals, a local area delivery service specializing in meals following the Paleo Diet, offers weekly meal plans for residents in the area. Meals, once ordered, are dropped off at local gyms in the area on a particular day of the week for pickup. Fia's started as a local Pizzaria but spun off their Paleo meal service after a successful run of making meals for their local friends and gym members. Certain items use grass fed meats, but you should check the particular ingredients used in the meals to make sure they work for the particular version of Paleo you are following.
For more information on Fia's Paleo Meals and for prices see:
http://www.fiaspaleomeals.com/
Fia's Paleo Meals Reviews:
http://usatoday30.usatoday.com/video/fias-pizzeria-offers-caveman-paleo-diet-in-melbourne/2193277722001
https://play.google.com/store/apps/details?id=com.app.app85d20db527fb&hl=en
Fia's Paleo Meals Yelp Reviews: https://www.yelp.com/biz/fias-ristorante-and-pizzeria-melbourne?osq=Fia%27s+paleo+meal
Fia's Paleo Meals Facebook Reviews: https://www.facebook.com/fiasfreshmeals/reviews/ This post contains affiliate links. Thank you for supporting us! Click here to learn what this means.
National Companies Offering Paleo Food Delivery to Palm Bay, Melbourne and Titusville
If you live in the Palm Bay area, you are in luck. The following Paleo companies will bring food and ingredients anywhere in the region. These services use express delivery to get you either refrigerated or frozen Paleo meals straight from their kitchen to your door. The following companies deliver to all addresses (homes or office locations) throughout the greater Melbourne area.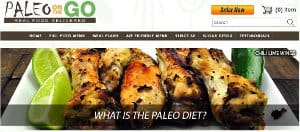 Paleo on the Go
Paleo on the Go, based on the western side of Florida, delivers to all addresses in the Palm Bay/Melbourne area. If it was just their staunch stance on their certifications, we might not list them here, but Paleo on the Go backs up their belief in the Paleo Diet with delicious product lines. Their recipes are designed for those suffering chronic illness as well as those who just want great food. Conveniently, they will send their products to all of our readers in Palm Bay and beyond. See paleoonthego.com for prices and meal options. Note: Paleo on the Go is offering a 10% discount for our readers, use code "MYPALEOS" at checkout for 10% off your entire order – one time use.
For our detailed write up on Paleo on the Go including reviews, see our in-depth coverage on them.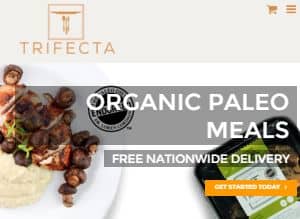 Trifecta
Trifecta is another great company servicing the Palm Bay area. On top of serving delicious meal plans, they strive to be as ethical as possible, with a minimum humane level rating of 5, and a corn-based packaging solution. They are partnered with some big names in the Paleo world as well. See trifectanutrition.com for current prices for their Paleo and organic meal delivery Palm Bay offerings.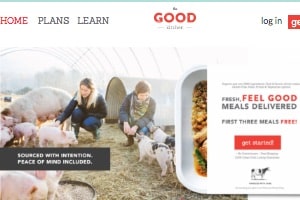 The Good Kitchen
The Good Kitchen has one of the most customizable of the Paleo meal plan offerings. You can choose from a weekly, bi-weekly or monthly delivery, choose any number of meals in your plan (minimum 5) and choose any dishes from their grass fed beef based, pastured pork and chicken based or Paleo vegetarian menus. They deliver to individuals and households anywhere in the Palm Bay region. See thegoodkitchen.com for The Good Kitchens complete menu and list of healthy meals delivered Palm Bay / nationwide plans. The Good Kitchen is offering a 15% discount for our readers. Use promo code "mypaleos" at checkout for 15% off your first order.
For our detailed write up on The Good Kitchen including reviews, see our in-depth coverage on them.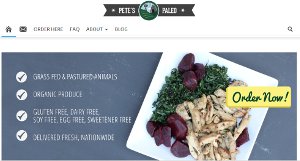 Petes Paleo
Pete's Paleo has a no-sugar, no-sweetener specialty–all of their meal options are sweetened only with in-season fruits and vegetables. All of their produce are organic, and all of their proteins follow the strictest guidelines for Paleo Diets. They also follow the guidelines of the Wahls Paleo diet, which is designed for those with chronic health conditions. To top it all off, if you live in the Palm Bay area, then Pete's Paleo delivers to you. See petespaleo.com for a complete list of prices, meal plans and healthy food delivery Palm Bay options.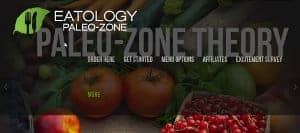 Eatology
Eatology is one of the cheapest options in this list, and also one of the most health conscious. They focus on delivering Paleo adherent foods that also match the standards of the zone eating plan to all residents in the Palm Bay region. See http://www.eatology.co for Eatology's Paleo-zone plans and pricing, including nationwide plans for healthy meal delivery Palm Bay options. Eatology is offering a 20% off promo for our readers (works for first & all later orders), use code "ZACHPALEO" at checkout
For our detailed write up on Eatology including reviews, see our in-depth coverage on them.
For our detailed write up, including reviews, see our in-depth coverage on Eatology.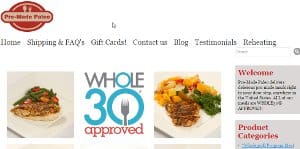 Pre-Made Paleo
Servicing the entire nation, Pre-Made Paleo is the official delivery service for the Whole 30 program. The owner and executive chef is also the author of the Whole 30 cookbook series. They deliver premade frozen Paleo meals to all dwellings in Palm Bay. See premadepaleo.com for prices and Paleo meal delivery Palm Bay inclusive nationwide plans Pre-made Paleo has offered a 10% discount (one time use) on all orders for our readers. Use code "MYPALEOS2018" at checkout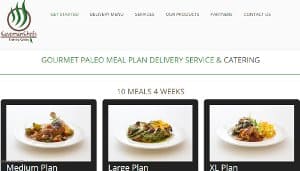 Caveman Chefs
Specializing in international and creative foods, Caveman Chefs is based in Denver and they source their products as in-state as possible. They bring their localized products to all residents in the Palm Bay area. They are yet another wonderful source of delicious meals. Visit http://www.cavemanchefs.com for more information on their Paleo delivery Palm Bay options Caveman Chefs has offered 10% off all orders by mentioning the promo #ZachmyPALeos in the order comments or mentioned by phone during checkout.
For our detailed write up on Caveman Chefs including reviews, see our in-depth coverage on them.
Every Year there are More Options for Paleo Meal Delivery Palm Bay & Melbourne Paleo Delivery Options
No matter where you are or what you have to do, there are food delivery services and restaurants who adhere to strict Paleo guidelines in order to bring you the healthiest, cheapest meals. You should never have to feel inconvenienced in the Palm Bay area if you eat a Paleo or grain-free diet. We put together this article in the hopes that the next time you're stuck for meal inspiration, you'll more easily stick to your dietary choices. If you have just moved, have a busy work day, or trying to regain your health, these services can be truly helpful. Most of the companies we've listed come with affordable prices and organic ingredients, some of which meet especially high humane ratings as well. We hope we've made your healthy lifestyle that much easier.
Other Paleo Delivery Palm Bay Area Companies
If you have any other suggestions of other places offering Palm Bay Paleo Friendly Meal Delivery or Palm Bay Paleo restaurants that might offer takeout or delivery options, please let us know in the comments below.