A number of our readers who have been on the Paleo Diet for an extended period naturally start to look for ways to stay Paleo during a time crunch, such as purchasing frozen meals. We have covered a lot of Paleo frozen meals on this blog and so wanted to give our perspective.
Dietitian guidelines advocate to "choose a frozen meal with a short list of ingredients and no added sugars" (source), which matches exactly the goal of Paleo frozen meals. So Paleo frozen meals are likely some of the healthiest frozen meals on the market, with some variability between different brands.
Unfortunately, although this is true for many of the Paleo frozen meal brands on the market, it is not true for all of them. We attempt to cover several companies in this article that focus on creating Paleo frozen meals using the types of ingredients you might use at home, without the typical fillers used by large conglomerates producing many of the mass market frozen meals.
We cover the following....
Frozen Meals Association with Unhealthy Ingredients
Frozen meals, or 'ready meals' as they're more commonly known as, have been demonized by mainstream media and health professionals alike for many years.
However, a new type of frozen entree has arrived on the market; the Paleo frozen meal. We're wondering whether they're actually any healthier than the standard frozen meal or are on par with freshly-made counterparts, so we've spent a bit of time finding out the answer so that you don't have to.
As you might expect, there's still some ongoing contention regarding the subject, but our short answer is yes, Paleo frozen meals are in fact healthy.
How are Paleo Frozen Meals Any Better?
We're so used to associating the typical frozen meal with the image of a scalding hot centre yet still cold on the outside that it's hard to imagine that a healthy frozen meal option exists.
Indeed, many of us have been so metaphorically (and sometimes literally) burnt by frozen meals that have been toted as healthy that it's easy to see why our faith in this option has declined.
But things have changed in recent years.
Of course you'll still find Hot Pockets in the freezer section, but the new age of actually healthy Paleo frozen meals is rushing into grocery stores near you. Paleo frozen meals have become popular amongst many, especially those living busy or hectic lifestyles who still want to maintain their physical and mental wellbeing.
Paleo frozen meals are different from standard frozen meals because they have to meet a certain set of standards to be marketed as such. These are as follows:
Gluten-free
Dairy-free
Soy-free
Free from added sugar
Free from industrial seed oils
Preferably without added preservatives or additives
Legume-free
Grain-free
This basically eliminates all of the unnecessary ingredients from these particular frozen meals that have worried purveyors of health for years. Frozen meals that meet these standards will be able to get a Paleo-certified logo stamped onto their packaging, which makes it infinitely easier for people like you and me to find accessible healthy frozen meals.
Another reason why usage of preservatives has reduced in most Paleo frozen meals is because there are new ways of packaging which ensures food is kept fresh for much longer. One of these methods is vacuum-sealing and the use of reusable ice packs, although these are often used by Paleo frozen meal delivery services as opposed to Paleo frozen meals you'll find in stores.
Some hardcore Paleo enthusiasts may disagree with the use of Paleo frozen meals, but they are a tool that can make the difference to many families and busy professionals.
There is certainly a case for frozen Paleo meals being arguably healthier than fresh meals because they are kept as fresh as possible via freezing shortly after they are prepared. These meals are then not permitted to thaw until you want to use them, minimising the amount of nutrients that are lost through deterioration. This technique also deals with issues of food safety that sometimes come about with fresh food.
With fresh Paleo meals, the nutritional value of the food is very quick to deteriorate in comparison, unless they have been vacuum-sealed and kept chilled. They are still very healthy, but Paleo frozen meals are the superior choice if being bought or delivered from outside the home.
Watching Out For Fake Healthy Frozen Meals
As we mentioned before, one reason why faith in frozen meals has waned previously is due to the amount of meals that have been marketed as 'healthy', but upon closer inspection are not healthy at all!
You won't really find this to be an issue with Paleo-certified frozen meals, but it's something you'll want to watch out for in other 'healthy' frozen meals. We appreciate that there isn't always a wide range of Paleo-certified frozen meals in some grocery stores, so trying to find alternatives can be a tricky task.
To that end, we've put together a short list of things to look for in the ingredients list on frozen meals that you'll want to avoid. This is because these ingredients are not compliant with the Paleo diet.
Canola oil – Also known as rapeseed oil, canola oil is not permitted on the Paleo diet because it's classed as a highly-processed industrial seed oil. This means that it has undergone a number of heating and filtering processes which damages the quality of the oil and makes it more inflammatory to our bodies. One way it does this is by disrupting the ideal balance of omega-3 and omega-6 fatty acids in our body, which is linked to long-term inflammation in the body, which can look like arthritis and cardiovascular disease.
Soy – Soy products are not allowed on the Paleo diet, but are often used in many food products in various forms, such as soy protein, soy lecithin, soybean oil, soy sauce and tamari, although this is not an exhaustive list. Soy is eliminated on the Paleo diet because it is categorised as a legume.  
Sunflower oil – Like with canola oil, sunflower oil is an industrial seed oil that disturbs the natural and ideal balance of omega-3 to omega-6 fatty acids. It's not permitted on the Paleo diet because this improper ratio can cause issues like type 2 diabetes and obesity.
Safflower oil – Safflower oil is another industrial seed oil that is not allowed on the Paleo diet. Look out for its inclusion in many products in the grocery store, not just in the frozen section. It's used because it's cheaper to buy and use in products, but as we mentioned above, it adversely affects the ratio of omega-3 to omega-6 fatty acids in our body, which can lead to long-term negative health effects.
Sugar – Added sugar is another sneaky thing that companies often put into their products to make them more palatable as well as being cheap to use. Added refined sugars are not permitted on the Paleo diet, although alternative natural sweeteners like honey, maple syrup and fruit extracts are allowed in small amounts. It's best to exercise your best judgement on this matter and make sure to check the nutritional information on the packaging to check the total sugars in any serving.
Milk powder – Any form of dairy is not included on the list of foods you can eat on the Paleo diet, because it is one of the most common allergens that people have issues with. However, skimmed milk powder is often present in a lot of 'healthy' frozen meals, so it's worth checking the labels to see if it's included. Watch out for other common dairy products used in products such as butter, whey powder, buttermilk powder, whey protein concentrate and casein.
This post contains affiliate links. Thank you for supporting us! Click here to learn what this means.
Some of our Favorite Paleo Frozen Meal Companies
The companies below are on the healthier end of the spectrum in terms of the offerings for Paleo frozen meals that we have covered. These companies strive to create Paleo meals in a similar manor as you would create at home, similar to spending a weekend day packing your own freezer with homemade leftovers.
However, with their partnerships directly with farmers, they are often able to obtain ingredients that could be hard to obtain in your area.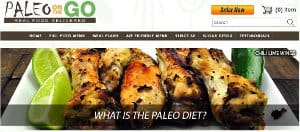 Paleo on the Go
Paleo on the Go are a great option for those looking for healthy Paleo frozen meals that are also AIP-friendly. AIP stands for the autoimmune protocol, which is an extension of the Paleo diet for those looking to heal autoimmune symptoms naturally.
Paleo on the Go have a whole section on their website dedicated to their full AIP menu, as well as Whole30 meals and keto meals. All of their meals are frozen to retain its optimum freshness and nutritional value. This company also specialises in using only humanely-raised animal products and high-quality produce. Produce that is on the Dirty Dozen list (meaning that generic-bought versions have high concentrations of pesticides in them) is sourced from organic suppliers, so you can be sure that you're getting the safest food for yourself and your family.
Paleo on the Go gives you the security of buying as and when you like, so you're not tied into a subscription service. The only caveat to this is that yu'll need to purchase a minimum of $99 worth of Paleo meals, which will be shipped to your door in 3 days or less depending on your location.
To find out more, check out: paleoonthego.com 
Note: Paleo on the Go is offering a 10% discount for our readers, use code "MYPALEOS" at checkout for 10% off your entire order – one time use.
Here is a video of me unboxing my latest Paleo on the Go order: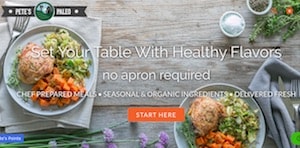 Pete's Paleo
Pete's Paleo delivers Paleo meals that use seasonal ingredients to the United States. Although Pete's Paleo do not ship their meals as frozen, they can be easily frozen once received. You can also be confident knowing that the quality of the meals is still high, because Pete's Paleo use vaccuum-sealed packaging to ensure freshness and flavor.
Pete's Paleo are a good option for those who are undergoing sugar detoxes, as their meals are compliant with sugar detox rules. This meal delivery company also has lines dedicated to Pale0-keto diets as well as AIP diets, which means that there's something for everyone.
These Paleo meals are priced between $14 and $15.99 per meal, which can be chosen as part of a weekly or fortnightly subscription plan. Another benefit of choosing Pete's Paleo is that most orders ship free, so the price you see online is the price you pay at checkout.
To see what's currently on Pete's Paleo's seasonal menu, take a look at: petespaleo.com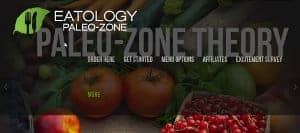 Eatology
Eatology uses Zone diet principles combined with the Paleo lifestyle to create delicious and healthy Paleo frozen meals that are delivered to your doorstep.
These Paleo meals are macro-balanced, meaning that they have the right balance of protein, fats and carbohydrates in them to ensure that you stay fuller for longer with more energy.
They describe their meals using 'blocks'. A 2-block meal is generally around 155-175 calories, and a 3-block meal is between 230-250 calories. Eatology states that most women are sustained with a 2-block meal, and most men do well with a 3-block meal.
The good thing about Eatology is they hae a fixed price on their meals, so you don't have to worry about price fluctuations based on your personal meal preference. Instead, they have a flat rate of $10.50 for all 2 block meals, and a flat rate of $12.75 for all 3 block meals.
If you're interested in using Zone principles in line with your Paleo diet, head to: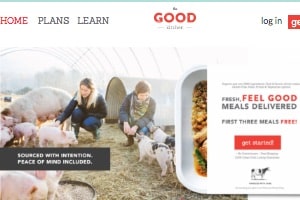 The Good Kitchen
The Good Kitchen are another popular Paleo frozen meal delivery service that we have a good relationship with. They have gained traction recently due to the inclusion of their line at reknowned grocery stores like Walmart. These meals have been stocked to help with Walmart's healthy initiative, which encourages people to lead healthier lifestyles.
The Good Kitchen are completely Paleo, with many of their meals also being stamped with the Whole30-approved seal of approval. This means that many of their meals are also free of alcohol, added sugars (even natural), carageenan, MSG, gluten and non gluten-containing grains and legumes.
This is great news for those who have additional food intolerances or allergies, or are looking to undergo a reset diet like Whole30. These meals are also very nutritious even if you're following a basic Paleo template, so it's a win-win situation.
The Good Kitchen are well-known for their sustainable food sourcing, making sure that they have good relationships with local suppliers and farms. Their animal products are grass-fed or pasture-raised, and their seafood is compliant with Seafood Watch standards.
You'll pay between $11 and $13 per meal at The Good Kitchen depending on which subscription you want to pick. You're also not limited to only subscription options, as The Good Kitchen allows 'a la carte' orders for those of you who want to make fewer orders. If you go for this option expect to pay between $11.99 and $15.99 per meal.
To see more of what's on offer at The Good Kitchen, head
See thegoodkitchen.com for The Good Kitchens complete menu and bulk meal options
The Good Kitchen is offering a 15% discount for our readers. Use promo code "mypaleos" at checkout for 15% off your first order.
Eatology is offering a 20% off promo for our readers (works for first & all later orders), use code "ZACHPALEO" at checkout
Final Thoughts
So we hope that this has brought some clarity to the Paleo frozen meal debate, and that you can feel more confident knowing that you can still have your Paleo frozen meal and eat it without worrying about health-related repurcussions. And with the emergence of Paleo frozen meal delivery companies that care deeply about how their ingredients are sourced, your freezer section can now be filled with only the best quality foods for you and your family.