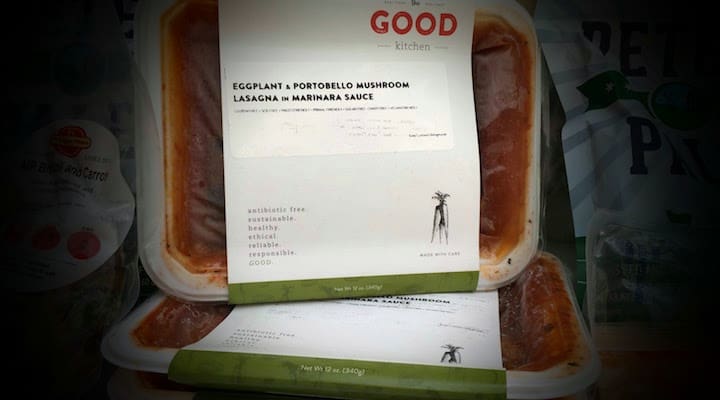 Many people looking to eat healthier often start by eliminating gluten and dairy from their diet. If you've been having digestive distress (gluten or lactose intolerance), or if you've been diagnosed with Celiac disease, elimination diets can help ease and reduce symptoms. However, you may have found that searching for recipes, shopping for, and preparing meals that exclude gluten and dairy can be incredibly time consuming.
If you're looking for a way to save time in your week, we may be able to help! There are a number of online meal delivery services catering to customers who wish to order gluten and dairy free meals online. Often, many of these companies even go a step further, offering their customers meal plans specifically to help reduce inflammation and digestive distress.
Those interested in going gluten and dairy free may also be interested in the Paleo diet – a diet that not only removes gluten and dairy from meals, but also excludes legumes, sugar, and refined oils. The Paleo diet also focuses on using ingredients that are organic, non-gmo, wild caught, pastured, and free-range. And there are quite a few companies who create Paleo meals and ship them to your door, ready to eat. For those interested in saving time during your week and having meals shipped to your home (or business), we've compiled a list of companies that will create and deliver gluten and dairy-free meals anywhere in the US. While many of these companies cater specifically to Paleo customers, there are also a few who offer less strict gluten-free options for customers who wish to include dairy and some grains in their diets.
This post contains affiliate links. Thank you for supporting us! Click here to learn what this means.
We cover the following....
Availability of Fresh, Pre-Made Gluten and Dairy Free Meal Delivery
The services we've listed below all offer gluten and dairy-free meal delivery. These companies make their meals from scratch, using only quality ingredients, and will ship to addresses anywhere in the US. These meals are refrigerated so that food stays fresh. All you have to do is open up, reheat, and eat it. For customers with busy schedules who are looking for a way to save a bit of time in their day and maintain their health, there are a variety of companies online who will ship fresh meals straight to your door.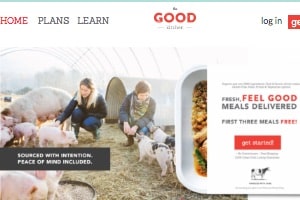 The Good Kitchen
While the Good Kitchen is known  for their Paleo (and therefore dairy-free) meals, they also have a series of meals that are specifically for gluten-free customers. The Good Kitchen creates all meals based on organic and GAPS certified local produce that is currently in season at farms in their local area of North Carolina. Their weekly changing menu is based around what is in-season and delicious. They also source exclusively grass fed and grass finished meat, pastured eggs, poultry, pork and seafood watch approved seafood and fish. Despite these high standards, by partnering directly with local suppliers, they are able to keep costs in line with a typical delivery meal. Some options, like their apple and sage-roasted chicken breast, would be at home on a Paleo menu. But there are also a handful of options, like their shakshuka, which incorporate dairy (in this case, goat cheese!) if that is something you cannot live without. There are a few reasons you might be interested in ordering from the Good Kitchen: If you have kids, they offer gluten-free, organic, and non-gmo lunchbox meals for kids; on each of their menu options, they list each ingredient; they have bulk order options; and they offer free shipping, with a minimum of 5 meals per order, to everyone in the continental US no matter where you live. 
See thegoodkitchen.com for The Good Kitchens complete menu and list of gluten and dairy free meal delivery options.
The Good Kitchen is offering a 15% discount for our readers. Use promo code "mypaleos" at checkout for 15% off your first order.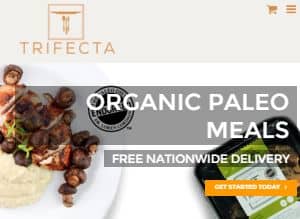 Trifecta
Trifecta is a meal delivery service that knows its customers are interested both in their health and in their fitness. The company offers its customers four healthy-eating plans and all four options are dairy and gluten-free. For customers concerned with the quality of their food, Trifecta is located in California's Central Valley (a region known for its organic farming). The company prides itself on using ingredients that are USDA certified organic as well as proteins that are humanely raised. For customers interested in preparing and portioning meals themselves, Trifecta offers an a la carte option where you can buy items like flat iron steak, wild caught salmon, or mixed vegetables. Trifecta ships food anywhere in the US, and all food ships free.
See trifectanutrition.com for current prices on their gluten free dairy free food delivery offerings.
Getting Dairy and Gluten Free Frozen Meals Delivered
The companies we've listed above offer fresh meal delivery – which is an excellent option if you plan on ordering recurring meal-plans. But having fresh food shipped to your door can often be expensive. If you're not necessarily looking for a fresh meal delivery service, you might still be interested in companies delivering frozen meals. These meals are gluten and dairy free and freezer ready. If you're looking to keep a few meals on hand for emergencies, you might check out these companies!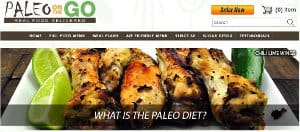 Paleo on the Go
Customers looking to go gluten and dairy free without giving up on gluten-typical foods (pancakes, bagels, etc) should take a look at Paleo on the Go. Paleo on the Go offers their customers options like breakfast tarts, empanadas, pot pies, cookies, and bagels – all gluten free. If you're interested in trying to eradicate gluten and dairy from your diet as a way to help solve digestive distress, Paleo on the Go offers an entire Auto-immune menu, which eliminates certain foods known to cause inflammation in the gut (like nightshades and seeds, among other ingredients). Where many companies require that you purchase a meal plan, Paleo on the Go allows customers to purchase meals a la carte from their wide variety of constantly changing menu options: options like, moo shu pork tacos, or grass-fed beef chili.
See paleoonthego.com for prices and gluten free dairy free delivery meal selections.
Note: Paleo on the Go is offering a 10% discount for our readers, use code "MYPALEOS" at checkout for 10% off your entire order – one time use.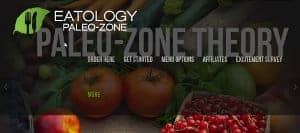 Eatology
If you're gluten, dairy, and budget conscious, Eatology is a great service to consider. Eatology is a Texas-based company whose meals follow not only the tenets of Paleo but also the Zone protocol, which concentrates on balancing macronutrients to help regulate blood insulin levels. Eatology's meals are priced by portion size (not by ingredients) and they offer breakfast, lunch, and dinner options like apple bacon breakfast hash, barbecue chicken burgers, and horseradish beef brisket. You can order weekly or monthly meal shipments (single or recurring orders). 10 frozen meals will cost about $10.50 a meal. Shipping prices depend on cooler size and weight, but all meals are frozen and shipped to your door.
See http://www.eatology.co for Eatology's Paleo-zone plans and pricing, which offer nationwide options for gluten free dairy free meal delivery.
Eatology is offering a 20% off promo for our readers (works for first & all later orders), use code "ZACHPALEO" at checkout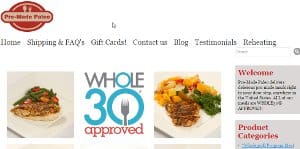 Pre-Made Paleo
Pre Made Paleo is a company dedicated to creating meals that follow the Whole30 Diet – which means that meals are (you guessed it!) gluten and dairy-free. The company has a large menu and, like Paleo on the Go, allows customers to order meals a la carte or as part of a meal plan. They have an AIP menu and create their meals from organic ingredient and wild-caught, pastured protein. For customers interested in snacks or hard-to-find ingredients, Pre Made Paleo has a rotating list of specialty items (water buffalo Bratwurst, RXbars, etc). While Pre Made Paleo does have a fresh delivery option, they offer customers an option for frozen meal delivery. Their meals are freshly made and then flash frozen, so all you have to do is reheat them.
See premadepaleo.com for prices and their organic gluten free meal delivery nationwide plans
Pre-made Paleo has offered a 5% discount (one time use) on all orders for our readers. Use code "MYPALEOS2018" at checkout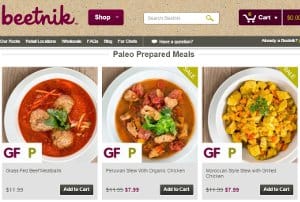 Beetnik Foods
Beetnik foods is one of the companies on this list that you can find in your local supermarket. Unlike some of the other companies here, they have a set menu, but their frozen meals are entirely gluten free and made from organic ingredients. If you're not able to find them in your supermarket, they also ship their meals straight to your door. The company offers options like chicken cacciatore (with gluten free pasta) or Thai-style beef with coconut rice. Many of their meals are certified Paleo (and therefore dairy free), but others (like their grass-fed beef stroganoff) include dairy.
See prices via Amazon or http://www.beetnikfoods.com/
For our detailed write up on Beetnik including Beetnik gluten free meals to go reviews, see our in-depth coverage on them.
Dairy Free and Gluten Free Meal Kit Programs
Maybe you love cooking – and it's the recipe-searching and shopping that takes up too much of your time. You might want to try a meal kit program. Meal kit programs are excellent for novice chefs looking to learn ways to cook and eat healthier, as well as experienced cooks who just need a bit of weeknight support. These companies offer their customers a rotating list of meal options and ship fresh ingredients to your door. The companies we've listed below have a wide variety of meals to choose from, many of which are gluten and dairy free. If you like to cook and are looking to save time and add a few new meals to your repertoire, you might try the following companies.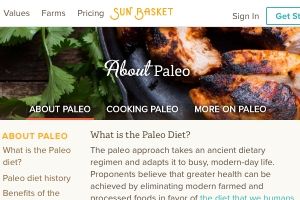 Sun Basket
Sun Basket creates a new menu every week and is dedicated to offering its customers meals that fit their particular dietary needs. They have a series of plans you can choose from, or you can simply browse through their weekly menu to find recipes that meet your dietary restrictions (Sun Basket labels each recipe, so it's easy to find meals that are dairy and gluten-free). Customers wishing to forgo gluten and dairy can order meals like seared steak and porcini sauce, or salmon with escarole, dates, and orange-almond relish. The company works with local farmers, and their meals are created based on available ingredients. Meals ship and are delivered in one day, arriving fresh on your doorstep. Ingredients come pre-portioned with a small cookbook that gives you step by step instructions on how to prepare and cook your meals. They offer meal options for couples and families and you can choose how many meals a week you wish shipped. 
For Sun Basked prices see: https://sunbasket.com/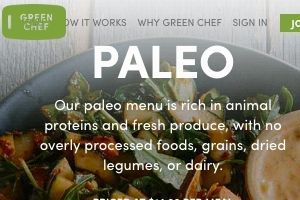 Green Chef
Like Sun Basket, Green Chef is dedicated to offering customers organic meals they can cook at home in a half hour or less. They have a variety of meal plans (vegan, omnivore, Paleo, pescatarian – you name it!) but customers interested in going gluten and dairy free will be interested in their Paleo meal plan (though they also have a gluten-free menu whose meals are often dairy-free as well. Their menu rotates weekly (this week they're offering mustard-spiced chicken, tuna poke bowl, and Montreal tuna steak). Meals come with pre-packaged, pre-portioned ingredients and are available for two or four person families. Like Sun Basket, Green Chef is a subscription service (you sign up for weekly meal delivery) but customers have the option to cancel or skip weeks. Customers receive their meals in Green Chef's recyclable containers.
For Green Chef prices see: https://greenchef.com/menus/paleo
Gluten and Dairy-Free Prepared Meal Delivery is Available
If you find yourself with neither the time nor inclination to shop for, prep, and then cook gluten and dairy-free meals, there are still plenty of ways to maintain your diet. Whether you're interested in shortening the prep time and cooking meals yourself, keeping a few frozen meals on hand for emergencies, or stocking your fridge with a week's worth of dinners, there's a gluten free dairy free meal delivery option out there for you! What we hope you've gathered from this list is one or two companies that might help you stay on your diet and save a bit of time in your week.