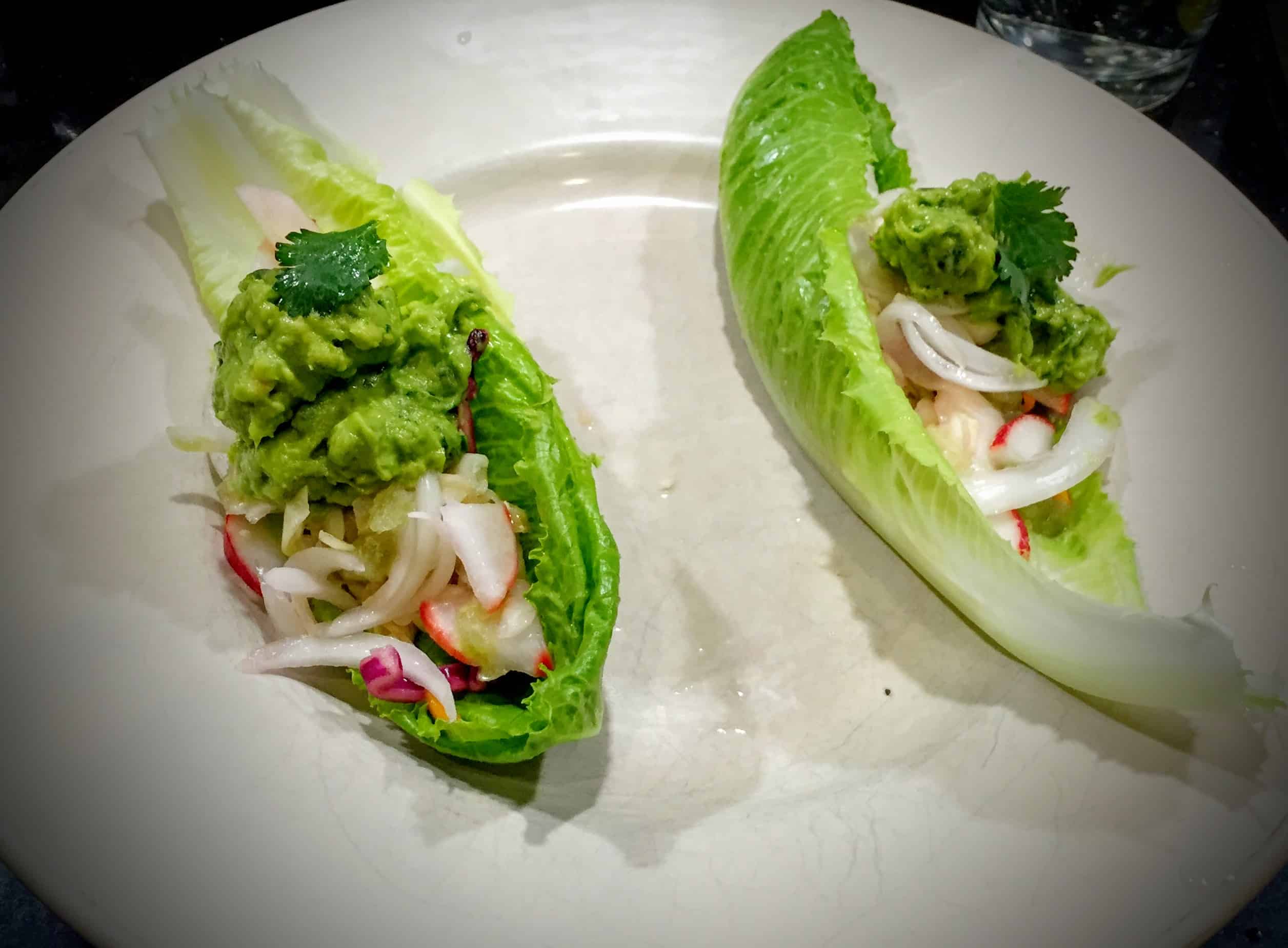 As a lover of Mexican flavors such as fresh limes, we have made lime juice the star of all the the components of this recipe. As with all tacos, this recipe allow for mixing and matching different combinations of ingredients. Here we'll outline our favorite options to include in the Tacos: fresh guacamole, radish and cabbage slaw and baked cumin/lime cod pieces. 
Despite the different components in this recipe, relatively few ingredients go into the fish, slaw and guacamole toppings, making this an easy recipe to make and to shop for, even on a tight schedule.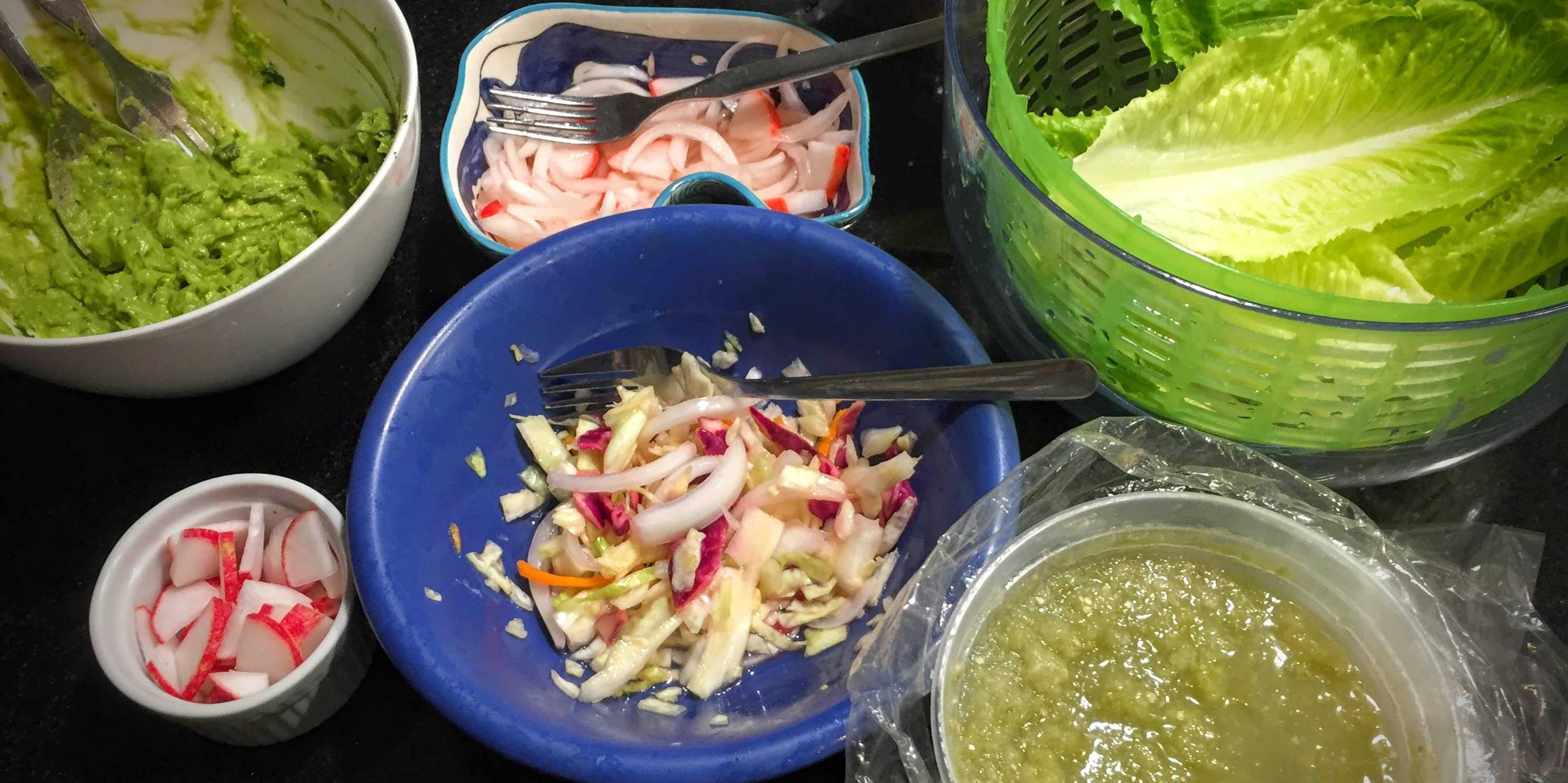 For your next Taco Tuesday, consider trying out this version of fish tacos. They are low calorie and healthy, use all fresh ingredients and can be ready in under an hour. This is one of my favorite weekday night meals.
Below are suggested components to include as options for filling your tacos.  The nice thing about Tacos are that you can lay out all of the options and everyone can choose for themselves the individual components they would like. This is great for households where some people are keeping Paleo (like all items below) and others others would like to add in their own less healthy taco toppings.
We cover the following....
Lime Infused Cabbage-Radish Slaw
To create the Cabbage and Radish Slaw, simply toss the ingredients below in a large bowl. Let it sit for at least 20 minutes to fully marinate while you work on the other parts of the recipe. We often use the bagged organic pre-shredded cabbage offered by Trader Joe's to save time, which contains only fresh organic green and red cabbage and carrots. 
Ingredients
Fresh lime Juice (about 2 tablespoons, approx. the juice of 1 lime)
Radishes, about 6 small sized radishes sliced into 1/2 inch slices and then quartered
Cabbage, 2 Cups Fresh shredded (we often use a bag of Organic pre-shredded cabbage sold at Trader Joes)
Onion, 1 Small to Medium,  sliced into thin strips (pole to pole)
Red Wine Vinegar, 1 Teaspoon
Salt to Taste 
Baked Cod Tossed in Cumin and Lime Juice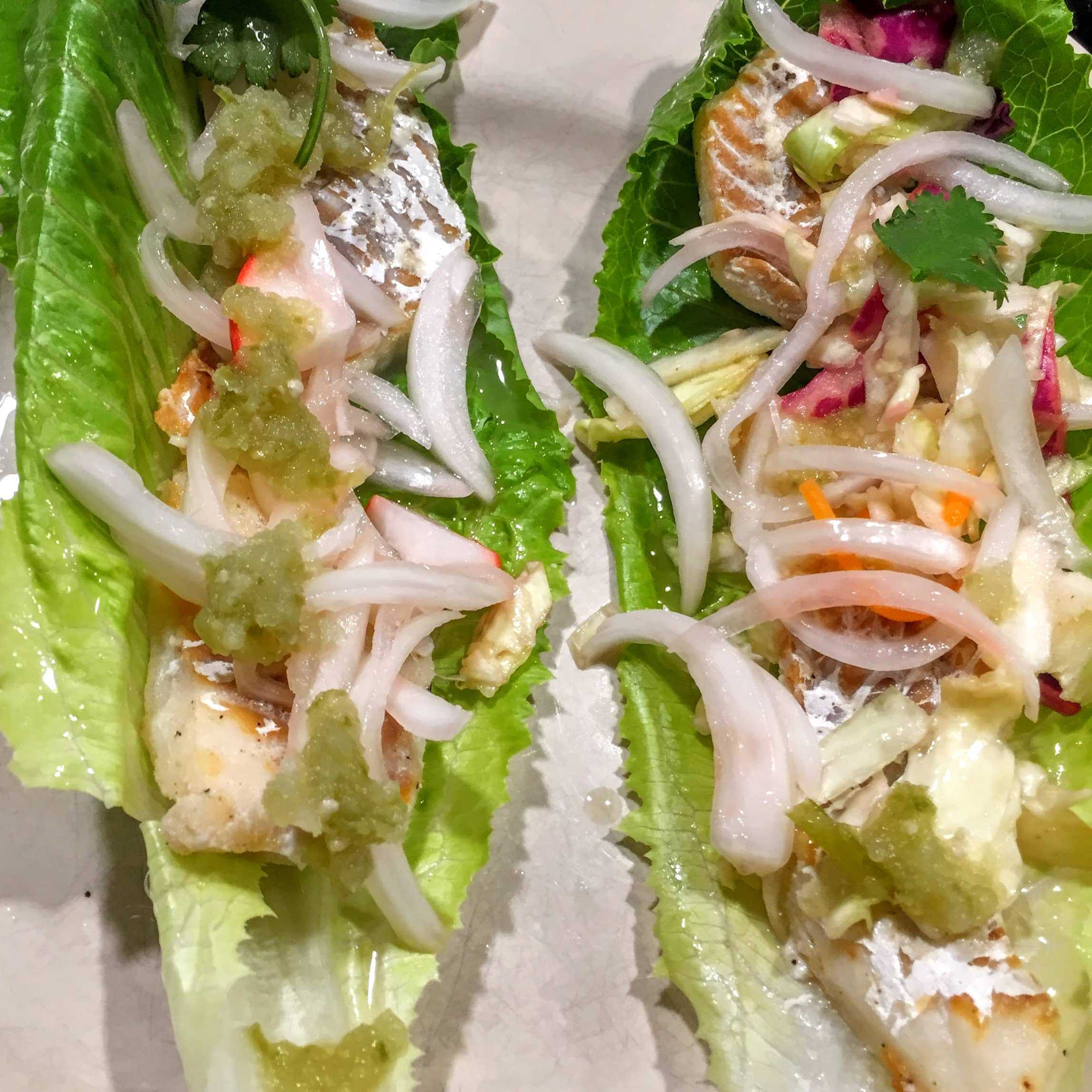 To make the cod, fully defrost (if using frozen) and cut into relatively uniform pieces of 1-2 inches in diameter.  We often use the Wild Alaskan Trader Joes Frozen Cod Pieces as we'll be cutting them into pieces anyway. They are an amazing deal for Alaskan wild caught fish. Preheat the over to 400 degrees and cover a baking sheet with Parchment paper or Aluminum foil. Sprinkle a large pinch of salt on both sides of the cod pieces. Squeeze the fresh lime juice to cover both sides of the cod pieces as well, and sprinkle a light dusting of cumin (and Cayenne if you would like to add some spice) on each piece of fish. Bake until the cod is opaque and flaky when tested with a fork,  from 12-15 minutes.
Ingredients
Fresh Lime Juice, approx. the juice from one lime (enough to coat each piece of fish)
Cod (or other whitefish), cut into 1-2 inch pieces 
Cumin powder, look for one that is Organic and pure Cumin with no additives or caking agents, about 1 teaspoon 
Salt, large pinch
Black Pepper
Cayenne powder, optional 
Homemade Guacamole with Cilantro Paste
For the guacamole, mix the Cilantro with a large pinch of salt and grind until it forms a paste. When the paste is almost smooth, add the garlic and continue to grind until it forms a smooth paste. Finally once uniform add the cilantro/garlic paste into a large bowl with the lime juice, diced onion/shallot, avocado flesh cut into chunks and mash until either smooth or chunky depending on how your prefer your guacamole. Add salt and pepper and additional small amounts of lime juice to taste. Adding in the step of making a paste with the cilantro really takes the taste of the guacamole to another level.
Ingredients
Fresh Lime Juice, 1 tablespoon (adjust to taste at the end)
Avocados, 3 small or 2 Medium or equivalent
Cilantro, 1/2 Cup Roughly Chopped 
Onion or Shallot, 1/2 small onion or large shallot (finely diced)
Fresh Garlic, 1 clove
Salt
Black Pepper
Lettuce Wraps
The lettuce wraps couldn't be simpler. We usually purchase bagged organic whole romaine hearts from the grocery store, but virtually any attractive whole leaf lettuce will do. Just look for ones where the leaves are intact. We simply rinse the leaves and shake them dry, leaving them in a colander to try further while preparing the other ingredients. 
Other Toppings 
Some other topping suggestions:
Fresh chopped Cilantro as a Garnish
As pictured, I recommend adding washed and loosely chop fresh cilantro as a garnish. I am a cilantro LOVER, and so can't ever get enough, especially in Mexican inspired dishes.
Radish Slices
As pictured fresh radish slices were also included as an optional topping, so that you can adjust your own personal level of crunchiness when assembling your tacos. These additional radishes were simply sliced into small pieces to apply directly to the Tacos.   
Tomatillo Salsa
A vendor at our local farmers market offers a fermented tomatillo salsa containing only tomatillos, jalapenos and salt so we had some of that left over which we used as a topping (pictured). However, there are some great whole food tomatillo recipes online if you are so inclined. 
The Finished Product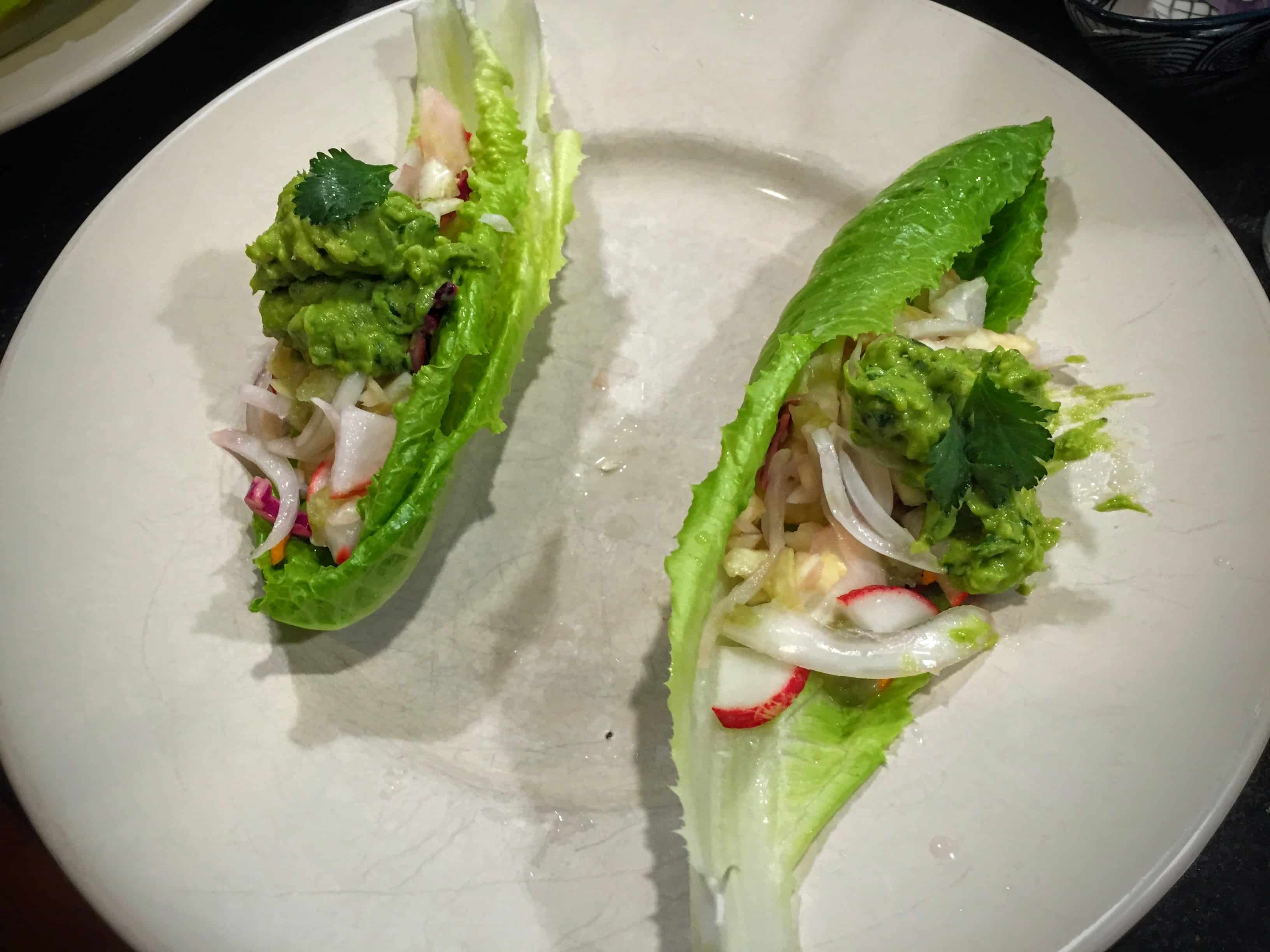 Finally, simply lay out a few large lettuce wraps on a plate and add chunks of the seasoned fish along with your choice of other components based on your own personal preferences. I dare you to eat just a few! Luckily, given the extremely healthy ingredients, you don't have to stop yourself.