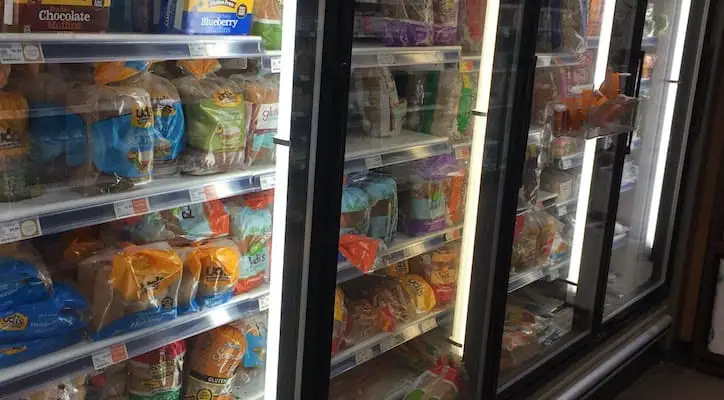 If you have been eating Paleo for a while you likely know how time-consuming it can be to make all your meals from scratch. One of the main principles behind following the Paleo Diet is eating food made from unadulterated produce, meats and fish.
If you are a Walmart shopper, you likely have wondered to yourself if there are any Paleo frozen meals Walmart offers in their stores.
If only companies would offer prepared foods that use the same meticulous sourcing of ingredients that you use when you make meals for yourself at home, right?
The great news is that there are now companies popping up throughout the country that have made it their mission to make foods following Paleo standards (with varying levels of success) and several are available at Walmart.
We cover the following....
Finding Paleo Frozen Meals at Walmart
The even better news is that Walmart now sells several of these major frozen food brands for Paleo dieters, some in their stores and some online.
Although Walmart wouldn't be the first place I would think of when trying to find paleo frozen meals, it turns out to be a pretty good place to look, especially if you live in an area with lots of Walmart stores and not a lot of specialty food stores. Walmarts are everywhere and one of the closest shopping options for many people in many parts of the country.
Companies offering Walmart Paleo Frozen Meals
The companies below are ones that might typically be available at your local Walmart. You will find these meals in the frozen foods aisle at your local store, if they carry them.
Walmart works with a handful of specific Paleo Frozen meal companies, which we cover in the section below. Shrink wrapped…
All the Walmarts works with only specific brands they the ones they do sell or you're very typical frozen dinners they come in with familiar shrink wrapped package you can pop in to the microwave for a quick ready to shoot meal.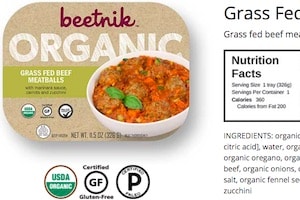 Beenik Paleo Walmart Meals
Beetnik Foods offers a line of frozen Paleo ready to heat meals which are now carried at a number of Walmart locations. They offer two meal lines, one which is certified Paleo by the Paleo Foundation and some meals which are gluten free but not Paleo. In my research I have only seen a subset of their Paleo meals available for purchase at the Walmart locations in my area, so your mileage may vary in terms of finding all of their meals. Unfortunately, all four of the Paleo meals I was able to find for sale at Walmart in my area: Shepards Pie, Lemon Chicken with Cauliflower Rice, Beef Chilli with Sweet Potato and Chicken and Vegetable Stir Fry, all contained potato flour as one of the ingredients. So depending on how strictly you are following Paleo, these Beetnik Walmart frozen meals may or may not be for you. If you can find other beetnik meals such as their grass fed beef meatballs, that do not contain potato based ingredients, you may be in luck (but unfortunately I didn't see that one being sold in my particular area).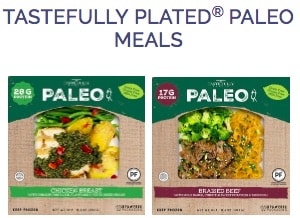 Tastefully Plated Walmart Meals
Tastefully Plated meals are often available in the Walmart freezer section. Like Beetnik, Tastefully Plated has both a Paleo meal line as well as a non-Paleo "natural" meal line. There are currently 3 meals in their Paleo line, their: Braised Beef, Chicken Breast and Braised Pork entrees. The meals have been certified Paleo Friendly by the Paleo Foundation, but likely not full Paleo due to all three of the meals including potato starch as an ingredient, and other not technically Paleo ingredients such as sugar listed in their Braisted Beef entree. Due to the extra large placement of the word "PALEO" at the top of the packaging, some people have started referring to the Tastefully Plated meals as Paleo Brand frozen meals, but they are not directly affiliated with that Paleo Diet creators any more than any other brand attempting to make Paleo friendly meals.
Paleo Freezer Meals Walmart Marketplace Sellers
In contrast to the section above, Walmart is also working with third party companies to expand the number of products they can offer. One of these brands that has begun selling their Paleo frozen meals through this Walmart Marketplace program is Pete's Paleo (see section below).
Marketplace sellers offer products through the Walmart.com website, so you likely won't find the Pete's Paleo meals in the freezer sections of your local Walmart, but if you go on the Walmart website and look for Paleo options, you will likely find the Pete's Paleo meals will come up in your list of options.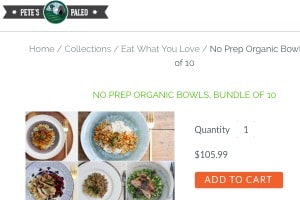 Pete's Paleo Bowls Bundle
Pete's Paleo Frozen Meals Walmart Bundle
Pete's Paleo has been selling Paleo meals for many years through their website and we have covered them before. In terms of the Walmart Paleo frozen meal offerings, Pete's Paleo is on the other end of the spectrum in terms of being very careful to be fully compliant with the strictest interpretation of the Paleo Diet. For example, all produce is organic, all meats grass fed and grass finished or pastured and they use no sweeteners in their meals (Paleo or otherwise). One nice thing is that the Walmart bundle using cauliflower rice as a base is less expensive per meal than their traditional meal plans, although they now do offer the same bundle on their website. If you like the idea of having your meals delivered to your home rather than having to pick them up from Walmart or prefer the strict Paleo adherence, Pete's Paleo (or one of the companies in the next section) might be a good fit for you.
Alternatives to Prepackaged Paleo Meals at Walmart
As described above, because the Pete's Paleo meals are sold through the Walmart marketplace, the only thing Walmart is actually doing is processing the payment – the meals will actually be made and shipped to you directly by Pete's Paleo from their kitchens.
This is exactly the same thing as buying frozen meals from one of the companies below, which all ship their Paleo meals nationwide, so if you are happy with this type of arrangement you aren't restricted to Pete's Paleo. These companies all ship your frozen (or even fresh) meals directly to your home, exactly the same way it works when you make a Walmart marketplace purchase online, such as a third party product on the Walmart website or Pete's Paleo purchases through Walmart.
Here are some alternative companies to Pete's Paleo and even Beetnik and Tastefully Plated that you might consider: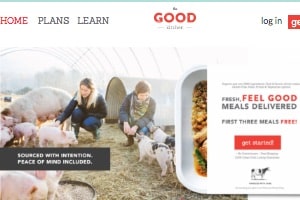 The Good Kitchen
The Good Kitchen offers meals that are packaged just like meals you might find in the Frozen food section in Walmart – vacuum sealed, nicely labeled. However, the comparisons tend to end there – TGK meals are made with organic produce based on what is curently in season at local farms that they parner with, grass fed and grass finished beef, pastured poultry, turkey and pork and wild fish and seafood that is in compliance with the Monterey Bay aquirium guidelines for sustainable fish. The Good Kitchen was initially created as the company modPALEO, focusing specifically on Paleo compliant meals, but they did recently add some primal meals to their food lineup – however you are able to filter easily on Paleo only meals (the majority of their offerings) and each meal includes complete ingredient information without opaque ingredients like "spices" found on some packaged Paleo meals, that leave you wondering what you are eating. Unlike the Beetnik or Tastefully plated meals described above, the Good Kitchen has a weekly changing menu with over 20 different meals every week, so the variety and options are much greater. You have the option of ordering a recurring plan or a one time order, with all deliveries offering free shipping to any address in the United States, with a minimum of 5 meals per order.
See thegoodkitchen.com for prices and menu.
The Good Kitchen is offering a 15% discount for our readers. Use promo code "mypaleos" at checkout for 15% off your first order.
I took a video when unboxing a recent TGK order: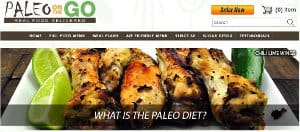 Paleo on the Go
Paleo on the Go is another great option for having frozen Paleo meals sent to your home or office (again similar to ordering through a Walmart marketplace seller on the Walmart website). This service is popular with those who are strictly following Paleo guidelines for health reasons. They offer a large menu of meals that qualify as not only strict Paleo, but even a subset of their menu that is designed for those following the Autoimmune Paleo Protocol (or AIP) which is a more strict version of Paleo designed to help improve gut health and difficult health conditions. Paleo on the Go operates their own private gluten free kitchen, something that those on a strict gluten free or Paleo Diet often prefer. All proteins from Paleo on the Go are grass fed/grass finished, pastured or wild caught. They also list the farms and sourcing details on their website so you can see where they are sourcing the ingredients used in the meals (they partner with farms in and around their area in Florida – so are a great service to order from if you leave in the Southeast of the U.S).
See paleoonthego.com for prices and menus.
Note: Paleo on the Go is offering a 10% discount for our readers, use code "MYPALEOS" at checkout for 10% off your entire order – one time use.
Here is a video of me unboxing my latest Paleo on the Go order: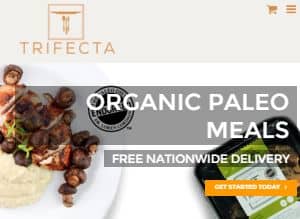 Trifecta
Trifecta Nutrition is another popular Paleo meal delivery service, this an especially great option for those living on the west coast as they are based in California – although they offer free delivery to any address nationwide. They focus on Paleo meal plans designed for those hoping to use the Paleo Diet to improve their fitness level, weight and health.  As part of signing up for one of their Paleo meal plans you will have the chance to also have a consultation with one of their nutritionists on staff. Trificta works to ensure all ingredients in their meals are organic and proteins are grass fed and finished, pastured or wild.
See trifectanutrition.com for current prices on bulk items and their single ingredient AIP paleo food delivery offerings
Paleo and Whole30 Walmart Meals
For those looking for complete Paleo ready-to-heat meals, the freezer aisle at Walmart can be a great place to look.
Although not every store location will offer Paleo frozen meals, if you live in an area with multiple Walmart stores your chances of finding something that works for you grows exponentially.
Finding Whole 30 Walmart frozen meal offerings can be even a bit more challenging as many of the Paleo frozen meals offered at Walmart are right on the borderline between Paleo and less strict Primal meals, but we do include some options above that should work for those trying to follow the Whole30 diet as well.
Checking Which Paleo Meals Walmart Has in Stock
One great feature of Walmart is that they can often let you know which products are available at a particular location. They even attempt to provide the level of detail of whether a particular Walmart location carries a particular frozen meal from a brand and whether it is currently in stock.
For example the closest store to me currently has Beetnik brands Organic Chicken and Vegetable Stir Fry meals in stock, but to find frozen Beetnik Organic Beef Chili and Sweet Potato I would need to travel to a store 4 miles away that currently lists having them in stock.
This can be an incredibly useful feature of the walmart.com website, especially when we talk about specialty products like Paleo frozen meals. This will often save you the trip to a store only to find out a particular product is not in stock or worse yet running all over town to try to track down the meal you are looking for.
Saving Money with Paleo Frozen Dinners at Walmart
As you can see from all of the companies we've covered so far, you have a number of choices available to you for getting Paleo meals if you live near a Walmart store. You may decide that you aren't following Paleo strictly, in which case the frozen meals described above in the Walmart freezer section may be just what you need.
There are some advantages to purchasing your frozen meals from the Walmart freezer sections. In my research on meals available in my area from Walmart stores, several of the Walmart Paleo frozen meals were in the price range of $1-$5 – quite a good deal!
As an alternative, Pete's Paleo meals bowl bundle sold through Walmart as well as through the Pete's Paleo site were averaging a little over $5 per serving (although $10 per bowl as well) – which is not bad when you consider the high quality ingredients that go into them. Many of the meals from Paleo on the Go, Trifecta and The Good Kitchen start at this general price point per bowl/entree as well.
So as with many other types of products, if nothing else Walmart has helped to make prepackaged Paleo meals more affordable.
Tell Us About Which Paleo Frozen Meals Walmart Carries at Your Local Store
Have you found wonderful and unique Paleo meals at the Walmart in your area? Do you have a favorite Walmart Paleo frozen meal that you love to stock up on?
Please share your own experiences in the comments below so that others might benefit.