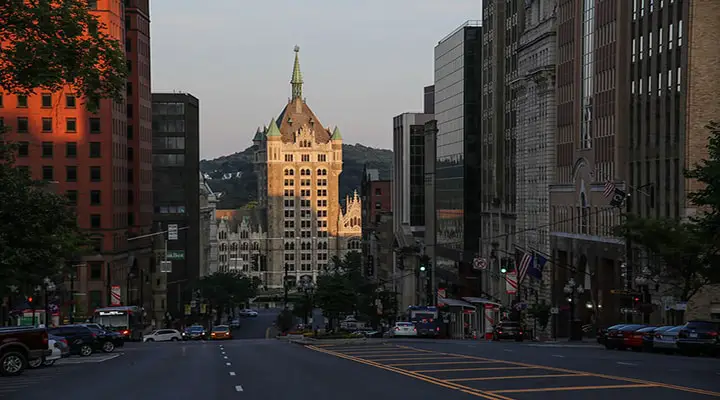 Whether you're a dedicated follower of the Paleo diet or are considering trying it for the first time, the prospect of making all of your meals from scratch using only locally-sourced, seasonal ingredients can seem like an overwhelming principle to live by. The demands of everyday life can seem overwhelming on their own, not counting the extra stress that a major life transition or busy stretch at work can add to the equation. That's why we've put together a list of companies which can take some of the stress out of your Paleo experience by delivering Paleo-friendly meals straight to your door.
The delivery companies listed below include both local companies, based in the Albany area, and national companies which deliver to any Albany address. These companies all strive to provide meals made with all-natural, organic ingredients and clean, grass-fed meats – along with the exclusion of ingredients like gluten, dairy products, and artificial sweeteners required by the Paleo protocol. While each company has something different to offer, all of them will provide you with healthy and convenient meals which won't require you to sacrifice any of your basic dietary principles in the process.
We cover the following....
Local Paleo Food Delivery Albany Options
If you're an Albany resident and are wondering where you can find a quick meal which also complies with Paleo guidelines, there are a number of companies located right in your area which fit the bill. These locally-based companies may not be exclusively focused on providing meals for Paleo dieters, but all of them feature at least a few Paleo-friendly options on their menu. These companies also represent a great opportunity to support local businesses while grabbing a quick Paleo meal at the same time.
9 Miles East Farm
9 Miles East Farm is a 29 acre local farm that doubles as a food deliver service delivering to the Capital District Region including Albany. 9 Miles East offers healthy meals in coolers delivered to your home or office address. Although they cater to those following a number of health conscious diets such as a vegan/vegetarian and gluten free diets, they mention that they work with people following the Paleo diet to create a Paleo friendly meal plan as well. Meals are delivered in one of their custom coolers which they then pick back up. Ingredients for the meals are sourced from their farm when available as well as supplementing with high quality oils and additional ingredients. They also offer local pickup of their To-Go meal line from select YMCAs in the region. Although most meals at these pickup locations may be gluten free they may not necessarily be Paleo compliant. It may be a little extra work to coordinate ordering a Paleo compliant meal plan with 9 Miles East but if supporting a local farm and local business is high on your list of priorities, it's definitely an option to consider.
For more information on 9 Miles East Farm and for prices see:
9 Miles East Farm Reviews:
http://spoonuniversity.com/lifestyle/local-food-busy-people-9-miles-east-review
http://www.rosenblumcompanies.com/healthy-prepared-meals-great-oaks/
http://www.localharvest.org/9-miles-east-farm-M40517
http://www.timesunion.com/tuplus-features/article/Harvest-of-pizza-at-innovative-farm-6386827.php
http://joninalbanyblog.blogspot.com/2015/04/pizza-from-9-miles-east-farm.html
9 Miles East Farm Facebook Reviews: https://www.facebook.com/NineMilesEast/
9 Miles East Farm Yelp Reviews: https://www.yelp.com/biz/9-miles-east-farm-pizza-schuylerville-2
This post contains affiliate links. Thank you for supporting us! Click here to learn what this means.
National Companies Offering Paleo Meal Delivery to Albany
The following section focuses on nationally-based companies which deliver Paleo meals to any address in Albany or the surrounding areas. Many of these companies offer structured meal plans which can help you stick to a regular meal schedule even if you don't have time to prepare a meal from scratch or run to the grocery store for extra ingredients. Depending on the company, your meals will arrive in either refrigerated cooler boxes or dry ice containers shipped via express shipping – ensuring that your food arrives as fresh as possible and ready to eat at a moment's notice.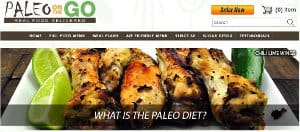 Paleo on the Go
Paleo on the Go is a widely-acclaimed Paleo delivery company which is based in Florida and delivers throughout the US, including the Albany area. They have won a variety of awards for their strict adherence to Paleo guidelines and expert ingredient sourcing – including their commitment to buying every item on the EWG's "Dirty Dozen" list organic. In addition, they are known for collaborating with top Paleo bloggers on recipes, which helps them keep up with the latest Paleo trends and keep their menu fresh and interesting. These attributes, together with the option to choose from either weekly meal plans or a la carte orders, make Paleo on the Go one of the most accessible options for new adopters of the Paleo diet and seasoned veterans alike.
See paleoonthego.com for prices and meal options.
Note: Paleo on the Go is offering a 10% discount for our readers, use code "MYPALEOS" at checkout for 10% off your entire order – one time use.
For our detailed write up on Paleo on the Go including reviews, see our in-depth coverage on them.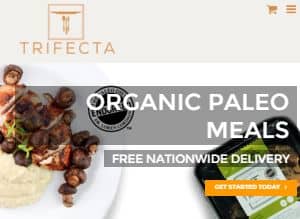 Trifecta
Trifecta is a California-based Paleo delivery company, which delivers to any address in Albany as well as throughout the US. They have a unique commitment to using 100% organic ingredients in all of their meals, which includes a focus on using proteins from humanely-treated, grass-fed animals – purchased from local Southern California farms whenever possible. They also design their meal plans with some of the biggest names in the Paleo community and package their meals in innovative sustainable packaging – making Trifecta one of the most forward-thinking and dedicated Paleo delivery companies on the market today.
See trifectanutrition.com for current prices for their Paleo and organic meal delivery Albany offerings.
For our detailed write up on Trifecta including reviews, see our in-depth coverage on them.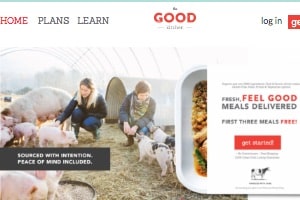 The Good Kitchen
The Good Kitchen is another national meal delivery company which prides itself on its highly customizable Paleo meal plans. Their meal choices are organized into individual menus based on the type of meat and/or primary ingredients used (i.e. beef, pork, chicken, vegetarian, etc.). This also includes the option of ordering from a "Primal" menu which attempts to remain firmly within the limits of what our earliest ancestors would have eaten. In addition to these choices, The Good Kitchen also includes a detailed list of ingredients with all of their meals, allowing customers to choose meals which suit their individual dietary requirements, while also setting the frequency with which they would like their meals to be shipped (weekly or monthly) and how many meals they would like in each shipment.
See thegoodkitchen.com for The Good Kitchens complete menu and list of healthy meals delivered Albany / nationwide plans.
The Good Kitchen is offering a 15% discount for our readers. Use promo code "mypaleos" at checkout for 15% off your first order.
For our detailed write up on The Good Kitchen including reviews, see our in-depth coverage on them.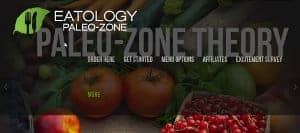 Eatology
Eatology is another national delivery service which delivers Paleo meals to Albany addresses. It is known for being one of the most affordable Paleo delivery services in the country, with flexible meal plans that allow customers to choose between weekly and monthly delivery cycles. This company also provides an added benefit for those who follow the Zone protocol in addition to the Paleo diet – as all of its meals conform to the requirements of both. This dual approach allows you to get the maximum benefit out of your food, with an emphasis on balancing macronutrients and promoting weight loss – all at a great value!
See http://www.eatology.co for Eatology's Paleo-zone plans and pricing, including nationwide plans for healthy meal delivery Albany options.
Eatology is offering a 20% off promo for our readers (works for first & all later orders), use code "ZACHPALEO" at checkout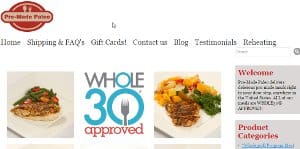 Pre-Made Paleo
Pre-Made Paleo, like all of the companies on our lists, delivers Paleo-friendly meals to any address in the Albany area. However, this company also boasts the developer of the recipes for the Whole30 cookbook as its head chef – not something that many other delivery companies can claim to offer! As a result, all of Pre-Made Paleo's meals are fully Whole30-compliant as well as Paleo-compliant, making this the perfect option for dieters on both programs. Also, if you're interested in expanding your culinary options, Pre-Made Paleo's trendsetting array of ingredients – including unique choices like water buffalo and wild boar sausage – can present an enticing alternative to your typical grocery store fare.
See premadepaleo.com for prices and Paleo meal delivery Albany inclusive nationwide plans
Pre-made Paleo has offered a 5% discount (one time use) on all orders for our readers. Use code "MYPALEOS2018" at checkout
For our detailed write up on Pre Made Paleo including reviews, see our in-depth coverage on them.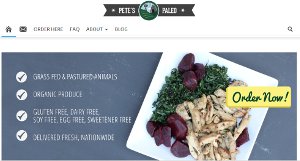 Petes Paleo
Pete's Paleo is known as one of the healthiest Paleo delivery companies in the country, due to its avowed commitment to using quality seasonal produce and clean, grass-fed proteins – as well as its complete avoidance of all sweeteners (even natural ones!) in all of its meals. This makes Pete's a particularly qualified source for those pursuing the Sugar Detox program, with a popular meal plan specifically dedicated to the program.  They also offer a plan for individuals following the Wahl's Paleo program, and ship all of their meals fresh, in vacuum-sealed pouches which are then packed in refrigerated cooler boxes to ensure that your meals arrive as fresh as when they were originally prepared.
See petespaleo.com for a complete list of prices, meal plans and healthy food delivery Albany options.
For our detailed write up on Petes Paleo including reviews, see our in-depth coverage on them.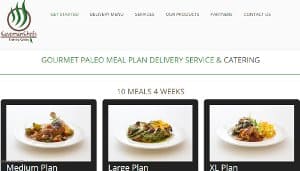 Caveman Chefs
Caveman Chefs is an up-and-coming Paleo delivery service based out of Denver, Colorado, which ships its meals fresh to Albany via express shipping. They've only been on the scene for a couple of years, but they've already made a name for themselves with their delicious food made according to exacting Paleo standards, using mostly local and seasonal ingredients. This policy leads to consistently high-quality meals with a regional flavor. Together with the company's customizable meal plans and dedication to providing options for individuals with specific dietary requirements or food allergies, this makes Caveman Chefs another great option to check out.
Visit http://www.cavemanchefs.com for more information on their Paleo delivery Albany options
Caveman Chefs has offered 10% off all orders by mentioning the promo #ZachmyPALeos in the order comments or mentioned by phone during checkout.
For our detailed write up on Caveman Chefs including reviews, see our in-depth coverage on them.
Every Year there are More Options for Paleo Meal Delivery Albany Paleo Delivery Options
As you can see, there are plenty of choices available to you as an Albany-area Paleo dieter, even if you find it hard to consistently make your own meals from scratch. The reality is that, although avoiding processed foods and making your own meals is one of the core components of the Paleo lifestyle, our busy schedules often interfere with our best efforts to plan for meals on a regular basis. But rest assured, companies listed above have you covered no matter what your schedule looks like.
With any of these companies, the task of searching for clean, organic ingredients will no longer seem like so much of a burden – as these companies doing all the ingredient-sourcing for you, providing you with fresh-cooked, non-processed Paleo meals that can be consumed at a moment's notice. This will allow you to gain some precious convenience without betraying any of your dietary principles. At the very least, trying one of these companies might be the step you need to prevent you from giving up on the diet – taking you that much closer to a lifestyle that is both healthy and convenient at the same time.
Other Paleo Delivery Albany Area Companies
If you have any suggestions of other places offering Albany Paleo Friendly Meal Delivery or know of Albany Paleo restaurants that might offer takeout or delivery options, please let us know in the comments below.