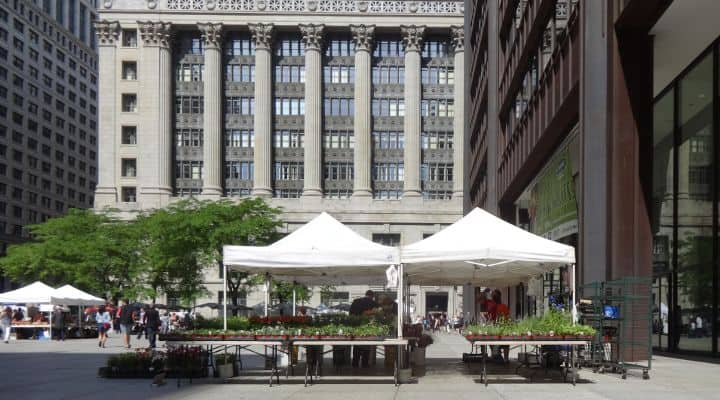 The Paleo diet is all about meals made from the highest quality natural ingredients, cutting out all of the sugars, processed and unhealthy oils and preservatives universally found in convenience foods and your average takeout meal. That said, although cooking foods from scratch using whole ingredients is wonderful, as Paleo eating becomes an everyday lifestyle there are inevitably times in life where you are pressed for time. The good news for Chicago residents is that there are a number of Paleo friendly delivery services based in Chicago, with an even greater number when you count the services that deliver to Chicago and the surrounding suburbs. In this guide we will cover the range of options for Chicago Paleo Delivery. Given the large number of companies offering these services, many have even specialized to offer specific options above and beyond just Paleo, such as companies that offer meals using only 100% organic ingredients, meal plans that are Whole30 or AIP compliant, companies where meals are made without any sweeteners, Paleo, natural or otherwise (great for a sugar detox) or even offerings that are Pegan/Paleo Vegetarian.
We cover the following....
Local Paleo Meal Delivery Chicago Options
Kitchfix
Kitchfix, a local Chicago company, offers pre-made Paleo meals available either delivered directly to your home or office during a 4 hour delivery window, to be picked up at their kitchen location on Grand Avenue or to be picked up from a network of gym locations around Chicago and Milwaulkee. They offer ingredients "sourced as locally as possible" and make their meals from scratch. They make meals in a commercial gluten free kitchen, great for those with Celiacs disease, and offer eco-friendly reheatable containers for their meals.
For full Pricing See:
Kitchfix Foods Reviews:
http://dailyurbanista.com/2016/05/18/healthy-food-delivery-in-chicago-kitchfix-review/ http://smilesandwich.com/2016/03/14/kitchfix-super-healthy-food-delivered/ http://chritiques.com/resolved-eat-healthier-2015-kitchfix-can-help/ https://onefullplate.com/2015/06/22/special-delivery/ http://www.dietitiandebbie.com/kitchfix-healthy-meals-for-busy-people/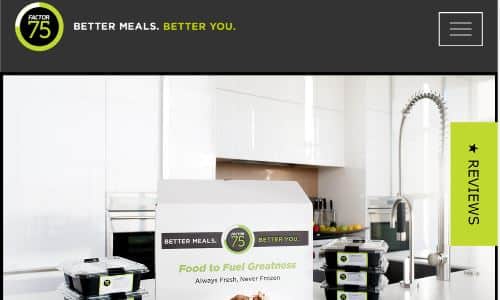 Factor 75
Factor 75 offers a Paleo meal plan line as one of their healthy food delivery chicago meal lines. Meals in the Paleo line are listed as containing all organic ingredients, meats being pasture raised and grass fed, as well as antibiotics, hormone, GMO, gluten and soy free. Meals in all Factor 75 plans are ordered on a recurring weekly subscription basis, but cancelling or putting your weekly orders on hold is a relatively easy process.  They have a weekly changing menu and deliver meals in microwave re-heatable plastic containers.  Meals are delivered via Fedex or via a Chicago Messenger Service to all home or office locations within and outside Chicago from their base in Northbrook, IL. If you are looking for an organic food delivery Chicago option, factor 75 might be worth considering.
For full Pricing See:
https://www.factor75.com/paleo-meals-delivered
Factor 75 Reviews:
https://peggielarsen.com/2015/04/05/factor-75-meal-review/ https://www.youtube.com/watch?v=iKikJgWmyBw http://www.simplysinova.com/2014/07/factor-75-nutrition-for-modern-lifestyle.html http://www.runandsmile.com/running/factor-75/ http://chritiques.com/product-review-factor-75/
Cooked Chicago
Although not a fully Paleo service, Cooked Chicago offers a Paleo tailored meal plan of 3 or 5 meals per week as one of their offerings. They commit to using local produce and organic foods when possible in their recipes. In addition, they offer pressed juices and juice cleanse plans and a Paleo almond/cashew milk. Deliveries can be scheduled via their website, including same day deliveries if the order is placed by 10am.  Cooked falls in the general healthy meal delivery Chicago services category.
For full Pricing See:
Cooked Chicago Reviews:
http://www.theghostguest.com/2015/10/cooked-chicago-delicious-meals-on-demand.html http://suzlyfe.com/healthy-meal-delivery-cooked-chicago-review/ http://www.veggienextdoor.com/review-cooked-chicago/ http://kidtrail.com/KidTrail-Picks.aspx?cat=Meal%20Delivery&pick=5123 https://www.timeout.com/chicago/blog/these-chicago-based-meal-delivery-services-will-make-your-life-easier-and-healthier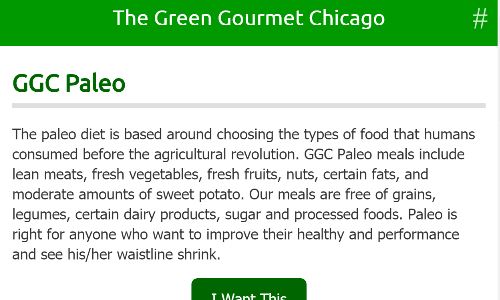 The Green Gourmet Chicago
Another local meal delivery service offering healthy food delivery Chicago options is the Green Gourmet. They do offer a line of meals designed to be Paleo compliant, although it is a subset of their other plans. Deliveries of their fresh meals is by a cooler outside your door between 11pm and 5am on specific delivery dates. A nutrition coach will contact you after placing your order to attempt to customize the meals to meet your personal goals.  The Green Gourmet's Paleo meals Chicago line is likely best for those who are giving Paleo a try and are also familiar with the Green Gourmet.
For full Pricing See:
http://www.thegreengourmetchicago.com/ggc_paleo
The Green Gourmet Chicago Reviews:
Note: this post contains affiliate links. Thank you for supporting us! Click here to see what this means.
Companies that Deliver to Chicago – National Paleo Food Delivery Services
In addition to local Chicago services, there are a number of larger Paleo chef services that offer Chicago Paleo Delivery options to any location in the city, as well as all surrounding areas. These companies are able to offer a number of different plans with variations on the Paleo diet, such as Paleo meals made with absolutely no sweeteners, special meals for the autoimmune Paleo diet (AIP), Paleo Vegan (Pegan) meals, Paleo Pescatarian meals and many other options.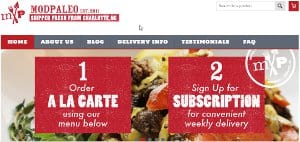 modPALEO
Note: modPALEO has more recently rebranded themselves The Good Kitchen, for our detailed write up on The Good Kitchen including reviews, see our in-depth coverage on them.
modPALEO offers Paleo meals that can be ordered individually a la carte or as part of a weekly meal plan. They also deliver to all areas in and around Chicago from their base in NC. They work with local farms and ranchers they have a relationship with in their area to source the in-season, locally grown and in many cases organic produce they use in their meals. They offer one of the widest variaty of different Paleo meal lines, offering a Paleo Vegan (Pegan) modVEG line, primal meal line, family sized meal line, fresh Paleo meal line, frozen Paleo meal line, as well as several others.
See thegoodkitchen.com (they recently rebranded from modPALEO to The Good Kitchen) for prices and Paleo meal lines.
The Good Kitchen is offering a 15% discount for our readers. Use promo code "mypaleos" at checkout for 15% off your first order.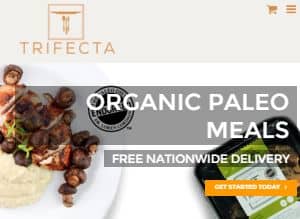 Trifecta
Trifecta Nutrition is one of the larger Paleo delivery services. One unique feature is their commitment to 100% organic food used in their meals. They offer free shipping to all addresses in and around Chicago with express delivery and all meals are delivered fresh, not frozen. Trifecta had previously partnered with Dr. Cordain, the father of the modern Paleo diet movement to design their Paleo meal plans. They have a commitment to using humanely raised grass and free-range meats and a focus on moving towards sustainable packaging for their delivery materials. They partner with local farms in Southern California to source the ingredients for their meals. Trifecta also offers a bulk menu for those looking to order their high quality organic produce and meats in larger quantities, such as those on a specific workout or training regimen and special dietary requirements.
See trifectanutrition.com for current prices and their Paleo meal options.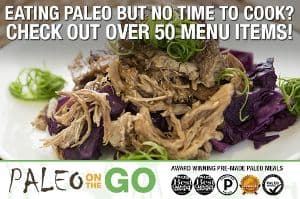 Paleo on the Go
Paleo on the Go is a very popular meal delivery service that focuses exclusively on Paleo meals. They also offer delivery to Chicago and throughout Illinois and surrounding areas. They have multiple certifications confirming the Paleo credentials of their products. They focus on grass fed, free range and humanely raised meats, organic ingredients for those items on the EWG's Dirty Dozen list and conventional ingredients to keep meal costs down on items on the EWG clean fifteen list.  Although all meals are Paleo, they offer several different meals lines, including a popular AIP menu line cutting out nightshades and other ingredients that are restricted on the Autoimmune Paleo protocol as well as condiments such as homemade bone broths and cooking fats. They have partnered with several famous bloggers on meal designs, making meals based on recipes coming from the cookbooks of these famous bloggers.
See paleoonthego.com for menus and prices.
Note: Paleo on the Go is offering a 10% discount for our readers, use code "MYPALEOS" at checkout for 10% off your entire order – one time use.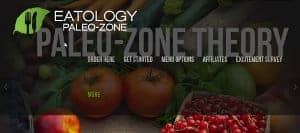 Eatology
Eatology provides an affordable option for those looking for Paleo diet meal delivery in Chicago. With an emphasis on meals that help with weight loss as well as achieving the optimal balance of macronutrients, their meals are crafted to adhere to both Paleo principles as well as those from the zone protocol. They deliver to all areas of Chicago and surrounding suburbs, with nationwide delivery.
See eatology.co for their Paleo & Zone compliant meal plans and pricing.
Eatology is offering a 20% off promo for our readers (works for first & all later orders), use code "ZACHPALEO" at checkout
For our detailed write up on Eatology including reviews, see our in-depth coverage on them.
For our detailed write up, including reviews, see our in-depth coverage on Eatology.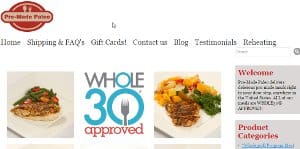 Pre-Made Paleo
Pre-made Paleo offers strict Paleo and Whole 30 compliant meal delivery plans. They offer grass fed and free range meats, including some unique offerings such as wild game like elk and wild boar as well as a wide array of wild caught fish based meals and offer organic produce in their main plans, as well as a more economical conventional plan. The head chef is also the author of the Whole 30 cookbook series and writes a column as a contributor on the Whole 30 website.
See premadepaleo.com for their prices and offerings.
Pre-made Paleo has offered a 10% discount (one time use) on all orders for our readers. Use code "MYPALEOS2018" at checkout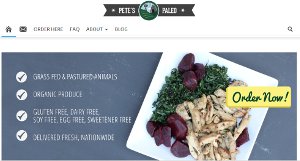 Petes Paleo
Petes Paleo, another all organic food delivery service serving Chicago, offers extremely healthy meals. Not only are all meals Paleo and use in-season ingredients and grass-fed and grass-finished meats from local farms, but Pete's Paleo makes foods that exclude any sweeteners from their recipes, using the flavors and sweetness of the produce to compliment the dishes. All meals are delivered fresh via express shipping. They offer some unique meal plans as well, such as their meal plan created in parnership for Dr. Terry Wahls for those working to reduce symptoms of major health issues. They also offer a popular sugar detox plan.
See petespaleo.com for plan packages and prices.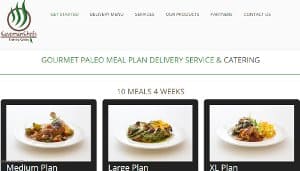 Caveman Chefs
Another great Paleo meal delivery service available for delivery to Chicago is Caveman Chefs. Focusing on a wide variety of innovative Paleo dishes from around the world, Caveman Chefs can be a great option if your are looking for variety in your Paleo meal choices. They source their ingredients and meats for local farmers in their area in Colorado, based on items that are in-season and of the highest quality – following Paleo principles and guidelines. Definitely a company to consider when choosing a Paleo food delivery Chicago plan option.
Visit cavemanchefs.com for more information.
Caveman Chefs has offered 10% off all orders by mentioning the promo #ZachmyPALeos in the order comments or mentioned by phone during checkout.
Other Categories: Paleo Bakery Chicago
Pennys Pastries
In addition to the food delivery services mentioned. There is also a specialty bakery in Chicago that creates Paleo friendly baked goods (as well as raw vegan baked goods, gluten free baked goods and a few other specialties): Penny's Pastries….and they deliver! The Paleo menu items are considered specialty orders and take a bit longer to make, but still it's an amazing option! Some examples of Paleo baked goods include Paleo cakes and cupcakes, with Paleo frosting options. On the hunt for Paleo food Chicago options, Penny is definitely worth keeping in your speed dial.
For menu options see:
http://pennyspastries.blogspot.com/
Penny's Pastries Reviews:
http://www.chicagonow.com/eclectic-eating-chicago/2010/12/pennys-pastries/#image/1 Yelp & Facebook
Getting Chef Prepared Paleo Meals Delivered in Chicago
Everyone has periods of their life where time is tight and taking one thing off your plate (such as shopping for and preparing healthy meals) can make a big difference.  Some great examples of reasons you might choose to compliment your daily meals with a Paleo meal delivery Chicago subscription might be: moving to a new house, preparing for a new baby, healing from a serious medical condition, studying for exams, insurance you will stick to a 30 day weight loss plan, travelling for work or many other scenarios. Switching over a portion of your meals to these chef services could mean the difference between staying on track with your healthy Paleo lifestyle or giving up and giving in to unhealthy fast food and grocery store convenience products. In addition, there are many great reasons why you might choose to subscribe to a Paleo delivery Chicago service to compliment your everyday meal planning without a major life event. For example if you like the idea of eating a Paleo diet, but just don't have the time to cook all of your meals from scratch each week or having trouble getting access to high quality pastured meats and seasonal organic produce. Many of these companies are experts at sourcing these ingredients, and several of the national companies are located in and around clusters of farms dedicated to these principles.  Do you know of other meal delivery options for Paleo in Chicago? Have any experience with one or more of these companies? We'd love to hear about your experiences. Please leave a note in the comments below.