Are you wondering where you can order Paleo and grain-free diet friendly meals available in the Colorado Springs area? In this post, we will cover some of your best choices of food delivery services that specialize in Paleo, Primal and even Paleo Vegetarian diets in the Colorado Springs area, that you can get delivered to you at home or at work.  
Why use a Paleo meal delivery service? Sometimes, you need that extra convenience. Sometimes, you just want someone else to take care of dinner for you.
We cover the following....
Local Paleo Friendly Delivery in Colorado Springs
The following section covers companies that are based locally in Colorado and are targeted specifically to residents within the state.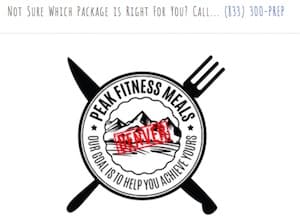 Peak Fitness
Peak Fitness, a Colorado specific meal delivery service, offers Paleo meal plans. As welcome news, they have expanded their delivery range to include Colorado Springs residents. Peak Fitness provides meals 5 days per week. You can opt to purchase a plan that includes anywhere from 1 to 5 meals per day. If you choose the monthly plan, you'll save on each meal. Once you choose your plan, you'll get deliveries that contain all your meals every Sunday and Wednesday. Their ingredients are all sourced locally, with their meat being delivered fresh every single day! Not only that, but they guarantee that their ingredients are GMO-free, free of hydrogenated oils, modified starches, high fructose corn syrups, man-made dyes, preservatives, white flour, white sugar and table salt. Their packaging is recycled and 100% recyclable.
They began their business in Denver and the surrounding area, but are expanding their delivery service to Colorado Springs in the beginning of December 2019.
For more information on Peak Fitness and for prices see: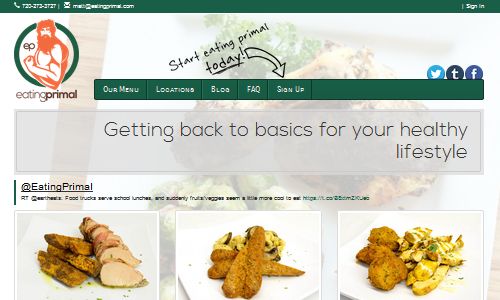 Eating Primal
This paleo meal delivery service has multiple pick-up locations throughout the greater Denver area, as far as Boulder and Castle Rock. But the great news is they also offer delivery to Colorado Springs.
There is no obligation to purchase a 5-day-per-week menu. You simply log-in, pick however many meals you want off of their menu, and order. Your meals will be delivered fresh on Monday or Thursday and will keep for 4 days in the refrigerator. They have 15 options on their Paleo menu, and they update it frequently, so keep checking to see what's new.
For more information on Eating Primal and for prices see:
This post contains affiliate links. Thank you for supporting us! Click here to learn what this means.
National Companies Offering Paleo Meal Delivery to Colorado Springs
The following businesses are Paleo companies that deliver fresh, wholesome ingredients and meals directly to your home or office anywhere in the greater Colorado Springs area and surrounding region. These companies use express shipping to deliver either refrigerated or frozen Paleo compliant meals straight to your door, in the entire area around Colorado Springs and beyond. As these companies are dedicated the Paleo diet and have been operating for many years, the majority are able to focus on hitting the highest bar for ingredient sourcing based of Paleo requirements such as all organic, local and seasonal ingredients and 100% grass fed and finished proteins. Many also offer specialized Paleo meals plans such as for AIP, Pegan, Whole 30 or other variations on Paleo. 
Sometimes, you need that extra convenience. Sometimes, you just want someone else to take care of dinner for you.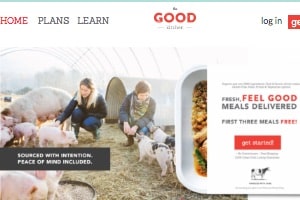 The Good Kitchen
The Good Kitchen has been focusing on delivering Paleo compliant meals since 2011, formerly as modPALEO, and recently rebranded as the The Good Kitchen. They use organic and GAPS certified produce, 100% grass fed and grass finished beef, pastured eggs, poultry and pork and seafood watch certified fish and seafood in all their meals. They also create their meals around ingredients that are in season by partnering directly with local farms in the area surrounding their kitchen in North Carolina.  The Good Kitchen offers customizable meal plans where you choose any dish from their grass fed beef, pastured chicken and pork and Paleo vegetarian (Pegan) meal lines. They have even created a healthy lunch box line for kids. The Good Kitchen offers free shipping on all orders to the Colorado Springs area (and to all home and office addresses throughout Colorado) with a minimum order size of 5 meal meals. They are offering our readers a discount as well, which we've listed below.
See thegoodkitchen.com for prices and menus.
The Good Kitchen is offering a 15% discount for our readers. Use promo code "mypaleos" at checkout for 15% off your first order.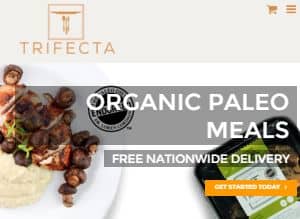 Trifecta
Trifecta Nutrition, based in northern California, offers 100% USDA organic ingredients in all their gluten, dairy and sugar free meal plans, including their dedicated Paleo meal plan. They originally partnered with some of the big names in the Paleo community on their Paleo plan design. They deliver throughout the region of Colorado Springs with free shipping to your door.
See trifectanutrition.com for current prices and Paleo meal options.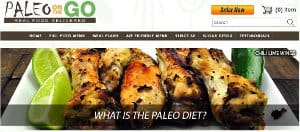 Paleo on the Go
Paleo on the Go has multiple certifications designating them as one of the safest Paleo kitchens in the nation. They deliver throughout the country, and therefore deliver to all addresses in and around Colorado Springs. Along with all of their certifications, they serve a line of products dedicated to AIP, which is popular with those fighting chronic illnesses.
See paleoonthego.com for prices and meal options.
Note: Paleo on the Go is offering a 10% discount for our readers, use code "MYPALEOS" at checkout for 10% off your entire order — one time use.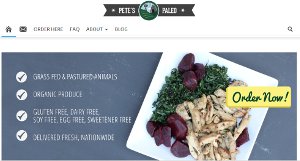 Petes Paleo
With Pete's Paleo, you know you're getting the best meals. They work within the Dr. Terry Wahls requirements for the Wahls Paleo plan, which is used to help those with chronic illnesses. They also deliver the highest quality produce and meats across the Colorado Springs region.
If you're interested, see petespaleo.com for a complete list of prices, meal plans, and local Paleo food delivery options.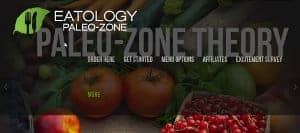 Eatology
Eatology is one of our cheapest options, but that doesn't reduce their quality one bit. They bring a Paleo Diet to their customers that is produced alongside the zone eating plan in order to maximize the health of their meals. They also deliver to everyone living within the city of Colorado Springs.
See www.eatology.co for Eatology's Paleo-zone meal plans and pricing.
Eatology is offering a 20% off promo for our readers (works for first & all later orders), use code "ZACHPALEO" at checkout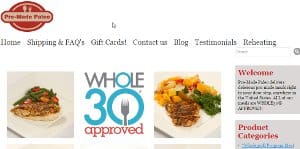 Pre-Made Paleo
Delivering frozen meals to the residents of Colorado Springs, Pre-Made Paleo is also the official service of the Whole 30 program. They serve high quality foods that are also Paleo adherent and delicious.
See premadepaleo.com for prices and meals.
Pre-made Paleo has offered a 5% discount on all orders for our readers. Use code "MYPALEOS2018″at checkout.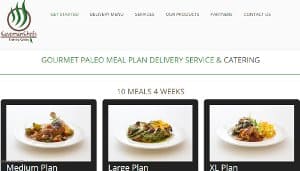 Caveman Chefs
Located in nearby Denver, Caveman Chefs is another amazing food delivery company servicing the Colorado Springs region. They focus on international and creative Paleo recipes, and they source their products in-state.
Visit www.cavemanchefs.com for more information
Caveman Chefs has offered 10% off all orders by mentioning the promo #ZachmyPALeos in the order comments or mentioned by phone during checkout.
Every Year there are More Options for Paleo Meal Delivery Colorado Springs Paleo Delivery Options
Colorado Springs is an excellent place to live and to eat a Paleo diet. Wherever you might be in the region, you can access fresh, healthy, and Paleo-compliant foods through a wide variety of companies. We put together this list in order to help you on the days when you can't create delicious meals alone.
The companies in this list are fully compliant with the Paleo Diet guidelines and can deliver everywhere. It is a relief to be able to get food from Paleo kitchens; in this way, you know that you are keeping your diet in focus without sacrificing your precious time. Sometimes it can be difficult to stay on track when trying to be healthier, and with this post, we hope to have made that easier for you.
Other Paleo Delivery Colorado Springs Area Companies
If you have any other suggestions of other places offering Colorado Springs Paleo Friendly Meal Delivery or Colorado Springs Paleo restaurants that might offer takeout or delivery options, please let us know in the comments below.