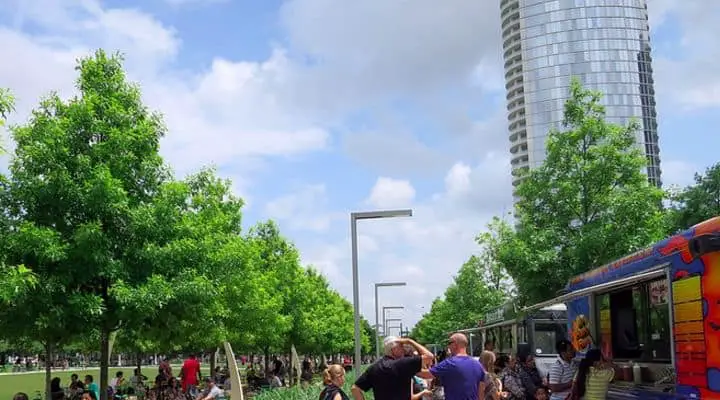 Those who follow the Paleo Diet are familiar with its benefits. There's much to be gained from adopting a lifestyle that includes shopping for and preparing meals made from organic, healthy ingredients: Avoiding fine sugar helps you feel more naturally energized; increasing your intake of protein, fruits, and vegetables allows you to build lean muscle and helps prevent inflammation; and those who follow the Paleo Diet often lose weight.
However, benefits aside, shopping for and preparing Paleo meals from scratch can be a time-consuming process. In the bustle of our everyday lives, we often run out of time to devote to preparing Paleo-compliant dishes.
And this is no doubt why you've come here! You don't need to let your busy schedule derail you from your diet. Not only are there a plethora of restaurants in Dallas with Paleo-friendly options, but there are also national companies that will deliver Paleo meals directly to your door. Read on to discover which option best suits your needs.
We cover the following....
Local Paleo Food Delivery Dallas Options
Dallas has always had a robust and diverse food scene, and recent years have seen a spike in farm-to-table dining establishments. There are now a multitude of companies in Dallas that facilitate relationships with local Texas farmers and create food from locally raised beef and fresh produce. The rise in popularity of the Paleo Diet has also lead to a handful of local companies offering Paleo friendly delivery and to-go pick up meal options. If something unexpected has occurred in your schedule, and you need a quick dinner, we've located several places in the Dallas/Fort Worth area that offer Paleo-compliant meals that can be purchased. While the majority don't cater exclusively to their Paleo customers, each has a selection of meals you can choose from. Take a look, and hopefully one will appeal!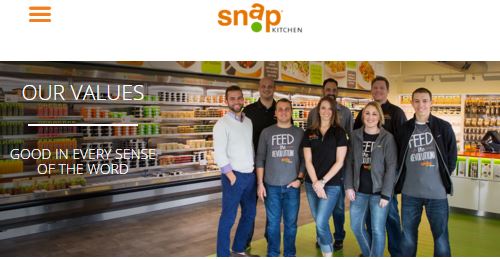 Snap Kitchen
Snap Kitchen is a local Texas Paleo meal delivery service that offers ready-to-heat meals that are curated by their own specialist dietician, helping you to feel confident that the dishes you order are well-balanced. Snap Kitchen has the largest number of store locations in Dallas of any city, so no matter where you go in the region, there is likely to be a Snap Kitchen location nearby.
This company offers a subscription service so you know that your meals are going to arrive on a regular basis, leaving you time to concentrate on other things!
Although they don't provide information on the sourcing of their ingredients, they do insist that all of their meals are free from gluten, artificial preservatives, antibiotics, hormones and artificial colors and flavors.
They concentrate on affordability and ease-of-use whilst still ensuring that that most of their products are Paleo-friendly, as well as catering to other complimentary dietary needs such as Whole30 compliance and ketogenic diets.
For more information on Snap Kitchen and for prices see:
Snap Kitchen Reviews:
http://stephaniedrenka.com/snap-kitchen-healthy-meals-go/
https://whole30.com/2016/10/whole30approved-snap-kitchen/
http://www.fortuitousfoodies.com/whole30-week-1-recap/
http://www.funcitystuff.com/snap-kitchen-review/
http://www.dallasvoice.com/body-2015-taste-10189875.html
Snap Kitchen Facebook Reviews: https://www.facebook.com/pg/snapkitchen/reviews/
Snap Kitchen Yelp Reviews: https://www.yelp.com/biz/snap-kitchen-dallas
Gather Kitchen
Gather Kitchen is a restaurant that offers healthy, customizable bowls in Downtown Dallas. Although these guys aren't explicitly a meal delivery service, they do allow you to order meals online to pick up later.
This restaurant is really suitable for those of you who might not need a regular meal delivery service, but may sometimes find yourself needing a ready-made Paleo-friendly meal on short notice.
Gather Kitchen not only caters for those of you who need a lunch or evening meal, but those mornings where cooking up some eggs and bacon is simply not an option. In these situations, Gather Kitchen offer Paleo gluten-free waffles as part of their breakfast menu, which are also Whole30-compliant!
You can feel confident knowing that Gather Kitchen keeps a completely gluten-free restaurant, providing dairy-free options and abstaining from using any refined sugars. They have many options for those on a Paleo diet, but if you're following a modified approach that might favor seafood or meat-free options instead of animal products, they've got you covered there too.
http://www.gatherkitchen.com/index.html
This post contains affiliate links. Thank you for supporting us! Click here to learn what this means.
National Companies Offering Paleo Meal Delivery to Dallas
Ordering locally is perfect for those who love cooking Paleo and are looking for the occasional go-to option for ordering in or dining out. For those looking for a more sustained break from the kitchen, or looking to keep a few meals in your freezer, you might consider ordering from a national company.
Unlike most local restaurants, these national companies cater almost exclusively to Paleo customers. This means they understand and deeply value the tenets of Paleo and strive to ensure that their proteins are humanely raised and their produce is organically grown. Many of these companies also offer specific Paleo diet options. If you are looking for a sugar detox diet, or looking for a plan that follows the Autoimmune Protocol or the Whole30 Diet, you'll find an option below.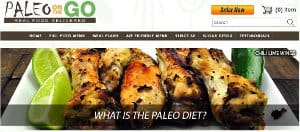 Paleo on the Go
Paleo on the Go was founded in 2012, and has just grown in the years since, delivering meals to the Dallas and Fort Worth area as well as most other cities in the US. Paleo on the Go creates dishes that are Paleo- and AIP-friendly, making them very niche but perfect for people who need to follow an autoimmune protocol.
Paleo on the Go gives you two options when ordering from them; you can either buy individual meals/ingredients from them or you can use their subscription service. The first option is great for those of you who enjoy preparing your own meals, but Paleo on the Go primarily offer pre-made dishes that suit your busy lifestyle.
Most orders can be shipped in 2 days, making it easy to provide healthy meal options for those unexpected moments in life, such as family or friends staying over, or just going through busy periods at work!
Paleo on the Go also offers Whole30-approved meals, which is ideal for people who intermittently undertake a Whole30 challenge throughout the year. Whole30 fits in nicely with those of you who have autoimmune conditions, and helps us to understand as consumers how much this company tries to cater for all dietary needs.
If you've come to find that you have numerous dietary restrictions, never fear! Paleo on the Go has got you covered, using antibiotic- and hormone-free animal products, and sourcing farms that allow their animals to graze. All fresh produce that are on the Dirty Dozen list are organic, and they only use high-quality oils like olive oil and coconut oil.
See paleoonthego.com for prices and meal options.
Note: Paleo on the Go is offering a 10% discount for our readers, use code "MYPALEOS" at checkout for 10% off your entire order – one time use.
Here is a video of me unboxing my latest Paleo on the Go order: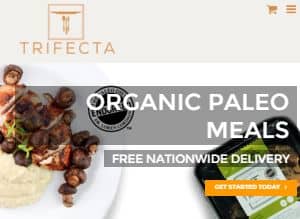 Trifecta
Trifecta is one of the largest companies that offers national meal delivery. They list Paleo as one of their many diet options, as well as ketogenic diets, plant-based diets and more. Trifecta was founded by brother and sister team Greg and Elizabeth Connelly. They decided to start a company that specializes in producing ready-to-eat meals when finding that they themselves struggled with monotonous weekly meal preparation. They understand that most people have time constraints, and focus primarily on assisting athletes in meeting their nutrition goals.
Trifecta dishes that are listed as Paleo are grain-, dairy-, soy and legume-free, containing grass-fed meat and 100% organic produce. All meals are macro-balanced, ensuring that athletes following a Paleo diet are getting high-quality, nutrient-dense meals that suit the requirements of their training regime.
Trifecta gives you the option of either signing up for a weekly subscription service or bulk buying basic ingredients that allow you to combine them at home to easily create your own dishes. This means that you have complete control over your diet, so you can cater for varying macronutrient needs, ie. If your training regime changes.
Another perk of Trifecta is that they don't charge for shipping, so there's no hidden extras to worry about. This meal delivery service is a great option for those of you who eat a Paleo diet with no other restrictions.
See trifectanutrition.com for current prices for their Paleo and organic meal delivery Dallas offerings.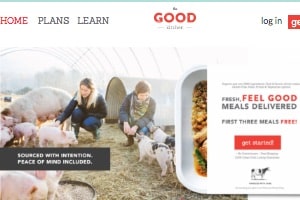 The Good Kitchen
The Good Kitchen are a national healthy meal delivery service who have just started stocking their meals in the frozen section of well-known supermarket Walmart as part of their new "healthy-for-you" initiative.
The Good Kitchen offers a subscription service of shipping healthy, frozen Paleo-friendly meals to your door. Their packaging is completely BPA- and BPS-free, as well as being recyclable, ensuring that they take environmental responsibility for their products.
The Good Kitchen ensures that all of their meals are gluten-free, peanut-free and soy-free, using grass-fed and grass-finished beef, pastured pork, lamb and turkey, and antibiotic- and hormone-free poultry. These are all things that we as followers of a Paleo diet need to know, making them an ideal choice. Their only caveat is that they tend to only use organic produce that are on the Dirty Dozen list as opposed to only using organic produce. However, they do try to make sure they source their ingredients from local farms that are completely GMO-free.
As a consumer, you can filter your meal preference down using a drop-down bar, which shows you that The Good Kitchen cater for Paleo, Primal, AIP, Keto and Whole30.
See thegoodkitchen.com for The Good Kitchens complete menu and list of healthy meals delivered Dallas / nationwide plans.
The Good Kitchen is offering a 15% discount for our readers. Use promo code "mypaleos" at checkout for 15% off your first order.
I took a video when unboxing a recent TGK order: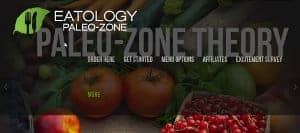 Eatology
Eatology is national Paleo meal delivery service that really focuses on serving the Crossfit and athlete population by providing exclusively Zone-friendly and low-calorie dishes.
The Zone diet emphasizes food choices similar to Paleo with a specific method of balancing macronutrients that they call 'blocks', designed to optimize hormones for reduced inflammation and to fuel athletes during their workouts.
Eatology states that all of their meals are gluten-free, free from hormones, preservative-free, free from added sugars and low in sodium.
Although their primary audience are Paleo athletes, they do offer a family platter option in their meal plans, allowing you to feed your household without compromising on your own dietary needs.
They give you the option of ordering as and when you need to, or to sign up to their subscription service, where meals are delivered on a weekly basis. The incentive to choosing the subscription package is that you save 20% on orders and you're not tied into a contract!
Unfortunately Eatology don't provide free shipping, requiring a $25 shipping fee for every 15 meals that they send out, so this might be something to account for when ordering from these guys. However they do offer 1-day shipping options for most Texas residents.
See http://www.eatology.co for Eatology's Paleo-zone plans and pricing, including nationwide plans for healthy meal delivery Dallas options.
Eatology is offering a 20% off promo for our readers (works for first & all later orders), use code "ZACHPALEO" at checkout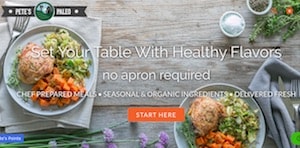 Petes Paleo
Pete's Paleo is based in Southern California, but delivers nationwide, providing their Paleo meal delivery service to the Dallas and Fort Worth areas. The company is widely-acknowledged by popular brands and magazines such as Fox News, Crossfit Journal and The Financial Times.
Their meals are rotated for the customer on a seasonal basis. By doing things this way, it means that Pete's Paleo has been able to keep things environmentally-friendly and locally-sourced, which results in high-quality meals that are always changing! All dishes are free from gluten, soy and dairy, and contain grass-fed animal protein. Pete's Paleo prefers to keep things as sustainable as possible by building strong and trustworthy relationships with local farms and suppliers.
Meals from Pete's Paleo also provide full calorie and macronutrient details, so you know exactly what you're getting from every dish and making it easy for you to plan your day out from the get-go. Not only do they specialize in Paleo meals, but cater to meal plans like the 21-day-sugar detox, devised by Diane Sanfilippo.
Pete's Paleo is a subscription-based service that seems to be rotated on a monthly basis. This means that you need to pay up-front for the entire month which then renews every month that you remain a customer. Providing their service in this way means that there is just one outgoing cost each month, making it easier for you to plan things around it. For those who don't need an ongoing service, Pete's Paleo offers a one-time purchase option for some of their meal plans.
See petespaleo.com for a complete list of prices, meal plans and healthy food delivery Dallas options.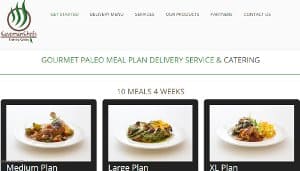 Caveman Chefs
Caveman Chefs is a national meal delivery service based in Colarado and founded in 2014, passionate about the Paleo diet and striving to accommodate a growing population with varying dietary needs.
They truly are a credit to themselves, by dedicating themselves to environmental stewardship and offering only the highest quality meat and seafood to their customers.
Caveman Chefs use 100% grass-fed wagyu beef and lamb, antibiotic- and hormone-free pork and chicken, wild-caught Alaskan and verlasso salmon, and locally-sourced organic and seasonal fresh produce.
Not only do they provide high-quality fresh dishes, but endeavour to cater to Paleo, Whole30, AIP, FODMAP and Keto populations; all you have to do is pick and choose which meals are most suitable for you!
For those of you based in Dallas and Fort Worth, you'll be using their shipping option to get your meals delivered, which requires an additional cost of out-of-state shipping which is $60. This is because they are a small business enterprise, but still something that's worth taking into consideration if you choose to order from them.
Visit http://www.cavemanchefs.com for more information on their Paleo delivery Dallas options
Caveman Chefs has offered 10% off all Caveman Chefs orders by mentioning the promo #ZachmyPALeos in the order comments or mentioned by phone during checkout.
Balanced Bites
Balanced Bites was created by best-selling author Diane Sanfilippo, who wrote the popular book Practical Paleo, often cited as the 'Paleo Bible'. Balanced Bites concentrates on fulfilling all Paleo-related needs, whilst also suiting people who follow a Keto diet or her 21-day Sugar Detox approache. Diane has emphasized the need to exclude nightshades from the diets of people who have autoimmune conditions, so this company has noted where these ingredients are used.
Customers can sign up for a subscription where meals are delivered on a weekly basis, or opt to bulk buy meals of 10. All meals are fresh and ready-made, so all you have to do is heat it up. This is great for those of you that have hectic schedules, kids to feed or just want something that's easy to prepare and clean up.
Balanced Bites prides themselves on having a completely gluten-free kitchen, so you don't ever have to think about cross-contamination. Whilst Balanced Bites caters to a Paleo population, they do have some Ketogenic meals that contain dairy, so keep this in mind if you follow a ketogenic Paleo approach. Balanced Bites uses animal products that are antibiotic and hormone-free.
Diane Sanfilippo recently took a customer poll in which she asked whether consumers would prefer completely 'squeaky-clean' ingredients such as grass-fed and organic animal products, which would require a higher price-tag, or whether they'd rather high-quality ingredients that weren't quite as expensive to source. Customers voted for the latter so that they could still afford the meals on a consistent basis. Balanced Bites has endeavoured to make your experience with them as environmentally-conscious and comfortable as possible, making clean up virtually nonexistent by using packaging that is mostly recyclable or compostable.
https://meals.balancedbites.com/
Every Year there are More Options for Paleo Meal Delivery Dallas & Fort Worth Paleo Delivery Options
Even if you find cooking cathartic, and enjoy spending time in your kitchen, there are tons of reasons to supplement your Paleo cooking with pre-made meals. Ordering locally means you support your local food community and help local businesses thrive. Ordering nationally allows you access to ingredients from all over the United States, ingredients that might be difficult to find locally.
Knowing about pre-made meals options is also useful when travelling. Many who follow the Paleo diet find it difficult to maintain their healthy eating when heading out of town. Many of the national companies offer food in packaging that is conducive to travelling. You can head out on a cruise and still eat Paleo! Or, if you're in another town on business and want to patron the local food scene, take a look at one of our other articles for more information about local Paleo options.
Maintaining your Paleo Diet has never been easier. Whether your carefully laid weekly plans go suddenly awry, or whether ordering pre-made meals becomes a part of that plan, know that there are options for you. Take a look at some of the menus offered by the companies we've listed. Hopefully, you'll find something just right for your diet and your lifestyle.
Other Paleo Delivery Dallas Area Companies
If you have any suggestions of other places offering Dallas Paleo Friendly Meal Delivery or know of Dallas Paleo restaurants that might offer takeout or delivery options, please let us know in the comments below.