No matter how long you've followed the Paleo diet, there are bound to have been times when you've wished you could skip the requirement of cooking your own meals from time to time. And while cooking your meals from scratch using fresh, natural, and locally-sourced ingredients is a core tenet of the Paleo philosophy, sometimes it's just not achievable in the midst of a busy schedule. So whether you've just experienced a major change in your life or just wish you had more time in the day, there are number of options available to you in the Dayton area which can save you time and make adhering to the Paleo diet less stressful. The following guide will cover a number of local and national companies which offer chef-prepared meals that adhere to all Paleo guidelines – including the exclusion of ingredients like wheat, artificial sweeteners, and dairy products – while using locally-sourced and organic ingredients whenever possible. The local companies mentioned here are all based in the Dayton Ohio area, and can provide you with a quick and easy meal when you're in a rush and don't have time to cook. For more long-term options, all of the seven national companies listed below offer Paleo meals for delivery to any address in the Dayton – with a range of options to fit your individual tastes and eating habits.
We cover the following....
Local Paleo Food Delivery Dayton Options
This section covers companies based in and around Dayton which can help you uphold your dietary standards while also saving you some time. Each company offers options for Paleo dieters, making them an excellent choice for those times when you just aren't able to cook and prep your own Paleo meals. They also are likely to use Ohio grown produce, allowing you to get a taste of home without actually having to cook at home.
Primed & Paleo
Primed and Paleo offers homemade Paleo meals available at Crossfit gym locations in and around the greater Dayton area. In addition to meals, they also offer Paleo sauces and Paleo friendly baked goods. Since 2014, the founder, Cassie, has been inspired to make Paleo meals after her own personal experience with eating Paleo as part of being introduced to Crossfit. Menu's change weekly and meals are dropped off at the chosen pickup location once per week.  You are given the option of supplying your own containers each week for each of your meals, or purchase containers from the company (containers can be returned in clean condition for use with the next weeks meals).
For more information on Primed & Paleo and for prices see:
Primed & Paleo Reviews:
http://gopractice.biz/primed-paleo-paleo-meals-delivered/ https://squareup.com/store/primed-and-paleo/
Primed & Paleo Facebook Reviews: https://www.facebook.com/pg/primedandpaleo/reviews/ This post contains affiliate links. Thank you for supporting us! Click here to learn what this means.
National Companies Offering Paleo Meal Delivery to Dayton
The next section covers seven different Paleo delivery companies based throughout the country and delivering to any address throughout the greater Dayton area. Each one offers something slightly different in terms of the types of ingredients used and meal plan options available, but all of them have something to offer that can make your Paleo experience more satisfying and enjoyable. Depending on the company, you will be able to receive your meals either fresh or frozen, via express shipping, and packaged with sustainable materials – to ensure that your meals remain ready to eat while not adversely affecting the environment.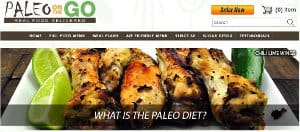 Paleo on the Go
Paleo on the Go is a national delivery service with something for everyone – and with the experience and accolades to prove it. The Paleo community has been consistent in their praise for Paleo on the Go, and many prominent members of the Paleo community, including The Paleo Mom, have partnered with the company to create innovative and delicious meals for their meal plans. Furthermore, Paleo on the Go always maintains it pledge to buy every item on the EWG's "Dirty Dozen" list organic, while also fostering close relationships with local farms in order to provide fresh seasonal produce and meats from humanely-treated, grass-fed animals. See paleoonthego.com for prices and meal options. Note: Paleo on the Go is offering a 10% discount for our readers, use code "MYPALEOS" at checkout for 10% off your entire order – one time use.
For our detailed write up on Paleo on the Go including reviews, see our in-depth coverage on them.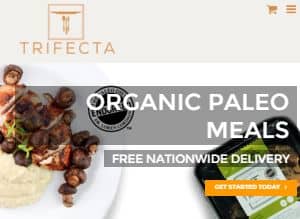 Trifecta
Trifecta is a popular delivery service which has won wide acclaim for its various meal plans, all of which feature 100% organic ingredients. Its Paleo meal plan is only one of several meal plan choices, but its menu updates weekly and features a variety of chef-curated options each week to ensure that that you don't fall into a culinary rut. Each week's meals are shipped in refrigerated cooler boxes which arrive every Friday, allowing you to have your meals planned well in advance, while the offer of free shipping on every order makes Trifecta an even more palatable and appealing option to try out. See trifectanutrition.com for current prices for their Paleo and organic meal delivery Dayton offerings.
For our detailed write up on Trifecta including reviews, see our in-depth coverage on them.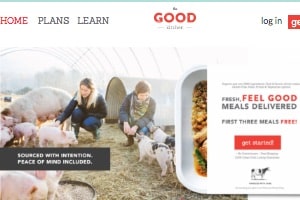 The Good Kitchen
The Good Kitchen is one of the most customizable delivery services out there, making it a perfect choice for dieters who like to control every possible aspect of their Paleo lifestyle, but don't like the hassle. This company lets you mix and match meals from Beef, Pork, Chicken, Vegetarian, and even Primal menus, while also allowing you to customize the number of meals in each meal plan shipment (at least 5) and how often you would like your meals delivered (either weekly, bi-weekly, or monthly). Together with the company's pledge to provide "100% clean food," the numerous options available combine to provide a delivery service which is both reliable and flexible. See thegoodkitchen.com for The Good Kitchens complete menu and list of healthy meals delivered Dayton / nationwide plans. The Good Kitchen is offering a 15% discount for our readers. Use promo code "mypaleos" at checkout for 15% off your first order.
For our detailed write up on The Good Kitchen including reviews, see our in-depth coverage on them.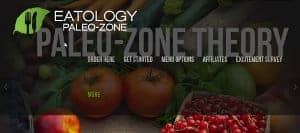 Eatology
If you follow the Zone diet in tandem with Paleo, Eatology is the delivery service for you. This company combines both disciplines into one highly convenient package – even going so far as to break all of its meals down into portion-sized "blocks" to control portion size and promote weight loss. Furthermore, the concept of balanced macronutrients which guides the company's meals still includes all Paleo guidelines as well, ensuring that your food is organic, locally-sourced, and free of gluten, dairy, and artificial sweeteners, while allowing you to get the maximum possible benefit from the ingredients in your food. See http://www.eatology.co for Eatology's Paleo-zone plans and pricing, including nationwide plans for healthy meal delivery Dayton options. Eatology is offering a 20% off promo for our readers (works for first & all later orders), use code "ZACHPALEO" at checkout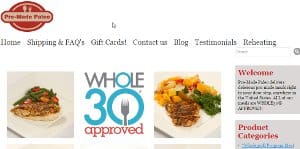 Pre-Made Paleo
For followers of the Whole30 program in addition to the Paleo diet, Pre-Made Paleo should suit your needs perfectly. The company's head chef, Richard Bradford, crafted the recipes for the Whole30 series of cookbooks and also develops all of the meals for Pre-Made Paleo – allowing you to taste great Whole30-compliant food straight from the source. Plus, if you're a bit adventurous in your culinary tastes, Pre-Made Paleo regularly features unusual ingredients like wild boar sausage and water buffalo, which can provide a refreshing change from your typical grocery store fare. See premadepaleo.com for prices and Paleo meal delivery Dayton inclusive nationwide plans Pre-made Paleo has offered a 5% discount (one time use) on all orders for our readers. Use code "MYPALEOS2018" at checkout
For our detailed write up on Pre Made Paleo including reviews, see our in-depth coverage on them.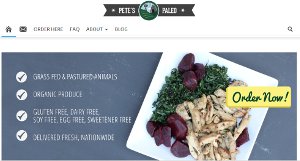 Petes Paleo
In its dedication to rigorous Paleo standards, Pete's Paleo is in a class of its own. This San Diego-based national delivery company takes its food seriously, by allowing the seasonal ingredients available from local farmers to dictate their recipes and omitting all sugars and sweeteners from its meals. If you're following the Sugar Detox or Wahl's Paleo diets, Pete's even has a highly-popular meal plan specifically designed to accompany these programs. This special dedication to Paleo principles and healthy eating makes Pete's Paleo an ideal choice for anyone wishing to push their Paleo diet to the next level. See petespaleo.com for a complete list of prices, meal plans and healthy food delivery Dayton options.
For our detailed write up on Petes Paleo including reviews, see our in-depth coverage on them.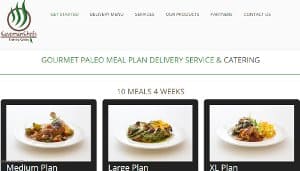 Caveman Chefs
Caveman Chefs is a Denver-based national delivery company which has become well-known for its adaptable meal plans and dedication to the Paleo diet, despite only having been on the scene for a few years. This company formed close ties with local area farmers in its years as a local business, and has continued to foster these relationships since graduating to the national level. Their commitment to using locally-sourced ingredients as much as possible lends their meals a regional flavor that you might not otherwise have access to, while their eagerness to provide options for individuals with special dietary requirements or food allergies makes them a great option for any Paleo dieter to try out. Visit http://www.cavemanchefs.com for more information on their Paleo delivery Dayton options Caveman Chefs has offered 10% off all orders by mentioning the promo #ZachmyPALeos in the order comments or mentioned by phone during checkout.
For our detailed write up on Caveman Chefs including reviews, see our in-depth coverage on them.
Every Year there are More Options for Paleo Meal Delivery Dayton & Paleo Delivery Options
Over the course of this guide, we've covered a number of options available to you in the Dayton area which can help your Paleo lifestyle become more enjoyable and efficient. The local companies mentioned can help you to maximize your productivity during a busy week at work, while the national delivery companies described can take care of all of your meals for you if you've just gone through a major life transition – such as having a new baby or moving to a new house. These changes can be stressful, and it is important that the Paleo diet benefits your life, instead of getting in the way of what's most important. So if you're not able to cook all of your meals on a daily basis, don't worry! Many others have experienced what you're going through, and the companies covered in this guide all present reliable options for Paleo dieters struggling to maintain their principles in the face of a demanding schedule. At the very least, trying one or more of these options can allow you to keep from quitting the Paleo diet completely, by minimizing the lure of quick and easy processed foods and offering fresh alternatives in their place. This will make abandoning your Paleo principles less of an attractive option, ultimately allowing you to remain healthy while making your life much more convenient and manageable at the same time.
Other Paleo Delivery Dayton Area Companies
If you have any suggestions of other places offering Dayton Paleo Friendly Meal Delivery or know of Dayton Paleo restaurants that might offer takeout or delivery options, please let us know in the comments below.